Just a heads-up to let you know as of July 12 new columns have been added to An Interview With..., Will "Sugarfoot" Hutchins, Do You Remember, Comic Book Cowboys, The Heavies and Serial Report. Additional columns are added monthly. There's a new gallery (84) of Western Treasures.

We've just added hundreds of laser copies of B-Western 11x14" lobby cards to our 'Laser Copies of Lobby Cards' in our 'For Sale' section. Many stars not previously listed are now available. Also many Big Little Books are now online for sale under Miscellaneous Collectibles.
We also now have a page of Sunday and Daily comic strips dating from 1904 on up for sale. Please take a look! More will be added continually.

7-19-16—Lisa Gaye, 81, a gorgeous veteran of dozens of TV Westerns, died July 16 in Houston, TX.

7-6-16—Noel Neill, 95, best known as Daily Planet reporter Lois Lane in two Superman serials and later on TV's "Adventures of Superman", died July 3 at her home in Tucson, AZ. She co-starred in Westerns with Ken Curtis, Jimmy Wakely, Lash LaRue, Johnny Mack Brown, Whip Wilson, Johnny Carpenter and on TV's "Lone Ranger" and "Cisco Kid". Besides the Superman serials she was seen in "Brick Bradford", "Adventures of Frank and Jesse James" and "James Brothers of Missouri".

6-30-16—Charles Briles, 70, brother Eugene on the first season of "Big Valley", died June 12 in Cambria, CA.

6-30-16—Janet Waldo, 96, B-Western leading lady to Don Barry, Dave Sharpe and Tim Holt, died June 12.

5-10-16—William Schallert, 93, a versatile and familiar character actor for decades, died May 8 in Pacific Palisades, CA.

Be sure to check out our new Western Artifacts section including a radio interview with Will "Sugarfoot" Hutchins. More artifacts added frequently.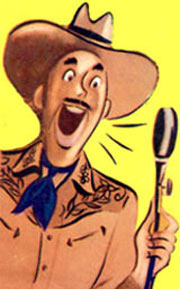 Welcome to Western Clippings, an online supplement to our print version of WESTERN CLIPPINGS which is now in its 20th year. (Click on "Subscribe to WESTERN CLIPPINGS" in our menu.)
For current subscribers of our magazine, this website in no way changes our print edition six times a year.
This website will be a constantly updated, evolving site, with new articles, reviews and sales items added continually. Look for new articles and photos in the "Do You Remember…", "Comic Book Cowboys", "Will Hutchins—A Touch of Hutch", "Serial Report", "Characters and Heavies", "An Interview With…", "Best and Worst of the Silent Westerns", "Western Treasures" and "Film Festival Fotos" sections to be added regularly, with already posted articles always available in our archives for each section.
Sales material—original movie posters (western and non-western), lobby cards, and much more will all be available for purchase as well as superb high quality laser copies made from our extensive collection of over 5,000 western lobby cards. We'll also have thousands of toys, books, magazines, collectibles and miscellaneous other memorabilia for sale. We hope you'll keep coming back to this site as new material will be added to all categories continually.
We also have a section enabling you to order direct from us several of our books devoted to westerns. You may also subscribe to our print edition of WESTERN CLIPPINGS and purchase available back issues of WC and SERIAL REPORT.
This "home page" will be devoted to news and information about upcoming western film festivals, western star obits, movie news and other immediate information that will be covered in more detail in subsequent print issues of WC.
We hope you'll put www.westernclippings.com into your "Favorites" and visit us often.
Thanx and enjoy—

Boyd Magers
© Entire contents of this website and all pages copyright by Boyd Magers 2008-2013.