VALENTINE'S SALE!
Through February 14
Anything on our website 14% off!
Order as usual. Your 14% refund will come in check form with your order!


We've just added hundreds of laser copies of B-Western 11x14" lobby cards to our 'Laser Copies of Lobby Cards' in our 'For Sale' section. Many stars not previously listed are now available. Also many Big Little Books are now online for sale under Miscellaneous Collectibles.

GENE AUTRY, OK, NEEDS HELP
Leslei Fisher, the recently appointed executive director for the Gene Autry, OK, Museum, tells WC, "We need your help! Did you donate or loan any items to the Gene Autry Oklahoma Museum? There is little record of any items donated or loaned and we are doing our best to correct this! Please contact Leslei Fisher, Executive Director, at your earliest convenience to help clear up the confusion. The Gene Autry Oklahoma Museum (580) 294-3335, PO Box 92, 47 Prairie St., Gene Autry, OK 73436. email: geneautryoklahomamuseum@gmail.com "

2-11-16—B-Western leading lady Virginia Herrick, 99, died January 29 in Provo, UT. Starred opposite Whip Wilson, James Ellison, Rocky Lane, Johnny Mack Brown, Jock Mahoney and Lash LaRue. Also on TV with Cisco Kid, Gene Autry, Russell Hayden.

2-4-16—Kristine Miller, 90, best known as Jonesy on "Stories of the Cenutry" with Jim Davis, died in late 2015. Miller was also in "Domino Kid", "Thunder Over Arizona" and other TV Westerns.

2-4-16—Movie Western researcher and author Jon Tuska, 73, died January 18, at his home in Portland, OR.

2-3-16—Joanne Hale, Monte Hale's widow, died February 2. Complete details in WESTERN CLIPPINGS #130 (March/April).

1-24-16—Kid actor Paul Engle, 67, died last November 5 in Palos Verdes, CA. Was in TV's "Lone Ranger", "Cheyenne" and dozens more.

1-15-16—Dan Haggerty, 74, best known as TV's Grizzly Adams, died January 15, of cancer.

1-15-16—Lita Baron, 92, former wife of Rory Calhoun, died December 16 in Palm Springs, CA. Was in "Red Sundown" and three "Texan" episodes with Rory as well as other Westerns.

1-2-16—Wayne Rogers, 82, Luke Perry on "Stagecoach West", died of pneumonia December 31 in L.A. He also guested on "Gunsmoke", "Johnny Ringo", "Wanted Dead or Alive", "Have Gun Will Travel", "Lancer" and others.

12-21-15—Elaine Riley, 98, died December 7. RKO leading lady in Tim Holt's "Rider From Tucson" (with her husband Richard "Chito" Martin). Also in four late '40s Hopalong Cassidy Westerns, Gene Autry's "Hills of Utah", Allan "Rocky" Lane's "Leadville Gunslinger", Wayne Morris' "Texas Badman" and TVers "Gene Autry", "Range Rider", "Hopalong Cassidy", "Lone Ranger", "Cisco Kid", "Stories of the Century", "Fury", "State Trooper", "26 Men", "Texan", "Wanted Dead or Alive".

12-18-15—Record producer and composer Tommy "Snuff" Garrett, 76, died December 18 in Sonoita, AZ. Produced records for Cher, Bobby Vee, Roy Rogers, Clint Eastwood and others. In 1976 Garrett bought cassette rights to Republic films and issued thenm on VHS under his Nostalgia Merchant banner.

12-12-15—Marjorie Lord, 97, best known as Danny Thomas' wife on the long running "Make Room For Daddy" sitcom, died Nov. 28 at her Beverly Hills home. Co-starred in Westerns with Harry Carey Sr., Tim Holt, Bill Elliott, Rex Allen and was in TVers "Kit Carson", "Hopalong Cassidy", "Lone Ranger" and "Wagon Train". Also co-starred in "The Adventures of Smilin' Jack" serial.

11x8 1/2" Coil Bound Wall Calendar
$24 Postpaid in U.S.
(Foreign inquire)

LIMITED PRINTING! ORDER NOW!
WESTERN CLIPPINGS
1312 STAGECOACH RD SE
ALBUQUERQUE, NM 87123
12 ALL-TIME FAVORITE TV WESTERN SERIES—
"Bonanza", "Tales of Wells Fargo", "Laramie", "Have
Gun Will Travel", "Maverick", "Gunsmoke",
"Rawhide", "Virginian", "Sugarfoot",
"High Chaparral", "Wagon Train", "Cheyenne"

Please note we have just added more lobby cards for sale.
Listings for films starting with "P" thru "Z" are now posted. Also several new Gene Autry lobby cards under various letters have been added.

We also now have a page of Sunday and Daily comic strips dating from 1904 on up for sale. Please take a look! More will be added continually.


Be sure to check out our new Western Artifacts section including a radio interview with Will "Sugarfoot" Hutchins. More artifacts added frequently.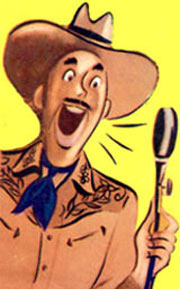 Welcome to Western Clippings, an online supplement to our print version of WESTERN CLIPPINGS which is now in its 20th year. (Click on "Subscribe to WESTERN CLIPPINGS" in our menu.)
For current subscribers of our magazine, this website in no way changes our print edition six times a year.
This website will be a constantly updated, evolving site, with new articles, reviews and sales items added continually. Look for new articles and photos in the "Do You Remember…", "Comic Book Cowboys", "Will Hutchins—A Touch of Hutch", "Serial Report", "Characters and Heavies", "An Interview With…", "Best and Worst of the Silent Westerns", "Western Treasures" and "Film Festival Fotos" sections to be added regularly, with already posted articles always available in our archives for each section.
Sales material—original movie posters (western and non-western), lobby cards, and much more will all be available for purchase as well as superb high quality laser copies made from our extensive collection of over 5,000 western lobby cards. We'll also have thousands of toys, books, magazines, collectibles and miscellaneous other memorabilia for sale. We hope you'll keep coming back to this site as new material will be added to all categories continually.
We also have a section enabling you to order direct from us several of our books devoted to westerns. You may also subscribe to our print edition of WESTERN CLIPPINGS and purchase available back issues of WC and SERIAL REPORT.
This "home page" will be devoted to news and information about upcoming western film festivals, western star obits, movie news and other immediate information that will be covered in more detail in subsequent print issues of WC.
We hope you'll put www.westernclippings.com into your "Favorites" and visit us often.
Thanx and enjoy—

Boyd Magers
© Entire contents of this website and all pages copyright by Boyd Magers 2008-2013.