ELENA VERDUGO
Beautiful, blonde, bubbly Elena Verdugo is often cast…in Spanish roles! "I don't look Spanish--it's my name that gets me the parts. When they see me, it's always the 'Get the black wig for her' routine."
The versatile actress was actually trained as a dancer. "I was in dancing school; about 5 or 6 years old when I made my first picture, 'Cavalier of the West' with Harry Carey Senior. I almost said Junior! (Laughs). I was at the age where I wouldn't smile. The director bribed me with a dollar bill, but I still wouldn't smile for the camera! (Laughs). My career just sort of happened. I did a small role in 'There's Magic in Music' with Dolly Loehr—we went to school together when I was later under contract to Paramount and did recitals together. She played the piano and I danced. You know her better as Diana Lynn!"
Elena's first Western was "El Dorado Pass" with Charles Starrett. "I didn't know who he was when I did that picture. It was just one of those little films you did in a hurry. I wasn't a Western fan at the time—I became one after I started doing them. I wish now I had known more, because frankly, I remember very little about Mr. Starrett or the picture."
Within the year, Elena landed the lead in a big-budget Cinecolor Western with Gene Autry, "The Big Sombrero." "Regardless of what Ann Miller says, I gave Gene Autry his first screen kiss! And I have the papers to prove it! I have a LIFE magazine article that covered the event, and also the local newspapers. It received a great deal of publicity! I remember the final scene, where I am on the veranda waving goodbye to Gene and Champion. Gene and the horse turn around to ride off into the sunset, when Champion starts farting! All the way out. He kept on letting off wind, and we had all these important visitors on the set. Everybody was in hysterics. Gene was laughing as he was trotting off. That is typical when you work with horses. They are always relieving themselves during the love scenes!" (Laughs).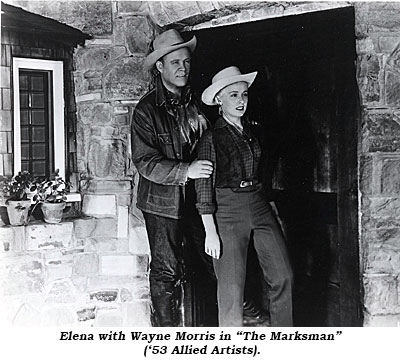 About Westerns in general, the star recalls, "Never trust a wrangler! They will tell you, 'Just get up there, little lady, we'll be here to catch you.' And they never are! I was doing a scene at Vasquez rocks; I had a dress on and the horse ran away with me, going 200 miles an hour. They had to chase me to catch us. That happened when I did 'The Marksman' with Wayne Morris. Wayne was a nice fellow, but a big drinker, which I didn't know at the time." Another of Elena's credits is "Snow Dog" with Kirby Grant. "Such a terrible thing, what happened to him—getting killed in a car wreck on his way to see the astronauts take off—they had requested he be there. I had been friends with Kirby for years. In fact, when I married Charles Marion in 1946, Kirby was Charles' best man. He was so sweet!"
Being a character actress herself, Miss Verdugo recalls the cowboy sidekicks fondly. "Those Western characters are the best improvisational actors around. They could make up the roles as we went along. They were all just great!"
"The Pathfinder" with George Montgomery was another genre credit. "I played an Indian in that—I take a knife out of my boot. It was a fun part. One day, years later, my son was in the living room with the TV on. I came in, looked at myself, and said 'By God, that's me!' They were running 'The Pathfinder.'"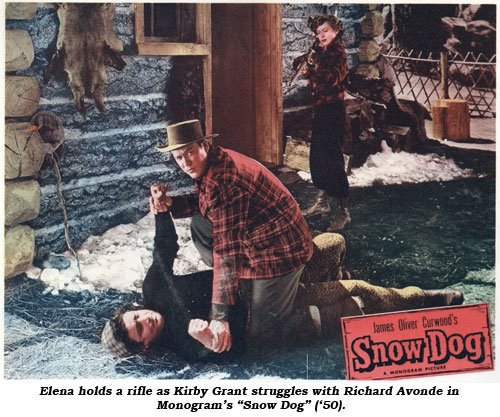 Turning to television, the actress guested on "Rawhide: Incident at Spanish Rock". "I'd love to see that. I thought I did a good job of acting in that. I noticed Clint Eastwood, the way he'd work. His eyes would start shining, the face would start to project ever so lightly. He was great. I thought, boy is he preparing. He is very low-key, really worked at his craft. Eric Fleming wasn't in the same ballpark. He didn't leave much impression. The crew didn't like him, either, but I didn't know why."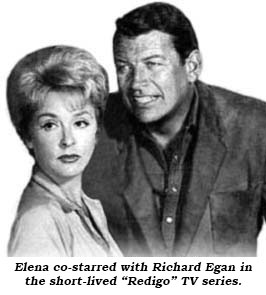 When the series "Empire" reduced its cast, running time and changed its title to "Redigo", Elena Verdugo joined the cast. "Richard Egan was charming, easy going. A good performer. He and Dale Robertson were two really nice guys. Dale and I did an 'Iron Horse.' I thought I did a good job on that one, also. Someone was trying to murder me."
One of Elena's favorite guest spots was on a "Daniel Boone" with Vincent Price. "I have a still of Vincent and me winking at the camera. They had to put me on a box, he was so much taller than me. In fact, the children were taller than me! (Laughs). Vincent was wonderful—I loved him.
Reflecting on her multifaceted career in general, Elena states, "I had a son and the most important thing for me was to be with him, not being away on location or something. I couldn't live with myself if I had put the career first." Regardless of her feelings, Elena Verdugo has had quite a career—with classic feature films (horror, western, drama), and many classic TV series ("Meet Millie" to "Marcus Welby").
The ever gracious Elena died May 30, 2017 in L.A.
Elena's Western Filmography
---
Movies: El Dorado Pass ('49 Columbia)—Charles Starrett; Big Sombrero ('49 Columbia)—Gene Autry; Snow Dog ('50 Monogram)—Kirby Grant; Gene Autry and the Mounties ('51 Columbia)—Gene Autry; Pathfinder ('52 Columbia)—George Montgomery; Marksman ('53 Allied Artists)—Wayne Morris. TV: Law of the Plainsman: The Innocent ('59); Rawhide: Incident at Spanish Rock ('59); Redigo: series regular ('63); Iron Horse: Bridge at Forty Mile ('67); Daniel Boone: Copperhead Izzy ('69).