Pert and perky and cute as a new born pup—5'2" Olive Sturgess was born October 8, 1933 in Ocean Falls, British Columbia, Canada. Coming to the U.S. Olive found her way to Hollywood in 1954 with her first of dozens of TV Westerns being a "Tales of Wells Fargo". From there she was seen on "Cheyenne", "Sugarfoot", "Have Gun Will Travel", "Texan", "Lawman", "Rawhide", "Wagon Train", "Maverick", "Bronco", "The Rebel", "Whispering Smith", "Outlaws", "Virginian", "Destry", "Bonanza" and others—in particular, "My husband-to-be, Dale Anderson, would see me on the screen in this and other shows, like 'Laramie', that I did at Universal. This is because he's a studio musician. When they'd do the 'Tall Man' themes, he'd play in the orchestra and there I'd be on the screen that projected the film as it was being scored!" Olive's husband "…played on the score for 'Titanic', did 'The Dinah Shore Show', 'The Dean Martin Show', all the John Williams movies and much more." Prior to her marriage Olive dated Nick Adams casually a couple of times. "I did two episodes of his series, 'The Rebel'. Nick and I had done two or three different shows before this. Nick took me to visit Natalie Wood, who was married at this time. I think Nick was in love with her. I had no idea Natalie would know me, even though I had done a lot of television, but she told me, 'I think you're one of the best actresses going right now. I wish I could be half as good as you.' That was very gracious of her to say that! As for Nick, I thought he was very troubled. It was in the manner he had—that was the way he was in real life, always brooding—it was what was in style at the time and it was the way he was in person! When we went out, it was never on his motorcycle! That's one trick he couldn't pull on me. We always went in a car! Incidentally, Nick married Carol Nugent, Judy Nugent's actress-sister. Judy played my Tomboy sister on several 'Tall Man' episodes. Clu Gulager was fun—he worked and planned the accent he used as Billy the Kid on 'Tall Man', that manner of speech. As for me, I was told I was a character actress—because I could do a variety of things, whatever they tossed my way." Reflecting on her illustrious career, Olive muses, "In those days they had good stories. Mary Tyler Moore said it exactly right. 'Writing for television today is like writing shorthand. There's no depth to anything.' We used to have stories that had a beginning, middle and an end; that made you feel good after watching them. Not those terrible shallow shows of today. We had stories that were genuine; stories of the west done with humor or drama and romance. A good show you looked forward to seeing. You really felt good when you saw the TV shows of those days."
Peggy Stewart was in 22 Republic B-Westerns, with Bill Elliott, Sunset Carson, Roy Rogers, Gene Autry and Allan Lane as well as some later B's with Lash LaRue, Jim Bannon, Charles Starrett, Bill Elliott and Whip Wilson. What else need be said to qualify Peggy as the absolute "Queen of B-Westerns". Born Margaret O'Rourke June 5, 1923 in West Palm Beach, FL, in the '30s her family moved to California where actor Henry O'Neill recommended her to Paramount. Her first film was—what else?—a Western; Joel McCrea's teenage daughter in "Wells Fargo" ('37).When the B-Westerns ended, Peggy moved on to TV Westerns—"Gene Autry Show", "Wild Bill Hickok", "Roy Rogers", "Cisco Kid", "Range Rider", "Wyatt Earp", "Yancy Derringer", "Hotel de Paree", "Pony Express", "Have Gun Will Travel", "The Rebel", "Gunsmoke" and "Hondo". While at Republic she met and married Don "Red" Barry in 1940. They divorced in '44. Peggy married stuntman/actor Buck Young on March 4, 1953. They had two children, a daughter Abigail and a son Greg and were married until his death in 2000. Peg's sister, Patricia, was married to Wayne Morris. In later years Peggy performed in the L.A. theatrical Community and kept her hand in the film business on TV and other movies until 2014.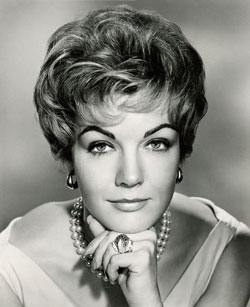 Born in Boston November 15, 1934, Joanna Barnes moved to L.A. soon after graduating Phi Beta Kappa in 1956 with a major in English at Smith College and signed a deal with Columbia in '57. Barnes also guested on Warner Bros. Westerns "Cheyenne", "Colt .45" and "Maverick" as well as other TV Westerns such as "Stagecoach West", "Man From Blackhawk", "Have Gun Will Travel", "Laramie", "Empire" and "Alias Smith and Jones". In 1967 she was the female lead to John Wayne and Kirk Douglas for "War Wagon". Besides hundreds of TV episodes and other major movies such as "Auntie Mame" ('58), "Tarzan, the Ape Man" ('59), "Spartacus" ('60) and "The Parent Trap" ('61), Barnes became a respected novelist—THE DECEIVERS ('70), PASTORA ('80) and SILVERWOOD ('85). Her books have been published in several foreign countries as well as the U.S. Her column "Touching Home" was for many years carried by the CHICAGO TRIBUNE and New York News Syndicate. For years she wrote a weekly book review column for the L.A. TIMES. Joanna was married three times, including actor Larry Dobkin from 1961-1967.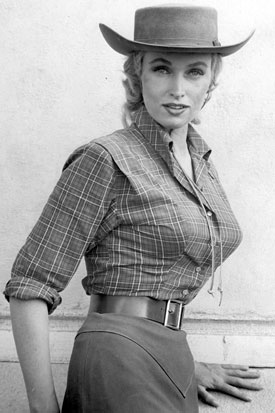 Busty Karen Steele was born March 20, 1931 in Honolulu, Hawaii. After attending the University of Hawaii and Rollins College in Florida she worked as a cover girl and model which led to her first film, "The Clown" with Red Skelton in '53 in which she was credited simply as "a blonde". After much TV work in the '50s she made her first Western, "Decision at Sundown" ('57) with Randolph Scott, for director Budd Boetticher with whom she developed a romantic relationship. She made three other films with Boetticher, "Westbound" ('59) and "Ride Lonesome" ('59) (both starring Randolph Scott) and "The Rise and Fall of Legs Diamond" ('60) with Ray Danton. Guest shots on some 15 TV Westerns include "Wagon Train", "Maverick", "Bat Masterson", "Lawman", "The Deputy", "Bronco", "Bonanza", "Rawhide", "Laramie", "Branded", "A Man Called Shenandoah", among others, before she left film work in '72 to marry Dr. Maurice Boyd Roland, a psychiatrist at the Mohave Mental Health Clinic in Kingman, AZ. Unfortunately, the marriage was short-lived as Steele died of cancer in Kingman March 12, 1988, just a week before her 57th birthday. (Photo courtesy Neil Summers.)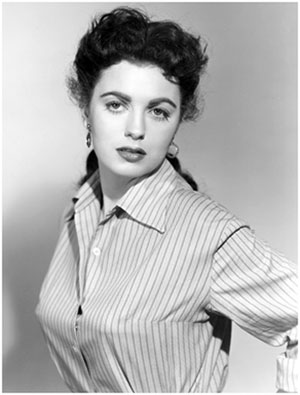 Born in New Orleans, sultry eyed brunette, part-Creole FAITH DOMERGUE (Dah-mure) sizzled the Western screen in "Duel at Silver Creek" ('52) w/Audie Murphy, "Great Sioux Uprising" ('55) w/Jeff Chandler, "Santa Fe Passage" ('55) w/John Payne, "Escort West" ('58) w/Victor Mature and "California" ('63) w/Jock Mahoney. In the '60s Faith primarily concentrated on TV Westerns—"Cheyenne", "State Trooper", "Sugarfoot", "Colt .45", "Bronco", "Tales of Wells Fargo", "Tall Man", "Have Gun Will Travel", "Bonanza". She's also become a Sci-Fi cult favorite for her work in "This Island Earth" and others. She left showbiz in '76 and left us at 74 in 1999 with a legacy of excellent Westerns. (Photo courtesy Neil Summers.)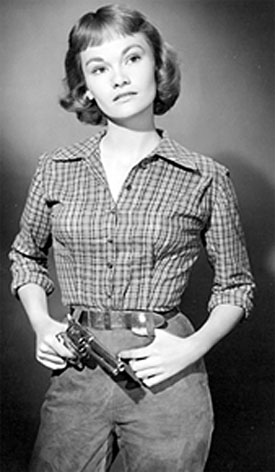 Sexy, gun-totin' Gloria Talbott was born February 7, 1931 in Glendale, CA, a city co-founded by her grandfather. After participating in high school plays she landed a small role in "Maytime" ('37) when she was only six. A couple of teenage roles followed before she really got active in 1951 and was seen in hundreds of movies and TV shows including "Wild Bill Hickok", "Range Rider", "Gene Autry Show", "Cisco Kid", "Hopalong Cassidy", "Sugarfoot", "Restless Gun", "Zorro", "Bat Masterson", "Wanted Dead or Alive", "Bonanza", "The Rebel", "Wyatt Earp", "Tales of Wells Fargo", "Rawhide", "Gunsmoke", "Laramie" and more. Her best big screen Westerns were "The Oklahoman" and "Cattle Empire" both w/Joel McCrea and "Oklahoma Territory" w/Bill Williams. Married four times (including stuntman Sandy Sanders from '56-'65), Gloria died of kidney failure September 19, 2000 in Glendale. She left an admirable treasure of Westerns for us to enjoy. (Photo courtesy Neil Summers.)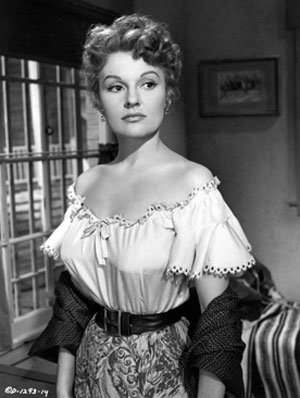 Curvaceous Dianne Foster was born with the unlikely name of Olga Helen Laruska on October 31, 1928 in Edmonton, Alberta, Canada, of Ukrainian parentage. Initially she found work in Toronto as a model and radio and stage actress before moving to England where she made her first films. She came to the U.S. in the early '50s with her first Western being "Three Hours to Kill" w/Dana Andrews in '54. Others were "The Violent Men" w/Glenn Ford, "The Kentuckian", "Night Passage" w/James Stewart, Audie Murphy and 13 TV Westerns including "Wagon Train", "Riverboat", "Shotgun Slade", "Bonanza", "Have Gun Will Travel", "Laramie" and "Gunsmoke". She retired in '67 in order to focus on her family and painting. In 2009 she stated, "What I found working in the movies was that the people behind the camera would applaud a good scene. So in that sense, I had a live audience there as well and that was always a thrill for me. I always preferred a director who allowed me to contribute something of my own. Some directors don't want any contribution. They prefer to tell you exactly what to do and where to move. I always loved the kind of control an actor has in their performance on stage. In film, the control is really in the hands of the director and editor."