Brunette, sultry voiced Julie Adams grew up in Blytheville, AR after being born in Waterloo, IA October 17, 1926. The late actress made her 'acting' debut in a third grade play. Graduating from Little Rock Central High at 19 she was crowned Miss Little Rock. Opting to be an actress she moved to California where she worked as a secretary to support herself and spent time taking speech lessons and making the rounds of various studios. She was billed Betty Adams (real name: Betty May Adams) for her first lead in "The Dalton Gang" with Don "Red" Barry. "I met someone at the Lippert office, talked to them and got the role! That picture resulted in my landing the lead in six different pictures at Lippert with James Ellison and Russell Hayden. We had six different scripts—but we shot all the scenes of the stagecoach together, then all the ranch scenes, whatever—all at the same time. The six movies were done in five weeks. It was economical to do it that way but I never could remember who I was. I had three or four wardrobe changes—a farmhouse dress, a stagecoach dress. I had a difficult time remembering who I was supposed to be. 'Am I the farm girl this time—or the cowgirl?' (Laughs) Not that it made any real difference. These films were the reason I learned to ride. I practiced riding for about three weeks in Griffith Park. The horses there were slow and you really had to kick them to get them going. Shooting the actual movie, director Tommy Carr said, 'Action.' When I let into this old horse, he shot away with me and kept on going. We were supposed to ride, see where the badmen were, wheel around and come back. This horse and I would still be flying through the woods had a mountain not broken his stride. (Laughs) Raymond Hatton was in those—such a nice man. He showed me how a horse takes to a scene. He said to take the pony through it—let the horse know how to do it. Rehearse the horse—hit the marks. It was terrific advice! James Ellison—a charming guy; we had a good time. He was so handsome, a very sweet man, as was Russell Hayden." In the summer of 1950, Betty Adams signed a term contract with Universal. "They didn't like Betty so they renamed me 'Julia'. After a few years I changed it myself—to Julie, because that's what most people called me anyway." Julie co-starred in 21 Universal films over the next few years. "Bend of The River" was her first big-budget Western credit. "Working with

James Stewart is one of the greatest pleasures I've ever had. Arthur Kennedy—a brilliant actor who I had worked with in 'Bright Victory' a year before. Lori Nelson and Rock Hudson—two pals from Universal. We had a beautiful location at Timberline Lodge at Mt. Hood. It was built during the Depression and had fantastic architecture. Later, when they were casting the wife in 'The Jimmy Stewart Show', I went to see him. We sat and talked one day about what lousy caterers they had up there. The food was not good—one time, we skipped over the main food and went for the Baby Ruths—but they were wormy! (Laughs). Jimmy and I were talking and laughing about wormy Baby Ruths! He was lovely. Of course I didn't think I'd get the part because I was too young to play the mother of a 28-year-old son. At one time, they thought about saying my character was the second wife. They also wanted to 'age' me—give me gray hair and all, but I refused. All the others considered for the series were older women, so it was a surprise—and a delight—when I landed it." "Horizons West" was the first of Julie's bad-girl roles in Westerns. "That was the first time I worked with Budd Boetticher, a lifetime friend. I enjoyed Robert Ryan who was one of the great gentlemen, a loving, bright man. It was so ironic he played mean people so often and so well—he was lovely." About "Wings of the Hawk" in 3-D: "The 3-D camera didn't affect the actors at all. The camera looked different, but the main thing I remember about that picture was a wrangler named Jack Shannon. We went riding every day for three weeks around the Universal backlot before starting the film. I played a Mexican in the movie. I had a Mexican saddle—he gave me a riding crop and talked about riding and dismounting." "The Lawless Breed": "Rock Hudson and I were real pals. A lovely young man, Rock was lots of fun. It was very fulfilling, as we both got to age in the film. Our working together was very joyful." "Man From The Alamo": "Oh, it was so very Hot! We shot it out in Agoura, in 106º temperature. It was dry—and those covered wagons! Glenn Ford is a charmer—and I became good friends with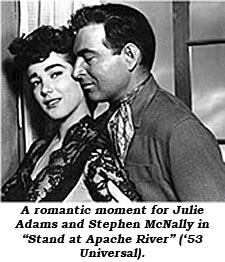 Neville Brand. He was a real friend." On the less-than-terrific "Stand At Apache River": "I almost drowned on that one! There's a scene where I fall into the water. They forgot to put something down for my feet and when I went in, I went down like a piece of stone with that heavy Western dress on!" "Slim Carter": "I autographed my name onto the credits at the beginning. Jock Mahoney was such a charming, amiable guy. We later did his TV show, 'Yancy Derringer' together." "Gunfight at Dodge City": "Joel McCrea was charming; such a delight."
Vivacious Diane Brewster is fondly remembered on "Maverick" as Samantha Crawford, the gorgeous, full of Southern charm, gambling con artist with a Southern accent—but ultimately likable. Actually, Brewster first played the character on the second season opener of "Cheyenne", "Dark Rider" (9/11/56), in which she talks Cheyenne out of $300 and skips town. Viewers responded to her character so Warner Bros. brought her back to con James Garner in "Maverick"'s third episode, "According to Hoyle" (10/6/57). Later that season Samantha conned Bart Maverick (Jack Kelly) in "The Savage Hills" (2/9/58) and Garner again for a crooked card game in "The Seventh Hand" (3/2/58). In the third season of "Maverick" Samantha returned in the classic "Shady Deal at Sunny Acres" (11/23/58). Diane played a somewhat similar lady gambler on George Montgomery's "Cimarron City" episode "Runaway Train" (1/31/59).
Brewster was born March 11, 1931 in Kansas City, MO. Her father was a trial lawyer. Graduating high school she studied liberal arts at the University of Kansas. Following her sophomore year she took a job as a secretary at a Kansas City TV/radio station where she eventually began doing the weather and was also MC for a teenage radio program.
In 1954 Diane decided to try her luck in L.A. Her first jobs were small roles on "Gang Busters", "Highway Patrol" and others from '55 to '56.
At 28 Diane and San Fernando Valley oral surgeon Dr. Jabe Walker (36) were married in May '59. They had a son and a daughter.
Diane later had running roles on "Leave It to Beaver" ('57-'58), "The Islanders" ('61) and played the murdered wife of Dr. Richard Kimble (David Janssen) in two episodes of "The Fugitive".
She co-starred in two movies with George Montgomery, "Black Patch" and "King of the Wild Stallions" and made the rounds of TV Westerns on "Frontier Doctor", "Zane Grey Theatre", "Tales of Wells Fargo", "Restless Gun", "Tombstone Territory", "Trackdown", "Wanted Dead or Alive", "Bat Masterson", "Rifleman", "Dakotas", "Empire", "Death Valley Days"…and perhaps her finest performance as Lita Foladaire on "Wagon Train: The Lita Foladaire Story".
Sadly, much too young, Diane, who will always be our sweet con artist Samantha, died of heart failure at only 60 on November 12, 1991.
Exotic looking Suzan Ball, a second cousin to comedienne Lucille Ball, was born March 3, 1934 in Jamestown, NY. Her family moved to Miami, FL and Buffalo, NY before settling in N. Hollywood around 1947.
While singing with the Mel Baker Orchestra from '48-'53 she secured a bit role as a dancing girl in Monogram's "Aladdin and His Lamp" ('52). Living at the famed House of Seven Garbos boarding house on LaBrea Ave., Mary Castle ("Stories of the Century") arranged an interview for Suzan at Universal which led to a role in "Untamed Frontier" ('52)—which also led to a romantic fling with co-star Scott Brady.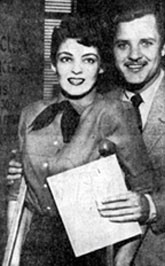 Although gossip columnist Hedda Hopper proclaimed Suzan one of the "New Stars of '53", having been seen in three Universal hits including "War Arrow" w/Jeff Chandler, the year turned darkly tragic for Suzan when she first injured her right leg during a dance number while filming "East of Sumatra". She then injured her knee in a car accident while promoting the film. During this period she became inseparable from Richard Long ("Big Valley") whom she met at the Universal commissary.
While filming "War Arrow" she was told by her doctor that her injured leg had developed tumors. Later that year, while preparing lunch in her apartment kitchen, she slipped on some water on the floor and broke her leg. Immediately hospitalized and, when an operation to remove the tumors failed, Suzan was told that amputation of her malignant right leg was necessary. Engaged to Long in December

'53, her leg was amputated on January 12, 1954. On April 4, '54 she and Long were married in Santa Barbara with Suzan wearing an artificial limb.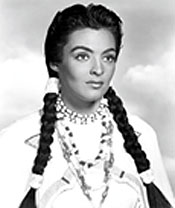 In 1955 noted Western director George Sherman refused to replace her with Susan Cabot as Black Shawl, wife of the famed Indian Chief, in "Chief Crazy Horse". A double was used for her scenes that required walking. In close-ups Suzan moved her shoulders so it would appear she was walking. She lost 15 lbs. during the production.
In May '55 she embarked with Long on a nightclub tour, playing Phoenix and Palm Springs, but in July, while rehearsing a "Climax" TV episode, Suzan collapsed and was rushed to a hospital where doctors discovered the cancer had spread to her lungs. She died August 5, 1955, only six months after her 21st birthday.
She once stated, "I felt no pity for myself, nor have I any feeling of regret. Sometimes I pondered, 'Why has this thing happened to me?' But it was never in terms of a complaint, I sought a real answer. It is not an easy one to find, and perhaps I will never know."
Long was praised for his love and devotion to Suzan during her tragic illness. He married actress Mara Corday January 26, 1957. Long died of a heart attack at 47 in 1974.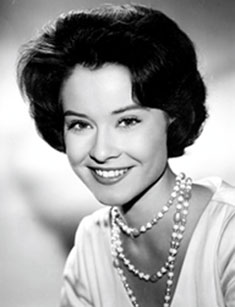 Born February 25, 1938 in Hollywood Diane Baker moved to New York at 18 to study acting and ballet, later continuing her training in L.A. She secured a contract with 20th Century Fox and for her first film was cast in the prestigious "Diary of Anne Frank" in '59. Also at Fox she was in "The Best of Everything" ('59), "Journey to the Center of the Earth" ('59) and several Fox TV series where she always produced sensitive, affecting roles. Her first Western was "The Alice Whitetree" episode of "Wagon Train" followed by "The Big Valley", "The Dangerous Days of Kiowa Jones", "Baker's Hawk" and three episodes of "The Virginian", especially excelling as "Linda" ('66) in a charismatic, romantic turn with James Drury who told us he thought "Diane was a terrific actress who never quite got the breakthrough role she deserved." Diane later moved into producing small independent films and has taught acting courses and was the Executive Director at the School of Motion Pictures, Television, and Acting at the Academy of Art University in San Francisco.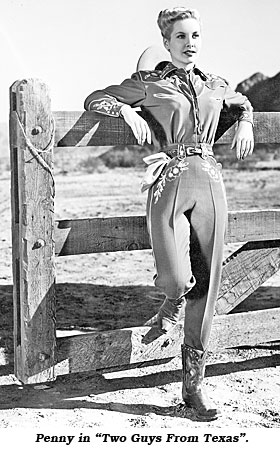 Pretty Penny Edwards was born Millicent Maxine Edwards in Jackson Heights, Queens, NYC on August 24, 1928. Nicknamed Penny as a child because the last syl-lable of her first name ended in "cent", she displayed musical talent as a youth and began studying dance by age six. As a teenager she appeared on Broadway in "The Ziegfeld Follies of 1943." After a couple of other musi-cals and a stint with the St. Louis Musical Opera, she was signed by Warner Bros. in 1947. After several sec-ond-leads and a successful vaudeville tour she signed a term player contract with Republic from May 1950 through October 1951. Replacing a pregnant Dale Evans, Penny co-starred with Roy Rogers in six Westerns, one with Rex Allen and one with Allan "Rocky" Lane. In 1951 she wed studio casting agent Ralph Winters. They had two daughters, Deborah (born in 1954) and Rebecca (born in 1956). She and Winters divorced in February 1958 and Penny married a Jerry Friedman in '64 and they had a son, David. That marriage also ended in di-vorce. Meantime, Penny went on from Republic to co-star with Tyrone Power in "Pony Soldier" ('52), Rory Calhoun in "Powder River" ('53) and then turned to TV work beginning in '56 with "Cheyenne", "Restless Gun", "26 Men", "Californians", "Rough Riders", "Cimarron City", "Wyatt Earp", "Wagon Train", "State Trooper", "Tombstone Territory", "Alaskans", "Tales of Wells Far-go" and "Death Valley Days". She also co-starred in two independent B+ Westerns, the seldom seen "Ride a Vio-lent Mile" with John Agar and "The Dalton Girls" w/John Russell. Penny's lovely features were also com-mercially utilized as The Lux Girl, The Palmolive Girl and The Tiparillo Girl. Penny retired from showbiz in '62 but later appeared at many Western film festivals. ? ? After living in Santa Fe, NM for a time, Penny contract-ed lung cancer and died two days after her 70th birthday near her daughter Deborah in Friendswood, Texas.
Pert and perky and cute as a new born pup—5'2" Olive Sturgess was born October 8, 1933 in Ocean Falls, British Columbia, Canada. Coming to the U.S. Olive found her way to Hollywood in 1954 with her first of dozens of TV Westerns being a "Tales of Wells Fargo". From there she was seen on "Cheyenne", "Sugarfoot", "Have Gun Will Travel", "Texan", "Lawman", "Rawhide", "Wagon Train", "Maverick", "Bronco", "The Rebel", "Whispering Smith", "Outlaws", "Virginian", "Destry", "Bonanza" and others—in particular, "My husband-to-be, Dale Anderson, would see me on the screen in this and other shows, like 'Laramie', that I did at Universal. This is because he's a studio musician. When they'd do the 'Tall Man' themes, he'd play in the orchestra and there I'd be on the screen that projected the film as it was being scored!" Olive's husband "…played on the score for 'Titanic', did 'The Dinah Shore Show', 'The Dean Martin Show', all the John Williams movies and much more." Prior to her marriage Olive dated Nick Adams casually a couple of times. "I did two episodes of his series, 'The Rebel'. Nick and I had done two or three different shows before this. Nick took me to visit Natalie Wood, who was married at this time. I think Nick was in love with her. I had no idea Natalie would know me, even though I had done a lot of television, but she told me, 'I think you're one of the best actresses going right now. I wish I could be half as good as you.' That was very gracious of her to say that! As for Nick, I thought he was very troubled. It was in the manner he had—that was the way he was in real life, always brooding—it was what was in style at the time and it was the way he was in person! When we went out, it was never on his motorcycle! That's one trick he couldn't pull on me. We always went in a car! Incidentally, Nick married Carol Nugent, Judy Nugent's actress-sister. Judy played my Tomboy sister on several 'Tall Man' episodes. Clu Gulager was fun—he worked and planned the accent he used as Billy the Kid on 'Tall Man', that manner of speech. As for me, I was told I was a character actress—because I could do a variety of things, whatever they tossed my way." Reflecting on her illustrious career, Olive muses, "In those days they had good stories. Mary Tyler Moore said it exactly right. 'Writing for television today is like writing shorthand. There's no depth to anything.' We used to have stories that had a beginning, middle and an end; that made you feel good after watching them. Not those terrible shallow shows of today. We had stories that were genuine; stories of the west done with humor or drama and romance. A good show you looked forward to seeing. You really felt good when you saw the TV shows of those days."
Peggy Stewart was in 22 Republic B-Westerns, with Bill Elliott, Sunset Carson, Roy Rogers, Gene Autry and Allan Lane as well as some later B's with Lash LaRue, Jim Bannon, Charles Starrett, Bill Elliott and Whip Wilson. What else need be said to qualify Peggy as the absolute "Queen of B-Westerns". Born Margaret O'Rourke June 5, 1923 in West Palm Beach, FL, in the '30s her family moved to California where actor Henry O'Neill recommended her to Paramount. Her first film was—what else?—a Western; Joel McCrea's teenage daughter in "Wells Fargo" ('37).When the B-Westerns ended, Peggy moved on to TV Westerns—"Gene Autry Show", "Wild Bill Hickok", "Roy Rogers", "Cisco Kid", "Range Rider", "Wyatt Earp", "Yancy Derringer", "Hotel de Paree", "Pony Express", "Have Gun Will Travel", "The Rebel", "Gunsmoke" and "Hondo". While at Republic she met and married Don "Red" Barry in 1940. They divorced in '44. Peggy married stuntman/actor Buck Young on March 4, 1953. They had two children, a daughter Abigail and a son Greg and were married until his death in 2000. Peg's sister, Patricia, was married to Wayne Morris. In later years Peggy performed in the L.A. theatrical Community and kept her hand in the film business on TV and other movies until 2014.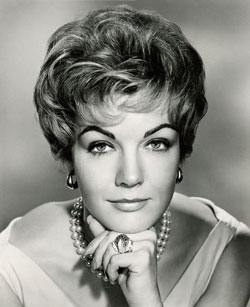 Born in Boston November 15, 1934, Joanna Barnes moved to L.A. soon after graduating Phi Beta Kappa in 1956 with a major in English at Smith College and signed a deal with Columbia in '57. Barnes also guested on Warner Bros. Westerns "Cheyenne", "Colt .45" and "Maverick" as well as other TV Westerns such as "Stagecoach West", "Man From Blackhawk", "Have Gun Will Travel", "Laramie", "Empire" and "Alias Smith and Jones". In 1967 she was the female lead to John Wayne and Kirk Douglas for "War Wagon". Besides hundreds of TV episodes and other major movies such as "Auntie Mame" ('58), "Tarzan, the Ape Man" ('59), "Spartacus" ('60) and "The Parent Trap" ('61), Barnes became a respected novelist—THE DECEIVERS ('70), PASTORA ('80) and SILVERWOOD ('85). Her books have been published in several foreign countries as well as the U.S. Her column "Touching Home" was for many years carried by the CHICAGO TRIBUNE and New York News Syndicate. For years she wrote a weekly book review column for the L.A. TIMES. Joanna was married three times, including actor Larry Dobkin from 1961-1967.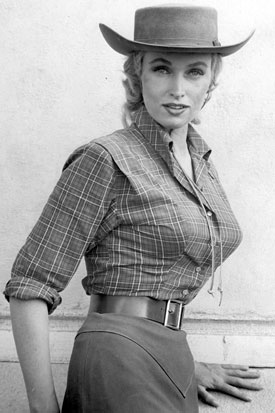 Busty Karen Steele was born March 20, 1931 in Honolulu, Hawaii. After attending the University of Hawaii and Rollins College in Florida she worked as a cover girl and model which led to her first film, "The Clown" with Red Skelton in '53 in which she was credited simply as "a blonde". After much TV work in the '50s she made her first Western, "Decision at Sundown" ('57) with Randolph Scott, for director Budd Boetticher with whom she developed a romantic relationship. She made three other films with Boetticher, "Westbound" ('59) and "Ride Lonesome" ('59) (both starring Randolph Scott) and "The Rise and Fall of Legs Diamond" ('60) with Ray Danton. Guest shots on some 15 TV Westerns include "Wagon Train", "Maverick", "Bat Masterson", "Lawman", "The Deputy", "Bronco", "Bonanza", "Rawhide", "Laramie", "Branded", "A Man Called Shenandoah", among others, before she left film work in '72 to marry Dr. Maurice Boyd Roland, a psychiatrist at the Mohave Mental Health Clinic in Kingman, AZ. Unfortunately, the marriage was short-lived as Steele died of cancer in Kingman March 12, 1988, just a week before her 57th birthday. (Photo courtesy Neil Summers.)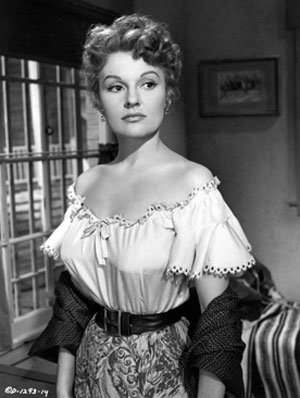 Curvaceous Dianne Foster was born with the unlikely name of Olga Helen Laruska on October 31, 1928 in Edmonton, Alberta, Canada, of Ukrainian parentage. Initially she found work in Toronto as a model and radio and stage actress before moving to England where she made her first films. She came to the U.S. in the early '50s with her first Western being "Three Hours to Kill" w/Dana Andrews in '54. Others were "The Violent Men" w/Glenn Ford, "The Kentuckian", "Night Passage" w/James Stewart, Audie Murphy and 13 TV Westerns including "Wagon Train", "Riverboat", "Shotgun Slade", "Bonanza", "Have Gun Will Travel", "Laramie" and "Gunsmoke". She retired in '67 in order to focus on her family and painting. In 2009 she stated, "What I found working in the movies was that the people behind the camera would applaud a good scene. So in that sense, I had a live audience there as well and that was always a thrill for me. I always preferred a director who allowed me to contribute something of my own. Some directors don't want any contribution. They prefer to tell you exactly what to do and where to move. I always loved the kind of control an actor has in their performance on stage. In film, the control is really in the hands of the director and editor."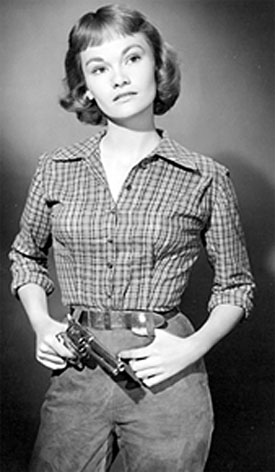 Sexy, gun-totin' Gloria Talbott was born February 7, 1931 in Glendale, CA, a city co-founded by her grandfather. After participating in high school plays she landed a small role in "Maytime" ('37) when she was only six. A couple of teenage roles followed before she really got active in 1951 and was seen in hundreds of movies and TV shows including "Wild Bill Hickok", "Range Rider", "Gene Autry Show", "Cisco Kid", "Hopalong Cassidy", "Sugarfoot", "Restless Gun", "Zorro", "Bat Masterson", "Wanted Dead or Alive", "Bonanza", "The Rebel", "Wyatt Earp", "Tales of Wells Fargo", "Rawhide", "Gunsmoke", "Laramie" and more. Her best big screen Westerns were "The Oklahoman" and "Cattle Empire" both w/Joel McCrea and "Oklahoma Territory" w/Bill Williams. Married four times (including stuntman Sandy Sanders from '56-'65), Gloria died of kidney failure September 19, 2000 in Glendale. She left an admirable treasure of Westerns for us to enjoy. (Photo courtesy Neil Summers.)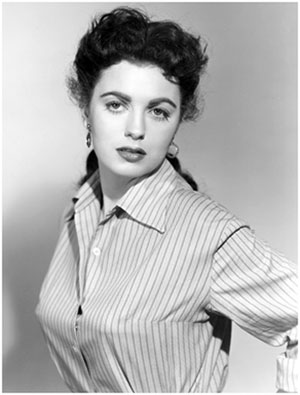 Born in New Orleans, sultry eyed brunette, part-Creole FAITH DOMERGUE (Dah-mure) sizzled the Western screen in "Duel at Silver Creek" ('52) w/Audie Murphy, "Great Sioux Uprising" ('55) w/Jeff Chandler, "Santa Fe Passage" ('55) w/John Payne, "Escort West" ('58) w/Victor Mature and "California" ('63) w/Jock Mahoney. In the '60s Faith primarily concentrated on TV Westerns—"Cheyenne", "State Trooper", "Sugarfoot", "Colt .45", "Bronco", "Tales of Wells Fargo", "Tall Man", "Have Gun Will Travel", "Bonanza". She's also become a Sci-Fi cult favorite for her work in "This Island Earth" and others. She left showbiz in '76 and left us at 74 in 1999 with a legacy of excellent Westerns. (Photo courtesy Neil Summers.)