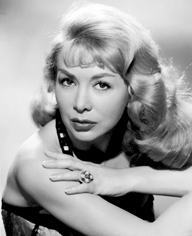 Whether blonde, redhead or brunette, Susan Cummings' gorgeous German-born beauty adorned some 14 Western TV series, including co-starring as Georgia, hostess of the Golden Spike gambling hall at end of track, for 33 episodes of "Union Pacific" ('58-'59) which starred Jeff Morrow.
Susan's A-Western output includes "Utah Blaine", "Tomahawk Trail", "Man From God's Country", etc.
For her co-starring role on "Union Pacific" she recalled, "My red hair was a problem. It blended into the saloon walls. Instead of wearing a wig I let them lighten it a little more each episode."
Born Susanne Gerda Tafel July 10, 1930 in France of French/German parents, the family moved to Germany when she was very young. To escape the Nazis the family came to the U.S. when Susan was 10. Growing up in Newark, NJ where her father ran a bakery, in her second year at high school she made her debut on an amateur radio program. Songwriter Nick Kenny spotted her and brought her to NY at 14 as the star of her own children's program on WCBW (now WCBS-TV). That led to bandleader Clyde Lucas signing her as a singer for his band. Broadway musicals ("Carousel") and road companies followed and eventually Hollywood—at first using the name Suzanne Ta Fel.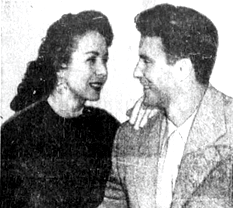 In the late '40s she was reportedly and briefly married to rodeo performer Wayne Dunafon. After that marriage dissolved, she met actor Keith Larsen while filming an episode of his series "The Hunter". Keith, 27, Susan, 23, were secretly married in Ensenada, Mexico on December 28, 1953 (photo right), however they sadly divorced in 1960. They had one child. (Larsen soon married Vera Miles the same year.)
After several uncredited film roles by 1952 she began working heavily on TV. Susan once told a reporter in '59 that she felt she really earned her salary filming an episode of "Man from Blackhawk" in which she is dragged by a horse by her ankle, slapped into unconsciousness by a 200 lb. heavy then has to crawl 100 yards over rocks, cactus and mud.
At 32 Susan married 47 year old former actor Charles T. Pawley (who was formerly married to actress Nan Leslie) on December 15, 1962. Pawley died at 59 in L.A. on May 12, 1975. At 46, Susan, completely retired from showbiz in 1974, married Robert Strasser, 50, in Orange County, CA.
Cummings, 86, died December 3, 2016, in Sun Lakes, AZ. Lest we not forget one of Westerns' unsung beauties.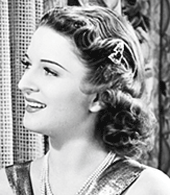 When lists are compiled of the most prolific and most popular B-Western heroines, Joan Barclay is on all the lists. From 1936-1943 Joan rode the range with no less than 17 cowboy heroes in 25 B-Westerns and co-starred in two 15 chapter cliffhangers. She was perfect for Saturday matinees—cute, feisty and a way above average actress for B-Westerns. The camera loved her red hair and stunning green eyes.
Born Mary Elizabeth Greear August 31, 1914 in Minneapolis she was well established as a model by the time she was 16, on the cover of COSMOPOLITAN and many other magazines. Anxious to leave Minnesota's cold climate, her mother had a lady friend who was a script girl and told her mother, "If you bring Mary out to Hollywood, I think I can get her in pictures." Sure enough, at only 13, after a move to California she was cast in "The Gaucho" ('27) with Douglas Fairbanks under the name Geraine Greear. Under contract to Warners in the early '30s, her first B-Western was an uncredited bit in Dick Foran's "Moonlight on the Prairie" ('35 WB). Leaving Warners by 1936 she began to co-star in B-Westerns opposite Bob Steele, Tom Tyler, Hoot Gibson, Tom Keene, Rex Bell, Kermit Maynard, Bob Baker, Three Mesquiteers, Ken Maynard, Tim McCoy, Jack Luden, Buster Crabbe and Tim Holt. Even an uncredited bit in Gene Autry's "Ride, Ranger, Ride".
Memories of her leading men were many and vivid when I interviewed her for my WESTERNS WOMEN book in 1998. "I liked Rex Bell, just a wonderful man. I played bridge with his wife, Clara Bow. He used to come over and drop her off at my house. Then I went up to their house. He was a dreamboat. When she was over at my house, she poured a drink and stood in front of me and said, 'Now when Rex comes in, that's your drink' (Laughs) so he wouldn't know she was drinking. You know, she had quite a bad habit…but she was a nice person. Very beautiful and very nice. Hoot Gibson was a great one. He took me out and put me on one of his polo ponies at Will Rogers' place but didn't tell me anything about them stopping on a dime. Scared the heck out of me! (Laughs) Hoot was a real nice guy. Bob Steele wasn't very handsome. Rambunctious, but…I gather from letters I've had that women say he's been a paramour of so many. He didn't (Laughs) get to me. Tim McCoy was a colonel in the cavalry. The last time I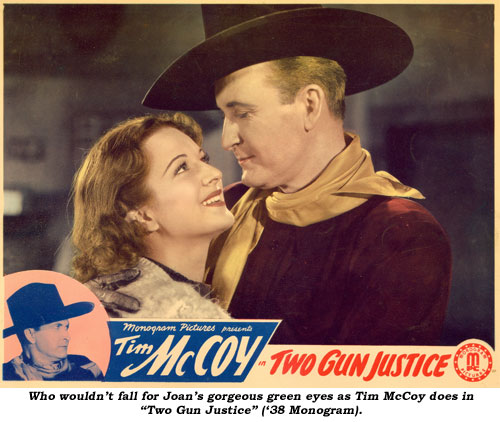 saw him was on Hollywood Blvd. He was all dressed up in his military outfit, walking down the boulevard. He had terrific posture. I believe it was Tom Tyler told me, if the horse ever stumbles, you're going to go flying! He said, hold it up close and let your arm go out. The very next day the horse stumbled, and I pulled him up. Otherwise, that would have been the end of me! I didn't know which end of the horse to get on or anything."
Joan often worked in poverty row Westerns for Sam and Sigmund Neufeld. Sam often directed under the pseudonyms of Sam Newfield, Peter Stewart and Sherman Scott. She laughed, "Two little Jewish men that were on Gower Gulch. They had a little tiny office and they'd stand in the doorway, looking out. (Laughs)" Joan had a long relationship with Sam Katzman's Victory Pictures ('35-'40) and worked with Sam again on East Side Kids films at Monogram. "He was a very nice man. He had a wife that…somebody called her a bitch on wheels…she had red hair and an awful temper, but she was nice to me. I did a lot of little pictures with Sam, including a couple of serials, 'Blake of Scotland Yard' ('37) and 'Shadow of Chinatown' ('36)." Of Bruce Bennett (aka Herman Brix), her co-star in "Shadow of Chinatown", Joan says, "Bruce, the shot-put champion. He was teaching me to play golf. Very nice looking man. His wife went right along with him, wherever he went…kept an eye on him."
After nearly 20 years in the business, "I just quit in 1945. I got married to my second husband." Joan was married three times. Her first husband, Paul Fitzgerald, was a Marine. Her second husband, and the father of her two children was heir to a family fortune. Her marriage to a third husband lasted 18 years until his death.
I asked Joan why she thinks her career never really progressed beyond B-films. "At Warner Bros., both Jimmy Cagney and Pat O'Brien would talk like Dutch uncles to me. 'Now you've got so much opportunity here, there isn't any reason in the world why you're not a star. Go out and get some experience, take dramatic lessons, do this and that.' And I'd say, 'Yes, yes, yes Jimmy…' Never did anything about it. That's just me. I procrastinate. At that time, I was more interested in going out with boys…but I wish I had listened to them. Gee whiz, I regret I didn't try to do something about it, listen to them."
One of B-Western's most striking beauties, Joan died of natural causes November 22, 2002 while living in Palm Desert, CA.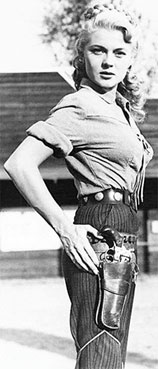 Sexy, green-eyed blonde Peggie Castle toiled in B+ Westerns and crime melodramas until finding lasting fame on "Lawman" as saloon owner Lily Merrill.
Of German-Scottish-Irish descent she was born Peggy Blair on December 22, 1925 in Appalachia, VA. Attending private school near Pittsburgh, PA she first acted at the Pittsburgh Playhouse. When the family settled in Hollywood her father became a Goldwyn studio manager. Peggie acted in Mills College school productions and appeared on radio's "Today's Children" soap opera. In 1945 at only 19 she married 24 year old L. A. businessman Revis T. Call. They divorced in 1950.
In late '48 Peggie was spotted by an agent at a seafood bar in the Farmer's Market which led to a screen test and brief contract at 20th Century Fox. Audie Murphy intervened while they were dating in '49 and Peggie was signed by Universal-International, receiving the title of "Miss Classy Chassis". During her U-I tenure she married U-I casting director Robert Rains in '51. They divorced in '54.
Leaving U-I in '52 she co-starred in her first Western, "Wagons West" opposite Rod Cameron. Freelancing, more followed—"Cow Country" ('52) w/Edmond O'Brien, "Son of Belle Star" ('53) w/Keith Larsen, "Overland Pacific" ('54) w/Jock Mahoney, "Yellow Tomahawk" ('54) w/Rory Calhoun, "Jesse James' Women" ('54) w/Don Barry, "Tall Man Riding" ('55) w/Randolph Scott, "Two Gun Lady" ('55) opposite Marie Windsor, "Quincannon, Frontier Scout" ('56) w/Tony Martin and "Oklahoma Woman" ('56) w/Richard Denning.
During this time many of her co-workers described her as "a nice gal but very sad." Actress Donna Martell recalled, "I really liked Peggie but felt something was missing in her personality. She was very lonely; she was not a happy person."
In July '55 she married for the third go-round, this time to William McGarry, her assistant director on "Overland Pacific". He was 22 years her senior.
Peggie turned primarily to TV work on "Gunsmoke", "Cheyenne", "The Texan" and "Restless Gun" before landing the role of Lily Merrill on the second season of "Lawman" in October 1959. Her character was meant to "defrost" the stone-faced John Russell and give the series a "new life", keeping "any romance always in abeyance." Peggie stated about her singing on "Lawman", "I'd never sung in my life and suddenly I find myself singing on every third episode." She came to love her character of Lily, "I've tried to give Lily the glamour and presence of the famous English actress Lily Langtry, and the fire and sexiness of the one and only Maria Montez, famous dancer of the turn of the century." (Not the '40s actress.) But when the series ended she found roles hard to come by, only appearing in a "Virginian" episode in '66.
Divorced from McGarry in January '70 she remarried for the fourth time in October '70 to businessman Arthur Morgenstein. He died in '73, sadly by that time Peggie had developed a serious drinking problem with no indication of what was troubling her. On August 11, 1973, former husband McGarry, who had been trying to help her, was worried when she didn't respond to his phone calls. Tragically, at only 47, McGarry found Peggie dead on the couch in her apartment. The cause of death was cirrhosis of the liver and hardening of the arteries of her heart.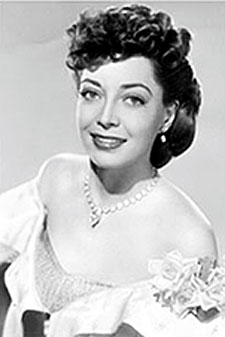 The first thing you notice are her shadowy eyes. As an actress for over 50 years Marie Windsor appeared in some of the finest B-Westerns ever made. Beyond her well-earned image as a sexy, tough broad, her acting versatility is her most remarkable trait. The former Miss Utah was stage trained under the prominent Maria Ouspenskaya, acted in over 400 radio shows between '41 and '45 originating from New York, and was able to build an impressively long 50 year career in movies and TV from '41 to '91. A remarkably sensible and caring woman with a good marriage (to real estate broker Jack Hupp) and a healthy attitude about life, she often dismissed her career in mostly B-films with the comment, "How could I be bitter when I've loved every bit of what I've been doing in films?" When her acting career ended she became a painter and sculptor. She was also among 500 stars nominated to become one of the greatest American screen legends as part of AFI's 100 Years—100 Stars event in '99.
The gifted 5' 9" actress we so well remember in Westerns as a female bandit leader, dance hall Madam or "other woman" was born Emily Marie Bertelsen Dec. 11, 1919,
in the farming community of Marysvale, UT (population 300). Acting was always her primary goal even before her two years at Brigham Young University where she appeared in various plays. Crowned Miss Utah, the title enabled her to enter and win the "Gateway to Hollywood" Jesse Lasky Radio Talent Show in Salt Lake City. This led to being accepted as a student by Ouspenskaya, radio work and small roles in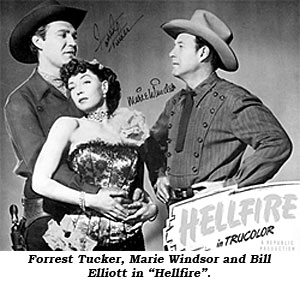 some 30 films from '41-'48, often at MGM.
But it was Republic's superb and offbeat "Hellfire" in '49 that made Marie a star. Marie described her role of Doll Brown as "rich and rangy." Unfortunately, Doll Brown's misguided hellion role later saw Marie typecast in many more Westerns and TV episodes. Every now and then she was cast as a rancher's wife or kidnapped lady and managed to shine on the right side of the law. Marie was so often bad on screen that she commented, "A lot of people, on first meeting me, are surprised if not disappointed when I don't come on like a bitch. This never bothered me. In fact, I was flattered to think I may have been so convincing in those roles that people really believed it was me up there on screen." In 1983 Marie was awarded a star on the Hollywood Walk of Fame. Sidelined by crippling arthritis and several operations beginning in '96, the Western world lost our favorite dance hall queen December 10, 2000, shortly before her 81st birthday.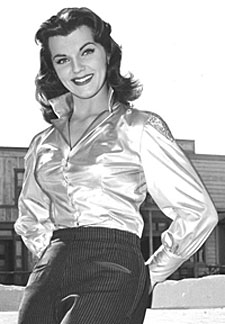 TV's reigning 'Western Queen', the gorgeous 5'5" 34-23½-36" star of innumerable movies and TV shows of the '50s and '60s, Lisa Gaye, was born in Denver, CO, March 6, 1935. The youngest of three actress-sisters (Teala Loring and Debra Paget being her older siblings; kid sister Meg was a non-professional), Lisa came to California with her family when sister Teala received a Paramount contract and the name Judith Gibson.
One of Lisa's television co-stars was Steve McQueen, with whom she appeared on "Wanted Dead or Alive". "I loved working with him; he was generous and professional. He gave so much. Of course he was high strung and pressed to the edge a little.
As to a preference in working with other actors, Lisa is quick to explain, "Each is different. I am a people person and got along great with everyone—except a couple of the directors, who were harsh. You spend so much time together, everyone pulls together like a team; there was no time for temperament on TV shows. Dancing was my first love; I planned to go on and do ballet. But I was seen in a play—this resulted in a screen test and I was placed under contract to Universal-International when I was only 17!
Asked about acting and any technique she may have, Lisa stated, "I just did it. It wasn't hard to memorize lines; it all was just a lot of fun. I was always happy to be working—but I didn't like to do the publicity. Give me a script and I'm happy.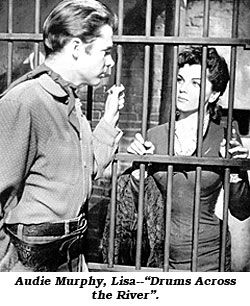 Concerning her lone big-screen Western co-star, Audie Murphy in "Drums Across the River" ('54), who gave so many co-stars trouble, Lisa states, "He was a gentleman— always! Friendly. Of course, I was still a teenager when we worked together, but he was very protective of me. Audie was like a big brother to me. He took care of me. Watched out for me. I was the only girl there besides the script girl. I received some lusty looks from some of the men, but I always handled myself where they knew not to put the make on me. It's how you handle yourself. I had an attitude and I knew to 'always be aware of what goes on around you'. They knew I was a lady—they may have looked, but they didn't touch or say anything. If they had, Audie would have come to my rescue. Another cast member in 'Drums Across the River' was Walter Brennan…he was a sweetheart, like a Daddy to me."
When queried about any accidents that may have occurred, Lisa recalls, "Only one time did I get hurt, and it was my fault! I missed my mark on one of those 'Death Valley Days' ("A General Without Cause"). I was a half a step too close and was backhanded in the mouth by Jack Elam, who was very upset about it, especially since my lip bled! Jack had tears in his eyes! He kept apologizing and I kept saying it was alright—it was my fault, not his—I overstepped my mark. We had rehearsed and rehearsed. I was to run up to him—and he was to backhand me. I usually line myself up with a bush or something to find a mark—I was half a step past and when he went to swing his arm back—well, there was a great reaction in that shot! (Laughs) My lip only bled a little bit—but Jack was such a sweet man about it."
Regarding some of her other TV Western leading men: "Richard Boone was one of my favorites—he wanted me to go to New York to study with a drama coach—he was very generous."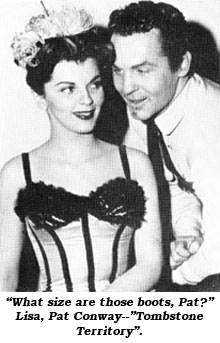 Lisa guest starred on "Tombstone Territory". "Pat Conway—poor Pat! I was terrible, kidding him about the size of his boots. He was a good sport; a good guy. 'What size are those boots, Pat?' (Laughs) Pat was a big, tall guy, and it was a running gag. We had fun; lots of laughter."
Keith Larsen: "Doing a show in color like 'Northwest Passage' was big in those days. Keith is a sweet guy; Buddy Ebsen was also in that. We'd be cutting up—Buddy Ebsen, a wonderful entertainer—we'd start tap dancing in those period clothes!"
Peter Breck of "Black Saddle": "Peter knew what he wanted even in those days—he was very professional, always thinking and concentrating on what he was doing."
Wayde Preston "Colt .45"—"My goodness, he was very, very nice."
Will Hutchins—"I loved him as an actor—he is a very handsome guy; 'Sugarfoot' was a great show. I adored it."
Gene Barry: "On 'Bat Masterson: Sharpshooter', I was working with a mark shot sharpshooter, holding plates. I was rigged with wires so the rounds would explode around me. Gun powder on the plate exploded. Well, the gun powder burned a hole in my leg—I didn't say 'Ouch' because I didn't want to spoil the shot—and have to do it again!"
Clint Walker: "He was a big, slow speaking, easy going guy. He settled into the saddle better than anybody else. Clint was always after me to quit smoking (Laughs) but he failed. I have since quit myself."
The name Scott Brady ("Shotgun Slade") results in a good anecdote. "They say a lot of things against Scott, but he looked out for me! A character actor said something disparaging about me. He said it at the commissary—loudly, on purpose, so I could hear. When I went back to the set, the man who had said something came looking for me. 'I need to apologize to you; I was set straight that you are a lady.' Scott Brady, who had such nice blue eyes, had set him straight all right!"
Lisa appeared on "Death Valley Days" a total of nine times, more than any other actress. "I loved doing that show! I especially liked the fact the stories were all true!" At one time, Dale Robertson was the host of "Death Valley Days." "Dale is a friend of the family. He is like a big brother to me. I did a couple of his 'Tales of Wells Fargo' shows. He also did a 'Death Valley Days' with me."
As Lisa's career wound down she retired in 1970 and became a receptionist at Channel 14, the local religious TV station in Houston. "I was there 19 years." The lovely Lisa died at 81 on July 14, 2016 in Houston, TX.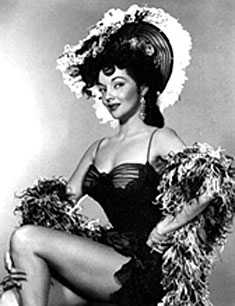 Voluptuous, exotic-looking Mari (pronounced Mar-e) Blanchard was possessed of a striking but synthetic beauty, relegating her to being cast as tarts, home wreckers, and other assorted femme fatales.
Born Mary Blanchard April 13, 1923, in Long Beach, CA, she contracted a crippling case of polio at age nine but fought back and was walking again by 11. She swam daily for several years to restore her muscles and even ran away at 17 to join Cole Brothers Circus where she rode elephants and performed on the trapeze. After attending Santa Barbara State College, UCLA and USC to study international law, she went to New York to seek employment in the international trade business but wound up signing with the Conover Model Agency. In '48 she was cartoonist Al Capp's inspiration for Stupefyin' Jones in his "L'il Abner" strip. Capp later sent Mari on a nationwide publicity tour to promote Sadie Hawkins Day. A Kodak bubble bath advertisement brought her to the attention of Paramount in late '49 but she only remained under contract until late '51.
Freelancing, the 5' 5" actress made her first Western as the saloon singer mistress of badman Hugh Beaumont in Tim Holt's "Overland Telegraph" ('51 RKO). Universal-International saw her potential. Three Westerns quickly followed. For "Rails Into Laramie" ('54) she was badman Dan Duryea's girl who has a change of heart and instigates an all-woman jury to convict Duryea of his lawlessness. In Joel McCrea's "Black Horse Canyon" ('54) Mari is the owner of a large horse ranch, then in Audie Murphy's remake of "Destry" she's at her best as Brandy, saloon owner Lyle Bettger's partner who falls for Audie, eventually taking a bullet meant for him. Incidentally, Mari severely injured her nose in the "Destry" catfight with Mary Wickes.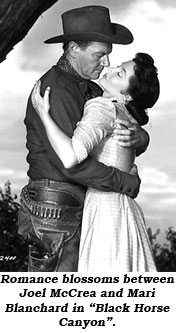 Gregg Palmer was a contract player at U-I at the same time and recalled, "She was a sweetheart. She was reserved, but outgoing. She wasn't pushy, a class act." During this period she was romantically linked with Scott Brady, Broadway attorney Bentley Ryan, movie lawyer Greg Bautzer, director Hugo Fregonese (estranged husband of Faith Domergue), dress manufacturer Bob Evans, Lance Fuller, Don Barry, Mexican singer-actor Luis "Tony" Aguilar, Mel Torme and George Raft—eventually marrying L. A. attorney Reese Hale Taylor Jr. in 1960, but it only lasted less than a year. It was perhaps her refusal to dance in "Son of Sinbad" because she considered her outfit too revealing that caused U-I to drop her contract in July '55.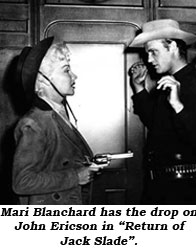 She immediately went to work as outlaw-queen Texas Rose who is eventually rehabilitated by John Ericson in "Return of Jack Slade" ('55 Allied Artists) and as a dance hall vixen trapped with Forrest Tucker and others in "Stagecoach to Fury" ('56 Regal/20th Century Fox).
Turning primarily to TV in the late '50s she appeared on "Sugarfoot: Apollo with a Gun" with Will Hutchins, one of his favorite episodes. "Of all the gals I ever worked with, she's in the Top 3. As for Mari—we didn't have many sexy 'Sugarfoot' shows, but I think 'Apollo with a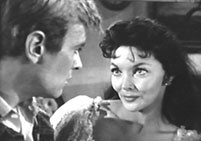 Gun' (right) was the sexiest, all because of her. She was just a delight. She said the sweetest thing. I don't remember saying goodbye to a lot of people, I shoulda been better at that. But I remember she said she really liked working with me, she said she learned a lot. I shoulda said, 'Why don't we talk that over at dinner?' But I didn't. (Chuckles) I was so in awe of her, I didn't let her know how much I liked her. And she was terrific in the part." Mari is also in "The Texan" ("Caballero" as a gun runner's lady), "Tales of Wells Fargo", "Laramie" ("Rope of Steel" as an opportunistic saloon girl), "Bronco" (as a shady lady in "Montana Passage"), "Gunslinger", "Rawhide" (as a sexy conniver in "Incident of the Big Blowout" and as a dark-haired Mexican Senora in "Incident of the Stalking Death").
Divorced from Taylor, she lost a child by miscarriage in mid '60, but gained a regular role on "Klondike" ('60-'61) as hotel proprietress Kathy O'Hara. Unfortunately, the ZIV series wasn't well received and did nothing to revive her faltering career. Her TV roles were sporadic in the early '60s, primarily on Warner Bros. detective series before she married—briefly—a George Shepard in '65 and then photographer Vincent J. Conti in '66.
Billed 24th as the likeable town Madame in John Wayne's "McLintock" ('63) effectively wrapped up her career. Diagnosed with cancer, she underwent surgery in early '69 but died May 10, 1970, at 47 at the Motion Picture Hospital in Woodland Hills, CA.

The camera absolutely adored stunning redhead Rhonda Fleming, so much so that a cameraman on one of her films remarked on how he was so struck by her beauty that, as a gag, he intentionally tried to photograph her badly; he was astonished that no matter how deliberately he tried, she still came out looking ravishing.
Born Marilyn Louis August 10, 1923 the native born Californian's mother was a famous Swedish blonde model in New York. Rhonda was discovered by talent agent Henry Willson while a student at Beverly Hills High School and made her first screen appearance as an uncredited dance hall girl in John Wayne's "War of the Wildcats" (aka "In Old Oklahoma") in '43. Rhonda stated, "I'm back where I grew up. Being out in nature with rolling hills and cabins. I just loved it." Her next few films were only bits until she co-starred with Randolph Scott in "Abilene Town" in '46. "Everybody loved Randy. He was very generous and always kind to me." Other major Westerns were "Eagle and the Hawk" w/John Payne, "Redhead and the Cowboy" w/Glenn Ford (Rhonda recalled, "They wanted a close-up of me rearing a horse without using a stuntgirl. In the scene, I was riding uphill and I reared the horse up and it fell back on top of me. By the Grace of God I was not squashed. I was knocked unconscious. How I got up and walked away and finished that film was a miracle."), "Last Outpost" w/Ronald Reagan, "Pony Express" w/Charlton Heston (Rhonda laughed, "Heston and Forrest Tucker spent so much time together between scenes bonding and trying to out-macho each other that there wasn't much room for conversing with any cowgirl."), "Tennessee's Partner" w/John Payne and Ronald Reagan (Rhonda believes, "John Payne was an underrated actor."), "Gunfight at the O.K. Corral" w/Kirk Douglas and Burt Lancaster (Rhonda smiled, "Working with Burt and Kirk was tremendous. Burt was one of my favorites. He was one of a kind. There's never going to be another Burt Lancaster."), "Gun Glory" w/Stewart Granger, "Bullwhip" w/Guy Madison and the comedic "Alias Jesse James" w/Bob Hope. Her career waning, she began to venture into TV in 1960 and guest starred on "Death Valley Days", "Virginian", "Kung Fu", "Wagon Train" of which she recalls, "Ward Bond was very sweet to me. He kind of watched his mouth when I was around. He could be a big bully but not with me. Robert Fuller was a darling guy. He was such a happy spirit." Married six times, today at 96 she lives in Century City, CA. Of her career she's stated, "Mine was a very rare and wonderful Cinderella story, a complete Cinderella story that could have only happened during the studio system era."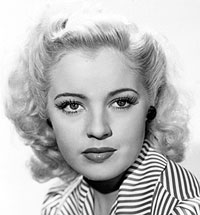 Pat Buttram used to joke, "That was more fun than Mary Beth Hughes on location." Buxom blonde Mary Beth (actually a natural redhead) worked in dozens of movies and TV series, but it seems the bulk of her Westerns were made between 1948 and 1951 with her TV Western appearances gathered from '57 to 1963. Born in Alton, IL on November 13, 1921, her parents divorced in 1923. During the '30s, while her mother worked in a clerical position with the federal government Mary Beth appeared in school plays which brought her to the attention of a repertory company during which time she toured the U.S. and England in various plays. During the summer of '38 Mary Beth and her mom moved to L.A. to seek film work. Spotted by an agent she was signed to a $100 a week MGM contract and cast as a girl at a party in "Broadway Serenade" ('39). 20th Century Fox upped the ante and signed Mary Beth at $200 a week in 1940. Her first Westerns were at Fox—"Lucky Cisco Kid" ('40), "Ride On Vaquero" ('41), "Cowboy and the Blonde" ('41) and her most memorable role, that of Rose Mapen in the classic "Ox-Bow Incident" ('42). Dropped by Fox in '43, she initiated a nightclub act to which she returned throughout the years when film work became scarce. Her first of three marriages was to actor Ted 'Michael' North from December '43 to October '47. They had one son. Off the screen for over a year ('46-'47) she resumed her Hollywood career and from '48-'51 she co-starred in eight Westerns—"Return of Wildfire"

w/Richard Arlen, "Last of the Wild Horses" w/James Ellison, "El Paso" w/John Payne, "Rimfire" w/James Millican, "Grand Canyon" w/Richard Arlen, "Square Dance Jubilee" w/Don Barry, "Riders in the Sky" w/Gene Autry and "Passage West" w/John Payne. During this period after years of using her natural red hair on screen, she colored her hair platinum blonde, the look apparently preferred by her public. In April 1948 she married singer David Street and they teamed together for Mary Beth's nightclub act through 1954. She also began working on various TV shows in '52, even becoming KTLA-TV's "Weather Miss" in L.A. from '53-'54. Divorced from "womanizer" Street in November '57 (he married Debra Paget in '58) she continued to work in film and TV as well as holding a seven year association with the L.A. based stage production of "Pajama Tops" ('56-'63). Also from '57 to '63 Mary Beth turned to TV Westerns—"Colt .45", "Buckskin", "Frontier Doctor", "Rin Tin Tin", "Wanted Dead or Alive", "The Deputy", "Rawhide"—after which time she returned to the nightclub circuit as Mary Beth Hughes and The Swingers show band until 1966. Throughout the late '60s and early '70s Mary Beth performed in L.A. nightclubs with singer Mal Langan, appeared on TVers with Red Skelton and Milton Berle, filmed three exploitation features and married her then manager Nicky Stewart in '73; they divorced in '74. Later in life she ran a Canoga Park, CA beauty parlor, was a TV spokeswoman for Zales Jewelry and worked in telemarketing in Sherman Oaks, CA selling Sprint long distance service. By 1991 her mind began to deteriorate rapidly. A good friend saw her admitted to extended care at an Encino/Tarzana care facility, then a Channel Islands care center and finally back to another Valley facility where our voluptuous, blonde cult favorite died at 75 of natural causes on August 27, 1995.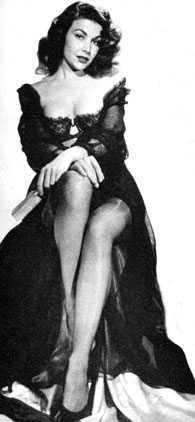 Exotic and sexy Mara Corday, a talented actress from the '50s, is known for her numerous appearances in Westerns as well as her many battles with tarantulas, black scorpions and giant claws in sci-fi classics. Born Marilyn Watts in Santa Monica, California on January 3, 1930, she began as an Earl Carroll showgirl doing skits with comedian Pinky Lee at the famed showman's theater/restaurant in Hollywood. That's when she became Mara Corday. "I thought Marilyn Watts didn't suit an Earl Carroll showgirl. Too plain—I wanted something exotic! I'd been an usher at a theater called the Mayan and used to deliver backstage message where the bongo player called me Marita. So I shortened it to Mara. Corday came from a perfume I liked. From Earl Carroll, I did some modeling and then got into a play. From one of my magazine photos I was seen by producer Hal Wallis who signed me to a contract. I was only with him six months and that led to an offer from Universal." Her first Western was "Drums Across the River" ('54) with Audie Murphy. That led to "Man Without a Star" ('55), "Raw Edge" ('56), "A Day of Fury" ('56), "Naked Gun" ('56) "The Quiet Gun" ('57), "Dawn at Socorro" ('54) and many TV episodes. Mara was married to Richard Long from 1957 til his death in 1974. They had three children.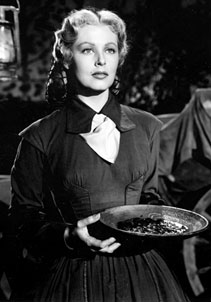 Arlene Dahl was considered one of the most beautiful actresses to have graced the screen during the postwar period. Elegance and femininity are fitting descriptions for her breathtaking beauty, used to seductive perfection as she teased and taunted both Joel McCrea and Barry Sullivan in "The Outriders" ('50 MGM). Of Norwegian extraction, she was born in Minneapolis August 11, 1925. Following high school she modeled and joined a local drama group. Arriving in Hollywood in 1946 she was briefly at Warner Bros. before being signed at MGM. She left films behind to become a beauty columnist and soon founded Arlene Dahl Enterprises marketing lingerie and cosmetics. Married six times, two of whom were actors—Lex Barker ('51-'52) and Fernando Lamas ('54-'60). Her other Westerns were "Ambush" ('50) w/Robert Taylor, "Inside Straight" ('51) w/David Brian, "Land Raiders" ('70) w/Telly Savalas and TV's "Riverboat".

Brunette, sultry voiced Julie Adams grew up in Blytheville, AR after being born in Waterloo, IA October 17, 1926. The late actress made her 'acting' debut in a third grade play. Graduating from Little Rock Central High at 19 she was crowned Miss Little Rock. Opting to be an actress she moved to California where she worked as a secretary to support herself and spent time taking speech lessons and making the rounds of various studios. She was billed Betty Adams (real name: Betty May Adams) for her first lead in "The Dalton Gang" with Don "Red" Barry. "I met someone at the Lippert office, talked to them and got the role! That picture resulted in my landing the lead in six different pictures at Lippert with James Ellison and Russell Hayden. We had six different scripts—but we shot all the scenes of the stagecoach together, then all the ranch scenes, whatever—all at the same time. The six movies were done in five weeks. It was economical to do it that way but I never could remember who I was. I had three or four wardrobe changes—a farmhouse dress, a stagecoach dress. I had a difficult time remembering who I was supposed to be. 'Am I the farm girl this time—or the cowgirl?' (Laughs) Not that it made any real difference. These films were the reason I learned to ride. I practiced riding for about three weeks in Griffith Park. The horses there were slow and you really had to kick them to get them going. Shooting the actual movie, director Tommy Carr said, 'Action.' When I let into this old horse, he shot away with me and kept on going. We were supposed to ride, see where the badmen were, wheel around and come back. This horse and I would still be flying through the woods had a mountain not broken his stride. (Laughs) Raymond Hatton was in those—such a nice man. He showed me how a horse takes to a scene. He said to take the pony through it—let the horse know how to do it. Rehearse the horse—hit the marks. It was terrific advice! James Ellison—a charming guy; we had a good time. He was so handsome, a very sweet man, as was Russell Hayden." In the summer of 1950, Betty Adams signed a term contract with Universal. "They didn't like Betty so they renamed me 'Julia'. After a few years I changed it myself—to Julie, because that's what most people called me anyway." Julie co-starred in 21 Universal films over the next few years. "Bend of The River" was her first big-budget Western credit. "Working with

James Stewart is one of the greatest pleasures I've ever had. Arthur Kennedy—a brilliant actor who I had worked with in 'Bright Victory' a year before. Lori Nelson and Rock Hudson—two pals from Universal. We had a beautiful location at Timberline Lodge at Mt. Hood. It was built during the Depression and had fantastic architecture. Later, when they were casting the wife in 'The Jimmy Stewart Show', I went to see him. We sat and talked one day about what lousy caterers they had up there. The food was not good—one time, we skipped over the main food and went for the Baby Ruths—but they were wormy! (Laughs). Jimmy and I were talking and laughing about wormy Baby Ruths! He was lovely. Of course I didn't think I'd get the part because I was too young to play the mother of a 28-year-old son. At one time, they thought about saying my character was the second wife. They also wanted to 'age' me—give me gray hair and all, but I refused. All the others considered for the series were older women, so it was a surprise—and a delight—when I landed it." "Horizons West" was the first of Julie's bad-girl roles in Westerns. "That was the first time I worked with Budd Boetticher, a lifetime friend. I enjoyed Robert Ryan who was one of the great gentlemen, a loving, bright man. It was so ironic he played mean people so often and so well—he was lovely." About "Wings of the Hawk" in 3-D: "The 3-D camera didn't affect the actors at all. The camera looked different, but the main thing I remember about that picture was a wrangler named Jack Shannon. We went riding every day for three weeks around the Universal backlot before starting the film. I played a Mexican in the movie. I had a Mexican saddle—he gave me a riding crop and talked about riding and dismounting." "The Lawless Breed": "Rock Hudson and I were real pals. A lovely young man, Rock was lots of fun. It was very fulfilling, as we both got to age in the film. Our working together was very joyful." "Man From The Alamo": "Oh, it was so very Hot! We shot it out in Agoura, in 106º temperature. It was dry—and those covered wagons! Glenn Ford is a charmer—and I became good friends with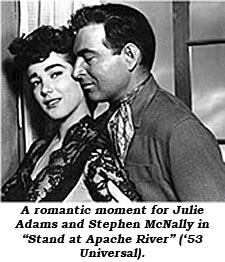 Neville Brand. He was a real friend." On the less-than-terrific "Stand At Apache River": "I almost drowned on that one! There's a scene where I fall into the water. They forgot to put something down for my feet and when I went in, I went down like a piece of stone with that heavy Western dress on!" "Slim Carter": "I autographed my name onto the credits at the beginning. Jock Mahoney was such a charming, amiable guy. We later did his TV show, 'Yancy Derringer' together." "Gunfight at Dodge City": "Joel McCrea was charming; such a delight."

Vivacious Diane Brewster is fondly remembered on "Maverick" as Samantha Crawford, the gorgeous, full of Southern charm, gambling con artist with a Southern accent—but ultimately likable. Actually, Brewster first played the character on the second season opener of "Cheyenne", "Dark Rider" (9/11/56), in which she talks Cheyenne out of $300 and skips town. Viewers responded to her character so Warner Bros. brought her back to con James Garner in "Maverick"'s third episode, "According to Hoyle" (10/6/57). Later that season Samantha conned Bart Maverick (Jack Kelly) in "The Savage Hills" (2/9/58) and Garner again for a crooked card game in "The Seventh Hand" (3/2/58). In the third season of "Maverick" Samantha returned in the classic "Shady Deal at Sunny Acres" (11/23/58). Diane played a somewhat similar lady gambler on George Montgomery's "Cimarron City" episode "Runaway Train" (1/31/59).
Brewster was born March 11, 1931 in Kansas City, MO. Her father was a trial lawyer. Graduating high school she studied liberal arts at the University of Kansas. Following her sophomore year she took a job as a secretary at a Kansas City TV/radio station where she eventually began doing the weather and was also MC for a teenage radio program.
In 1954 Diane decided to try her luck in L.A. Her first jobs were small roles on "Gang Busters", "Highway Patrol" and others from '55 to '56.
At 28 Diane and San Fernando Valley oral surgeon Dr. Jabe Walker (36) were married in May '59. They had a son and a daughter.
Diane later had running roles on "Leave It to Beaver" ('57-'58), "The Islanders" ('61) and played the murdered wife of Dr. Richard Kimble (David Janssen) in two episodes of "The Fugitive".
She co-starred in two movies with George Montgomery, "Black Patch" and "King of the Wild Stallions" and made the rounds of TV Westerns on "Frontier Doctor", "Zane Grey Theatre", "Tales of Wells Fargo", "Restless Gun", "Tombstone Territory", "Trackdown", "Wanted Dead or Alive", "Bat Masterson", "Rifleman", "Dakotas", "Empire", "Death Valley Days"…and perhaps her finest performance as Lita Foladaire on "Wagon Train: The Lita Foladaire Story".
Sadly, much too young, Diane, who will always be our sweet con artist Samantha, died of heart failure at only 60 on November 12, 1991.

Exotic looking Suzan Ball, a second cousin to comedienne Lucille Ball, was born March 3, 1934 in Jamestown, NY. Her family moved to Miami, FL and Buffalo, NY before settling in N. Hollywood around 1947.
While singing with the Mel Baker Orchestra from '48-'53 she secured a bit role as a dancing girl in Monogram's "Aladdin and His Lamp" ('52). Living at the famed House of Seven Garbos boarding house on LaBrea Ave., Mary Castle ("Stories of the Century") arranged an interview for Suzan at Universal which led to a role in "Untamed Frontier" ('52)—which also led to a romantic fling with co-star Scott Brady.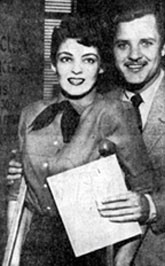 Although gossip columnist Hedda Hopper proclaimed Suzan one of the "New Stars of '53", having been seen in three Universal hits including "War Arrow" w/Jeff Chandler, the year turned darkly tragic for Suzan when she first injured her right leg during a dance number while filming "East of Sumatra". She then injured her knee in a car accident while promoting the film. During this period she became inseparable from Richard Long ("Big Valley") whom she met at the Universal commissary.
While filming "War Arrow" she was told by her doctor that her injured leg had developed tumors. Later that year, while preparing lunch in her apartment kitchen, she slipped on some water on the floor and broke her leg. Immediately hospitalized and, when an operation to remove the tumors failed, Suzan was told that amputation of her malignant right leg was necessary. Engaged to Long in December

'53, her leg was amputated on January 12, 1954. On April 4, '54 she and Long were married in Santa Barbara with Suzan wearing an artificial limb.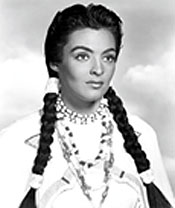 In 1955 noted Western director George Sherman refused to replace her with Susan Cabot as Black Shawl, wife of the famed Indian Chief, in "Chief Crazy Horse". A double was used for her scenes that required walking. In close-ups Suzan moved her shoulders so it would appear she was walking. She lost 15 lbs. during the production.
In May '55 she embarked with Long on a nightclub tour, playing Phoenix and Palm Springs, but in July, while rehearsing a "Climax" TV episode, Suzan collapsed and was rushed to a hospital where doctors discovered the cancer had spread to her lungs. She died August 5, 1955, only six months after her 21st birthday.
She once stated, "I felt no pity for myself, nor have I any feeling of regret. Sometimes I pondered, 'Why has this thing happened to me?' But it was never in terms of a complaint, I sought a real answer. It is not an easy one to find, and perhaps I will never know."
Long was praised for his love and devotion to Suzan during her tragic illness. He married actress Mara Corday January 26, 1957. Long died of a heart attack at 47 in 1974.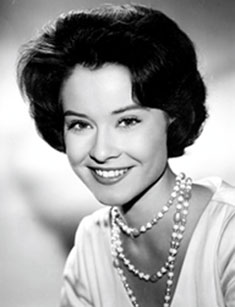 Born February 25, 1938 in Hollywood Diane Baker moved to New York at 18 to study acting and ballet, later continuing her training in L.A. She secured a contract with 20th Century Fox and for her first film was cast in the prestigious "Diary of Anne Frank" in '59. Also at Fox she was in "The Best of Everything" ('59), "Journey to the Center of the Earth" ('59) and several Fox TV series where she always produced sensitive, affecting roles. Her first Western was "The Alice Whitetree" episode of "Wagon Train" followed by "The Big Valley", "The Dangerous Days of Kiowa Jones", "Baker's Hawk" and three episodes of "The Virginian", especially excelling as "Linda" ('66) in a charismatic, romantic turn with James Drury who told us he thought "Diane was a terrific actress who never quite got the breakthrough role she deserved." Diane later moved into producing small independent films and has taught acting courses and was the Executive Director at the School of Motion Pictures, Television, and Acting at the Academy of Art University in San Francisco.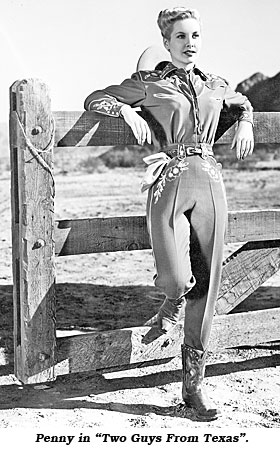 Pretty Penny Edwards was born Millicent Maxine Edwards in Jackson Heights, Queens, NYC on August 24, 1928. Nicknamed Penny as a child because the last syl-lable of her first name ended in "cent", she displayed musical talent as a youth and began studying dance by age six. As a teenager she appeared on Broadway in "The Ziegfeld Follies of 1943." After a couple of other musi-cals and a stint with the St. Louis Musical Opera, she was signed by Warner Bros. in 1947. After several sec-ond-leads and a successful vaudeville tour she signed a term player contract with Republic from May 1950 through October 1951. Replacing a pregnant Dale Evans, Penny co-starred with Roy Rogers in six Westerns, one with Rex Allen and one with Allan "Rocky" Lane. In 1951 she wed studio casting agent Ralph Winters. They had two daughters, Deborah (born in 1954) and Rebecca (born in 1956). She and Winters divorced in February 1958 and Penny married a Jerry Friedman in '64 and they had a son, David. That marriage also ended in di-vorce. Meantime, Penny went on from Republic to co-star with Tyrone Power in "Pony Soldier" ('52), Rory Calhoun in "Powder River" ('53) and then turned to TV work beginning in '56 with "Cheyenne", "Restless Gun", "26 Men", "Californians", "Rough Riders", "Cimarron City", "Wyatt Earp", "Wagon Train", "State Trooper", "Tombstone Territory", "Alaskans", "Tales of Wells Far-go" and "Death Valley Days". She also co-starred in two independent B+ Westerns, the seldom seen "Ride a Vio-lent Mile" with John Agar and "The Dalton Girls" w/John Russell. Penny's lovely features were also com-mercially utilized as The Lux Girl, The Palmolive Girl and The Tiparillo Girl. Penny retired from showbiz in '62 but later appeared at many Western film festivals. ? ? After living in Santa Fe, NM for a time, Penny contract-ed lung cancer and died two days after her 70th birthday near her daughter Deborah in Friendswood, Texas.

Pert and perky and cute as a new born pup—5'2" Olive Sturgess was born October 8, 1933 in Ocean Falls, British Columbia, Canada. Coming to the U.S. Olive found her way to Hollywood in 1954 with her first of dozens of TV Westerns being a "Tales of Wells Fargo". From there she was seen on "Cheyenne", "Sugarfoot", "Have Gun Will Travel", "Texan", "Lawman", "Rawhide", "Wagon Train", "Maverick", "Bronco", "The Rebel", "Whispering Smith", "Outlaws", "Virginian", "Destry", "Bonanza" and others—in particular, "My husband-to-be, Dale Anderson, would see me on the screen in this and other shows, like 'Laramie', that I did at Universal. This is because he's a studio musician. When they'd do the 'Tall Man' themes, he'd play in the orchestra and there I'd be on the screen that projected the film as it was being scored!" Olive's husband "…played on the score for 'Titanic', did 'The Dinah Shore Show', 'The Dean Martin Show', all the John Williams movies and much more." Prior to her marriage Olive dated Nick Adams casually a couple of times. "I did two episodes of his series, 'The Rebel'. Nick and I had done two or three different shows before this. Nick took me to visit Natalie Wood, who was married at this time. I think Nick was in love with her. I had no idea Natalie would know me, even though I had done a lot of television, but she told me, 'I think you're one of the best actresses going right now. I wish I could be half as good as you.' That was very gracious of her to say that! As for Nick, I thought he was very troubled. It was in the manner he had—that was the way he was in real life, always brooding—it was what was in style at the time and it was the way he was in person! When we went out, it was never on his motorcycle! That's one trick he couldn't pull on me. We always went in a car! Incidentally, Nick married Carol Nugent, Judy Nugent's actress-sister. Judy played my Tomboy sister on several 'Tall Man' episodes. Clu Gulager was fun—he worked and planned the accent he used as Billy the Kid on 'Tall Man', that manner of speech. As for me, I was told I was a character actress—because I could do a variety of things, whatever they tossed my way." Reflecting on her illustrious career, Olive muses, "In those days they had good stories. Mary Tyler Moore said it exactly right. 'Writing for television today is like writing shorthand. There's no depth to anything.' We used to have stories that had a beginning, middle and an end; that made you feel good after watching them. Not those terrible shallow shows of today. We had stories that were genuine; stories of the west done with humor or drama and romance. A good show you looked forward to seeing. You really felt good when you saw the TV shows of those days."

Peggy Stewart was in 22 Republic B-Westerns, with Bill Elliott, Sunset Carson, Roy Rogers, Gene Autry and Allan Lane as well as some later B's with Lash LaRue, Jim Bannon, Charles Starrett, Bill Elliott and Whip Wilson. What else need be said to qualify Peggy as the absolute "Queen of B-Westerns". Born Margaret O'Rourke June 5, 1923 in West Palm Beach, FL, in the '30s her family moved to California where actor Henry O'Neill recommended her to Paramount. Her first film was—what else?—a Western; Joel McCrea's teenage daughter in "Wells Fargo" ('37).When the B-Westerns ended, Peggy moved on to TV Westerns—"Gene Autry Show", "Wild Bill Hickok", "Roy Rogers", "Cisco Kid", "Range Rider", "Wyatt Earp", "Yancy Derringer", "Hotel de Paree", "Pony Express", "Have Gun Will Travel", "The Rebel", "Gunsmoke" and "Hondo". While at Republic she met and married Don "Red" Barry in 1940. They divorced in '44. Peggy married stuntman/actor Buck Young on March 4, 1953. They had two children, a daughter Abigail and a son Greg and were married until his death in 2000. Peg's sister, Patricia, was married to Wayne Morris. In later years Peggy performed in the L.A. theatrical Community and kept her hand in the film business on TV and other movies until 2014.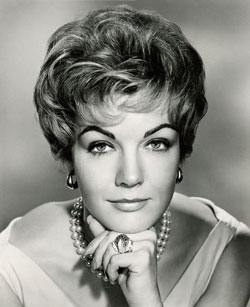 Born in Boston November 15, 1934, Joanna Barnes moved to L.A. soon after graduating Phi Beta Kappa in 1956 with a major in English at Smith College and signed a deal with Columbia in '57. Barnes also guested on Warner Bros. Westerns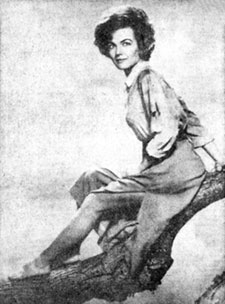 "Cheyenne", "Colt .45" and "Maverick" as well as other TV Westerns such as "Stagecoach West", "Man From Blackhawk", "Have Gun Will Travel", "Laramie", "Empire" and "Alias Smith and Jones". In 1967 she was the female lead to John Wayne and Kirk Douglas for "War Wagon". Besides hundreds of TV episodes and other major movies such as "Auntie Mame" ('58), "Tarzan, the Ape Man" ('59), "Spartacus" ('60) and "The Parent Trap" ('61), Barnes became a respected novelist—THE DECEIVERS ('70), PASTORA ('80) and SILVERWOOD ('85). Her books have been published in several foreign countries as well as the U.S. Her column "Touching Home" was for many years carried by the CHICAGO TRIBUNE and New York News Syndicate. For years she wrote a weekly book review column for the L.A. TIMES. Joanna was married three times, including actor Larry Dobkin from 1961-1967.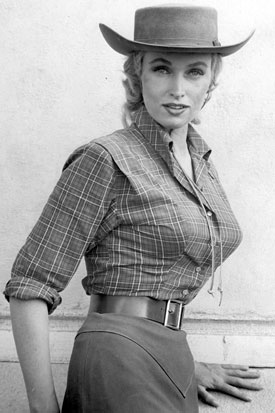 Busty Karen Steele was born March 20, 1931 in Honolulu, Hawaii. After attending the University of Hawaii and Rollins College in Florida she worked as a cover girl and model which led to her first film, "The Clown" with Red Skelton in '53 in which she was credited simply as "a blonde". After much TV work in the '50s she made her first Western, "Decision at Sundown" ('57) with Randolph Scott, for director Budd Boetticher with whom she developed a romantic relationship. She made three other films with Boetticher, "Westbound" ('59) and "Ride Lonesome" ('59) (both starring Randolph Scott) and "The Rise and Fall of Legs Diamond" ('60) with Ray Danton. Guest shots on some 15 TV Westerns include "Wagon Train", "Maverick", "Bat Masterson", "Lawman", "The Deputy", "Bronco", "Bonanza", "Rawhide", "Laramie", "Branded", "A Man Called Shenandoah", among others, before she left film work in '72 to marry Dr. Maurice Boyd Roland, a psychiatrist at the Mohave Mental Health Clinic in Kingman, AZ. Unfortunately, the marriage was short-lived as Steele died of cancer in Kingman March 12, 1988, just a week before her 57th birthday. (Photo courtesy Neil Summers.)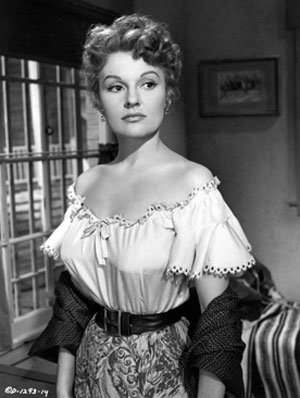 Curvaceous Dianne Foster was born with the unlikely name of Olga Helen Laruska on October 31, 1928 in Edmonton, Alberta, Canada, of Ukrainian parentage. Initially she found work in Toronto as a model and radio and stage actress before moving to England where she made her first films. She came to the U.S. in the early '50s with her first Western being "Three Hours to Kill" w/Dana Andrews in '54. Others were "The Violent Men" w/Glenn Ford, "The Kentuckian", "Night Passage" w/James Stewart, Audie Murphy and 13 TV Westerns including "Wagon Train", "Riverboat", "Shotgun Slade", "Bonanza", "Have Gun Will Travel", "Laramie" and "Gunsmoke". She retired in '67 in order to focus on her family and painting. In 2009 she stated, "What I found working in the movies was that the people behind the camera would applaud a good scene. So in that sense, I had a live audience there as well and that was always a thrill for me. I always preferred a director who allowed me to contribute something of my own. Some directors don't want any contribution. They prefer to tell you exactly what to do and where to move. I always loved the kind of control an actor has in their performance on stage. In film, the control is really in the hands of the director and editor."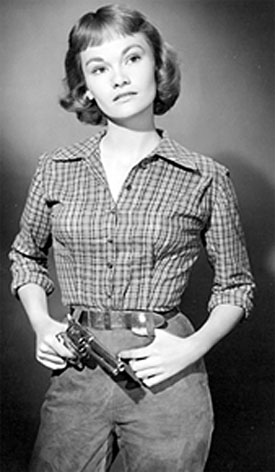 Sexy, gun-totin' Gloria Talbott was born February 7, 1931 in Glendale, CA, a city co-founded by her grandfather. After participating in high school plays she landed a small role in "Maytime" ('37) when she was only six. A couple of teenage roles followed before she really got active in 1951 and was seen in hundreds of movies and TV shows including "Wild Bill Hickok", "Range Rider", "Gene Autry Show", "Cisco Kid", "Hopalong Cassidy", "Sugarfoot", "Restless Gun", "Zorro", "Bat Masterson", "Wanted Dead or Alive", "Bonanza", "The Rebel", "Wyatt Earp", "Tales of Wells Fargo", "Rawhide", "Gunsmoke", "Laramie" and more. Her best big screen Westerns were "The Oklahoman" and "Cattle Empire" both w/Joel McCrea and "Oklahoma Territory" w/Bill Williams. Married four times (including stuntman Sandy Sanders from '56-'65), Gloria died of kidney failure September 19, 2000 in Glendale. She left an admirable treasure of Westerns for us to enjoy. (Photo courtesy Neil Summers.)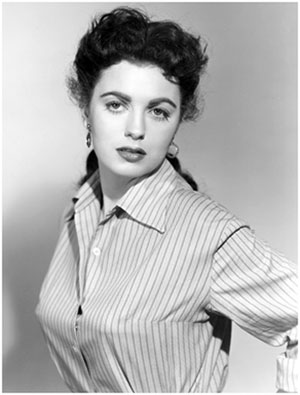 Born in New Orleans, sultry eyed brunette, part-Creole FAITH DOMERGUE (Dah-mure) sizzled the Western screen in "Duel at Silver Creek" ('52) w/Audie Murphy, "Great Sioux Uprising" ('55) w/Jeff Chandler, "Santa Fe Passage" ('55) w/John Payne, "Escort West" ('58) w/Victor Mature and "California" ('63) w/Jock Mahoney. In the '60s Faith primarily concentrated on TV Westerns—"Cheyenne", "State Trooper", "Sugarfoot", "Colt .45", "Bronco", "Tales of Wells Fargo", "Tall Man", "Have Gun Will Travel", "Bonanza". She's also become a Sci-Fi cult favorite for her work in "This Island Earth" and others. She left showbiz in '76 and left us at 74 in 1999 with a legacy of excellent Westerns. (Photo courtesy Neil Summers.)