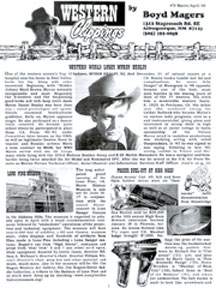 WESTERN CLIPPINGS is a bi-monthly 28 page fully illustrated newsletter published regularly six times a year.
Each issue of WESTERN CLIPPINGS contains the latest information on all things Western—new DVDs, film festival roundup, book and movie reviews, websites, old pros in new shows, current westerns being produced, new western products, etc. Regular features in each issue: Western Treasures (discovered rare photos from the Golden Age); Do You Remember…(the history of a western TV series); The Westerns of…(complete analysis and reviews of every Western made by all the Western stars; Characters and Heavies (bio of a noted character player or western screen badman); Perusing the Periodicals (notes on where Western film articles are printed in other publications); Best of Western TV (recommended episodes of popular Western TV series); Western Boo Boos (snafus and errors in B-Westerns and TV Western series); a letters column; Empty Saddles (obits on western film related personalities); Cowboy Quotes (statements made over the years by Western film stars) and several other features.
Each information packed issue also features our knowledgeable columnists: Will ("Sugarfoot") Hutchins (his always humorous experiences and reflections on showbiz); Neil Summers (noted stuntman selects a Western film that may have escaped "Under the Radar"); England's John Brooker (interesting facts and trivia regarding B-Westerns); historian Phil Loy associate history and the B-Western era; Tom and Jim Goldrup (authors of a four volume set of interview books on FEATURE PLAYERS detail incidents in various character player's careers); Tinsley Yarbrough (visit noted Western film locations and detail their film histories); O. J. Sikes (current Western music CD reviews) and much more.
Subscription rates:
$36
1st class mail (6 issues, 1 year) If using Paypal $37.95
$53
Airmail to Canada (6 issues, 1 year) If using Paypal $55.70
$66
Airmail all other foreign
(6 issues, 1 year) If using Paypal $69.60
$7
Sample issue If using Paypal $7.50
Simply mail check or money order to:
Boyd Magers
1312 Stagecoach Rd SE
Albuquerque, New Mexico 87123-4321
Use orders@westernclippings.com if paying by PAYPAL.