Back in 1979 I said yes when I meant no—just like that (snap fingers) I was Virgil, the hero's sidekick, in a production of William Inge's "Bus Stop". We had a week of rehearsals in Hollywood before we opened a two-week run in a beautiful theatre on the outskirts of L.A.
Una problema—Virgil plays guitar, I don't. Don't have the guts. The director told me not to fret none. I hadn't strummed a git fiddle since I was a kid, and that was a Hawaiian guitar, and I quit after three months.
As opening night rapidly approached it became more and more apparent the audience would be victims of a gigantic hoax. Each night I lay in my bed of flop sweat suffering the pangs of the actor's nightmare: "I'm Curly in 'Oklahoma'. The curtain goes up, I don't know my lines nor the songs. What's more, I forgot my chaps. In fact, I'm plum nekkid."
Well, I knew I wasn't going to make Chet Atkins move over in a week. To compensate, I didn't play the guitar, I played the clown. I made up all sorts of shtick to distract the audience's attention from my poor pluckin'.
Comes the big moment in the show. The leading lady mounts a table in the Wayside Diner and warbles a plaintive "That Old Black Magic". Guess who gets to accompany her—Ouch! There should be a musician in the wings strummin' away. I could finger sync. Or I could ad lib something like, "Please bear with me, folks, I just won this here gee-tar in a poker game." Instead, I turn my back to the footlights and fake it! Poor gal up there on the table. She's on her own—was she miffed? On closing night at the cast party, she didn't so much as bid me aloha on the steel guitar. Soon thereafter I left the country for three years.
In the early '90s there was a production of "Bus Stop" at the Pasadena Playhouse. "Dazzling!" said L. A. critics Babs and Will Hutchins. Virgil stole the show, he played guitar just fine. More than that, you couldn't take your eyes off him. Virgil spends most of the play downstage right, alone at a table, silent. I filled the void by playing solitaire, tuning my guitar, reading an old love letter. The Pasadena Virgil just didn't do something. He sat there. Lost in meditation. A poor lonesome cowboy and a long way from home. Charles Hallahan's deeply felt portrayal of Virgil lingers evermore in my memory.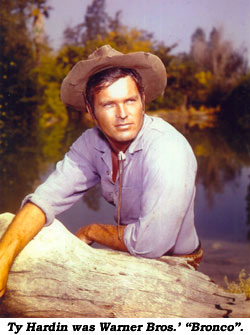 Been thinking lately about Ty Hardin, my ol' compadre, the Houston Hurricane. We served time during the '50s and '60s out there at the Warner Bros. Honor Ranch. We helped keep America safe for democracy, fighting side-by-side in Sam Fuller's "Merrill's Marauders". We mounted up with Clint "Cheyenne" Walker in "Duel At Judas Basin" and rode off toward the sunset. 'Course, we were on the sound stage at the time, and the sun was painted on the backdrop. Last time I ever played "Sugarfoot" was on Ty's "Bronco" show in an epic titled "Yankee Tornado". Came time for my last scene—it was a shoot-out—thought I'd go off in a blaze of glory. I'd blast the baddies by fanning my trusty pistola. Director yelled, "Action!" Blam! Blam! Blam! "Cut!" Blood all over the saloon. I'd ripped my hand wide. I still have the scar on my left palm. You can see it pretty good on a cold day.
Ty is bigger than life, a professional Texan, a born TV cowboy. I once heard him confide to a fair damsel, "Ma'm, I've never worn a pair of low quarters in my life." We all kidded him, the big galoot. I called him Ty Hardeen, the Turkish cowboy. Once, Warner Bros. put on a blacktie soiree at a snazzy hotel in Beverly Hills. We told Ty it was a costume party. There we all were in rented finery, and there was Ty in feather, loin cloth, and full body make-up—yahoo! He looked not unlike Iron Eyes Cody's secretary. Boy, did he have fun that night. The joke was on us.
—Adios and Happy Holly Daze