APRIL 2023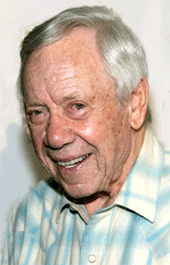 Director Leslie H. Martinson went slightly bonkers directing "The Mickey Rooney Show" for TV. I added to Les' addlement on eight "Sugarfeet", including the pilot. An honor working with this splendid, uniquely talented fellow. He passed on through at 101! Boy, the way he agonized, squeezing out the best possible product. He'd peer thru the camera lens. "Move three feet to the left, Chuck." (Chuck Hibbs, my pal, my stand-in, director Jesse Hibbs' nephew). "Oh, no, Chuck!" Les would cry. "I meant my left. Now, you'll have to move six feet to your right!" Shoots on WB TV shows could be tense city. Assistant directors with belly scars from ulcer operations would shout, "Light's getting yellow! We're moving into golden time!" (WB's 8th Deadly Sin). Les would bash his head against iron arc light stands in frustration. He'd plum disappear. Where to? Oh, the not-in-use adjoining set, lying on a couch, slipcover-hidden. He was a champ at the script toss. I felt partly responsible. I suggested appropriate Christmas gifts for Les: rubberized arc light stands, monogrammed slipcovers—LHM, boomerang scripts. His quiet, tender scenes? You really hadda be there. "Fred, blow your whistle. All right, boys and girls, stop your hammering. Stop your yammering. I insist on absolute silence on the set to allow our two artists to get into the proper mood. Fred, hum a sweet melody." (in a hushed tone) "You, Jessica, are the Widder Werkle. You're lying there, barely clinging to life, having been kicked in the head by a wild mule. Tom is kneeling by your side for one last farewell, one last kiss, to ask if he's in your will. Are you ready? Good!" (even hushier) "Fred, roll'em—Make me believe it, kids. Lights. Camera. ACTION!" Les, you were quite a guy.
Hugh O'Brian made it to 91! Congrats, Pard. Worked Summer Stock with Hugh in '63. "Mr. Roberts." Tent theatres. New York, New Jersey, Pennsylvania, Maryland. Hugh was Mr. Roberts, I was Ensign Pulver, Vincent Gardenia was the Captain, Chris Noel was the Nurse, Vince O'Brien was Doc, Chris George, Larry Fletcher, Buster Crabbe Jr., John Ireland Jr., Randy Kirby, Tony Mordente were all aboard. Tony was married to Chita Rivera. Whatta sweet patootie! Matinees, we cut the cussin', kiddies and all. Imagine Captain Gardenia spewing out Dogonit! Oh Fudge! Dingleberry! That ol' rascal got me every time. We hit some pretty fierce thunder and lightning storms. We'd stop the show and go up and down the aisles schmoozin' and signing programs. In one scene Pulver's below deck concocting an explosive device to scare the Captain. Pulver screws up the works and Ker-Boom! He blows up the laundry room. I'm down in the orchestra pit changing into soggy shards, and Ireland Jr.'s spraying me all over with shaving cream. I open my mouth to whisper a joke—ZAP! A blob of Burma Shave shoots down my throat! The show must go on! I stumble up the stairs. I can't speak! I can't breathe! Hugh's aghast. He's about to witness a ham drop dead on deck. I can see the headlines. Hutch, If this is your last gasp, make it a doozy. I summon the mother of all inhales. Arghhh gurgle. Down goes the blob—Whoosh! Here it comes back! All over the deck with bubbles. Anything for a laff, later to be topped by a fellow cast member, our traveling navy goat. One night in Act Two, he peed on deck. Vince Gardenia was a jolly good fellow. He told me about working in summer stock with Sam Levene, a perfectionist. The play ended its run. Sam and Vince drove back to NYC, stopping for gas and good eats. At the booth—long silence. Sam spoke: "Vince, you know your moment, half-way up the stairs, when you hear Lydia scream?"… "Ah, yeah"… "Well, don't you think it would work better if you walked up two more steps before it sinks in?"
I'd been to New Jersey and New York before when I was stationed at Camp Kilmer, NJ, in the Army Signal Corps. I'd take the bus into The Big Apple and stay at the Army Navy Airmen's Club for a fast buck a night. 'Twas summer. The humidity—Pow! Right between the eyes. Couldn't walk a block without stopping at an Orange Julius for a re-fill. Saw all the shows for free. My favorities: Cab Calloway in "Porgy and Bess", Tom Ewell in "The Seven Year Itch", Maurice (pronounced Morris) Evans in "Dial M for Murder". Mr. Evans spoke his lines, loud and clear, to the back row. His spit only reached the second row; lovely, vari-colored globules arcing my way. I sat in the second row. I ducked. Evans was the producer of "Teahouse of the August Moon" playing up the street. One night an hysterical gent from "Teahouse" barged backstage to ask Evans how to solve a complicated problem. "One moment," said Evans as he entered stage right for his big scene. He exited stage left with the solution. Match that, method actors!
—Adios