ADELE MARA
Adele Mara got her big break with bandleader Xavier Cugat and went on to great fame in Columbia and Republic films. She's adamantly "all Spanish", not half Irish as has often been written. Born Adelaida Delgado April 28 (1923?) in Highland Park, MI, Adele Mara (pronounced as in Theda Bara) "started dancing when I was eight years old. I started with tap. I loved doing it. Then I took adagio. Eventually, I got into ballet and Spanish at dancing school." Spotted at 12 or 13 by Cugat when he was trying to get another act, the noted bandleader took her under his wing. At this young age Adele recalls, "I could dance (in the clubs or hotels) but I could not sit in any of those places. As soon as I finished, I had to get back to our room (with her mother) where they would serve us dinner."
Upon graduation, trying her luck as a dancer in New York, she again ran into Cugat at the Paramount Theatre. "He and his wife were my guardians. When he opened at the Waldorf Astoria Hotel at the Starlight Roof, I was there. The other acts included Marge and Gower Champion. With Cugat, I went a lot of places. We worked theatres with Danny Kaye, Abbott and Costello, Ray Bolger. When Cugat was on the radio, I would play castanets in the background." Up until that time Adele had worked under her real name. Cugat shortened her first name, put three last names in a hat and out came Mara. "In the meantime I made friends and they got me a job at the Copacabana. The whole show was around me. I don't know how it happened. Everything was so easy, I cannot believe it."
"One night a week I would go to the Waldorf. Sometimes Cugat would give the baton to somebody and he'd dance with me. One night he said, 'By the way, you're going to make a screen test.' I knew there were nibbles for me, but the only time Cugat said okay was when Harry Cohn said he wanted to test me. Before I knew it, I was on my way to Hollywood. I started working at Columbia. I think I was making $250 a week. I didn't know what I was doing! I didn't know how to do anything."
One of Adele's two B-Westerns at Columbia was "Riders of the Northwest Mounted" ('43) with Russell Hayden and Bob Wills. "Wills was a very thin, little guy. We were at Arrowhead; I was supposed to be in the lake and he's to come save me. He picks me up to carry me. I tell you, it was the hardest thing this man has ever had to do! I felt so bad for him 'cause I don't think he was any bigger than I was…but a very cute guy."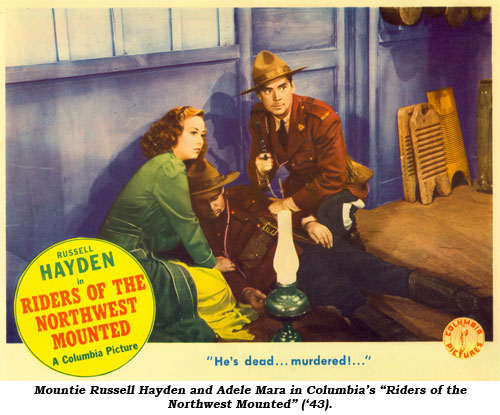 She worked with Tex Ritter in "Vengeance of the West" ('42) and told me Tex was, "Very funny, but used to talk so country, cowboy-like, I thought he'd never had any education. Later, I met his son, John, who told me his father was quite well educated. At Columbia I was a little unhappy because I wasn't doing things I really wanted to do…to dance, but I was learning other things just as much fun. It was like make-believe, and I was being paid good money for it. I was finally dropped by Columbia after two years; I think for a lot of reasons. One was, I got a little chubby, I think Cohn wanted somebody that was more sexy…and I wasn't. I didn't know what it was all about."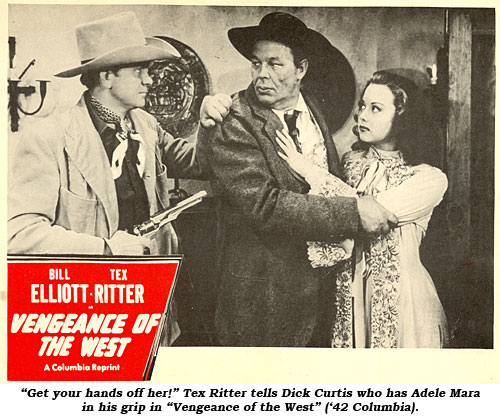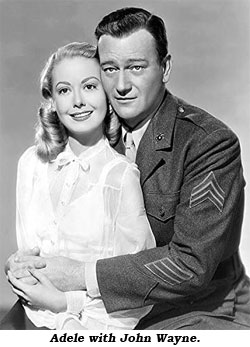 "When I left Columbia, I was about 18. I got another agent who took me on an interview to Republic. They needed a girl to dance with John Wayne. He didn't know how to dance, so I taught him to jitterbug for 'The Fighting Seabees' ('44). Then I did some acting and they put me under contract." (April 24, 1944–June 25, 1951). One of Adele's first was an unbilled bit in Roy Rogers' "San Fernando Valley" ('44). "Republic gave me a seven-year contract. They give you so much every six months, then it goes to a year and they give you maybe another fifty bucks. For me, that was great, since I wasn't trying to be a Garbo or Rita Hayworth. I just wanted to work."
Adele appeared several more times with 'The Duke'…"Flame of Barbary Coast" ('45), "Sands of Iwo Jima" ('49) and "Wake of the Red Witch" ('49). "I don't know why he drank so much. I think because he was one of the boys. All the group he used to hang around with were that kind of guys. If you don't drink and hold your liquor, you're not a real man. I used to see him all the time and he was one of the sweetest guys in the world. Everybody loved him, but he wasn't very talkative. He was very businesslike. I had a couple of conversations with him but no deep thinking or anything like that."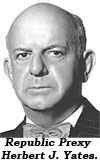 According to Adele, the president of Republic, Herbert J. Yates, "…was a very strange fellow. Scottish. He would chew tobacco and was always spitting in…it wouldn't go in the spittoon. (Groans) Sometimes he'd have me come over to his office. He was always sweet but it was like he had a little yen for me. Incidentally, I would always say I was five-five. He'd say, she's not five-five, she's five-four. That was because he was short, he didn't want me to be five-five. He had me see the nurse. They weighed and measured me. And I was five-four. (Laughs) I liked him but I didn't want to have any romantic thing with him. Besides, he had Vera Ralston, whom he finally married. A lot of leading men just did not want to work with her at all. She was kind of a strange girl. Nobody understood why he did so much for her, because she wasn't exactly a beauty. She was very clumsy on stage."
Adele recalls Don Barry as "Sharp, funny and quick witted. Once, when some workers were digging up an area in front of Republic, I asked Don what they were doing. He smiled, 'Looking for Vera's lost skate key.' (Laughs) Don was always needling me. To put him down, I said, 'Don, do your ears pop when you take your boots off?'"
Adele fondly remembers many of the major players at Republic. "I used to tease Roy (Rogers) a lot because, although I found out later he was a real ladies man, he always came across as a very shy person, so I used to tease him. He'd get kind of a kick out of it. When he'd pass the ladies wardrobe, I would stick out my head and say something to him and he'd turn red. Everybody would be laughing and having giggles. He was very, very nice, but Dale was always there, watching her property. Really. She was no dummy. She knew what was going on all the time, but I didn't know that until I was gone from Republic and heard from quite a few people that when Roy did personal appearances, there were all these showgirls and stuff around him. He was a really sweet human being. And Gene was very sweet to me. He would say, 'You're going to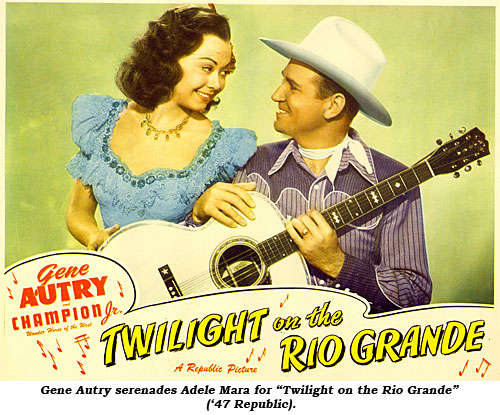 have to go places and you're going to have to drink. The thing to do is to have scotch, tall, water. That's the best thing for you. Don't have soda. That'll take a long, long time.' He would talk to me like that all the time. Bill Elliott was a very stiff person. Very rigid. When he walked from here to there he never budged from one side to the other. I never had any conversations with him at all." Adele vividly recalls, "Allan Lane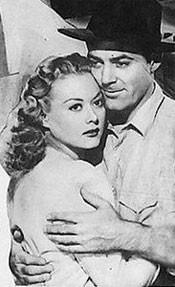 (left) was not as good as he thought he was. He would ask me to go out for dinner. Every night he would take me home and say goodbye. He didn't even try to kiss me or anything. After, I don't know how long, he said to the wardrobe people, 'Tonight is the night! I have got her.' You know. They weren't worried, but they told me to be sure to give him a real bad time, 'cause they thought that was pretty rotten. And…it is. So he came, he wanted to take me out to dinner. And I said, absolutely! We went, and he tried his best. I said, no thank you, sorry! The next day they asked him about it and he just tried to ignore the whole thing. Everybody said, 'What happened, what happened,' they were all very anxious to find out. Yes, I remember him. I can't forget him!" And then there's Forrest Tucker… "He was very funny. And kind of strange, but a very sweet guy. I liked him. He would try to embarrass me a lot. He would shock me, as a matter of fact! He wasn't a mean person but he was a little crazy. I remember once when he took me to Ciro's. He'd had a bad time with Harry Cohn (president of Columbia). So…Forrest and I came out of Ciro's and when he saw Cohn waiting for his car; he says, 'That son of a bitch,' and all that kind of stuff and started going after him. Forrest told him what a rotten guy he was. I've heard some things about Cohn that are supposed to be pretty rotten, but you don't go out in a public place and start abusing somebody verbally. I don't think Tucker needed much to tick him off. He really hated this guy. And I have no idea why. I was so embarrassed, I didn't want anybody to know I was with him."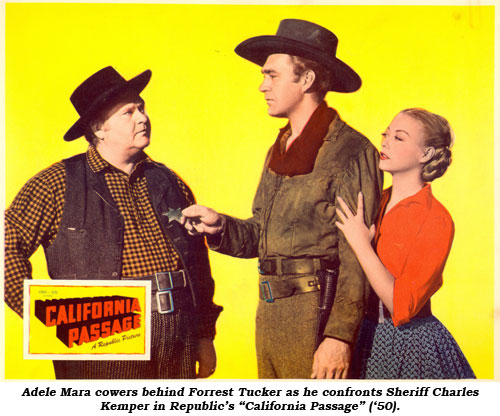 Adele "loved westerns" except, "I hated the horses. I loved to see horses, they're beautiful, but I was not a good rider. As a matter of fact, I was very, very bad. One of the things I had to do was ride English. They gave me lessons and I was doing fine, but when I went for the first day of shooting they gave me this enormous horse, huge in length and height. Just a big horse. My double said she was not going to ride that horse, it was a bad horse. They asked me to ride it. I said, 'Wait a minute, if she isn't going to ride it…' They said, 'Oh, she's just crazy. We're out here at the ranch and there's nothing we can do, we have to do this, don't worry about it, you've had enough lessons.' So I got on this stupid horse and he just roared out! Before I knew it, I was off the saddle and on his back, just hanging on to this thing. I was so scared! After that I only rode into a scene and out of the scene and that was it. As little as possible."
It was 1951 when Republic let Adele go. "Yates called me to his office and told me. 'We're not picking you up, not because you haven't done a good job, not because we don't like you, but we have to cut down. Television is taking over…as people keep coming up, we'll use them per picture, but not under contract anymore.' I said, 'I don't think television is going to be anything.' I really meant it. I never looked at TV at all. I was very upset. I thought Republic was going to be my home."
As to how Adele met her husband, writer then producer (at Warner Bros. Television), Roy Huggins, Adele smiles, "He was a writer, worked at Columbia, and thought I was kind of cute. He saw me first with dark hair, then blonde. Then he worked at Republic and was asking about me. I'd see him at parties and say hello." Finally, a friend arranged a blind date between Adele and Roy and they were been married. Looking back, the beautiful actress says, "I never expected anything, and everything came to me…very easily. I've been the luckiest person in the world. My husband is wonderful. He thinks I'm gorgeous. He loves me very much and I love him. I love my kids and the people they're with. Everything is just grand."
Adele's Western Filmography
---
Movies: Shut My Big Mouth (1942 Columbia)—Joe E. Brown; Vengeance of the West (1942 Columbia)—Bill Elliott/Tex Ritter; Riders of the Northwest Mounted (1943 Columbia)—Russell Hayden; San Fernando Valley (1944 Republic)—Roy Rogers; Flame of Barbary Coast (1945 Republic)—John Wayne; Bells of Rosarita (1945 Republic)—Roy Rogers; Night Train To Memphis (1946 Republic)—Roy Acuff; Twilight On the Rio Grande (1947 Republic)—Gene Autry; Robin Hood of Texas (1947 Republic)—Gene Autry; Gallant Legion (1948 Republic)—William Elliott; Night Time In Nevada (1948 Republic)—Roy Rogers; Rock Island Trail (1950 Republic)—Forrest Tucker; California Passage (1950 Republic)—Forrest Tucker; Black Whip (1956 Regal/Fox)—Hugh Marlowe. Television: Cheyenne: Border Showdown (1955); Cheyenne: Star In the Dust (1956); Rin Tin Tin: Rusty's Romance (1956); Rin Tin Tin: Circle of Fire (1956); Saga of Andy Burnett: Andy's Love Affair (1957); Casey Jones: Black Box (1957); Cheyenne: Angry Sky (1958); Maverick: Seed of Deception (1958); Maverick: Spanish Dancer (1958); Wyatt Earp: Dig a Grave for Ben Thompson (1958); Bat Masterson: Double Showdown (1958); Tales of Wells Fargo: Wild Cargo (1959); Laramie: Day of Vengeance (1960); Maverick: The Marquesa (1960); Wyatt Earp: Wyatt's Brothers Join Up (1961); Stagecoach West: Arsonist (1961); Tall Man: Woman In Black (1962).