ANN DORAN
She's that rarity—a character actress who is also a star. "I was a working actress. Not a personality and not a star!" Regardless of the term, the fact remains Ann Doran is a gifted actress, well-known to the public ("If so, it's just because I was around so long!"), who could play virtually any role—glamour girl or old hag, mother or farm lady, scientist or flighty ingenue. She's done them all. "I wanted to be a different person in every film I did. I never played the same type of part twice, unless you count the 'Rusty' pictures, which had several sequels. Studios had a part that needed filling. My job was to make the part a human being, regardless of how it was written. Someone counted and told me I've done more than 500 movies and over 1,000 TV shows. That must be some sort of record!"
Born in Amarillo, TX, in 1911, Ann started as a child of about four. "When I was a child, I did a lot of work in silent pictures. There were many Westerns being shot in the late teens and early '20s. My mother wouldn't use my real name when it came to casting. My father's people didn't approve of 'actors' and now I don't recall what names were used—I think Mother thought of them the day of shooting. As a result, I'm unable to find any of the pictures, that is, if they even exist anymore. If you looked the part, you got the part. The director told you what to do or say (mouth). You'd get $3, sometimes $5, a day. I don't know if I'd recognize myself, if I did get a chance to see them again."
Making the transition to "talkies" quite well, Ann sighs, "I was lucky. Those were the days when people knew how to make a picture, knew how to tell a story. Today, they act as confused as they did in the early silent days. It's ridiculous."
Asked about "Rio Grande" ('39), her starring lead opposite Charles Starrett, Ann matter-of-factly states, "It was just another job. Nothing unpleasant happened on it—but then nothing pleasant did, either. Charles Starrett was very tall and good looking, we got along just fine. My life was going to work; getting up at an ungodly hour, working my tail off, being with crazy people, getting to bed to catch a few hours sleep, only to repeat everything the next day. It was just part of your work day. I don't dwell on the past. However, I do enjoy seeing them."
Whether a Frank Capra "A", a Three Stooges or Charlie Chase short, Ann was there ready to fill the part. "I was under contract to Columbia for three years in the '30s and four years at Paramount in the '40s. On TV I only had a year-to-year contract. On the 'National Velvet' series, I signed for one year. When it was renewed, my contract was picked up for another year."
The actress worked with the legendary John Wayne several times, "but we didn't talk politics. We didn't have time to sit around and talk. We were either doing the scene, rehearsing the scene, changing makeup or clothes. There was no time for talk. I don't know how they do it these days—but the films today have no continuity. It's a business I don't understand anymore. Films today are a disgrace to the human race—so preposterous. People rolling around in bed; that isn't entertainment, it's voyeurism. And the kids today, they don't think. In the old days, child actors like Gary Gray and Ted Donaldson, they thought! I get so tired of hearing these new kids saying, after only making a couple of films, they don't like the script, they don't like this or that. It drives me nuts! It's baloney! Now Frank Capra, a wonderful, wonderful person, knew how to make a movie with a story about people you cared about. I came along in an era when pictures were good—they really knew how to do it."
Regarding her work on such TV series as "Roy Rogers", "Gene Autry" and "The Lone Ranger", Ann states emphatically, "I can't recall anything about doing them. It makes me mad when I can't remember the good ones. It doesn't matter when I forget the bad ones... (Laughs). My agent did the selling for me and got me the parts. I don't know what lies he told to land me those roles. (Laughs)"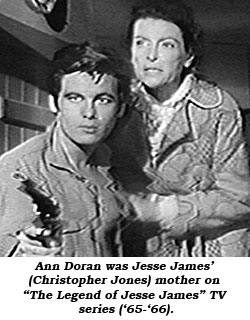 In '65-'66 for "The Legend of Jesse James" TV series Chris Jones played Jesse, Allen Case (former star of "The Deputy" ['59-'61] with Henry Fonda) was brother Frank. Ann Doran played Mrs. James, mother of Jesse and Frank. Asked about Jones, her retort was, "Is he clean? Is he still on dope? He was on dope when we did the series. Whether or not he thought he was to be the next James Dean (reportedly his personal idol) matters not; he was on drugs and that was that. Allen Case was a very nice man, actually almost bland, as he tends to fade from my memory. But Christopher's problems were widely known. I don't know how he (or maybe I should say we) got through the season. We did have low ratings, but I think if it were not for the drug business, we might have been picked up for another year."
Regarding some of the "A" Western stars Ann appeared with, Fred MacMurray—"Just an actor. Easy to work with. "; Audie Murphy—"A nice boy. Very shy, but very eager to do a good job."; Randolph Scott—"His own man. A damn good actor." Talking about children she's worked with, Ann recalls fondly, "Joey Scott who played my son in 'National Velvet' is a producer now." Reminded of Gary Gray, her son in "The Painted Hills" ('51) and her brother in "Rodeo", "What a sweet little boy. Gary, Paul Kelly and Bruce Cowling went on location up north somewhere on 'Painted Hills' but I did all my scenes at the MGM studio. For 'Rodeo' I only recall sitting around the dining room table for the most part. I've done just about everything you can imagine, but I get a lot of mail about Boris Karloff. We did 'The Man They Could Not Hang' ('39) together. Boris was such a gentleman. A gentle man, a great person. He told me they always had him playing weird characters—'I guess because I'm weird-looking!'"
Ann died at 89 on September 19, 2000.
Ann's Western Filmography
---
Movies: Rio Grande ('38 Columbia)—Charles Starrett; Romance Of The Redwoods ('39 Columbia)—Charles Bickford; Calamity Jane and Sam Bass ('49 Universal Int'l.)—Howard Duff; Tomahawk ('51 U-I)—Van Heflin; Rodeo ('51 Monogram)—John Archer; Shootout At Medicine Bend ('57 Warner Bros.)—Randolph Scott; Badlanders ('58 MGM)—Alan Ladd; Day Of The Bad Man ('58 U-I)—Fred MacMurray; Rawhide Trail ('58 Allied Artists)—Rex Reason; Cast A Long Shadow ('59 U-I)—Audie Murphy; Warlock ('59 Fox)—Richard Widmark; There Was A Crooked Man ('70 WB)—Kirk Douglas; Hired Hand ('71 MGM)—Peter Fonda. TV Movies: Macahans ('76)—James Arness; Peter Lundy And The Medicine Hat Stallion ('77)—Leif Garrett. Serials: Spider's Web ('38 Columbia)—Warren Hull; Green Hornet ('39 Universal)—Gordon Jones; Flying G-Men ('39 Columbia)—Robert Paige. TV: Roy Rogers: Peril From The Past ('52); Lone Ranger: Treason At Dry Creek ('52); Lone Ranger: Hidden Fortune ('53); Gene Autry: Johnny Jackaroo ('54); Gene Autry: Carnival Comes West ('54); My Friend Flicka: Old Danny ('56); Gray Ghost: Charity ('57); Broken Arrow: Legacy Of A Hero ('57); Frontier Doctor: Drifting Sands ('57); Sheriff Of Cochise: I Am An American ('57); Sheriff Of Cochise: Sheriff Finds A Heart ('57); State Trooper: Live Shell Game ('57); U.S. Marshal: The Promise ('58); Colt .45: Saga Of Sam Bass ('59); Colt .45: Impasse ('59); Texas John Slaughter: Showdown At Sandoval ('59); Wagon Train: Ricky and Laura Bell Story ('60); Rawhide: Incident Of The Challenge ('60); Virginian: Run Away Home ('63); Virginian: Fortunes Of J. Jimerson Jones ('64); Virginian: Portrait Of A Widow ('64); Virginian: Lady From Wichita ('67); Legend Of Jesse James: series regular ('65-'66); Bonanza: Ballad Of The Ponderosa ('66); Bonanza: Real People Of Muddy Creek ('68); Guns Of Will Sonnett: And He Shall Lead The Children ('68); Alias Smith And Jones: Witness To A Lynching ('72); Father Murphy: The Horse ('82).