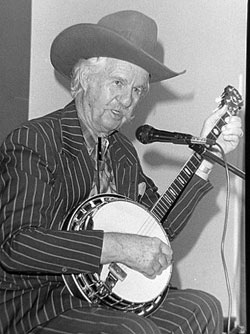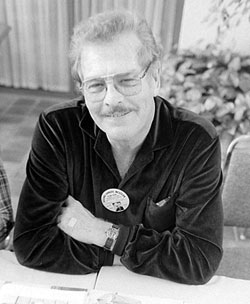 Three photos from the Asheville, NC, 1987 Film Festival.
1) Rand Brooks and Dorothy Hart with their awards. 2) B-Western sidekick Slim Andrews entertains. 3) Warner Bros. "Colt .45" star Wayde Preston. (Photos courtesy Grady Franklin.)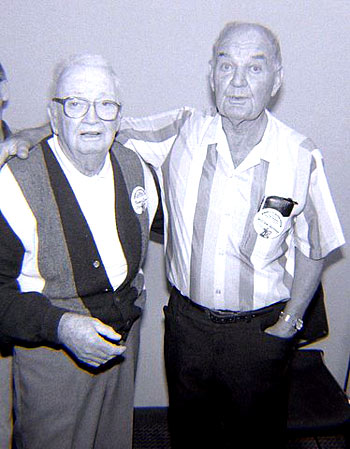 Above four photos are from the Knoxville, TN, 1989 Western Film Fair.
1) Directors Tommy Carr and Bill Witney. 2) Sheb Wooley entertains at the banquet.
3) Director R. G. Springsteen. 4) Harry Lauter, George Wallace and stuntman Henry Wills. (Photos courtesy Grady Franklin.)

Three old Republic friends gather at the Knoxville, TN, Western Film Festival in 1990.
Tom Steele, Rex Allen, director Bill Witney. (Courtesy Grady Franklin.)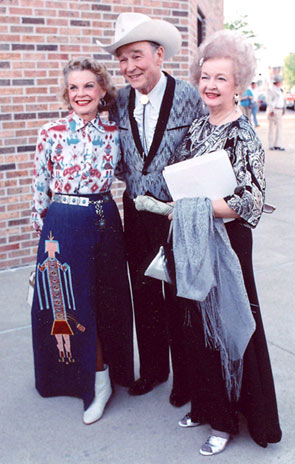 Roy Rogers and Dale Evans (above), and Roy and Dale with Republic leading lady Ruth Terry at the 1989 Portsmouth, OH, Roy Rogers Festival. (Thanks to Grady Franklin.)
Clint "Cheyenne" Walker at a recent "Western Legends Roundup" in Kanab, Utah.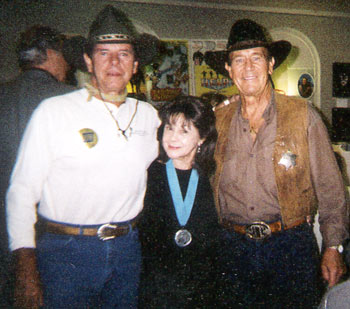 Peter Brown of TV's "Lawman", Caren Marsh, leading lady to Bob Steele in "Navajo Kid", and Don Durant, star of TV's "Johnny Ringo", at a Ray Courts autograph show in Los Angeles. Durant died March 15, 2005.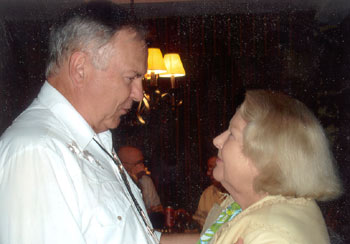 WESTERN CLIPPINGS' Boyd Magers with former Republic leading lady Claudia Barrett at the recent Memphis Film Festival (June '08).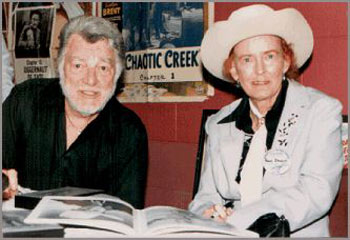 Lash LaRue was joined by one of his 13 former wives, Monogram leading lady Reno Browne, at the 1987 Charlotte Western Film Fair. (Photo courtesy Bill Sasser.) Reno co-starred at Monogram with Whip Wilson and Johnny Mack Brown and was one of only two B-western leading ladies to have her own comicbook.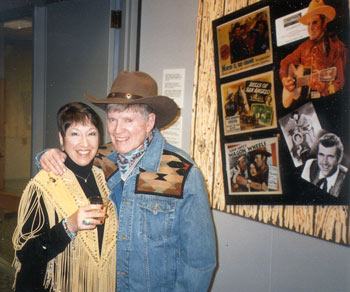 Barbara and Will Hutchins at the Hoover Presidential Library in West Branch, Iowa, "Hollywood Cowboys" exhibit in February 2002. Boyd Magers' vast collection of western memorabilia was on display January-March 2002.
B-western child actress Sugar Dawn at the Charlotte Western Film Fair in July 2003.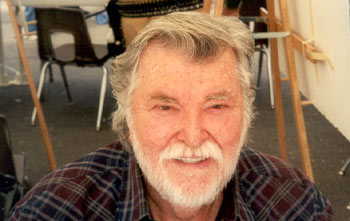 Gregg Palmer, the badman with the machete in John Wayne's "Big Jake", at a recent Kanab, Utah, Western Legends Roundup.
The late Mitchell Schaperkotter with Don "Red" Barry at an early Memphis Western Film Festival. (Photo courtesy Jimmie Covington.)
Dick Jones and Nancy Gilbert, stars of "Buffalo Bill Jr.", reunite at Tombstone, AZ, Film Festival in 2001.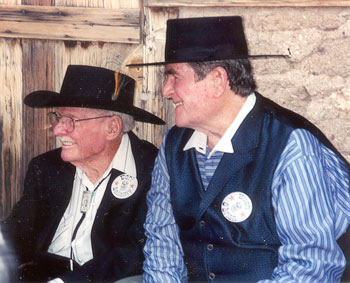 Director Earl Bellamy and Hugh O'Brian ("Wyatt Earp") at Tombstone Film Festival in 2001.
Director Earl Bellamy, Rex Allen leading lady Mary Ellen Kay and legendary Harry Carey Jr. at Tombstone Fim Festival in 2001.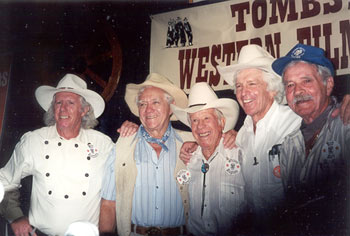 A fabulous bunch of stuntmen were presented a special award by WESTERN CLIPPINGS at the Tombstone Film Festival in 2001. (L-R) Neil Summers, Bobby Herron, Whitey Hughes, Dean Smith and Bobby Hoy.
Ben Johnson and Harry Carey Jr. at the 1987 Golden Boot Awards. (Photo courtesy Grady Franklin.)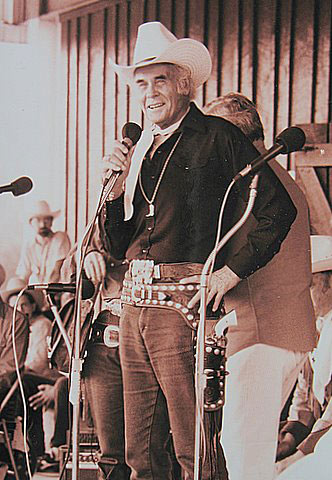 Sunset Carson speaking to a crowd at the Sciota County Fairgrounds during the Roy Rogers Festival in Portsmouth, Ohio, in 1989. (Photo courtesy Grady Franklin.)