Photos from "A Gathering of Guns 7—A TV Western Reunion" at the Memphis Film Festival, co-sponsored by WESTERN CLIPPINGS, June 11-June 13, 2015, at Sam's Town Hotel and Casino in Tunica, Mississippi.
(All photos courtesy Debra Cox.)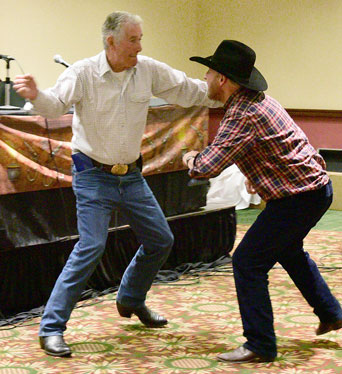 Bob Fuller and friend Tony Gill demonstrate the camera techniques in staging
an onscreen stunt fight.
"Time Tunnel" panel discussion with Robert Colbert, Lee Meriwether and James Darren. Moderator is Boyd Magers of WESTERN CLIPPINGS.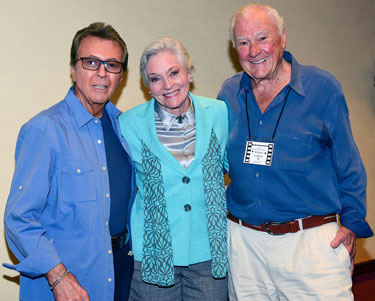 James Darren, Lee Meriwether, Robert Colbert.
Panel discussion with Buck Taylor and Connie Stevens moderated by Ray Nielsen.
Buck Taylor, costumer Luster Bayless and Charlotte Stewart of
"Little House on the Prairie".
Old friends Connie Stevens and Bob Fuller recall their younger days.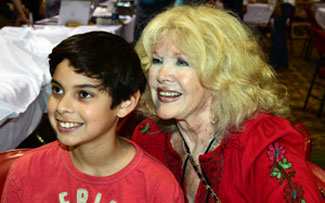 Connie Stevens poses with a young fan.
Always lovely Connie Stevens.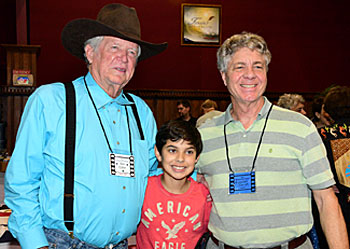 Don Colliers ("Outlaws", "High Chaparral") poses with festival attendees.
Bob Fuller explains how to handle a six-gun to two of his fan club members.
Buck Taylor's wife Goldie clowns around with Jeff Osterhage ("The Sacketts",
"Shadow Riders").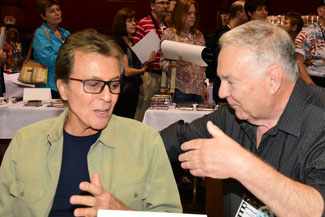 James Darren and Boyd Magers deep in conversation.
Festival registration desk volunteer Fliss Bonello lends a helping
hand to James Darren.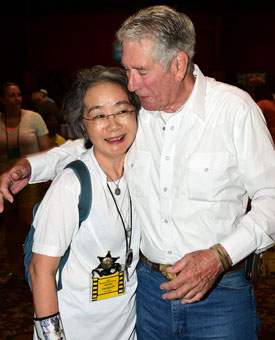 Bob Fuller with his loyal fan for many years from Japan, Atsuko Yamagouchi.
Rivals on "The Sacketts"—good friends in real life who hadn't seen each other in
over 30 years—Jeff Osterhage and Buck Taylor.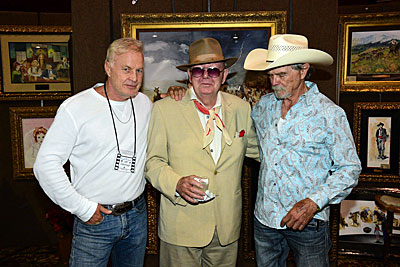 Jeff Osterhage, Luster Bayless and Buck Taylor stand in front of some of
Buck's gorgeous artwork.
Banquet emcee for the festival, Pat Buttram's nephew John Buttram.
The ever lovely Julie Adams.
Rudy Ramos' wife Kathy shares a smile with Rudy and Don Collier, Wind and forman Sam Butler of "High Chaparral".
Luster Bayless costumed Geoff Deuel as Billy the Kid in John Wayne's "Chisum".
(Page 1 of 2)

More photos on page 2