Mrs. M. P. Smith of Nashville, TN, holds a gun on Don "Red" Barry, Max "Alibi" Terhune, Russ "Lucky" Hayden and Lash LaRue at the first Memphis Film Festival in 1972.
Republic alumni Kay Aldridge (Nyoka) and Don "Red" Barry at a St. Louis Western Film Festival in 1979. (Courtesy Grady Franklin.)
Brothers Bill Hale and Monte Hale. (Photo by Kelo Henderson.)
Robert Horton and Jan Shepard at a Sportsmen's Lodge Pre-Boot party in 2005.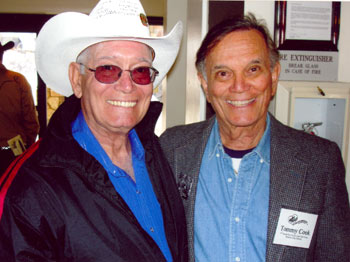 Two Little Beavers. Don K. Reynolds and Tommy Cook at the Roy Rogers Festival in Victorville, CA, in February 2006.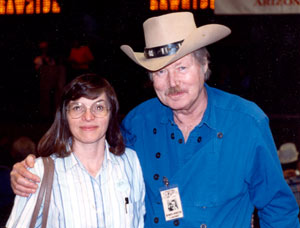 WESTERN CLIPPINGS' Donna Magers with John Smith ("Laramie") at the first Festival of the West in Scottsdale, AZ.
Hank Worden and Dorothy Fay Ritter at an early film festival.
Director Earl Bellamy gets congratulations from pal Ernie Borgnine as Earl received his Golden Boot Award in 2002.
Will ("Sugarfoot") Hutchins receiving his Golden Boot Award in 2002.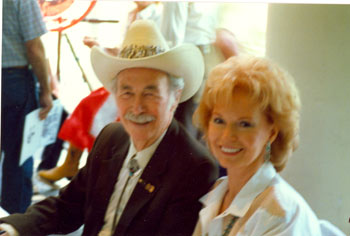 Eddie Dean reunited with his PRC leading lady Shirley Patterson at a Charlotte, North Carolina, Western Film Fair.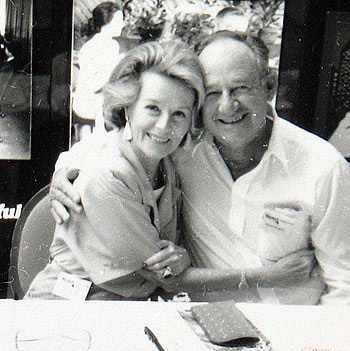 Jennifer Holt and Jimmy Rogers at a Charlotte, NC, Western Film Fair in 1988. (Courtesy Grady Franklin.)
Jack Elam visited on location near Santa Fe, NM, while filming "Lucky Luke: Ghost Train" ('95) by old pal Myron Healey and his daughter Mikel.
WESTERN CLIPPINGS' Boyd Magers and Gloria Winters, Penny on "Sky King" at a Golden Boot Awards.
"Sheriff of Cochise"/"U.S. Marshal"John Bromfield at a Los Angeles event. In the background Clint Brown (blue hat) talks with stuntman Henry Wills.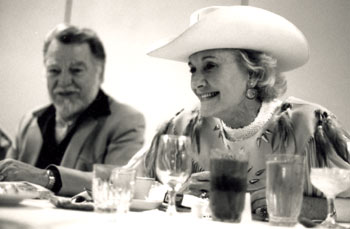 Lash LaRue and Peggy Stewart at an early western film festival.
Arizona Cowboy Rex Allen surrounded by two of his Republic leading ladies, Lyn Thomas (left) and Mary Ellen Kay during Rex Allen Western Days in Wilcox, AZ, in October 1999.
Tex Ritter sidekick Slim Andrews holds up a photo of he and Tex in their younger film-making days.
Stuart Whitman the year he received his Golden Boot in 2002.
Former Monogram child star Sugar Dawn attended the Charlotte Western Film Fair in July 2003.
A great group of stuntmen gathered at a Tombstone Western Film Festival. (L-R) Neil Summers, Bobby Herron, Whitey Hughes, Dean Smith, Bobby Hoy.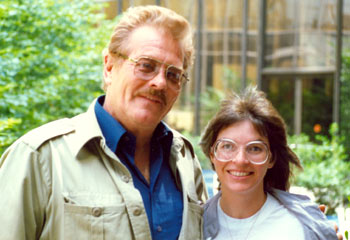 Wayde Preston ("Colt .45") gives a hug to Donna Magers of WESTERN CLIPPINGS at a Charlotte, NC, Western Film Fair.
(L-R) Badman Pierce Lyden, Kelo Henderson ("26 Men") and Dick Jones ("Range Rider", "Buffalo Bill Jr.") at a Lone Pine, CA, film festival.