"The Big Valley"
The Barkley family managed their 30,000 acre ranch in California's San Joaquin "Big Valley", near Stockton, for four seasons on ABC. Barbara Stanwyck as Victoria Barkley was the strong willed family matriarch, widow of the wealthy, influential Tom Barkley who had died six years prior to the series beginning. Jarrod Barkley (Richard Long), the eldest son, was a respected attorney, the more educated and refined of the Barkley clan. Jarrod handled all of the family's vast legal and business affairs dealing with their myriad holdings—ranch, mines, vineyards, cattle, etc. Hot-tempered, brawling Nick Barkley (Peter Breck) managed the family ranch. Underneath his loud, gruff demeanor Nick had a caring, fun-loving side with a wonderful sense of humor. Linda Evans portrayed Audra, Victoria's only daughter, with a bold, adventurous flair. Evans' appearances in the 3rd and 4th seasons were reduced because she wanted to spend more time with her husband, John Derek. Lee Majors as Heath Barkley, the illegitimate son of Victoria's late husband, literally had to fight his way into the Barkley home. Even-tempered until riled, Heath eventually gained acceptance from the rest of the Barkley clan as the first season progressed. The youngest Barkley son was Eugene (Charles Briles), a medical student. Seen in only first season episodes, he was then written out as being away at school. In reality, Briles was drafted and served in Vietnam. Other semi-regulars were Douglas Kennedy as Sheriff Fred Madden and Napoleon Whiting as Silas, the Barkley's majordomo.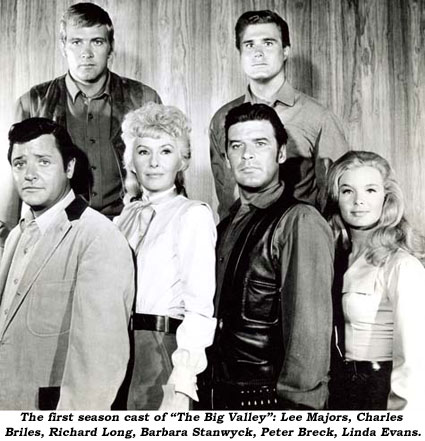 Created by A. L. Bezzerides and Louis F. Edelman with superior theme music by George Dunning and produced for Four-Star by Levy-Gardner-Laven, "The Big Valley" debuted in color on ABC Sept. 15, 1965, from 9-10 ET. Strong competition from "Green Acres" and "Dick Van Dyke" on CBS and "The Bob Hope Playhouse" on NBC caused ABC to move the one hour series to Mondays, 10-11 ET, in July '66 where it was first up against "Run For Your Life" on NBC and "To Tell the Truth"/"I've Got a Secret" on CBS. Then, by Fall '67 the Barkley clan was up against two opponents even they couldn't out gun—"Carol Burnett" on CBS and "I Spy" on NBC. "The Big Valley" never achieved high Nielsen ratings and with westerns losing favor on TV, after 112 episodes, "Love American Style" replaced the Barkleys on ABC. Syndication kept "The Big Valley" alive and well. As late as 1972 VARIETY reported the series was "consistently at the top of the list of all off-network hour shows in syndication."
Victoria Barkley was unique among TV western heroines. Although she possessed strong feminine qualities, she had the inner strength typical of male western heroes. Being called "Lorne Greene in a skirt" angered Stanwyck as did any comparison to "Bonanza". The 58 year old "Missy" pointed out, "If you've got to be compared to something why not 'Bonanza'? But I'll tell you, Lorne Greene is the Loretta Young of the west. I feel he is far too pontifical. When he passes judgment —that's that. It has to be right. I've had my own ranches. You don't run ranches by being pontifical about it. Nobody on any ranch can ever tell what's going to happen next. The west was tough… pontifical wise-acres did not survive long out there. Our ("Big Valley") family is much tougher. My sons are strong. They're real men. The woman I'm playing has plenty of battles with her boys. She's a very vital person. So are her sons."
Aside from the juvenile oriented "Annie Oakley", "The Big Valley" stands out today as responsible for giving us the only "adult" TV western to be built around a heroic female lead.