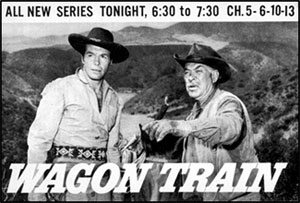 "Wagon Train"
The b/w hour long "Wagon Train" premiered on NBC Wednesday September 18, 1957, from 7:30-8:30 just when the TV Western genre really started to take off in the network ratings. "Wagon Train" followed the trials and tribulations of pioneering families as they set out from St. Joseph, MO, to carve out a new life in the west soon after the Civil War. Such a structure allowed the scriptwriters to not totally rely on the regular cast but ensured them a wide scope for stories which, more often than not, revolved around the guest star characters. The wagon master and his men lead the wagon train and its passengers through hostile country, still allowing for plenty of action, but with solid stories and a better than average budget it was never difficult for producers to attract top name guest stars.
"Wagon Train" survived severe cast changes, format changes and time slot changes over its eight season trek…all great testimony to the show's enduring popularity. Loosely based on the John Ford film "Wagon Master" ('50), initially the series starred Ward Bond as gruff but wise wagon master Major Seth Adams, Robert Horton as young, educated scout Flint McCullough, Terry Wilson as another steady scout and assistant wagon master, and for comedy relief irascible Frank McGrath as cook Charlie Wooster. Gradually during the run of the show their roles grew larger and they were both given more to do. Bond once stated, "I was playing the wagon master long before Revue Prod. was even born. I knew that character cold. He's just an extension of Ward Bond. I just play myself."
Robert Horton told WC, "Terry and I played football against each other in high school. He went to Canoga Park and I went to Harvard School. Wilson was on 'Wagon Train' originally as a stuntman and double for Ward. Gradually, as the series unfolded, he was recognized as one of the regulars. He was very much a part of the Ward Bond coterie along with Frank McGrath. They stuck together very, very closely. Very Close to being sycophants, especially Terry."
Horton told writer James Rosin, "Once I was cast in the role I wrote a biographical sketch of Flint McCullough so the writers would not have a different point of view about me every time they wrote a script. When I first met Ward I had nothing but admiration and respect for him. However, very early on I became aware we really didn't have much in common. We honestly didn't relate at all. At the same time we enjoyed a great rapport on camera. He looked you in the eye and said his lines with honesty and conviction. He'd be hollering at me at every possible moment and I'd be smiling back as I rode away from him."
Horton added, "Toward the end of the third season, I decided to use my own horse on the show. He was an Appaloosa named Stormy Night. I brought him down from Idaho in '58."
In WC's opinion what made "Wagon Train" work was Horton's relationship with Bond. They were polar opposites in background, politics, and life, as well as on the show. That underlying current of two very contrasting individuals gave the show a spark.
Scheduling the first season against "I Love Lucy" reruns and "The Big Record" with Patti Page on CBS and "Disneyland" (a regular Nielsen ratings getter) "Wagon Train" nevertheless proved to be a formidable opponent knocking both shows out of the Nielsen Top 30 while scoring a respectable 23rd for the year. Remaining in its Wednesday 7:30-8:30 slot for the next four years on NBC "Wagon Train" spectacularly climbed to the #2 spot in the ratings the very next year ('58-'59) and remained there (right behind CBS' "Gunsmoke") for three seasons, crushing all ABC and CBS competing shows ("Lawrence Welk", "Pursuit", "Leave it to Beaver", "Lineup", "Hong Kong", "Aquanauts", "Alvin (of the Chipmunks)", "Straightaway", "Window on Main Street").
In its 5th season (Sept. 27, '61 to June 13, '62) "Wagon Train" entered the #1 position in the Nielsen ratings. What is particularly interesting is the fact the show cracked its top position after the series suffered a crippling setback, the death of Ward Bond on November 5, 1960. Perhaps because the series concentrated so much on guest stars and was not rooted to one star as other Western series were (i.e. "Cheyenne", "Wyatt Earp", etc.) the unexpected death of Bond didn't destroy the series with its viewers. Interestingly, four episodes written for Bond were given to Horton. Although Lee Marvin was strongly considered as the new stern-ordering wagonmaster after Bond died, producers rethought the series and on March 16, '61, three weeks after Bond's final appearance, 54 year old seasoned John McIntire quietly stepped into the role of wagon


master with no explanation as to where Seth Adams went. McIntire told TV GUIDE, "I knew I was sticking my neck out to follow a man like Bond, but so far the result has been encouraging. I am not imitating Ward. I play the wagon master somewhat differently. Not loud and bellowing. Mine is an educated man, more philosophic, less a disciplinarian, gentler but not soft."
Both McGrath and Wilson were close friends of Bond. McGrath recalled, "When Ward was alive, he and Terry and I were always together. We'd work on the show 10 months, then we'd take our wives and go down to the boat for a vacation." But both accepted the change. Wilson said of McIntire, "You can tell by the way he sits a horse he's our kind of guy."
The series underwent more changes in Season 5 also. Denny (Scott) Miller (left)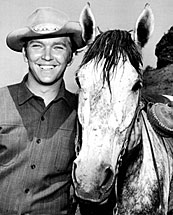 joined the cast as scout Duke Shannon and Robert Horton left mid-season for Broadway ("110 in the Shade"). The studio tried everything to keep Horton, offering him a very lucrative 10 year contact, plus a percentage of "Wagon Train", but he was adamant about leaving.
As to Denny Miller, Robert Fuller recalled for WC, "I just found him to be a delightful guy, big 6'4" guy, just delightful, so sweet and pleasant to everybody. He came on the Universal lot while I was doing 'Laramie' to start working on 'Wagon Train'. We saw each other quite often and we became more friendly. Then I had the good fortune of going to work on 'Wagon Train' and spent almost 24-7 with him on the set every day. I used to call him The Gentle Giant. He was such a gentleman and so sweet to everybody, so easy to work with…very professional, always knew his lines, everybody liked him, the crew, the cast, easy to get along with. It was a pleasure to walk into that show and work with him."
Denny Miller recalled, "I was a stranger in a strange land. I was a basketball player at UCLA inserted into the cast of the number one show in the nation. Terry Wilson became my friend and buddy and guided me through it. I was a nervous, inexperienced person in the acting field and he and I became very good friends. He was one of the best stuntmen that ever lived. He was dependable, professional, all the good things…and a lot of fun. One of the good guys. He had a quiet strength about him. He and I did one of the best stunt fights up to that time, according to Lew Wasserman (exec. officer and chairman of the board at Universal) in 'The Duke Shannon Story'. We ended up facing each other, both on our knees, too weak to stand up, but still strong enough to punch each other. Terry gave freely of his information about how to do the technique of stunt fighting. He was one of the best."
Rather bizarrely, after reaching #1 in its 5th season, "Wagon Train" migrated from NBC to ABC for its 6th season (still from 7:30-8:30 Wednesday night). The practice of switching networks was quite common in the '50s and '60s when sponsors often controlled a series' fate. Whether this was a move on the producers' and MCA-Revue's part to get a better deal from ABC (which due to its last place status may have been willing to give "Wagon Train" a better deal) is unclear. What is certain, NBC did not want to lose the #1 show on television and in retaliation and an obvious effort to stifle "Wagon Train" ratings on competing ABC, developed "The Virginian", network TV's first 90 minute Western. Suddenly, "Wagon Train"'s hour-long black and white episodes looked somewhat paltry next to the expansive full color outdoor Western which felt more like a movie than a TV episode. "Wagon Train" also suffered in the (in hindsight ill-advised move) because ABC didn't have the TV station coverage that CBS and NBC enjoyed (many outlets back then often shared network programming).
In its 6th season "Wagon Train" barely managed to beat newcomer "Virginian" but lost its #1 status. "Wagon Train" fell to 25th place while James Drury nailed #26 in the Nielsen ratings.
ABC blinked. For its 7th season ABC ponied up the cash to expand "Wagon Train" to 90 minutes in color to compete with "The Virginian". They also brought in Robert Fuller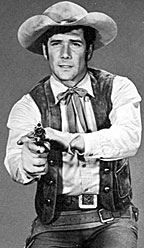 (fresh off his success on "Laramie") as scout Cooper Smith (right) and added Michael Burns (below) as Barnaby West in a

ploy to appeal to youthful viewers. However, ABC disastrously abandoned the series six year Wednesday night home and moved to Monday night from 8:30 to 10. ABC also just plain screwed up in the move by placing the show up against a comedy triumvirate of "The Lucy Show" (6th for the year), "Danny Thomas" (9th), and "Andy Griffith" (5th). Families, presented with a viewing choice, chose the comedies and "Wagon Train" quietly slid out of the Top 30. It should also be noted that these 90 minute episodes are a wild mish-mash of ideas, some episodes abandoned the idea of the wagon train altogether ("The Widow O'Rourke Story", "Gus Morgan Story"), some included slapstickish scenes ("Kate Crawley Story", "Grover Allen Story") and some just seemed tiresome at 90 minutes. Denny Miller, always underutilized on the series, left after this season.
Due to the expensive 90 minute color episodes garnering such low ratings, in a final effort to save the show, ABC returned to one hour black and white episodes with season 8 ('64-'65). It was too little too late, especially when ABC once again moved the series and slotted it on Sunday nights 7:30-8:30 opposite CBS' "My Favorite Martian" and the first half of the powerhouse Sunday night staple "Ed Sullivan" and NBC's "Walt Disney's Wonderful World of Color". After 284 episodes it was the final nail in the coffin for the once esteemed series.
Produced by Howard Christie, the first season theme had no lyrics. For the second season a more modern theme was introduced, "Roll Along, Wagon Train" written by Sammy Fain and Jack Brooks and sung by Johnny O'Neill. Midway through the season this was abandoned in favor of an instrumental version by Stanley. In the third season a more traditional sounding score, "Wagons Ho!" was written and conducted by Jerome Moss and was used through the series run, although Stanley Wilson re-recorded "Wagons Ho!" for the last two seasons. When Ward Bond repeats were broadcast under the title "Trailmaster" on weekday afternoons on ABC beginning in '63 a new series theme was developed by Stanley Wilson.