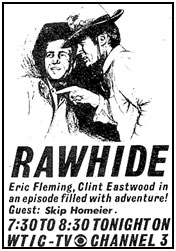 "RAWHIDE"
"Head 'em up! Move 'em out!" "Rawhide", one of TV's epic westerns with more of an authentic feel than most others, began its long dusty drive on CBS January 9, 1959, as a one hour Friday night mid-season replacement for "Trackdown" (which moved to Wednesdays) and a short-lived half hour version of the "Jackie Gleason Show". Producer Charles Marquis Warren (who had been writer/director and producer at the start of "Gunsmoke" in '55) had an idea for a show concerning a cattle drive (obviously inspired by John Wayne's "Red River") but could get no network interested. The idea was shelved for three years and used as the inspiration for the feature "Cattle Empire" at Fox in '58 with Joel McCrea. Among the cast were Paul Brinegar, Charles Gray, Steve Raines and Rocky Shahan, all of whom would become "Rawhide" regulars. This time when Warren pitched the idea of a series to CBS, they accepted.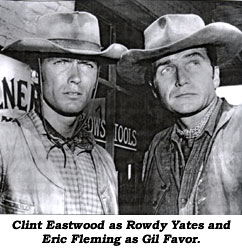 Eric Fleming, whose career was wavering at the time, was about to quit the business and move to Hawaii to pursue his interest in sculpting and writing. He was asked to test for the role of Gil Favor, "a tough man of action who possessed good judgment, compassion and an iron will." Fleming was an excellent choice. Another unknown, Clint Eastwood, was chosen as ramrod Rowdy Yates. The role launched him on a career that includes an Academy Award for "The Unforgiven". Scout Pete Nolan was played by the late Sheb Wooley who had worked in Warren's "Little Big Horn". Paul Brinegar as curmudgeonly cook Wishbone and stuntman/actor Steve Raines as drover Jim Quince were the only other two cast members (besides Eastwood) to stay with the series for its full run (1/9/59-12/7/65) of 217 episodes. (Complete cast with participation years at end of article.)
Basically, the series depicted the exploits of the tough cattle drives between San Antonio, TX, and Sedalia, MO, and San Antonio to Abilene, KS. Only the first two drives are episodically shown reaching their conclusion.
The series owes much of its success to the top writers and directors employed over its eight year run as well as a stirring themesong sung by Frankie Laine, written by Dimitri Tiomkin and Ned Washington.
Name guest stars played a prominent role on "Rawhide", but not at the expense of series regulars as was often the case on "Wagon Train", a series to which "Rawhide" is often compared. Making appearances on "Rawhide" over the years were such stars as Dan Duryea, Lon Chaney Jr., Brian Donlevy, Margaret O'Brien, Victor Jory, Buddy Ebsen, Bob Steele, Julie London, Debra Paget, Robert Culp, Don Barry, Ralph Bellamy, Audrey Totter, Barbara Stanwyck and many more—as well as all the great character players of the time.
The first episode shot in '58 was "Incident at Barker Springs" (filmed around Nogales, AZ, where a lot of cattle stock footage used later was also lensed) although this episode, in a revised version, ended up being aired as the 7th episode. Then, with only 9 episodes filmed, CBS was unable to interest a sponsor. The breakthrough came when CBS needed a mid-season replacement. "Incident of the Tumbleweed Wagon" was the first episode aired, which didn't rate well—only 42nd. However, within three weeks the show was in the Top 20.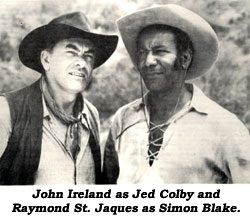 Success often breeds disgruntlement, and, reportedly, problems over cast billing being at the end of the episodes rather than the beginning led to Warren's departure as producer at the end of the third season. "Rawhide" found itself facing a mid-life crisis. Warren was replaced for the '61-'62 season by story editor Endre Bohem. When the series slid in the ratings, Bohem was replaced for seasons 5, 6 ('62-'64) by former Monogram B-picture producer Vincent M. Fennelly who watched the ratings slide even more. Each season now saw changes in emphasis. Play up the guest star. Play down the guest star. Stick to the cattle. Get away from the cattle. More action. Less action, more drama. The tandem team of Bernard Kowalski and Bruce Geller took over for the 7th season only to be replaced midway in '65 by Bohem, brought back to revive the slowly eroding ratings of the once powerful series, which had been moved to Thursday for the '63-'64 season, then back to Fridays for '64-'65. None of these changes worked to restore "Rawhide" to its former glory. CBS made one more try, hiring producer Robert Thompson for season 7 ('65) under orders to put the series back in the saddle. Thompson only succeeded in driving "Rawhide" into the dust by firing Eric Fleming, Sheb Wooley, James (Mushy) Murdock, Robert (Hey Soos) Cabal and Rocky (Joe Scarlet) Shahan. In their place he hired black actor Raymond St. Jacques and Englishman David Watson (both of whom knew nothing about westerns). Old pro John Ireland was also brought on board, receiving second billing to Eastwood who was now trail boss. The mix did not work and a once great TV western ended in Dec. '65.
Comments:
Eric Fleming of his fellow actors: "These guys can act. I am just a hack. You can sense a difference on the screen when you're not seeing real trees, real wind. Everything just seems to deaden out on the stage. When there's quality in a series, the actors unconsciously put more into it. Knowing how to work with your fellow men is actually more important than knowing how to act. When you're living under tension so much of the time, you have to have a good working group."
Clint Eastwood: "Having the security of being in a series week-in, week-out, gives you great flexibility. You can experiment with yourself, try a different scene different ways. If you make a mistake one week, you can look at it and say, 'Well, I won't do that again.' We did honest stories, pretty much the way they happened. Now and then we may have rearranged things to heighten the drama, but in general, we respected the historical truth."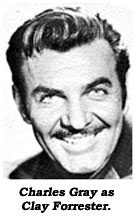 Charles Gray: "I taught at the college level at Tulane, then at the University of Houston. I did plays, got involved in theatre, started a music theatre of my own in Houston which was very successful. A movie came through Houston and I got a part in it and they shipped me out to California and I decided to see what I could do while I was out here. I started getting jobs and that was fine. As for 'Rawhide', I did know how to ride having learned as a child on farms belonging to relatives in Iowa. When we were filming at MGM, all the campfire chuckwagon scenes were filmed on a sound stage as were all interiors. Various places including Paso Robles, CA, Simi Valley, Conejo Valley, Tucumcari, NM, and sites in Arizona were used for exteriors. We mostly rode in the same chartered plane with no particular seating arrangements for those of us who headed the show. Eric did a helluva job as Gil Favor. I look with fondness on those days, because at the time I was also running a theatre that I founded, so I was not locked into performing only one role, I kept busy. Of all of us, Paul Muni's favorite actor was James Murdock as Mushy. Don't get any glamorous ideas about my function on the show, since I was a replacement for Sheb Wooley, who wanted out for personal and professional reasons, mostly to follow a career in country music. Eric Fleming, Clint Eastwood, Paul Brinegar and I got along well, but we were not particularly interested in (each other's) social lives, only in our work. That is also true of the rest of the cast as well. None of us were given to chit-chat or gossip about each other as part of solid ethics each of us had around that."
John Hart: "The writer (and producer), Endre Bohem, was a wonderful sensitive guy. He liked me and he was gonna make this character for me of the cowboy that could read. He wore glasses and he'd read the guy's letters and write letters for 'em. We were at MGM, but the whole thing blew up when they moved to Republic. Bohem was a very intelligent, good taste guy. It was a shame when those idiots let him go. Paul Brinegar was a character, that curmudgeon was his character. Eric came from New York, I don't think he'd ever ridden a horse. Clint was always very nice, a wonderful actor."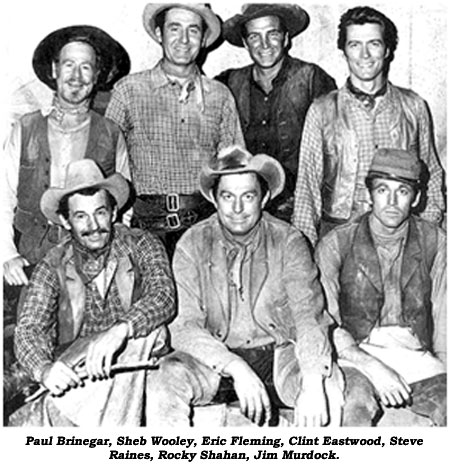 Paul Brinegar: "I started acting in high school and college. After WWII I started doing Little Theatre around Hollywood and picked up a few jobs. Then I landed in 'Wyatt Earp' in '55 for two years. I'd done 'Cattle Empire' for Charles Marquis Warren. Later, when CBS made the pilot for 'Rawhide' they made it with a Mexican cook. For some reason or other, the studio didn't feel the Mexican cook was working out very well. Warren remembered me and brought me in. So I spent 7 happy years as Wishbone, having a ball with all of the guys, traveling the country making personal appearances. I was not the least bit surprised by Clint's later success. In the early days of 'Rawhide', Clint went right along with the character he was asked to play. After a couple of years, he used the term 'cherry'. He didn't like that 'cherry' character which was a naive young guy that just didn't suit Clint's personality. So he began to get a little vocal about it in terms of getting better stories. The result was he went to Spain and made some of those spaghetti westerns that turned him into the great star he is now. Sheb Wooley is a good friend. When we first started 'Rawhide' he'd just had his big success with 'The Purple People Eater'. When we'd go out on personal appearances, Sheb would always have Clint or I do the funny little noises he'd done himself on the record. We both screwed it up. (Laughs)"
Sheb Wooley: "I landed 'Rawhide' 'cause I'd done a couple of pictures for Charles Marquis Warren. Eric was pretty much of a loner. He was athletic, played tennis. A nice man but a little different. He had contracted a fungus on his toes, so he went around the studio barefooted. He also didn't like to shake hands with anybody, afraid he'd pick up germs. He had a very hard life as a child. His parents chained him in the cellar, really, that's not a joke. Because of that hard life it was very difficult for him to make friends or accept friendship. If he liked you or respected you, you got along just fine with him. You never expected a lot of warmth, but he was honest. You might not like what he had to say, but he was honest about it. As for Clint, I thought he had a lot of the ingredients that he might be a big star. Clint and I partied quite a bit. Wishbone didn't party with us, nor did Eric. Clint and I partied everywhere we went! That's what we did best. Neither one of us could act, but we could party. Funny thing, Clint actually was allergic to horses."
Cast

Actor

Character

Years Played

Eric Fleming

Gil Favor

'59-'65

Clint Eastwood

Rowdy Yates

'59-'65

Paul Brinegar

Wishbone

'59-'65

Sheb Wooley

Pete Nolan

'59-'62, '65

Steve Raines

Jim Quince

'59-'65

James Murdock

Mushy Mushgrove

'59-'65

Rocky Shahan

Joe Scarlet

'59-'65

Robert Cabal

Hey Soos Patines

'59-'65

John Erwin

Teddy

'59-'62, '64-'65

John Cole

Bailey

'59-'61

Don Harvey

Collins

'59-'62

John Hart

Cowboy with glasses

'60-'62

Charles Gray

Clay Forrester

'61-'64

Hal Baylor

Jenkins

'62-'63

William Thompkins

Toothless Jeffries

'62-'65

Paul Comi

Yo Yo

'64-'65

John Ireland

Jed Colby

'65-'65

Raymond St. Jacques

Simon Blake

'65-'65

David Watson

Ian Cabot

'65-'65

L. Q. Jones

Pee Jay

'65-'65

Guy Teague

Stitch (and Fleming's double)
Eric Fleming died at 41 on September 28, 1966. While filming in Peru on a tributary of the Amazon, the Huallaga River, the canoe he and actor Nico Minardos were in capsized in rough water. Minardos made it to shore, Fleming did not. He crashed his head on some rocks. His body was recovered four days later. Clint Eastwood made several Euro-westerns during "Rawhide" and went on to become a major star and director. Paul Brinegar died at 77 on March 27, 1995, of emphysema. Sheb Wooley, 82, died September 16, 2003, of leukemia. Steve Raines, 79, died Jan. 4, 1996. James Murdock, 50, died of pneumonia Dec. 24, 1981. Rocky Shahan, in his '50s, died Dec. 8, 1981. Hal Baylor, 79, died Jan. 5, 1998. Don Harvey, 50, died April 24, 1963. John Hart, 91, died Sept. 20, 2009. Charles Gray, 86, died August 2, 2008. John Ireland, 78, died March 21, 1992. Raymond St. Jacques, 60, died August 27, 1990. William Thompkins died in a car wreck on Whidbey Island near Coupeville, WA, in 1971. Also deceased, date unconfirmed, is Robert Cabal. Thankfully, John Erwin, John Cole, Paul Comi, L. Q. Jones are still with us. (Thanx in part to Terry Cutts, Randy Erdman, Gary Yoggy, Harris Lentz, Everett Aaker, Richard K. Tharp, Melissa Teague, Laura Campbell.)