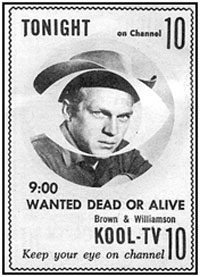 "Wanted Dead or Alive"
Steve McQueen leaped off the small screen in one of the most memorable b/w half-hour TV western series, "Wanted Dead or Alive", to become a bonafide movie star. It was Steve McQueen's unmistakable blue-eyed, individualistic, nonconformist attitude and charisma as intense, restless bounty hunter Josh Randall, who tracked down men (and women)—dead or alive—to collect the rewards for them, that made the series a ratings winner for 94 episodes between September 6, 1958, and March 29, 1961.
Along the way Josh Randall diversed into seeking missing husbands, sons and fathers, hidden gold, a daughter taken by Indians, Army deserters, an amnesia victim, a man's fiancée, a delinquent suitor, even a pet ewe ("Baa-Baa"—6/4/61) and Santa Claus ("The Eight Cent Reward"—12/20/58). Much of this was due to the close-knit working relationship of McQueen and scripter John Robinson (who wrote many original "Dragnet" episodes) to eliminate western clichés from "Wanted…".
Born March 24, 1930, in Beech Grove, IN (a suburb of Indianapolis), Steve's troubled childhood led him to reform school for 14 months. He then bummed around until he was old enough to join the Marines. Discharged in '50, he attended school under the GI Bill of Rights, eventually getting into dramatics in NYC at the Neighborhood Playhouse. Performing in several plays and live TV, his only film roles prior to "Wanted" were in "Somebody Up There Likes Me", "Never Love a Stranger" and "The Blob".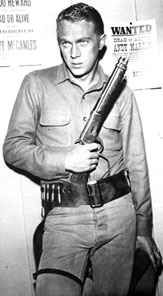 Producer Vincent Fennelly was looking for an actor to play a bounty hunter in an episode of Robert Culp's "Trackdown" and found McQueen "a little guy who looks tough enough to get the job done, but with a boyish appeal behind the toughness." "The Bounty Hunter", which aired 3/7/58, was a pilot for a new Four Star series; CBS liked what they saw and ordered "Wanted…" for a Fall start.
Season one began Sept. 6, '58, from 8:30-9pm ET on Saturday nights. Season two was in the same time slot. With "Have Gun Will Travel" and "Gunsmoke" also on that night, CBS ruled the range. "Wanted…" was 16th in overall ratings its first season, playing opposite "Perry Como" on NBC and "Jubilee USA" on ABC. The '59-'60 season of "Wanted…" rose to 9th opposite the weak "Man and the Challenge" on NBC and the struggling "Jubilee USA". However, a switch to Wednesday nights for the third season (Sept. 21, '60–March 29, '61) opposite the established "Ozzie and Harriet" on ABC and the color "Price Is Right" on NBC caused "Wanted…" to falter, dropping below the Top 25, and it was canceled. Oddly, this is the same exact time slot and competition CBS had lost out with "Trackdown" in '59. Some executives never learn.
Wright King joined "Wanted…" as Jason Nichols, a sheriff's deputy in Virginia City, with episode 57 (1/30/60), "Jason". He and McQueen form a partnership with the next episode, "The Partners", and for a total of 11 episodes til the end of the second season.
Wright told WC, "In '59 I did two 'Wanteds', the first was a comedy, 'Amos Carter' (5/9/59) with Edgar Buchanan. Yep, a comedy in a western with serious McQueen. It was a Hatfield-McCoy type of script. Steve, to me, seemed wary of scene-stealing Buchanan, but the episode came off well. Later in '59 I was cast as the victim in another episode, "No Trail Back" (11/29/59), a story about a suspected rabies victim (me). Steve appeared to be typical of a series lead—politely cool and pragmatic. Sometime during the first day, after a brief rehearsal, I brought up what I thought was a well written scene between our two lead characters, adding that if we could find some extra time to go over it for the next day's shooting, I'd appreciate it. He said maybe the director could give us some time. On the day of the shooting of that scene he invited me into his dressing room…we went over it a couple of times and then we ran it again for the director on the set. In the end the scene took on a life of its own and both of us felt good about it. Maybe a month later, my wife June and I ran into Steve at The Huntington Hartford Theatre during the intermission of a play. He seemed genuinely glad to see me and right away asked if I had seen our episode of his show. I answered in the affirmative and he added something like, 'It was terrific and they want you to replace me. Soon—I'm getting ready to leave the series.'"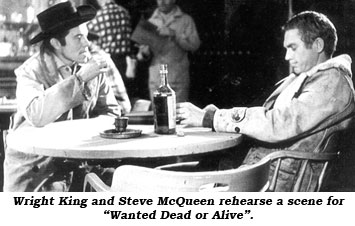 "Somewhere near the end of '59 I had done all the signing of contracts stating I was to be his replacement—a gradual taking over his position in 'Wanted…'. Steve, with the permission of his 'Wanted Dead or Alive' bosses, was to be given time off from the series to play the lead in an upcoming film produced by Frank Sinatra. Steve and I were to start with the sharing of 11 episodes as partners on the series itself. On a hospitable note, my first day on the set, Steve steered me over to an ancient VW bug, invited me to sit in the front seat next to his driver's position and instantly drove me over the entire old Republic lot. Fast. Expertly. It left me a little embarrassed because VWs were the only car I had been accustomed to. I owned two of them so I had already been there done that, mostly accidentally I admit, but certainly not with his passion and expertise. Other than me feigning a big smile and some chuckling he must have thought me pretty cool. He and the 'Wanted' crew were a welcoming group; well, most were. Sorry I can't say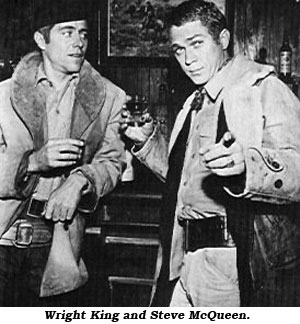 the same for our director, George Blair, who regarded me much as if I were a misguided gnat. The new scripts couldn't have been more encouraging, building a relationship between Josh Randall (Steve) and Jason Nichols (me). Steve being thoroughly in touch with his character made it easy for us both and free enough to do a little improvising. For example, in two particular episodes the endings find the two bounty hunters happily exiting the local bar. We read the scenes with the director and had the feeling they were okay but on the flat side. Steve suddenly came up with ideas that went like this: In 'Triple Vice' Jason is found in the local bar at a table delicately stacking a number of matches together in the shape of a building. Josh enters with information about some future job plan. Jason listens but, in deep concentration, continues his interest making an even taller steeple. Josh reaches toward Jason to get his attention, accidentally and completely destroying Jason's masterpiece. Now Jason is furious so the pair exits arguing back and forth. In 'A House Divided' following heated words, Jason exits the bar. Josh thinks about it, then heads outside for a fisticuffs settlement. The patrons of the bar in stilled silence await the awful ending of a furious battle topped by a terrible 'Whop!' followed by a limp body flying through the swinging bar doors and landing on the bar floor. Then the slow and dizzy rising with one arm and holding his jaw with the other is Josh. End of scene."
"Steve's old teacher Sanford Meisner was an excellent actor and teacher. I worked with him in a play, 'The Bird Cage'. He had a number of wonderful students, Steve, Richard Boone and Jan Merlin among them. I always felt good working with Sandy's students."
"'Wanted…' of course was a western, but most of my work to this point had little to do with riding horses, so I couldn't have been happier when I was introduced to my and Jason's Flax, a gorgeous Arabian quarter horse…a mare named for the color of her mane and tail, she was a gorgeous gaited animal. Early on Steve and I rode a little together. He looked good on a horse. Of course he wanted to race our two animals. On one of the contests my Flax was definitely the better. Once, as he and I were returning to the studio, he was saying to, I don't remember whom, 'We've got to get another horse for Jason.' Before I had time to discuss that subject with him we were given the disappointing news that the current screenwriters' (1960) strike was to continue. It had begun earlier when we still had a number of episodes introducing Jason Nichols. In the end the producers were unsuccessfully using other scripts from earlier times to continue the two Josh and Jason roles. This together with the cancellation of the Sinatra film (because of the writer's political persuasion) put me back in circulation as Steve finished the final season of 'Wanted Dead or Alive' alone."
"Steve never criticized me or my work, with one exception. After we'd been working for a while he said, 'You know you're imitating me, don't you?' To which I answered, 'I'm sure I don't…I conscientiously make a point of not doing that.' But, one time after that, when watching some of our re-runs, I found he was right. Hey, maybe I was doing it as Jason imitating Josh? Steve and I parted amicably. I was very grateful to him. I think 'Wanted…' was a step up in my career. I wasn't surprised at his success."
One of the most unique aspects of the series was McQueen's sawed off Winchester Model 1892 lever-action carbine. He turned it into a large-belt gun and termed it "A Mare's Laig. It's like a Hog's leg, only it kicks harder." In addition to the stubbier stock, the gun had the loop of the cocking lever enlarged and rounded to enable McQueen to cock it one-handed. To heighten appearance, the cartridge belt was looped with huge, old .45-.70 cartridges which couldn't actually be fired in the .44-.40 Winchester, but they looked dangerous on screen.
Steve McQueen wasn't disappointed when "Wanted…" was canceled, movie stardom was in his grasp. After a blazing big screen career, McQueen died at 50 of cancer November 7, 1980, with his third wife and two children at his side.
---

Ringo, the black quarter-horse Steve McQueen rode on "Wanted Dead Or Alive" threw Steve six times in a five week period and bit him on three occasions. "It's a good thing he likes me," Steve quipped.
---