"Pony Express"
The famed Pony Express only operated for a scant 18 months during 1860-'61, and the series based on it's exploits lasted even less, only 8 months, 33 b/w half-hour syndicated episodes from Oct. 7, 1959, to May 17, 1960.
Two young unknowns headed up the cast of "Pony Express". Grant Sullivan starred as division superintendent Brett Clark (on his horse Amigo) overseeing the 2,000 mile pony route from St. Joseph, MO, to Sacramento, CA. Don Dorrell was Sullivan's troubleshooter, Donovan. With all the problems the Pony Express endured, the two men

did all they could to ensure the safety of their riders and to speed the mail along its appointed route.
Produced by Tom McKnight for Desilu, many episodes were shot on location around Apache Junction, AZ.
Sullivan began on TV around 1953, appearing on live episodes of "Capt. Video". "Pony Express" was Dorrell's first experience in front of a camera. Both men left the business by the mid '60s. Grant Sullivan died May 31, 2011, at 86. Don Dorrell died at 49, April 10, 1978 in Topeka, KS.
Johnny Western fills us in on some interesting background about the series. "In 1957 'Pony Express' was the first color pilot ever shot for a western for TV. James Nielsen was the director and they were spending extra money to shoot in color. Original plan was to have Ben Johnson as the lead and the second lead would be a pony express rider, which was to be me. I'd gotten the job through casting agent Lynn Stalmaster on an open casting thing. Actually, Gene Autry's agent at the Mitchell Hamilberg Agency told Stalmaster about me. They said, 'We need somebody who can ride, looks good on a horse, is young' and all like that. So, I went over and I got the job. This was gonna be my first picture. We find out as we start talking that Ben Johnson was on another picture ("War Drums") and was being extended and was not gonna be available. Consequently, the agency handling a lot of the stuff over there had James Best available. He was doing a lot of second leads. They thought he might be strong enough to carry the show, which turned out not to be the case. But, the pilot was shot in color in February '57 with Best as the lead as Bart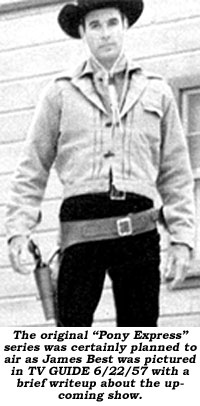 Gentry, in place of Ben Johnson, and I did get the second lead. My character name was Henry. Sebastian Cabot was the main heavy in the pilot, and Claude Akins was on that episode. He was exceptionally good to me knowing this was my first picture. He kinda walked me through a lot of scenes I had. Soooo…we sat and waited and waited, but they finally came down with the word the pilot didn't sell. Well, I went on to other things, then came the word later (in '59) they'd redone another pilot in black and white with a New York actor named Grant Sullivan and my part was taken over by Don Dorrell. They went with an entirely different script and cast and shot 33 episodes. They eventually utilized the episode we shot by filming a frontispiece with basically Don Dorrell saying to Sullivan, 'Well boss, you aren't the only one that was ever here. Who was here before you?'…in Julesburg, CO, where the series was supposed to take place. 'Well, it was like this…' and they did a fade-in to our episode. (That pilot episode, "Story of Julesburg", aired as "Pony

Express" #23 on 3/9/60—ed.) Everybody said if Ben Johnson had been available to do the lead the series would have sold and I'd have had a series on my very first time out. In color, and the great horseman Ben was, and he was older than Jimmy Best and would have looked a little more mature. It would have been a perfect fit."
Additionally, actor Bill Wellman (son of noted director Wild Bill Wellman) tells WC, "I was considered for the second lead with Grant Sullivan, the lead. Both Don Dorrell and I tested at the same time. He was directed to play the role with humor as if he was Kookie Burns of the west. I was told to play the character straight, without excess humor.. His characterization won him the role. Months later, when the show was airing, I was hired to guest star with Carolyn Craig. Our episode was titled 'The Sheriff's Last Ride' directed by Frank McDonald. We shot the second week of January 1960, mostly at the lower Iverson Ranch. I kept a Call Sheet dated Thursday, 1/14/60."