"Cade's County"
The excellent "Cade's County" starred movie legend Glenn Ford as Sam Cade, sheriff of fictional Southwestern Madrid County. The 24 episode contemporary Western saw tough but low key Cade riding in a jeep instead of a horse and packing a .38 Special instead of a Colt .45 to enforce law in his county.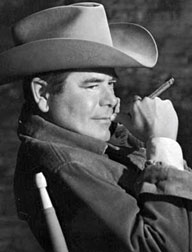 With music by Henry Mancini "Cade's County" was a 60 minute in color CBS series that aired on Sundays from 9:30-10:30pm EST from September 19, 1971 to April 9, 1972. Reruns continued through August in the same time slot, then moved to Monday from 10-11pm from August to September '72.
According to Ford's son Peter (below), "'Cade's County' was custom-designed from the start. Dad played an archetypal 'Glenn Ford role' as Sam Cade. He was directly involved in creating the character, screening a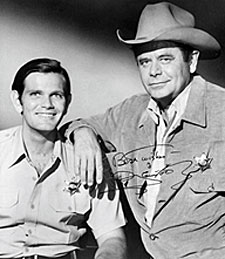 number of his old films for story editor Cliff Gould, and determining in advance certain details about Sheriff Cade's outlook, style of living, and beliefs. My father said, 'If the show catches on, it could go for years and years, like 'Gunsmoke', so I want to make sure this guy is a comfortable fit.'"
Pete continued, "Although it was set in the mythical Southwest, in truth Maricopa, AZ, was the model county for the series. The filming, however, never left the Los Angeles area. The town was actually the old 'Peyton Place' on the Fox lot, and the wilderness was mostly the Fox ranch in Malibu Canyon. One of the reasons Dad agreed to the show was that he could work from home for a change. 'I had them put it in my contract,' my father recalled. 'I had to be back in Beverly Hills every evening by six.' Dad handpicked the regular cast and crew. He chose one of his oldest and closest friends, Edgar Buchanan, to play his deputy (J. J. Jackson) and I signed on as the series dialogue director; then, to my surprise, I was added to the cast as Pete Odom, a county forensic deputy working on-camera. Keeping it in the family my wife Lynda also became a part of the production, playing a county resident in many episodes."
Pete told us, "The 20th episode, 'Ragged Edge', was a special event for my father. The director was 80 year old George Marshall, and this episode marked their final collaboration after having made eight films together since 1941. Watching his octogenarian friend moving around the 'Cade's County' set, my father would reflect warmly, 'You know that man directed his first picture—Across the Rio Grande—in 1916. D. W. Griffith had just made The Birth of a Nation. There were no stars to speak of, no big studios. I wonder how many people seeing old George working here today realize they're looking at one of the people who invented the movies and this place called Hollywood.'"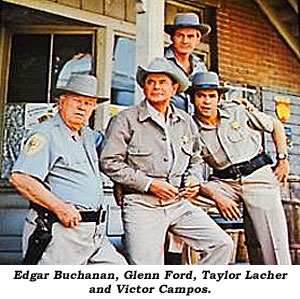 Pete recalled director Richard Donner telling him of Glenn's affection for his old buddy Edgar "Buck" Buchanan and, even more vividly, the day his star was nearly killed on-camera: "Bucky played the old deputy. A wonderful guy and as good as they come. And Glenn loved this guy and protected him at all costs. If he blew a line, Glenn protected him. He would come in with a pickup line or he would jump in and say, 'I didn't get that, let's go again.' I thought it was just beautiful."
"One day Donner shot an action sequence involving a buzzing helicopter with my father driving his jeep. 'The chopper came sweeping down too low—it came down so close that a rotor clipped the top of the jeep's antenna. Glenn's head was about five inches away,' Donner recalled. My father, fully middle-aged now, still enjoyed doing some of his own stunts on-camera. One scene in the show involved Sheriff Cade jumping from the moving jeep. The scene was shot first with his stuntman, Bill Hart, doing the leap; then it was going to be re-created with Dad behind the wheel for the cut-ins. But instead of simply miming the start of the jump and staying behind the wheel, my father did the jump for real, landing hard on the dusty ground. After the shot everyone rushed up to help him, wondering if he was all right. He was. 'Well, it just felt right.' Dad said. 'I saw the spot and went for it.' 'Cade's County' was a good show, with good scripts and likeable characters and a realistic approach to the new West, including episodes addressing minority discrimination and the plight of modern Indian tribes. But quality on television was usually trumped by ratings, and the show was a hard sell in the Sunday night slot. It ran for only 24 episodes before CBS pulled the plug. The cancellation was a tough blow to my father. He enjoyed working on a show with so many friends as guest stars, and I think he generally felt the ratings were good enough for a second year."
Other regular cast members were pure blood Cherokee Betty Ann Carr as radio dispatcher Betty Ann Sundown, Victor Campos (1935- 2017) as deputy Rudy Davilo and Taylor Lacher (1942-2005) as Deputy Arlo Pritchard (left). Peter Ford recalled Lacher for WC as "A great guy. I recall him being a student of all that went on during the filming of that show. Taylor was a relatively inexper- ienced actor when we began production but I remember being amused how he began assuming, in a flattering way, some of dad's mannerisms. He reminded me of Dad in the way he carried himself, spoke and stood—it was fun to see. I'm sure I was guilty of that myself. Don't get me wrong, Taylor wasn't a mimic but I could see my father's influence on him—a Glenn Ford with a southern drawl. (Lacher was born in Pittsburgh, KS.)"
Peter also mentioned, "Because at the time my father still had clout in the business, we had the very best co-stars working on the show. They were a who's-who of filmdom." Those stellar guests that enhanced "Cade's County" so much included Darren McGavin, Martin Sheen, Edmond O'Brien, James Gregory, John Payne, William Windom, Cameron Mitchell, Jay Silverheels, William Shatner, Mariette Hartley, Dane Clark, L. Q. Jones, Dub Taylor, Bobby Darin as a modern day Billy the Kid, Broderick Crawford, Forrest Tucker, Anne Seymour, Simon Oakland, Linda Cristal, Jeanette Nolan, Barbara Rush, Ed Asner, and others.
Sadly, with the changing landscape of network television in the '70s, "Cade's County" was replaced in the Fall of '72 by "M*A*S*H".
A feature length movie assembled from "A Gun For Billy" (w/Bobby Darin) and "Crisscross" was released in '91 under the title "Marshal of Madrid". The two-part "Slay Ride" was also released as a TV feature.