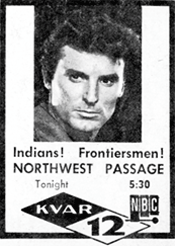 "Northwest Passage"
The 26 episode "Northwest Passage" produced by MGM and based on Kenneth Roberts' best selling novel of the American frontier depicted the adventurous exploits of Rogers' Rangers headed up by Major Robert Rogers (Keith Larsen) during the time of the French and Indian War (1756-1763).
"Northwest Passage" had the distinction of being in blazing color, its scope added to by liberal stock footage from Spencer Tracy's "Northwest Passage" in 1940. The famed Major Rogers had a dream of finding a fabled Northwest Passage to the Pacific, and this idea is referenced in the first episode. The series never moves farther west than Niagara Falls making it "refreshingly absent from Apaches and Comanche of other TV Westerns" remarked TV GUIDE. "They've all been replaced by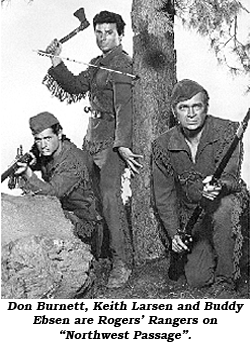 Iroquois, Mohicans and a few Frenchmen." Operating from Fort Crown Point, Major Rogers formed a volunteer group, Rogers' Rangers, determined to fight with the British against the French and their Indian allies in what later became northern New York State. Aiding Rogers were Buddy Ebsen (1908-2003) as woodsman Sgt. Hunk Marriner and Don Burnett (born in 1929 in Edinburgh, Scotland) as Ensign Langdon Towne, a Harvard educated artist and map maker.
The NBC half-hour began on Sunday evenings from 7:30-8 on September 14, 1958. With little chance of viewership success—even with color—up against the established "Maverick" on ABC and "Bachelor Father" alternating with "Jack Benny" on CBS, NBC threw in the towel on January 2, 1959 and moved the show to Friday night from 7:30-8. Besides Indians and Frenchmen, Rogers' Rangers now had to fight off "Rin Tin Tin" on ABC and "Your Hit Parade" on CBS. Major Rogers fought his last battle on March 13 in an episode apocryphally titled "The Killers". Reruns ran through July.