"State Trooper"
Although Rod Cameron had established himself in movies as a western star, the closest he came to duplicating that on TV was on "State Trooper", a contemporary western series that cast him as chief investigator Rod Blake of the Nevada State Police.
Reportedly based on actual case histories, "State Trooper" was concerned with the west of the '50s, utilizing all the modern methods of law enforcement—car radios, finger print analysis, helicopters and roadblocks. But, when necessary, Rod took to horseback to capture the lawbreakers.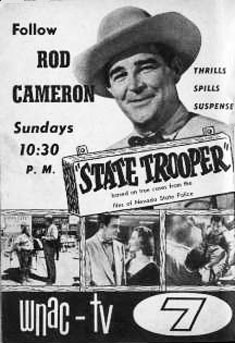 With a decent budget, many episodes utilized Nevada locations such as Virginia City, Lake Tahoe, Tonopah, Carson City and Reno. One episode, "Fury on Fremont Street" (8/9/57), featured the Las Vegas Heldorado Days parade, showing former B-cowboy Rex Bell's stageline.
"Killer on Horseback", the pilot for "State Trooper" with Claude Akins and Beverly Garland, aired February 3, 1956, as an episode of NBC's anthology series "Star Stage". Not finding a network berth, the half hour b/w series was sold into syndication, with the first episode, "The Red Badge of Death", airing in many locales on September 25, 1956.
An astute businessman, "State Trooper" was the second of three percentage-of-profits deals between Cameron and talent-agency MCA. ("City Detective" '53-'55 was Cameron's first series and "Coronado 9" '59-'60 was his third.)
With a total of 104 episodes produced, "State Trooper" was syndicated by Revue with various TV outlets airing the episodes at dissimilar start dates, some as late as 1958; and at various times on their program schedules. Besides Cameron, the only other semi-regular cast member was old vet Robert Armstrong who often appeared as Sheriff Ed Anderson ("Andy").
Good budgets allowed for solid guest stars—Angie Dickinson, Robert Vaughn, Merry Anders, Don Haggerty, Michael Landon, Chris Alcaide, Amanda Blake, Myron Healey, Ian MacDonald, Dick Foran, Gregg Palmer, Leo Gordon, James Coburn, Kasey Rogers, Jack Kelly, DeForest Kelly, Carolyn Jones, Doug Fowley, Penny Edwards, Claude Akins, Lee Van Cleef, Roy Barcroft, Ted DeCorsia, Jan Merlin, Mike Connors and others. Top flight writers such as Barry Shipman and directors like Earl Bellamy, Bill Witney and Richard Irving were also employed.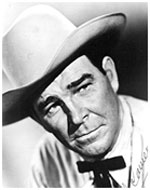 Born Nathan Roderick Cox in Calgary, Canada, December 7, 1910, Cameron was the son of a Presbyterian minister. Aspiring to be a lawman with the Royal Canadian Mounted Police as a boy, those dreams were thwarted as the family moved to Brooklyn when Rod was eleven. After high school, Rod held numerous jobs and traveled extensively, ending up in Hollywood where his rugged 6' 5" frame landed him work as Fred MacMurray's stand-in which led to uncredited roles beginning in '39 as a stuntman or double.
He first starred in two '43 Republic serials, "G-Men Vs. the Black Dragon" and "Secret Service in Darkest Africa". Signing with Universal, his screen success was assured. While he starred on TV in three different series throughout the '50s, he continued to star in theatrical westerns and action films. In the '60s and '70s Rod continued to guest star on "Tales of Wells Fargo", "Laramie", "Perry Mason", "Bonanza", "Hondo" and other series.
Rod attracted a certain amount of gossip-column notoriety in 1960 when he divorced his wife of 10 years and married her mother, a union that endured. At 73, Cameron died of cancer December 31, 1983, in Gainesville, GA.