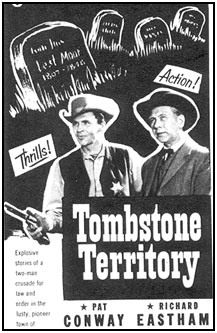 "TOMBSTONE TERRITORY"
With 6' 2" Pat Conway as Sheriff Clay Hollister and Richard Eastham as Harris Claibourne, editor of the TOMBSTONE, AZ, EPITAPH, "Tombstone Territory" was principally based on actual files from the Southwest's oldest weekly, although Hollister and Claibourne were purely fictitious characters.
Set in Tombstone, "the town too tough to die", in the 1880s, the half hour ZIV produced series initially aired Wednesday nights on ABC from Oct. 16, 1957 to Sept. 17, 1958. It moved to Friday nights for its second season (March 13, 1959, to October 9, 1959). With this total of 53 episodes, ZIV made an unusual move and continued to produce 39 new episodes (through July '60) without the participation of ABC, which were then sold into syndication, as were dozens of other ZIV programs.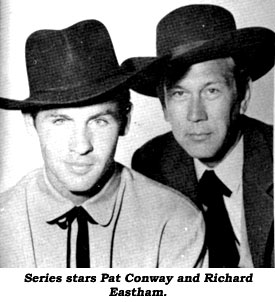 Producers Frank Pittman and Andy White were interested in historical accuracy. The EPITAPH facade on the series was recreated from existing photographs with its interior assembled from bits of historical minutiae (period type ink rollers, type, cabinets, etc.) including a Washington Hand Press reproduced from historical drawings and photos. White and Pittman researched some 1,500 official documents, letters and all the issues of the TOMBSTONE EPITAPH from 1880-1890 on microfilm.
Richard Eastham narrated each episode, often using actual headlines and news story leads for his dialogue. History was not bastardized for plots to bring Billy the Kid or the Daltons etc. to Tombstone, instead incorporating historical figures of the area such as Curly Bill Brocius, Geronimo and Doc Holliday.
Conway as Hollister was a tough lawman in the Wyatt Earp mold with a brace of two guns while Eastham as Claibourne was actually modeled after the founder and editor of the EPITAPH, John P. Clum (who was also portrayed by Stacy Harris on "Wyatt Earp" and by Audie Murphy in "Walk the Proud Land"). Claibourne used his power of the press to support Sheriff Hollister's law and order policies.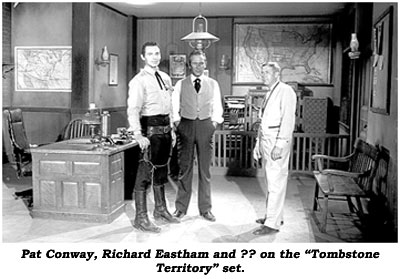 Producers Pittman and White (who also produced "Bat Masterson") claim the series was produced with the full cooperation of Clayton A. Smith, then editor of the TOMBSTONE EPITAPH and D'Estele Iszard, historian.
Richard Eastham remembers, "I did a pilot, 'Men of Annapolis,' for ZIV and they remembered me from it. They called me in New York and asked me to do 'Tombstone Territory' and would I please learn how to ride. I rode a horse a little bit in NY, but that didn't work very well. When I came to California, they sent me out with the wranglers and gave me a little man who rode alongside of me and told me all about it and it worked out fine, except they gave me a nag in the beginning and Pat Conway had this beautiful horse that would go like a bat out of hell! I could never keep up with him. I said, 'Listen, this is ridiculous. This horse is uncomfortable and I don't like it.' So they gave me a good horse, then everything became easy. It kept up with Pat just fine. Originally, 'Tombstone Territory' was supposed to be the story of the EPITAPH and the editor. But 'No,' ABC said, 'This is gonna be a story about a Sheriff, not an editor,' which I understood completely. It was originally just called 'Tombstone'. ABC said, 'That's a downer, we gotta call it something else.' So they added 'Territory' to it. It was a terrific experience. Pat Conway was a wonderful guy to work with. We made two episodes a week—split Wednesday on location at Gene Autry's ranch. Then we'd have a week off and do two more the next week."
Patrick Douglas Conway (born 1/9/30) was the son of noted MGM director Jack Conway (whose career stretched from 1914-1948, and Virginia Bushman, daughter of silent matinee idol Francis X. Bushman. Pat grew up on his father's 125 acre ranch in Pacific Palisades. By age 10 he was an excellent rider and roper, helping to tend his Dad's Angus cattle. After studying at the Pasadena Playhouse, he was briefly under contract to MGM, making his debut in "Westward the Women" ('51) with Robert Taylor.
Dirk London, who worked with Pat in "Battle Stations" ('56), remembers Pat had done some male modeling for Men's Apparel Guild in California. Conway's intense style worked well for his Sheriff Hollister character. A determined bachelor, he lived alone in the Hollywood Hills. (One of his girlfriends was actress Pamela Duncan who appeared as a guest on the series.)
"I'm a solitary individual," Pat once said, "I enjoy being alone. I read a great deal, mainly historical novels, and I love music. Then I have my 23 foot ketch which I keep at Balboa and I go out sailing most weekends. Mostly I go alone." One of his business interests was a resort motel in Palm Springs which he owned in partnership with Hugh O'Brian, Dennis Weaver and Carolyn Jones.
When the series ended, Pat guest starred on "Bronco", "Laramie", "Empire", "Ripcord", "Branded", "Iron Horse", "Rawhide", "Bonanza", "Hondo" and others with his last work apparently on "Streets of San Francisco" in '75. He was also in "Geronimo" ('62) with Chuck Connors.
Unfortunately, Conway was an alcoholic who consumed liquor in vast quantities even when he was working according to some co-workers. He died prematurely at 51 on 4/24/81 in Santa Barbara, CA.
Bill Catching, a stuntman on the series, told WC, "He thought he was another Gary Cooper or somebody. Wanted to do his own fights and he clipped a couple of guys. So the director, William Conrad, told me to take him out and teach him how to throw a punch."
Lisa Gaye, who guested on the series told us for our LADIES OF THE WESTERN book, "Poor Pat! I was terrible, kidding him about the size of his boots. He was a good sport, a good guy. 'What size are those boots, Pat?' (Laughs) Pat was a big, tall guy, and it was a running gag. We had a lot of fun. Lots of laughter."
Wright King guested on "Tombstone Territory" and remembers, "In spite of spending several days on a stagecoach, Pat Conway did a lot to make it a pleasant experience."
Jan Merlin naturally played a heavy on the series and recalls, "Andy White and Frank Pittman were sheer pleasure to work for…they were doing lots of shows in those days. I was always grateful when they had me in to do something for them. I liked Pat a lot…he was a quiet person with a quick smile, an ideal leading man type, very serious about his work…always thinking about how to improve the role as he went along…and it was great to have him play the sergeant in 'Screaming Eagles' with me some time afterwards. I recall he went through the entire film with a wooden matchstick held between his teeth at the corner of his mouth…and was delighted when he finally used it to light Tom Tryon's cigarette at the end of the film as a gesture of his acceptance of Tom's character (the company misfit) as a member of my heroic parachute team. That was Pat's own idea. He didn't say a word about what he'd do with the match to anyone."
Richard Eastham was born Dickinson Swift Eastham in Opelousas, LA, 6/22/18. He began singing as a boy soprano in St. Louis where he grew up. When his soprano became a baritone, he found singing roles with the various opera companies. Following WWII, he studied acting, finding great success replacing Ezio Pinza in "South Pacific" on Broadway and in the national company for a two year tour. Many other outstanding Broadway musical roles followed which eventually led to film roles in "There's No Business Like Show Business", "Toby Tyler" and others. Following "Tombstone Territory" Eastham had dozens of guest star roles as well as continuing parts on "Bright Promise" soap opera ('69-'72), "Wonder Woman" ('76-'77) and "Falcon Crest" ('82-'83).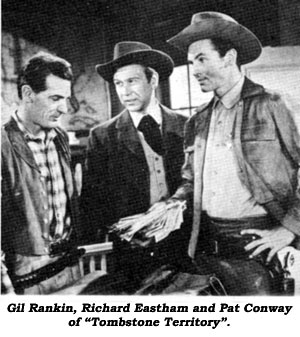 Lanky Gil Rankin (1911-1993) had worked in "Ghost Town", "Black Patch" and various TV westerns before he was cast as Deputy Charlie Riggs on the first season of "Tombstone Territory". The role was apparently deemed unnecessary and dropped after the first 39 episodes.
The memorable themesong ("Whistle me up a memory, whistle me back where I wanna be, whistle a tune that'll carry me, to Tombstone Terr—itory…") was written and sung by William Backer.