He may not have been a purveyor of excellence when it came to producing, but Sam Katzman was prolific (238 films as producer) and he always seemed to have his finger on the pulse of the times, knowing exactly what the viewing public wanted.
Born July 7, 1901, in New York City, at 13 Sam entered the film industry at the old Fox Studios as a prop boy. From 1914 to 1933 he worked his way up the ladder, serving as everything from prop boy to production manager at firms like First National, Cosmopolitan and Showmen's Pictures. By '34 Sam was supervising producer for A. W. Hackel on a series of Bob Steele westerns released by Supreme.
Having seen the profits to be made on Poverty Row, Katzman arranged to obtain the Bryan Foy studios in Culver City, CA, where he formed his own Victory Pictures in mid 1935 and began producing westerns, action thrillers—and serials. Through January of 1940, Victory turned out 30 feature films (many with Tom Tyler and Tim McCoy) and two serials, "Shadow of Chinatown" and "Blake of Scotland Yard".
Olympic decathlon champion Herman Brix (later Bruce Bennett), who had starred in "The New Adventures of Tarzan" ('35), was hired by Sam to star in five features and the 15 chapter serial, "Shadow of Chinatown" ('36), also with Bela Lugosi. Compared to what Republic and Universal offered, "Shadow of Chinatown" was an embarrassment. Sam spent nearly all his budget on Lugosi, Brix and Joan Barclay, leaving little for production values. "Shadow…" had a complicated plot, moved slowly and was light on action. Sam maximized his profits by editing the serial into a feature as well.
Sam and director Bob Hill picked up the pace dramatically with their second serial, Blake of Scotland Yard" ('37) which starred Ralph Byrd, Herbert Rawlinson, Joan Barclay and Dickie Jones. It was an out-and-out action-packed mixture of atmospheric horror, mystery and science fiction. It too was released in a feature version.
With the cessation of Sam's Tim McCoy series, Victory closed its doors and Sam went over to Monogram where, from '40-'47, he produced more than three dozen B-pictures starring The East Side Kids, Bela Lugosi and The Teen Agers. No more serials til '45 when he began to also work for Columbia, whom he joined exclusively in '47.
His first serial for Columbia was "Brenda Starr, Reporter" ('45) of which star Joan Woodbury said, "It was made during the war and everybody was hungry, including me. My former husband had gone off to war. I was left with a little daughter. So you grabbed anything you could grab and, believe me, you were very grateful for anything that came along. This was a 13 episode thing, in 21 days! The only reason they gave me the role was the fact I could learn dialogue fast enough to do everything in one take. The most memorable thing is, on the last night, the back of the set was one solid bar and there wasn't an inch of space between one bottle and the next. Everybody was waiting for the wrap-up, so we could have a party! But I had 19 pages of dialogue on a telephone, with nobody talking back to me. It's great if an actor talks back, you can at least ad lib on his ad libs. When you have nobody talking back, you've got nobody to ad lib you. So I'd look at a page and say, 'Okay, let's do it,' pick up the phone and we'd shoot it. I shot all 19 sequences in one take, because they were going to kill me if I didn't, with all that booze waiting; and I proceeded to get bombed after that. (Laughs) Sam, at least, realized it was cheaper to hire a stuntlady than break my leg. So I didn't fall out of windows…I didn't have any fun at all. (Laughs) I didn't care to do any more serials with scripts like a telephone book."
Columbia then dismissed producer Rudolph C. Flothow and made Sam their sole serial producer. From '45 through the end of the serial era in '56, Sam produced 32 serials for Columbia.
Brenda Starr, Reporter ('45) Joan Woodbury, Kane Richmond
Jungle Raiders ('45) Kane Richmond
Who's Guilty ('45) Robert Kent
Hop Harrigan ('46) William Bakewell
Chick Carter, Detective ('46) Lyle Talbot
Son of the Guardsman ('46) Robert Shaw
Jack Armstrong ('47) John Hart
The Vigilante ('47) Ralph Byrd
Sea Hound ('47) Buster Crabbe
Brick Bradford ('47) Kane Richmond
Tex Granger ('48) Robert Kellard
Superman ('48) Kirk Alyn
Congo Bill ('48) Don McGuire
Bruce Gentry ('49) Tom Neal
Batman and Robin ('49) Robert Lowery
Adventures of Sir Galahad ('49) George Reeves
Cody of the Pony Express ('50) Jock Mahoney, Dickie Moore
Atom Man Vs. Superman ('50) Kirk Alyn
Pirates of the High Seas ('50) Buster Crabbe
Roar of the Iron Horse ('51) Jock Mahoney
Mysterious Island ('51) Richard Crane
Captain Video ('51) Judd Holdren
King of the Congo ('52) Buster Crabbe
Blackhawk ('52) Kirk Alyn
Son of Geronimo ('52) Clayton Moore
Lost Planet ('53) Judd Holdren
Great Adventures of Captain Kidd ('53) Richard Crane, David Bruce
Gunfighters of the Northwest ('54) Jock Mahoney, Clayton Moore
Riding with Buffalo Bill ('54) Marshall Reed, Rick Vallin
Adventures of Captain Africa ('55) John Hart
Perils of the Wilderness ('56) Dennis Moore, Richard Emory
Blazing the Overland Trail ('56) Lee Roberts, Dennis Moore
Not only did Sam use many of the same leads over and over, he also relied on a "stock" company of supporting actors, dependable heavies and character people like Jack Ingram, Charlie King, Rusty Wescoatt, John Merton, Zon Murray, Terry Frost, Jim Diehl, Eddie Parker, Leonard Penn, I. Stanford Jolley, Frank Ellis, John Hart, Hugh Prosser, Rick Vallin, Gene Roth, Wheeler Oakman, Robert Barron, Pierce Lyden, William Fawcett, Pierre Watkin, Nelson Leigh, Anthony Warde, Don Harvey, Stanley Price, Marshall Reed, Charles Quigley, Bud Osborne, Ralph Hodges, Nick Stuart, Lee Roberts, Tommy Farrell and others.
Perhaps one of the most revealing anecdotes regarding Sam's personality comes from Gloria Marlen who made several features for Sam, including "Trouble Chasers" ('45) and "Sweet Genevieve" ('47). "He was quite a card! Katzman liked dirty jokes, he would go around and tell everybody dirty jokes. One night we had worked until 8 o'clock when he came up and said I want to tell you a joke. Noel Neill was standing next to me. He started to tell a joke and I said, 'Look, I don't like dirty jokes, please don't tell me anything like that.' Well, he told it anyway. I blocked it out but Noel just died laughing. That's what he wanted. Well, he got mad at me, hurt that I didn't want to hear his joke. Also he had a terrible cane that had a finger on the end of it…if you bent over, I don't care who you were, he…well, you know. That cane, and nobody would say anything. Well, my husband, the next morning, came out to see me on the set. Katzman was sitting there with a group of people. My husband walked over and said, 'Mr. Katzman, don't you…as long as you live, tell a dirty

joke around my wife again.' Katzman got furious, 'Don't you ever walk on a set of mine either,' they had a little thing going. So later, when I interviewed for 'Sweet Genevieve', I went in and Katzman said, 'I'm not going to work with you anymore. Your husband can't come into…blah, blah, blah…' The director, Arthur Dreifuss, had seen me in some other work I had done and he asked for me to do this part, so Katzman said, 'Well, I'll show you. I'm not going to pay your price.' I said, 'Look, you'd be silly because anybody else you'll get at the price you're offering, they will not know their lines, it's going to delay everything. You're not going to have a good film.' Anyway, Arthur Dreifuss walked in and said, 'Sam, you're not going to do this. I want Gloria and you're not going to pull that stuff on her. Now go ahead and sign the contract.' Which he did."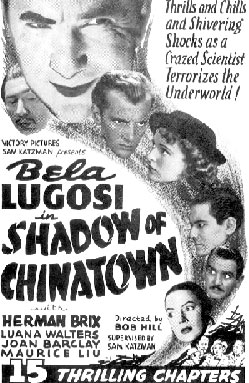 Joan Barclay had a long relationship with Sam Katzman's Victory Pictures ('35-'40) and worked for Sam on "Shadow of Chinatown", "Blake of Scotland Yard" and again on East Side Kids films at Monogram. "He was a very nice man. He had a wife that…somebody called her a bitch on wheels…she had red hair and an awful temper, but she was nice to me. I went on a couple of trips with the Katzmans; down to Caliente with them. Somebody got kind of fresh with me, so I told the little bitch on wheels. She said, 'Well, you should expect that.' So I got out, got on a bus and went home."
Herman Brix (Bruce Bennett): "I was in almost every scene. Several times I didn't even go home at night while making 'Shadow of Chinatown.' I slept on a cot at the studio. That was before there was any Screen Actors Guild. You worked for the producer. Cost was the only consideration."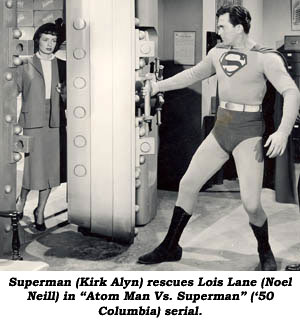 Noel Neill: "I'd done the Teen Agers and the 'Brick Bradford' serial for Sam before 'Superman'. His wife was quite a horse player. I had a lot of friends that would go to the track and we'd always see Hortense…with her red hair, usually a fuchsia, or a lime dress and a silver mink (laughs), so we could all spot Hortense. She loved the horses. I was given the Lois Lane role in 'Superman' without having to audition for the part. Physically, I resembled the character in the comic books."
Kirk Alyn: "The morning after the flying scenes (were shot for 'Superman') everyone gathered to see the rushes. It was wonderful to see the Man of Steel nose-diving and banking around with the greatest of ease—but—there were the wires, plain to see! When the lights came on, a lot of faces were bright red. Sam Katzman's voice was loud and clear. The whole special effects crew was fired summarily for not having done their homework by pre-testing invisible wiring."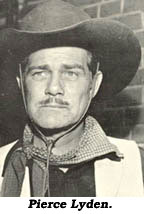 Pierce Lyden: "To me, the greatest all time producer of serials was Sam Katzman. He had 15 years or so tenure at Columbia and I was with him off and on the whole time. (Katzman) may not have paid the biggest salaries in town, but it was five to six weeks steady work on each one. The 'Bossman', as Sam was known to his friends, was the most prolific serial producer around. He kept the wolf from my door many years. He was loyal and easy to work for. He always remembered the supporting actors, his stock company. Serials at Columbia were always fun. They were tough, long hours and six days a week, but you were with the best experienced action actors, the kind of guys that loved what they were doing and knew how to get the job done."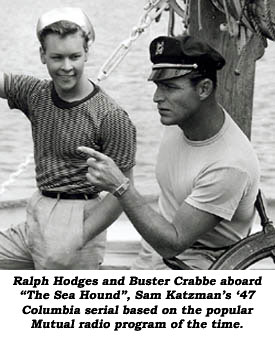 Buster Crabbe: "'Sea Hound' and 'Pirates of the High Seas' could have been the same picture. A lot of location work out on the ocean. We did a lot of fishing between takes. It was fun. 'King of the Kongo' was a cheater for a serial, but I think it had enough to keep the kids entertained."
Ralph Hodges ('Superman", "Sea Hound", "Bruce Gentry", "Mysterious Island"): "Sam was a character, a real cut-up, always joking around. He carried this cane that he nudged everybody with—I say nudged to be kind. (Laughs) Terry Frost carved in wood, and made what he called 'The Fickle Finger of Fate'. Well, Katzman had one on the end of a cane. (Chuckles)"
"One of my exciting episodes with Katzman—I was making 'The Sea Hound' at Catalina. On weekends I would take a little lap-straight rowboat out…I rigged a sail on it out of a bath curtain and I would sail out to sea. But the boat didn't have any leeboards or anything, so when I got out about 3-4 miles from the beach I'd take the sail down and row back. One weekend, I went out sailing, got out there, and guess what? No oars! Somebody had taken the oars! I was now heading for the open ocean! I cut the boat back toward the island as tight as I could, but I couldn't sail very well against the wind…there was an offshore breeze. Somebody on the pier saw I was in trouble and they called Sam Katzman. He chartered a seaplane and came out looking for 'his kid.' (Laughs) From then on I had the nickname of Mile-Away. (Chuckles) End result was, I had gotten back to the island but I was barefoot and had to climb a 50 ft. chopped cliff then walk through all these prickly pear cactus beds back to the Isthmus… this was on the other end from Avalon. Sam had to have a doctor come and remove all the cactus spines, which were sizable, so I could go to work the next day."
"Later in life, I was working with a CBS TV station in Las Vegas for a couple of years as program production manager. Sam and his wife Hortense—they called her Hortie—bright red hair.…My wife went upstairs with her while Sam and I were in the lobby of a casino…he was gambling and I was watching. We turned around and looked at the staircase where my wife and Hortie, who's probably in her late 60s, were coming down the stairs. Hortie was wearing a full length mink coat that's in giant one-foot-square checkerboards of bright, brilliant, crimson and white. People are turning around to see this wildly dressed woman coming down the staircase. Hortie turned to my wife and made this comment, which I thought was great, 'You see darling, I've still got it!' (Laughs) I had a crush on Katzman's daughter Ruthie (when I was doing the serials) but I don't think I was ready for the hurdles I would have to jump…(laughs) so I didn't get too deeply involved. But doing 'The Sea Hound', I fell in love with boats and I'm still in love with boats."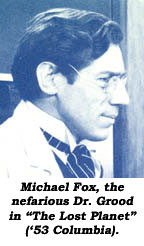 Michael Fox ("Blackhawk", "Lost Planet", "Riding With Buffalo Bill", "Adventures of Captain Africa"): "'Blackhawk' was shot at a studio right near the corner of Sunset and Hollywood Blvd. It's now a Ralph's Market. It was owned by Columbia and Katzman leased it. The interiors were shot there, the exteriors at Columbia Ranch. The serials were terribly hard work. 15 episodes in 17 days. That's the equivalent to five features in 17 days. Sam used to walk around carrying a riding crop—I don't know if that was to goose the girls, or what. He was a rather unpretentious looking man—he wasn't small, but he had no chin. I got along splendidly with Sam, although for some reason I think he regarded me as an intellectual. I think anybody who had gone past the sixth grade was an intellectual to Sam."
Stuntman Gil Perkins: "Sam started making serials at a studio on Santa Monica Blvd., across from the Hollywood cemetery. It was called Larry Darmour Studio. Later he went over onto the Columbia Sunset Studio, which before that had been Tiffany-Stahl, near the corner of Sunset and Hollywood Blvd."
John Archer: "He was a sweetheart, really, but he was a rebel. He was kind of a different type of guy—a cigar chompin' kind of producer. Inwardly, he was a real nice man, but he didn't show it too often."
John Hart ("Jack Armstrong", "Brick Bradford", "Adventures of Captain Africa", others): "Sam was an absolute genius at making low-budget pictures. He never made a real good picture, but he always made money. Sam put a lot of money into 'Jack Armstrong' with a five week schedule where most of his serials were made in three weeks. He had a group of actors who were very loyal to him. He hated drinking—anybody who was a boozer didn't work for Sam. I could just walk in to Sam, if I couldn't make my car payment or something and say, 'Hey Sam, can you use me in something?' He never let me down. I'd always get to do something, big or little. Ol' Sam was always a friend. He loved horse racing and spent a lot of time at Santa Anita. I remember one day he lost thousands of dollars. On the trip back he was very grim—nobody said a word. When you worked for him he was stingy as hell, but person to person he was generous. And he loved lobster. His brother Dave was his production manager, and Dave's son Lennie Katzman has become a big producer, 'Dallas' was his big show. He put me on 'Dallas' as a senator at a trial. I sat there for 10 days making a fat salary."
Linda Johnson ("Brick Bradford"): "I don't have anything nice to say about Sam. He was lecherous. Very. Not so much to me, because, fortunately, somebody told me when I first started in that business, if you want to be treated like a lady, act like a lady. So I…frankly, really never had any problems. I never invited any problems. With Katzman, right off, no way. Anyway, there was a young girl, Helene Stanley, she was just darling and she was fairly young, and Sam was just after her all the time. I felt sorry for her because she didn't know how to cope with it. I don't mean anything serious happened but he was just…crude."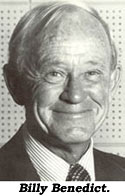 Billy Benedict ("Brenda Starr, Reporter"): "With Katzman, (you) were on a strict budget and got by just as cheap as they could, and didn't worry about a lot of things they should have. Katzman would hang around with his cane and beat the floor when things weren't going well. Maybe sometimes he'd even try to beat you! (Laughs) (On the East Side Kids pictures) Sam and (series lead) Leo Gorcey couldn't get along, so Leo and his agent, Jan Grippo, made a deal together and started producing the pictures themselves. Now we were the Bowery Boys."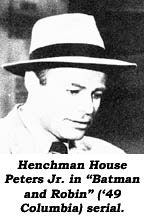 House Peters Jr. ("Batman and Robin"): "I remember one time going with my agent, Jack Pomeroy, to various studios. I remember going to Columbia. I sat in the outer office and Jack said, 'I'll go in to see Sam and see if I can't get you a raise.' The door was open so I could hear the conversation. Pomeroy is talking to Katzman and he says, 'I think it's about time you gave House a raise.' I was getting $35 or $50 a day—whatever it was. Jack says, 'Surely he's worth another $25.' Katzman comes back, 'I can't do it, we're on a very tight budget.' Just then, Sam says, 'Excuse me a moment' and reaches for the phone. He dials the number, and it's his bookie! He bets $1,000 on a horse—to win, for God's sake! Usually, win or place, but just to win! He hangs up, turns back to Pomeroy, 'I'll do the best I can for House, but…' (Laughs) Can't give me a $25 raise, but he bets $1,000 to win at the racetrack. He used to come on the set, he was a great one with that stick, going after the gals. He just loved to goose people! Never got me with it though. Everyone needed a job, so we put up with his antics. But he was a pleasant sort of a guy."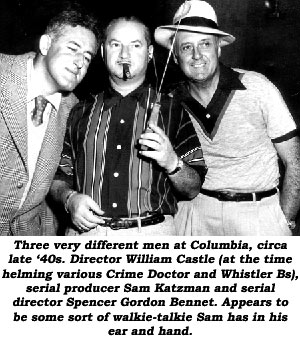 Spencer Bennet directed 21 of Katzman's Columbia serials: "The budgets were getting thinned out (by the time I arrived). They were cheating a lot, using stock footage. Budgets were usually around $8,000 an episode. We spent more on 'Superman'. I remember the animation was $32 a foot. Katzman accepted that. They could have drawn it a little better for twice that amount. (At Columbia there was) one rehearsal and one take. The minute I would finish a scene, I knew exactly what the next setup was going to be. I would have it all mapped out. I kept the crew busy. I don't know any other director who cut in the camera as I did. I said to Katzman, 'You aren't paying me anything on these pictures. I'm saving you my salary on the lab bill.' And I did." Johnny Duncan ("Batman and Robin"): "Sam had a bit of P. T. Barnum in him. He could always get the most out of his people."
The '50s and '60s saw Sam making Jungle Jim, western, sci-fi and teenage musicals for Columbia, juvenile delinquent films for Columbia and AIP, even Elvis Presley musicals at MGM. Katzman had a way of catching the wave of a fad and grinding out a film before it faded away. The legendary "Jungle Sam" Katzman died August 4, 1973, at 72.
---
At the end of Ch. 12 of "Hop Harrigan", young Buzz Henry, flying out of a deep canyon, hits the edge of the mountain with the plane's wings and dramatically cartwheels the plane! But wait—at the start of Ch. 13 none of the terrible crash happens at all! Buzz simply flies out of the canyon!
---
In "Superman", at the close of Ch. 11, two thugs shoot into a large crate on a truck supposedly containing a hidden Jimmy Olsen. (Superman has replaced him.) At the start of Ch. 12, a complete different sequence of events occurs. The dialog that took place between the two thugs is gone and only one thug shoots at the box. (Thanx to Jerry Zavadil.)
---
In Ch. 14 of "Lost Planet", evil Dr. Grood sends a Cosmo Jet with a Neutron Detonator aboard to ram the atomic plane in which Rex Barrow (Judd Holdren) and Darl (Nick Stuart) are returning to planet Ergro. They collide. However, in Ch. 15, Rex diverts the atomic plane before the Cosmo Jet explodes and they never collide.
---
At the cliffhanger of Ch. 8 of "Blackhawk", a flying disc crashes into Blackhawk's plane. But, in the Ch. 9 resolution, Blackhawk shoots the disc out of the sky, exploding it before the disc strikes their plane.
---

In Ch. 2 of "Son of the Guardsman", after surviving a river crossing, in the middle of the woods Robert Shaw magically acquires a bow and quiver of arrows he didn't previously have.
---