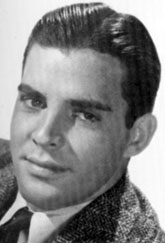 Robert Kellard
Unsung serial star Robert Kellard was born Robert Dorsey Kellard in L.A. April 23, 1915, the younger of two sons of stage and minor silent screen actor Ralph Kellard. For a brief time during his childhood the family lived in Rye, NY. At 16, Kellard played a bit role in his first film "A Connecticut Yankee" ('31).
Graduating from Hollywood High, Kellard spent a year at Santa Monica Junior College and worked at odd jobs until a friend of the family obtained a small role for him in her Broadway play "Mother Lode" ('34).
After playing stock on the East Coast, he was back on Broadway for a two-month run of "Hitch Your Wagon" ('37). Fortunately, he was spotted by 20th Century Fox talent scouts who signed him in '37. Unfortunately, he was cast in uncredited or small bit parts with his only decent role coming in the forgettable "Stop, Look and Love" ('39).
Married at the time to fashion model Bebe LaMonte, he was unceremoniously dropped by Fox. He began to freelance and was immediately signed by Republic as the lead in one of the best serials ever made, "Drums of Fu Manchu" ('40), in which he played hero Allan Parker battling Henry Brandon's ominous Fu Manchu and his Dacoits.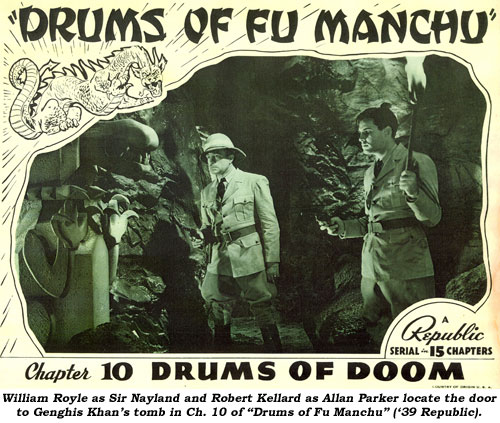 He was next billed third to star Allan Lane and heavy Robert Strange in Republic's "King of the Royal Mounted" ('40). Kellard stands out in Ch. 12, "Code of the Mounted". Trapped in the enemy's submarine, to save Lane from death, Kellard knocks out Lane and jettisons him to safety in a torpedo tube, then sacrifices himself by blowing up the foreign agents and their submarine.
Throughout '41 he had supporting roles in nine B-features and appeared in stock until being signed by Columbia in '42 who—for whatever reason—changed his name to Robert Stevens. Now divorced from La Monte, Columbia cast Bob in several B-pictures and starred him in "Perils of the Royal Mounted" as two-fisted Sergeant Mack MacLane battling outlaws who want to control the fur trade. The 15 chapter serial was still playing in late '42 when Kellard/Stevens enlisted in the Navy for nearly four years.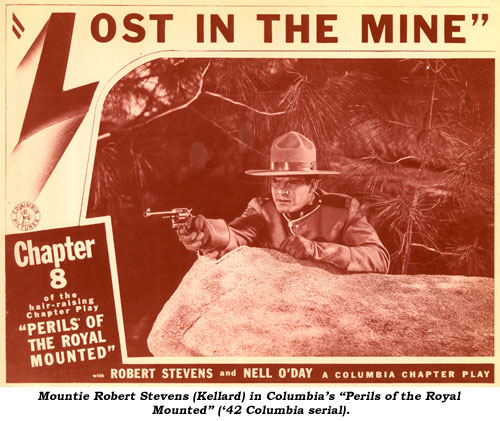 Back at Columbia in '46 he appeared in small roles ("Gilda", "Night Editor", "The Unknown", "Jolson Story", etc.), Three Stooges shorts and B-Westerns with Ken Curtis and Charles Starrett. In 1946 he married Jerelyn Arthur but they divorced in '49 when she accused him of physical abuse.
1948 found him once again as Robert Kellard in Columbia's "Tex Granger". As Tex, Kellard purchased a newspaper to combat I. Stanford Jolley's outlawry with the pen but secretly becomes the Midnight Rider of the Plains to depose the town boss and his bandit gang.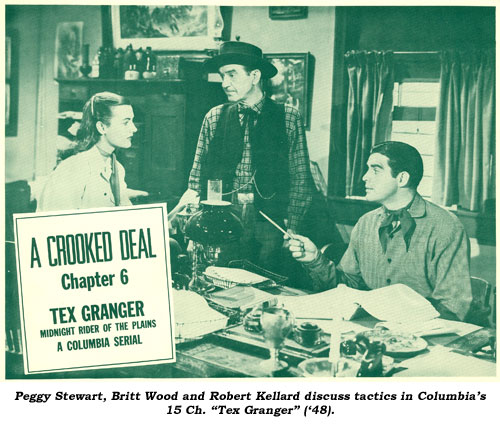 Now 33, only a few more small roles came his way before Kellard turned to production, working at Apex Film Corp. as dialogue director and actor (10 episodes of "The Lone Ranger" TV series.)
In 1953 he joined the Merchant Marines as a messman and third mate, but by 1958 he was employed by Showcase Films as a sales representative. In 1959 he was known to be a sales rep for vibrator-massage chairs. Several years seem unknown but in 1973 he was self-employed as a writer.
Suffering from prostate cancer, he was admitted to a V.A. hospital on New Year's Eve in 1980 and died of pneumonia on January 13, 1981, at only 65. Note: He is the uncle of writer/producer Rick Kellard (various TV shows) and writer/producer Phil Kellard ("Doogie Howser", "My Two Dads", "Waynans Bros.", etc.).
An interesting document from the classic age of Republic serials…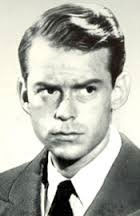 David Bacon, revealed to be "The Masked Marvel" ('43 Republic), died in September 1943 after being stabbed in his car by a chance acquaintance or hitchhiker. Bacon, 29, the son of a former state senator and Lieut. Governor of Massachusetts, bled to death in a Venice, CA, bean field after being stabbed. After Bacon's small British automobile jumped the curb, he apparently staggered out of the car for 13 feet, attempting to get help, and collapsed. A man, Wayne Powell, saw him and ran to his side to help, asking "Who did it?" All Bacon said before he died was, "Help me, help me." A blue sweater, believed belonging to the killer, was found in his car but the murderer was never apprehended. Bacon's grandfather had been Ambassador to France. Bacon graduated from Harvard in '37. He was married to Greta Keller, a noted European concert singer who was due to give birth in January '44. Keller went into a state of shock and the baby was still-born about two weeks after Bacon's murder.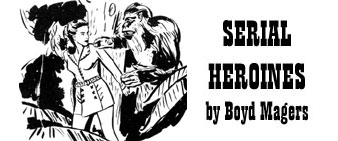 Carole Mathews
Carole Mathews, the both sexy and sweet leading lady in Columbia's 15 Ch. "The Monster and the Ape" ('45) as well as dozens of Westerns and TV episodes, was born Jean Deifel in Montgomery, IL (a suburb of Aurora).
She was chosen Miss Chicago in 1938 which earned her a screen test in Hollywood. In California she worked extra in a few films and traveled back and forth to Chicago for modeling, radio work and dancing as a rhumba dancer. At last she signed a contract with Columbia in '43.
Carole remembered studio head Harry Cohn, "He didn't like me at all. I didn't like him. He had roughness…I wouldn't laugh at his jokes. I didn't play the game. I was really kind of independent. I kind of ruined a lot of opportunities just by being me."
Besides her Westerns at Columbia Carole co-starred with Robert Lowery in "The Monster and the Ape" serial ('45). Released from Columbia in '49 she began to freelance.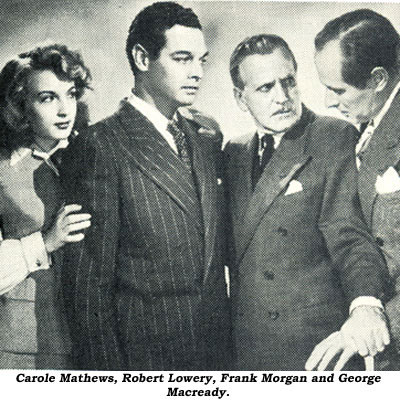 After a brief marriage in '42, she and some friends opened Michael's Pub on East 48th St. in NYC. Eventually selling the pub and retiring from pictures in the mid-'60s she got into the travel agency business, opening her own agency in '71. Selling the business in '86 she became involved with miniature horses and owned 13 Champion mares.
Carole once summed up her life and various careers to us, "Laughter is a must in one's life. Laugh at yourself. I enjoy my life. I enjoy getting up in the morning and having another day to live."
At 94, Carole died of congestive heart failure November 6, 2014, in Murrieta, CA. (Complete interview with Carole in our LADIES OF THE WESTERN book available on our website.)