Leonard Penn
One of producer Sam Katzman's busiest heavies in his Columbia cliffhangers from '46-'53 was suave Leonard Penn. Born in Springfield, MA, November 13, 1907, Leonard Monson Pennario graduated from Columbia University with a BA degree, his major being drama. After working on Broadway in various character roles he made his move to Hollywood in '37 with a stock contract at MGM, appearing in four films at the prestigious studio the first year.
Penn served in the Navy for five years and was divorced from actress Gladys George when he returned to films in '46 with the role of Vasky, loan shark George Meeker's associate in Sam Katzman's "Chick Carter, Detective".
According to Penn's widow, Louise Arthur Penn, "I ran into (director) Harry Fraser at Billingham's Restaurant and he suggested we walk over to Columbia where he would introduce me to a director friend of his. When we walked on the set (of "Son of the Guardsman" serial) Leonard and Robert Shaw were just completing an exciting fencing match. The director came over and introductions were made all around. Leonard asked me what I was doing and I told him a Herbert Marshall radio show at CBS and rehearsing a play at the Blasco Theatre in L.A. When we parted he said, 'I will try to make the opening. Lots of good luck.' The play was 'Turquoise Matrix.' We opened and closed in three weeks; unfortunately, the subject matter didn't catch the public's interest. It was a very poetic play about reincarnation. Russell Arms and I played the leading roles."
Leonard and Louise were married April 20, 1947, in Santa Monica, CA.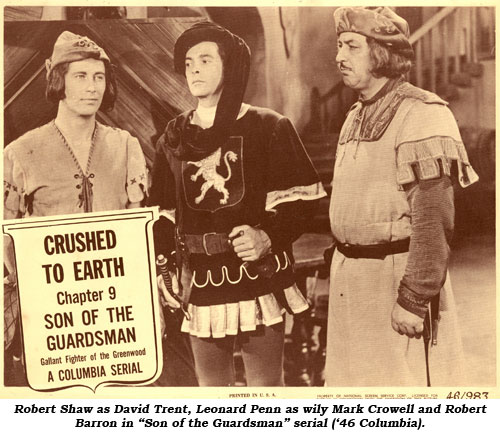 Penn worked in dozens of Westerns, B films and TV episodes through 1960, including seven more Katzman serials. He was Mark Crowell, wily attendant to robber baron Wheeler Oakman in "Son of the Guardsman" ('46). In "Brick Bradford" ('47) Penn was Eric Byrus, traitorous assistant to Dr. Tymak (John Merton). He had a minor henchman role in '48's "Superman". For "Congo Bill" ('48) he was slave trader Andre Bocar, but he may be best remembered as Carter, Professor Hammil's nurse who is revealed to be the masked Wizard in "Batman and Robin" ('49). In "Adventures of Sir Galahad" ('49) he played the Black Knight, a traitor within Camelot. "Mysterious Island" ('51) saw him as Capt. Nemo. In Buster Crabbe's "King of the Congo" Penn was Boris, leader of an unnamed subversive group searching for radioactive ore in the jungle. Finally, in "Lost Planet" ('53) he was an honest newspaperman.
Louise Penn told SR, "Leonard had been working very hard for many years mostly in Westerns, theatre and radio. In 1975 he was diagnosed to have cancer of the colon. After drastic surgery he was transferred to UCLA Medical Center and told he had only a short time to live—exactly 15 days later, on May 20, 1975, he left us. He was 68. He was cremated and his ashes scattered at sea. He was a wonderful friend, lover and husband and will live in my heart forever."

My vote for craziest cheat ever goes to Ch. 8 of "The Desert Hawk". Gilbert Roland and Ben Weldon are ambushed, killed, thrown in a shallow grave with rocks thrown on top of their lifeless forms. In Ch. 9 it's revealed what we saw happen was only that which the Grey Wizard (Ernie Adams) foretold in his crystal ball should the Hawk continue on his journey!

"Panther Girl of the Kongo"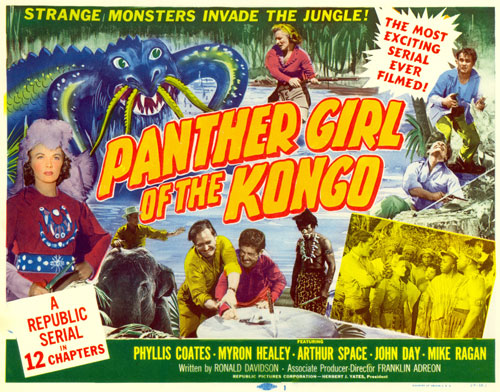 As a youngster watching serials in the '50s, I couldn't help wondering why the new ones were so much less fun than the re-issues. Some, like "Government Agents Vs. Phantom Legion" and "Invisible Monster" had more excitement in the titles than in the plots. "Flying Disc Man from Mars" and "Radar Men from the Moon" were more interesting.
For some reason though, I really enjoyed "Panther Girl of the Kongo". Couldn't have been the story; the bad guys were driving the inhabitants of a nearby native village away from their illegal diamond mine by growing and releasing huge claw monsters. Problem: huge claw monsters tend to attract attention, and photographer Jean Evans was staying in the village. To keep the government from investigating, they had to destroy her film of the creatures…then send more of them out for her to photograph. The monsters weren't very monstrous, and the claws did not seem to be attached to any creature at all.
The cast was good. Hero Myron Healey as Larry Sanders seemed amused by the improbabilities of the plot, and it worked. (At a nostalgia convention, he told of taking his family to the serial, and being embarrassed to have them see him need to be rescued, repeatedly, by a girl.)
Phyllis Coates was an attractive Panther Girl, and matched Frances Gifford footage lifted from "Jungle Girl" ('41). Coates' Jean Evans usually traveled by foot or jeep, but would sometimes leap to the vines or board an elephant to match the stock.
Arthur Space as Morgan, chemist behind the plot, kept a straight face and read his wildest lines very, very seriously. His two henchmen, Cass and Rand (John Day and Mike Ragan), weren't of much help, botching most of their assignments. Healey even managed to beat the two of them in a couple of fights.
Budget limitations reduced the scale of the action. After realizing the existence of the claw monsters, and rampant crime in the jungle, the government sent out just one constable to deal with the situation. He did participate in an exciting cliffhanger, as he and Jean struggled, under fire, to pull Healey from quicksand. Later, finally realizing the seriousness of the situation, the 'Powers that Be' sent out two constables to set things right. They did the job, capturing hostile native warriors.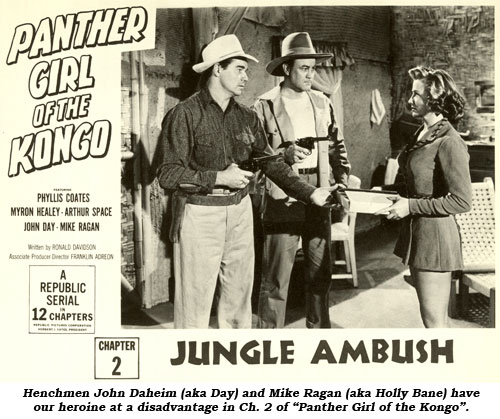 Now, Jean and Larry faced Cass and Rand in another battle in the diamond mine. An earlier one had ended a chapter when the heavies hurled a dynamite bomb at them. They tried again. Didn't work this time. A shot from Larry dropped Cass before he could throw the bomb, and both heavies died in the blast. A bottle of acid at the mine led them to Morgan's bungalow, where someone finally noticed a claw monster growing in the crate outside.
Don't know why this serial was so much fun, unless it was the abundance of story filling out the short chapters. There was always something happening. Some of the other late Republics seemed to be just killing time between cliffhangers.
Rose Hobart
Rose Hobart, the evil Fraulein Von Teufel in Universal's "Adventures of Smilin' Jack" was born May 1, 1906, in NYC. She responded to the lure of the theatre at a young age, going on stage at 15. In 1929 her best known stage role was in "Death Takes a Holiday". She came to Hollywood in 1930 and was Fredric March's fiancée in "Dr. Jekyll and Mr. Hyde" ('31). After roles in several major films, her career drifted into B-pictures such as "Swing Shift Maisie", "Crime Doctor's Strangest Case", "Mad Ghoul" (all '43), "Soul of a Monster" ('44), "Cat Creeps", "Canyon Passage" (both '46), among others, including her serial.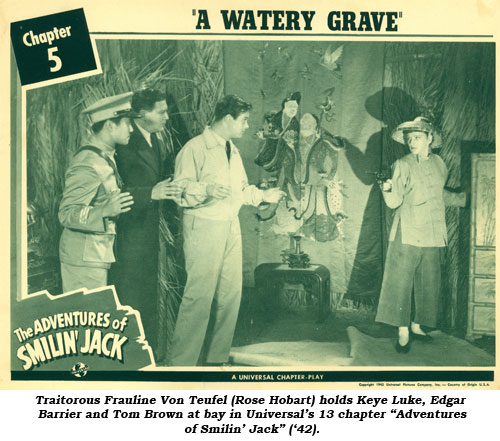 By 1950 her political views and pro-union stance caused her to be investigated by Anti-Communist film factions and she landed on the Hollywood blacklist. After a period of inactivity she returned to acting in the '60s on TV's "Peyton Place". She was once quoted as saying, "I remember when a casting director simply told me that I had been blacklisted. I was livid. I also knew that I had done it to myself. I had spoken out against what I considered unfair treatment of people in Hollywood. I've been accused of everything from being a Communist to a lesbian, but I was only interested in making things better for people."
Late in life she resided at the Motion Picture and Television House where she edited the home's newsletter and worked on her 1994 biography, A STEADY DIGRESSION TO A FIXED POINT. Hobart died August 29, 2000, at 94 at the Motion Picture Home.

Trapped inside a safe at the cliffhanger of Ch. 2 of "Zorro's Black Whip", The Black Whip (Linda Stirling) recoils in fear as a keg of explosives goes off. Instead, in Ch. 3, never cowering, she locks the powder keg between the inner and outer vault doors which are then blown open.

"The Moon Riders" serial (1920 Universal) established Art Acord (1890-1931) as a major silent Western star. It was one of the most popular cliffhangers turned out by any studio during the silent era. Through 18 chapters Art and leading lady Mildred Moore searched for a treasure owned by a lost tribe of mysterious Indians.