"FEDERAL OPERATOR 99"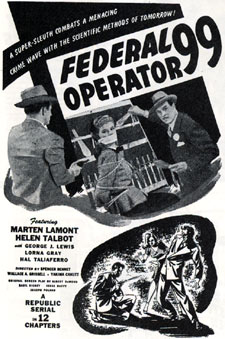 During the so-called Golden Years of Hollywood whenever the studios needed to depict a character playing classical music on the piano they invariably chose Beethoven's familiar (some might say overly familiar) Piano Sonata Number 14, more popularly known as "Moonlight Sonata"(and for the record, when it was necessary for organ music to be introduced it was more often than not Bach's "Toccata and Fugue in D Minor"). While this was okay in a feature film when it was a single moment in the celluloid proceedings, it became pretty repetitious, even downright annoying in Republic's serial "Federal Operator 99" ('45) when the chief bad guy and gangland kingpin Jim Belmont (one of the studio's more benign and commonplace monikers for their villains) played snatches of the piece in just about every one of the 12 chapters. One would think Belmont (played with greasy charm by George J. Lewis in what was probably his best role in a serial) would have mastered at least one other piece of music—even "Chopsticks"—but apparently this was not the case.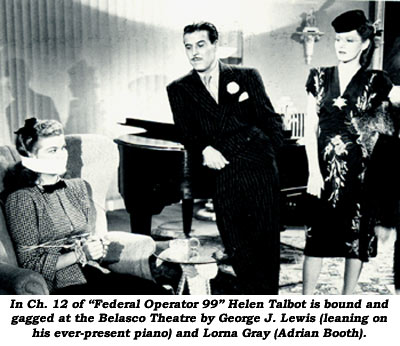 This aside, "Federal Operator 99" is a pretty satisfying serial. Directed by a trio of old pros, Spencer Bennet, Wallace Grissell and stuntman extraordinaire Yakima Canutt, it is a fast-paced, entertaining cliffhanger with lots of exciting chapter endings, mostly solid performances and good action. A straight cops and robbers scenario, it lacks the accoutrements of the wilder serials with their extraordinary gadgetry and bigger than life hero and villain, but there is a sturdiness and sincerity about it which makes up for this.
The storyline by Albert DeMond, Basil Dickey, Jesse Duffy and Joseph Poland follows Jerry Blake, Federal Operator 99 (as in most serials he is never identified specifically with the F.B.I.) trying to round up the aforementioned Belmont, one of the nation's most notorious criminals, following his escape from a train on the way to prison. During the course of the action, Belmont hatches a series of crimes and schemes that keep the intrepid Blake very busy.
The British Born (1911) Marten (sometimes billed as Martin) Lamont is a rather odd choice for a serial hero. With his English accent and a less than impressive physical presence (face it, he just doesn't look tough) he just seems out of his league when facing the likes of Dale van Sickle or Tom Steele, but the usual great Republic stuntwork when he is being doubled quickly makes you a believer. A mostly second or third tier player in films (including parts in such big productions as "Adventures of Robin Hood", "How Green Was My Valley" and "Pride and Prejudice") Lamont had also been a feature writer for TIME magazine and a producer at NBC radio. "Federal Operator 99" was his first and only starring role in a cliffhanger but he had appeared earlier in small roles in both "Adventures of Captain Marvel" and "Mysterious Dr. Satan", two of the best chapterplays ever produced. "Federal Operator 99" is not in the same league, but it's a solid and enjoyable effort with much of the credit going to Lamont who plays the part in a sober and realistic manner, bringing a sense of earnestness and believability to a role that could have just as easily been phoned in.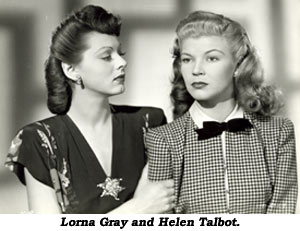 In addition to the aforementioned Lamont and Lewis, "Federal Operator 99" boasts a particularly strong cliffhanger cast. One weak link, however, is Helen Talbot as Joyce, the titular female tagalong and convenient victim for Blake to rescue. At best, Talbot, who appeared in one other cliffhanger, the studio's "King of The Forest Rangers" the next year, is peppy and pert but there's something almost distractingly collegiate about her as if she is moonlighting from a sorority bash to help out Blake as a kind of lark. She isn't much of an actress and it shows. Fortunately, countering her gee-whiz theatrics, we have the always dependable Lorna Gray as Rita, one of Belmont's nefarious team. Gray (better known as Adrian Booth) had the talent and looks to handle just about any role, even when cast opposite The Three Stooges (I always thought she would have made an outstanding Lois Lane), and doesn't disappoint here. She's not the over-the-top villainess Vultura who she portrayed so terrifically in 1942's "Perils of Nyoka", but her Rita is street smart, sassy and about as nice to look at as she is untrustworthy and deceitful. Incidentally, neither Talbot nor Gray ever is given a wardrobe change—which I'm sure neither actress appreciated—but do get to meet up for a nice, albeit short-lived tussle in the front seat of a truck.
Others in the cast include Hal Taliaferro as chief henchman Matt Farrell, Leroy Mason, Bill Stevens, Maurice Cass, Forrest Taylor, Jack Ingram, Jay Novello and Tom London.
"Federal Operator 99" boasts some nifty cliffhangers with Talbot usually being the recipient of the potential dangers. She's tied up and almost sliced and diced by an airplane propeller, not to mention gassed and nearly baked alive in an industrial incinerator. The oddest cliffhanger for me, however, is when Blake, riding a motorcycle, is sent hurtling over a cliff. The dummy, designed by the Lydecker boys, seems to be making a right hand turn signal in mid-air before plunging into the waters below. Safety first.
Admittedly, "Federal Operator 99" on paper looks fairly routine and not all that imaginative a concept, but because of pleasing performances, a satisfying if offbeat hero, good action and solid directorial pacing it succeeds surprisingly well. It's not an "A" caliber serial by any means, but it's still a good and entertaining one.
---

In "Overland with Kit Carson" Bill Elliott (Kit Carson) bulldogs Iron Eyes Cody from his horse in Ch. 12. As you first see Iron Eyes riding, he has a rifle in one hand. Quick cut as a stuntman for Elliott takes the stuntman for Iron Eyes off his horse: he has no rifle. Another cut finds Elliott and Iron Eyes on the ground—rifle again.
---
Of the three major motion picture studios producing serials during the wartime years of '41 through '45, Universal was a leader. It easily led on the subjects of enemy agents, sabotage and spies, themes that ran throughout approximately a dozen different serials; compared to six war related topics released by Republic and a miserly two, "Secret Code" and "Batman", released by Columbia.
It's easy to understand why Universal chose "Don Winslow" for its serial schedule. The character already had a built in audience with millions of newspaper comic strip fans. The cartoon hero was created by a career military man, Lt. Commander Frank V. Martinek, who used his naval knowledge to keep his strip-action contemporary. "Don Winslow of the Navy" starts off with the mysterious sinking of desperately needed wartime supply ships around the Island of Tangita. Naval intelligence officer Don Winslow (Don Terry) and best friend Lt. Red Pennington (Walter Sande) are assigned to investigate. It doesn't take them long to realize they are opposing their old and most dangerous adversary, the Scorpion (Kurt Katch).
It's interesting how the weekly appearance was filmed. In each episode there's a mandatory scene where the Scorpion's chief henchman, Merlin (John Litel), or one of his men, has to either receive new orders or report on the outcome of their last assignment. This previous account is usually given with great reluctance as Winslow has caused it to fail. The Scorpion's men stand in front of a TV screen and look into the face of their master who is broadcasting from an unknown location. This is an old joke, but Kurt Katch looks so sinister as the Scorpion that you suspect if you were to look up the definition of the word evil in a dictionary, you would find Katch's photo next to it.
The audience had a generous clue to the possible chapter one cliffhanger from the episode's title "The Human Torpedo". Sure enough, the closing minutes of the first chapter had Don and Red in a speeding boat hot in pursuit of one of the Scorpion's men who is at the controls of a torpedo like cylinder with an explosive warhead aimed at a supply ship. Winslow decides the only way to stop it is by ramming it. Don tells Red to jump off their boat. Red replies that he is not leaving Don. Winslow crisply commands, "That's an order, Lt. Pennington," softening the rebuke with a smile and a friendly salute. Pennington goes overboard. Don takes the wheel, crashes his boat into "The Human Torpedo" and, with an explosion, the episode ends.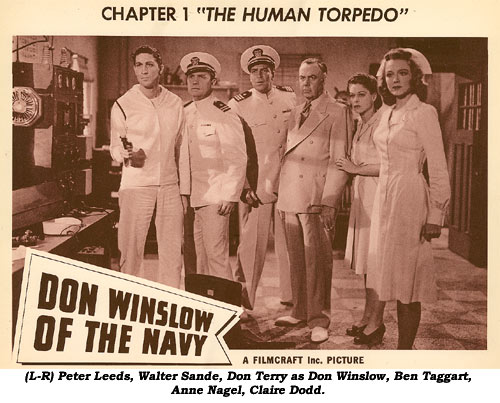 The first chapter had a running time of 25 minutes with the remaining 11 episodes having a screen time of about 20 min. each. There's a continual theme of unintentional humor throughout the first eight episodes caused by the Scorpion's insistent demands that Winslow be captured alive and brought to him. As one of the Scorpion's men comments uneasily, "I'd hate to be in Winslow's shoes." It's not hard to imagine what awaited the daring naval officer should he be taken alive. This is where the humor enters the story. Under dire warnings from the Scorpion that Winslow must not be killed, his henchmen go out of their way to keep him alive until he can be caught. It's our intrepid hero who places himself in jeopardy week after week; usually to foil the Scorpion's latest diabolical plan. In Chapters 4 and 7, enemy agents have Don in their clutches but are facing danger so imminent they run for their lives leaving Winslow behind. The two cliffhangers are in the form of a giant smokestack falling to crush a shack they are in (Ch. 4), and a warehouse being bombed where they are holding Winslow captive (Ch. 7). Relieved that Winslow is still alive, one of the Scorpion's agents discovers Don has accidentally been locked in an experimental chamber with deadly gases. This constitutes the cliffhanger for Chapter 8. The Scorpion's man risks his own life by entering the vapor filled area and pulls Don to safety. But before he can cart our hero off to the Scorpion, Don's friends arrive. By Chapter 9 any slight degree of patience the Scorpion might have had was exhausted. His men were given a new order: "Get rid of Winslow". Often these agents were given additional verbal incentives with their master hissing phrases like, "You will suffer the Scorpion's sting."
With a limited amount of fight scenes throughout the serial, they had two things in common: they were short and poorly staged. The stuntman doubling Winslow was quite obvious.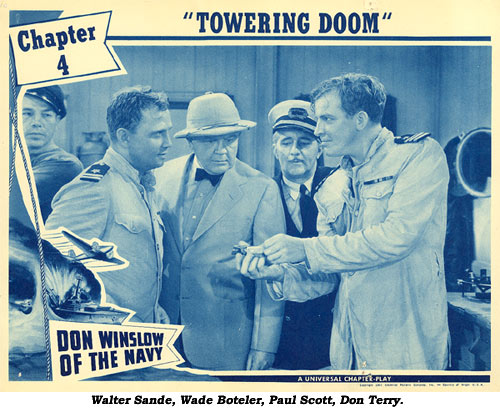 As a possible point of interest, Chapter 6 is entitled "Menaced By Man-Eaters". The cliffhanger comes when Don is attacked by a shark. Repeat. A shark, which is singular, not the plural "man-eaters".
Don and Red each had a girlfriend in the serial, Mercedes (Claire Dodd) and Misty (Anne Nagel) whose main function seemed to be as kidnap victims or complaining the boys were always breaking luncheon or dinner dates. Something to do with the Scorpion.
But, all in all, one of Universal's most enduring serials!
---

In Ch. 1 of "Don Winslow of the Coast Guard", Red (Walter Sande) fires a machine gun—but the fired shells explode in mid air much like anti-aircraft shells.
---
Q: Sammy McKim—Which serial did you dislike doing the most and why? What is your favorite serial?
—Duane Fulk, Ashland, OH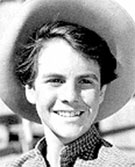 Sammy McKim: First of all, besides feature films and shorts for various studios over the years, I was in five serials altogether. Three at Republic—1937: "Painted Stallion" 12 chapters (I was in most of them, playing the young Kit Carson). I was fifth in the cast, but for lobby cards, posters and reviews I was listed third, after Ray 'Crash' Corrigan and Hoot Gibson. 1938: "The Lone Ranger" 15 chapters. I was in the last five chapters. 1939: "Dick Tracy's G-Men" 15 chapters. I was in 2 chapters (11 and 12, I believe). I'd worked with Ralph Byrd in a 3 Mesquiteers film, "Trigger Trio" in 1937, and with George Cleveland (who was my bed-ridden grandfather at a remote little gas station) in "The Lone Ranger" the previous year. Two at Columbia—1939: "Great Adventures of Wild Bill Hickok" starring Bill Elliott, 15 chapters. I was in most chapters. Location shoot was Kanab, UT. Also that year: "Flying G-Men" with Robert Paige, James Craig, Richard Fiske, Lorna Gray (I was Lorna's kid brother). I was in most chapters.
As far as disliking any serial (or western) I was in, I really don't recall any unpleasant or unhappy times. I enjoyed my work and got along well with people on the various sets. Cowboys, horses and scripts with unusual, fast-paced situations appealed to this kid! Facetiously, I could describe "Dick Tracy's G-Men" as one I least liked—but because I was only in two chapters, instead of a great deal more! Favorite serial? "Painted Stallion" I guess. Not only because it was my first one, but it was my first out-of-California location shoot.