Johnny Duncan
Johnny Duncan, 92, best known as Robin, the Boy Wonder in Sam Katzman's 1949 Columbia serial "Batman and Robin", died at his Davenport, FL, home February 8, 2016.
Born December 7, 1923, Duncan grew up on a small farm near Kansas City, MO. At age 9, during the Great Depression, Johnny learned how to tap dance. Dancing in local bars without his parents knowledge he used the money he earned to help pay his parent's mortgage. Shortly thereafter he ran a small dance school teaching kids how to tap dance. From there he and his partner Lou Fischer traveled the Orpheum circuit touring with acts that included the Will Mastin Trio which featured Sammy Davis Jr. and his father.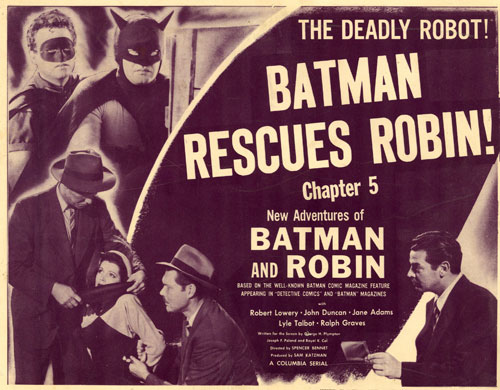 Discovered by a 20th Century Fox talent scout, his first film was Jane Withers' "Arizona Wildcat" ('39).
He was on his way in Hollywood with roles in Gene Autry's "Call of the Canyon" ('42), Bogart's "Action In the North Atlantic" ('43), four East Side Kids titles in the '40s along with other teenage-type films. Autry's "Trail to San Antone" in '47 afforded him a good role.
But it is "Batman and Robin" for which he will be remembered. At a 1990 Knoxville Film Festival Duncan recalled, "Batman creator Bob Kane wanted a 16 year old kid. He told Katzman 'Oh no, I don't want a guy 26 years old.' They looked and looked at lots of kids, finally when they couldn't find anybody, Sam (Katzman) called me and says 'Look as young as you can.' Kane approved so I got the part. I remember Robert Lowery (Bruce Wayne/Batman) loved to B.S. And he loved the women. He went with a lot of starlets, including Barbara Payton. I was a little younger than Bob, he had to put a girdle on…or rather a corset. They tied him in every morning because he loved to drink beer and he had kind of a beer belly. So it would make him look athletic the director wanted him to take big, long steps when he was running. That really hurt Bob because he was almost leaping and I was running normal. On the set we called ourselves Fatman and Bobbin (Laughs)." (Editor's note: Producer Sam Katzman used stout stuntmen like Rusty Wescoatt to double Lowery, making him look klutzy in some action scenes. You'll also note how both Lowery and his stuntmen were always tilting their heads back to see through the Batman hood.)
Duncan also recalled, "When we filmed we had three units working and we shot up to 55 setups a day. The only stunt doubles we had were in long shots. The other stuff Bob and I did. Those stunt doubles worked with another crew. That serial is still going. It's made me what I am today."
Following his acting career, Duncan worked as a vice-president at resorts, first at the Glen Ivy Resort in California, and later at the Fall Creek Resort in Branson, MO.

Stuntman/actor Eddie Parker, who was in over 45 serials, died following a heart attack suffered during the making of a Jack Benny TV episode 1/20/ 60. He was 59. Serials include: "Bruce Gentry", "Chick Carter, Detective", three Dick Tracy serials, "Jack Armstrong", "King of the Forest Rangers", "Monster and the Ape", "Radar Patrol Vs. Spy King", "Secret Code", "Son of Zorro" and "The Vigilante". Parker doubled virtually everyone, including Dick Foran in "Winners of the West".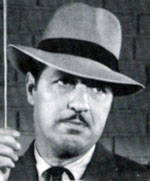 Robert Barron
Robert Barron worked in serial after serial for nine years—21 in all—and has never gotten the recognition he deserves. It's time to change all that.
Serial and Western screen heavy Robert Barron (not to be confused with a stuntman turned writer/producer/actor Robert V. Barron born in 1932) was born Henry Payne April 3, 1898, in Jackson Hole, Wyoming, the eldest of four children (two younger sisters, one younger brother) to Edwin C. Payne and Caroline Maurer Payne. Edd Payne was born in NY in 1875 and Caroline was born about 1881 in Indiana. They were married in 1900 in Big Horn, WY. (Henry was born before they were married but it was the custom back then for horseback ministers to come through every couple of years to marry folks who had already set up homes and begun families.) The other children were born in 1901, 1905 and 1907.)
By 1910 Edd went from being a NY policeman to working as a streetcar motorman in Omaha, Nebraska. Henry's mother, Caroline, died in Omaha in March 1912. Apparently unable to make ends meet with the loss of his wife and now dependent on alcohol, Edd Payne gave his two daughters (then aged 5 and 8) to a couple in Wyoming to adopt. That left Edd with the two boys. However, shortly thereafter, in the Spring of 1912, eleven year old Albinus died in a drowning accident. For whatever reason, Edd blamed 14 year old Henry and left him with family friends Martha and Frank Carmony, a railway engineer. (Edd left Omaha and remarried in 1916 in Billings, MT. He died in 1938.)
Between 1912 and 1919 Henry was known as Henry Carmony living with that family in Nebraska. The Carmony's divorced in 1920 and Henry, now calling himself Robert "Bob" Carmony stayed with Martha Carmony.
It seems to be about this time that Robert began to become interested in theatrics, apparently he had a good baritone singing voice and performed light opera. He also played organ and sang in the chorus with his impressive baratone voice at an Episcopal church.
In 1926 Martha remarried to William A. Barron of French lineage. Robert then became Robert Henri Barron (his original first name of Henry morphed into the French Henri). All ties with the father who abandoned him were now completely severed. He was, however, able to unite with his sisters in the '40s.
By 1930 Robert was appearing with a stock company in Spokane, WA.
In 1933 Robert married Helen Elisabeth Lanham in Dade County, FL. He was 35, she was 23. Unfortunately, the marriage ended in divorce in 1939.
Robert had now moved to California and obtained his first B-Western role as a henchman in Johnny Mack Brown's "Desperate Trails" ('39 Universal).
The next year, on August 9, 1940, he married radio actress/writer Doris Douglas (real name Doris Maxine Jesselson, born January 29, 1918 in Chicago). Apparently, the couple had met in Chicago where both had been working in radio. A daughter, Lynne Barron Douglas was born August 29, 1940 and was given up for adoption. Her adopted parents renamed her Caroline Jane. A second daughter, Doris Dale (Dorie) Barron, was born November 22, 1941, whom Robert and Doris kept.
In 1940 Robert was again a henchman in Johnny Mack Brown's "Law and Order" (Universal)…and…he appeared in his first of 21 serials, "The Green Hornet Strikes Again" as Haggis, a crooked nightclub owner in Ch. 12. Both Robert and Doris were also working on radio; for a time in '39-'40 Robert played the recurring heavy Blackbeard Flint on "Jack Armstrong". Both Robert and Doris were together for a short time on "Uncle Walt's Doghouse", a variety/sitcom on NBC from May '39-July '42.
By 1941 Robert Barron was finding more and more film work—a saloon boss in Gene Autry's "Back in the Saddle" (Republic), a gambler in "Badlands of Dakota" w/Robert Stack (Universal) and a barfly in "Stick to Your Guns" (Paramount) with Hopalong Cassidy. Throughout the early '40s Universal utilized Barron in over 20 films, B-Westerns with Johnny Mack Brown and Rod Cameron and for various roles in "Horror Island", "Sherlock Holmes and the Voice of Terror", "Behind the 8 Ball", "Arabian Nights", "Crazy House", "Ali Baba and the 40 Thieves", "Cobra Woman", "Lost In a Harem" and "Sudan", among others.
Barron continued his extensive serial work in '41 as Bombo, one of Shamba's (Frank Lackteen) priests in Ch. 7 of Republic's "Jungle Girl" and as henchman Blake in "King of the Texas Rangers" with Sammy Baugh (Republic). His first really prominent role was in "Don Winslow of the Navy" ('42 Universal) as Prindle, an agent of the Scorpion. 1942 also found Barron as a policeman in Ch. 1 of "Gang Busters" (Universal), an obscure henchman in "Perils of the Royal Mounted" (Universal), Sidi, a sun worshipping Tuareg in Ch. 4 of "Perils of Nyoka" (Republic) and as Darson, renegade Noah Beery Sr.'s sleazy looking business

associate in "Overland Mail" (Universal).
In addition to his serial work, Barron was seen as a heavy in some 17 B-Westerns from '43 to '48. He nefariously plotted and robbed in B's opposite Bill Elliott, Dave O'Brien/James Newill, Johnny Mack Brown, Rod Cameron, Charles Starrett as the Durango Kid, Jimmy Wakely and Eddie Dean.
Continuing his serial deviltry, for 1943 he was a Black Hangman henchie in "Adventures of the Flying Cadets" at Universal and King, one of Kenneth MacDonald's thugs in Columbia's "The Phantom". In 1944 he was a cave henchman in Ch. 6 of Universal's "Raiders of Ghost City", in 1945 he was M-5, a Nazi agent of "The Master Key" at Universal. Ch. 1 of "The Mysterious Mr. M" in '46 saw him as safecracker Brock. That same year Barron has amore significant role as the Earl of Medford in Ch. 9-11, 15 of Columbia's "Son of the Guardsman". The family was now living at 11495 Riverside Dr. in North Hollywood. Doris lived there until '51 before returning to Chicago.
Sam Katzman apparently took a liking to Barron's swarthy looks and cast him as Dr. Albour in "Jack Armstrong"; a major role as the mysterious Prince Amil Hassan in search of the 100 Tears of Blood rubies in "The Vigilante"; as Zuntar, dictator of the moon with Moon Queen Carol Forman in Ch. 1-6 of "Brick Bradford"; and Barron's most prominent role—the cynically suave pirate leader The Admiral in "The Sea Hound"—all at Columbia in 1947.
Barron also worked at Republic—he was henchman Link in "The Black Widow" ('47) and Garson, the tunnel detonator thug in Ch. 1 of "G-Men Never Forget" ('48).
Barron's final screen role was as Ro-Zan, the planet Krypton Council dissenter in Katzman's "Superman" ('48).
It's unknown why he left Hollywood at this time, he was 50 and film work was declining. It's also known he had a serious drinking problem starting as early as his first marriage. It's difficult to track his activities but in the early '50s he was employed in Tampa, FL, as a park maintenace worker. He died at 60 April 22, 1958, in Tampa. His body was unclaimed and buried after about six months in a Tampa Poor House Cemetery in Hillsborough County.
WESTERN CLIPPINGS is grateful for Barron family history help from Caroline (C.J.) Barron-Douglas and Nancy Healy, and for Ancestry.com research from Evy Patrick.