Remember the days when our favorite B-western stars would appear live at our local theatres? Here are three vintage ads to stir those memories. Like to see more, send us an email!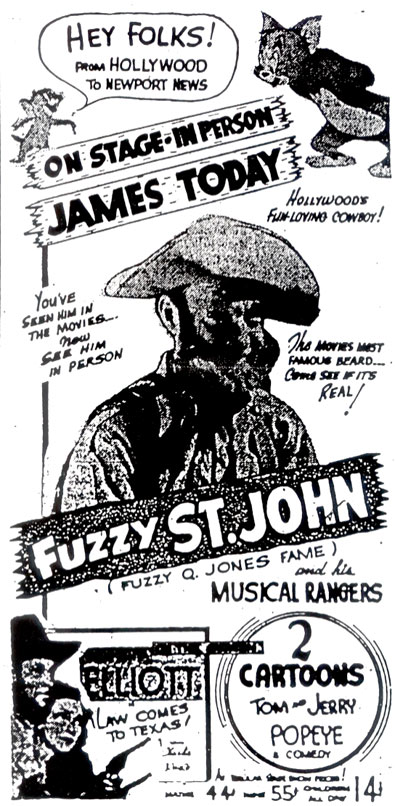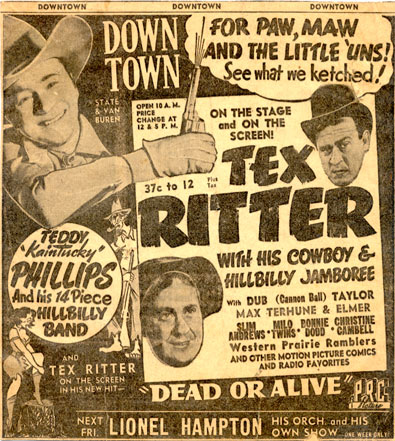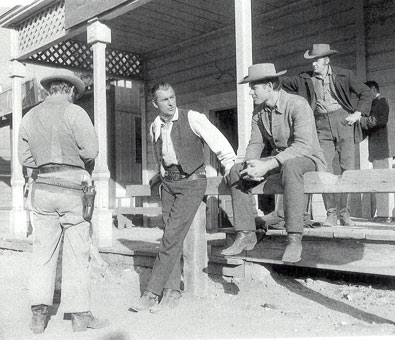 Kelo Henderson and Stewart Granger take a break from filming "Gun Glory" ('57 MGM). Kelo instructed Granger on the proper handling of a six-gun, including fast draw technique.
Randolph Scott checks his 1951 award from The Motion Picture Exhibitors of America. Scott was ranked as one of the Top 10 Western Stars that year. More award photos from 1950, 1951 and 1952 will be in WESTERN CLIPPINGS #85 (Sept./Oct. '08).
Dale Evans and Roy Rogers, along with Monogram co-stars Reno Browne and Whip Wilson, get together for a '50s Hollywood event.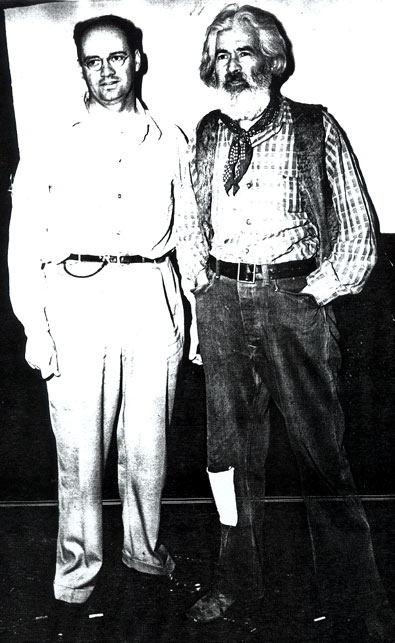 B-western fan Norman Foster with Gabby Hayes backstage at the State Theatre in Winston-Salem, NC, sometime in the mid-'40s.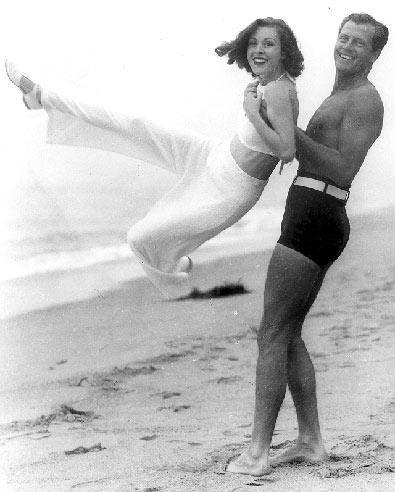 Western star Joel McCrea and his wife Frances Dee cavort on a California beach.
Circa late '30s early '40s.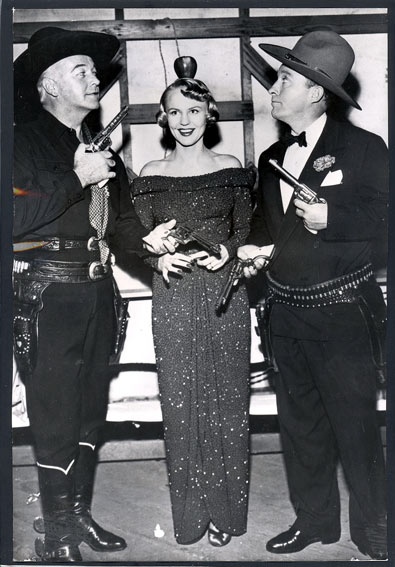 William Boyd as Hopalong Cassidy and crooner Bing Crosby engage in a friendly dispute over who wins singer Peggy Lee. At the time this photo was taken, circa 1951, Hoppy, Crosby and Lee were tenatively scheduled to made a musical western to be titled "Pardners".
Gene Autry and his wife Ina are pleased as they check out their new set of American People's Encyclopedia. (Thanx to Doug Altizer.)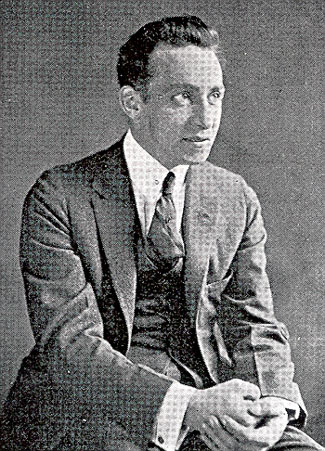 B-western sidekick Raymond Hatton as he appeared during his days with Famous Players-Lasky Corporation in 1919.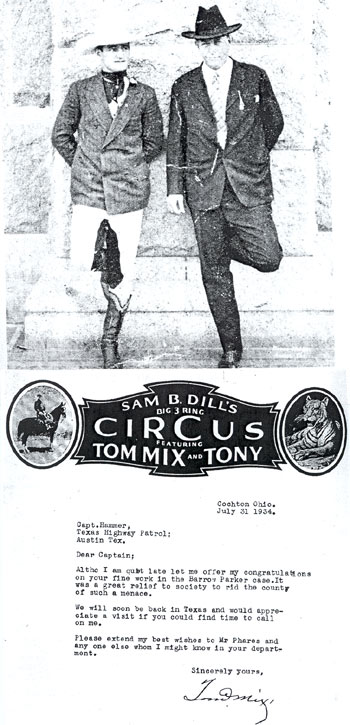 Tom Mix poses with Capt. Frank Hamer, famous for helping in the trackdown of Bonnie Parker and Clyde Barrow.
An odd combination! Roy Rogers, King of the Cowboys, with Irving Klaw, King of the Pin-ups--as in Bettie Page--with Klaw's son Arth Klaw at age 4 backstage at the Madison Square Garden Rodeo in 1944.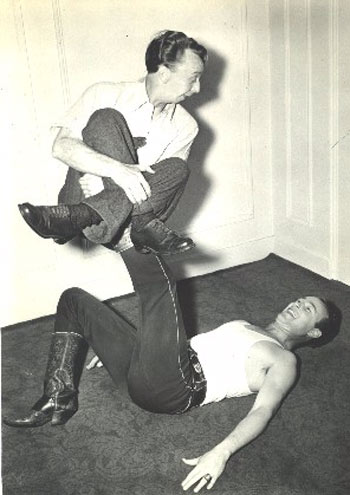 Roy Rogers gets a little "exercise" from contortionist Emmett Oldfield.
Rex Allen rides in the 101 Ranch Parade in Ponca City, Oklahoma, in 1966.
Roy Rogers drives the official 1954 Dodge Royal, the Indy 500 Pace Car.
Rex Allen with friends Nudie (L), the western tailor, and Wade Ray whom Rex called "The best fiddler I ever heard."
Jackie Coogan and Russell Hayden, stars of TV's "Cowboy G-Men" ('52-'53) get together for a reunion (circa late '60s) at Pioneertown, CA.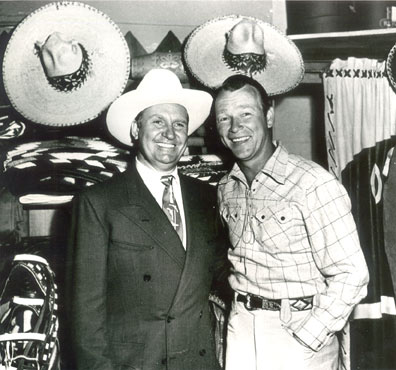 Rare photo meeting of two top cowboy heroes, Gene Autry and Roy Rogers, photographed at Nudie's Western Tailor Shop in North Hollywood. Judging from their ages, we're guessing this was taken in the late '50s. Nudie outfitted nearly every screen cowboy hero at one time or another.
A very young Gary Gray seems to have the drop on Hopalong Cassidy. Note that Gary is holding a Gene Autry cap pistol!
Beginning at age 3½, Gray was a child actor in the '40s and '50s who was seen in such westerns as "Return of the Badmen", "Rachel and the Stranger", "Gun Smugglers", "Masked Raiders", "Terror at Black Falls" and TVers "Wyatt Earp", "26 Men", "Man Without a Gun".
Giving up acting when he married, Gary was employed for years in the swimming pool industry. Gary, 69, died April 4, 2006, of cancer.
Two Autrys for the price of one! H. Gene Autry (left), a Santa Fe, New Mexico, camera store owner and candidate for Lt. Governor, is shown points of interest in Laurel Canyon, near Hollywood, by his cousin, the Gene Autry we know so well. The Santa Fe Autry visited The Cowboy in April 1950 to discuss Gene filming some ads for the Santa Fe Autry's campaign.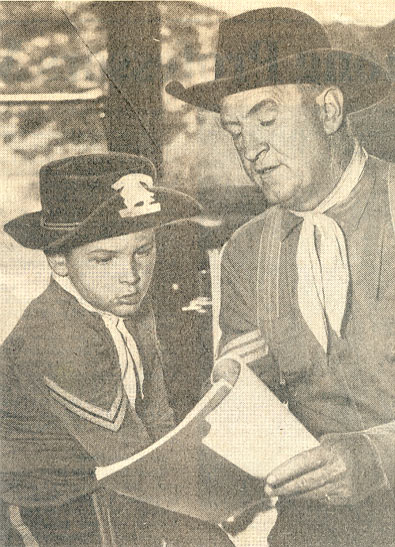 Joe Sawyer as Sgt. Biff O'Hara on TV's "Rin Tin Tin" with his son, Riley Sauers (Sawyer's legal name), on the set. At times Riley was a stand-in for Lee Aaker on the series.
Loretta Young and husband Tom Lewis relax between scenes of "Cause for Alarm" ('51 MGM). Two-gun Tom gets a smile from Loretta as he fancies himself a cowboy on a Hopalong Cassidy bicycle. Lewis produced "Cause for Alarm".
Photo was taken in June 1950 at the height of the Hoppy revival.
William Boyd with his third wife, Dorothy Sebastian, in 1935, the year Paramount began the Hopalong Cassidy series.
Producer/director King Vidor and actress Jean Parker on the set of "The Texas Rangers" ('36 Paramount) which starred Parker, Fred MacMurray and Lloyd Nolan.