Cowboys and Their Wives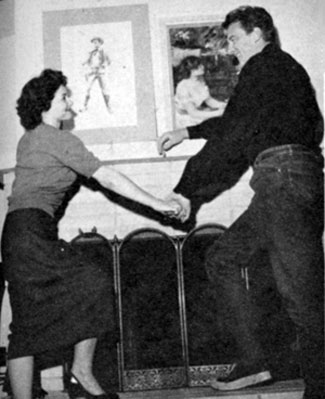 James Arness, Matt Dillon on "Gunsmoke", and Virginia Chapman were wed from February 12, 1948 until April 5, 1963. This photo is from 1958.
Gene Autry and Ina Mae Spivey relax at home. The couple were married from April 1, 1932 until her death on May 20, 1980.
John Bromfield ("Sheriff of Cochise"/"U.S. Marshal") and his wife Larri Thomas relax at home in 1959. Unfortunately they were divorced later that year.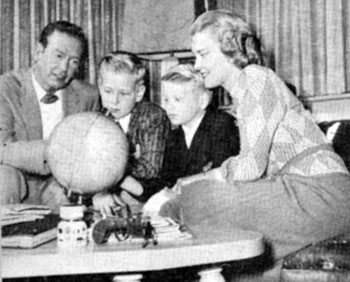 The "Frontier Doctor" Rex Allen and wife Bonnie have a geography session with sons Rex Jr. (Chico) and Curtis in mid-1959. The couple were married in '46 but later divorced.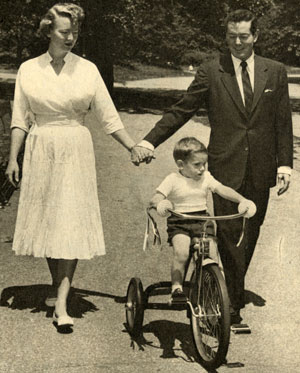 "The Gray Ghost" Tod Andrews with his wife actress Gloria Folland and son
Tod Walter in 1958.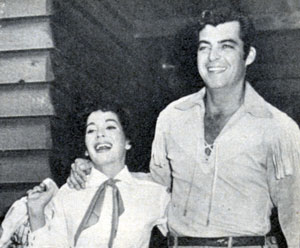 "The Texan" Rory Calhoun with his actress wife Lita Baron in 1957. The couple were married from August 29, 1948 until July 17, 1970.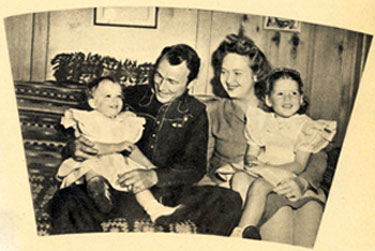 The King of the Cowboys Roy Rogers and his wife Arline Wilkins with their daughters Linda Lou (left) and Cheryl (right). The couple were married from June 11, 1936 until her death on November 3, 1946. This photo is from Fall 1944.
Mr. and Mrs. Madison (at the top) welcome Hoot Gibson and wife Dorothy to a Hawaiian Luau, Las Vegas, NV, style, in July 1962. Hoot was married to Dorothy from July 3, 1942 until his death on August 23, 1962.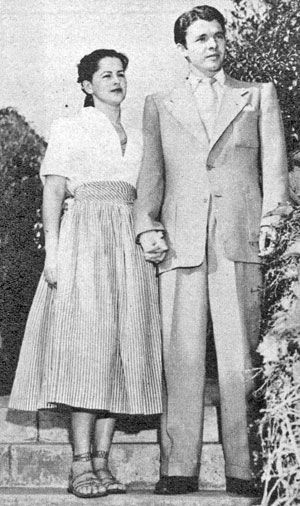 Audie Murphy and Pamela Archer. The couple were married from April 23, 1951 until his untimely death on May 28, 1971 in a plane crash.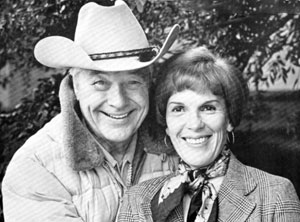 Monte and Joanne Hale. They were married from 1977 til his death on March 29, 2009.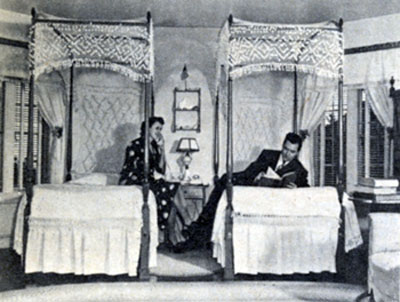 Johnny Mack Brown and his wife Cornelia Foster in their bedroom known as the Washington room. The Browns were married from 1926 until his death on
November 14, 1974.
The "Man Without a Gun", Rex Reason, was not without wife Joan from April 19, 1952 until 1960. This photo is from 1958. (Rex has been married to Shirley Ann Hake from September '68 until now.)
They say Hollywood marriages never last...but this one did. Gene ("Bat Masterson") Barry and wife Betty. They were married from October 22, 1944 until her death on January 31, 2003. Barry died in '09. Photo taken in '58.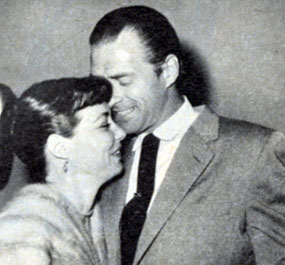 The "Range Rider" and "Yancy Derringer", Jock Mahoney and actress Margaret Field. They were married from 1952 until a divorce in 1968. Photo from 1958.
"Buffalo Bill Jr." and Dick West on "Range Rider" Dick Jones with Betty, his wife of 65 years as of 2013. They're holding twins Jeffrey and Jennafer. The other son is Rick and daugher is Melody.
Hopalong Cassidy, William Boyd, with his fifth wife...and love of his life, actress Grace Bradley, relaxing at home in the '40s. Hoppy and Grace were from June 5, 1937 until his death on September 12, 1972.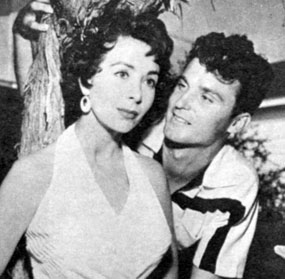 Keith Larsen ("Northwest Passage") and actress Susan Cummings were married on December 28, 1953. They divorced circa 1958. He married Vera Miles in 1960.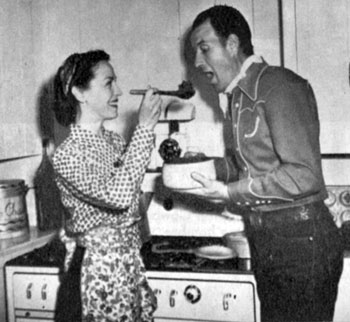 Bill Elliott's wife Helen gives Bill a sample of her stew with vegetables from their own garden. Photo from 1944. They were married from 1927 til a divorce in 1961.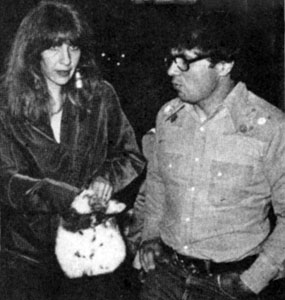 Bill Elliott's Litte Beaver, Bobby Blake, with wife Sondra in 1975. Married November 25, 1961 til their divorce on September 12, 1983.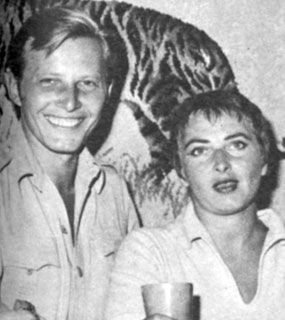 Jan Merlin, star of "The Rough Riders", with his wife Pat in 1958. They were married from 1951 until her death in 1986. Jan and current wife Barbara live in Burbank, CA.
"The Rifleman" Chuck Connors with wife Elizabeth "Betty" Riddell in late 1958. Married from October 1, 1948 until their divorce in 1961.
"Lawman" John Russell married his childhood sweetheart Renata Titus in June, 1943 when he was just out of the service. They were divorced in 1966. Photo from 1958.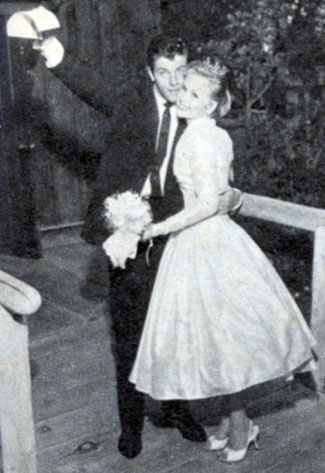 Actress Diane Jergens was the first wife of "Lawman" deputy Peter Brown. They married August 6, 1958 and divorced in 1960. Jergens, currently married to Randy Sparks of the New Christy Minstrels, was the first of five wives for Brown.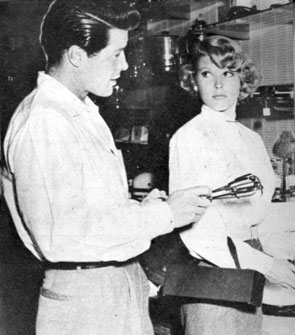 Robert Horton, star of "Wagon Train" and "A Man Called Shenandoah", in 1955 with his second wife, actress Barbara Ruick. They were married from August 22, 1953 until a divorce on April 24, 1956.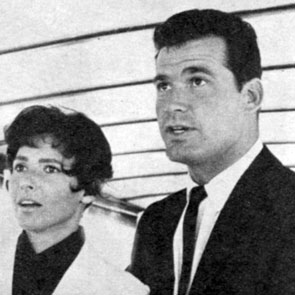 Here's another one of those Hollywood marriages that did last. James ("Maverick") Garner and Lois Clarke have been married from August 17, 1956 til today.
"Trackdown" star Robert Culp on the beach with wife No. 2 of 5, Nancy Asch in 1958. They were married May 29, 1957 and divorced September 22, 1966.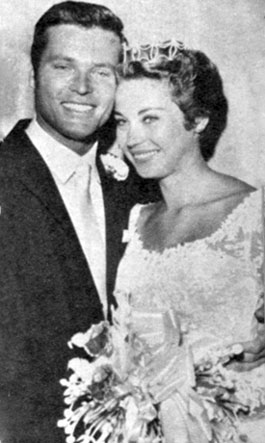 Ty ("Bronco") Hardin with his new bride starlet Andra Martin. Married August 30, 1958 and divorced June 1, 1960. Martin was the second of eight wives for Ty who as been married to Caroline since 2007. They live in Huntington Beach, CA.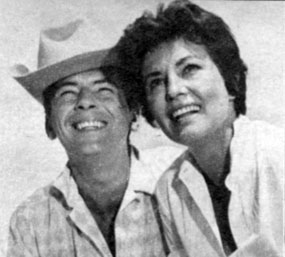 Bart "Maverick" Jack Kelly with his wife Donna in late 1958. She's also known as actress May Wynn. They were married October 14, 1956 but divorced October 19, 1964.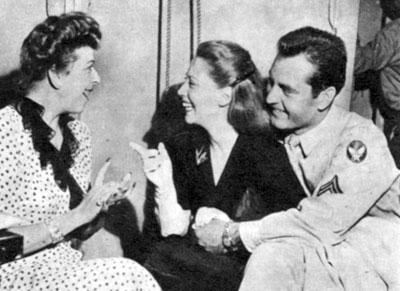 Army Air Corps Corporal George Montgomery listens while wife Dinah Shore talks with radio's Baby Snooks (Fannie Brice) in late 1944. George and Dinah were married from December 5, 1943 til May 9, 1963.
Tom Mix in 1938 with his fifth wife Mabel Ward. They were married from February 15, 1932 until his tragic death on October 12, 1940.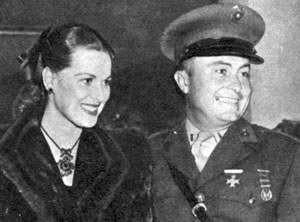 And...for a bit of a reverse, here's actress Maureen O'Hara with her second husband Lt. Will Price attending the 1944 Ice Follies. The couple were married from December 1941 to August 1953.
(There are many more husband and wife photos on our other galleries.)