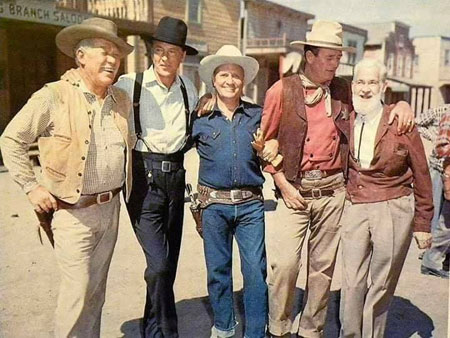 A quintet of Western stars on the set of TV's "Wide Wide World: Westerns" which aired on June 8, 1958. Ward Bond, Gary Cooper, Gene Autry, John Wayne,
Gabby Hayes.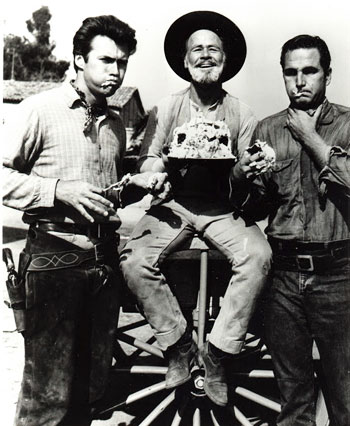 Paul Brinegar seems quite proud of his birthday cake but Clint Eastwood and Eric Fleming have a different opinion. (Thanx to Terry Cutts.)
Wayde ("Colt .45") Preston and James ("Maverick") Garner compare firearms.
Jock ("Yancy Derringer") Mahoney, ??, John ("Laramie") Smith, Tom ("Texas John Slaughter") Tryon, Richard ("Sgt. Preston") Simmons, Roy (of the "Mickey Mouse Club") Williams, Hugh ("Wyatt Earp") O'Brian and Henry (Sgt. Garcia on "Zorro") Calvin ready to board a charter for San Francisco on a promotional tour for Disney's "Shaggy Dog" ('59). (Thanx to Terry Cutts.)
Smiley Burnette brags about his California oranges to Polly Jenkins (right) and another lady, unaware Uncle Dan owns a Florida orange grove. (1947)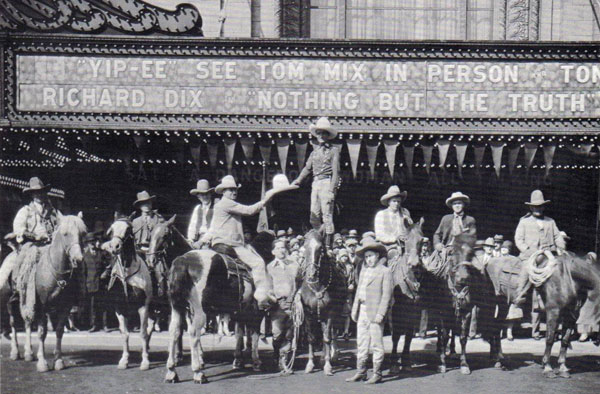 Tom Mix at a personal appearance May 7, 1929 at the State Theater in Minneapolis,
MN. (Thanx to Billy Holcomb.)
6'6", 235 lb. Clint Walker helps daughter Valerie Jean with her pet rabbit.
Clint Walker's wife Lucille helps Cheyenne with his latest script.
The Walkers in 1957...Clint, Valerie Jean, Lucille.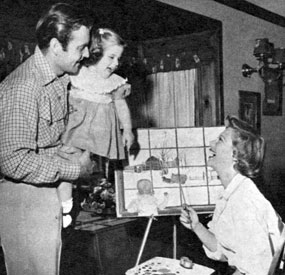 George Montgomery with five year old daughter Missy and wife Dinah Shore in 1952.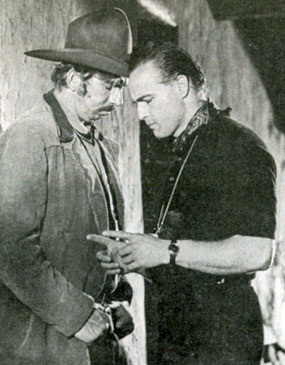 Marlon Brando directs Slim Pickens for his ornery character role of Deputy Lon Dedrick in "One-Eyed Jacks" (1961).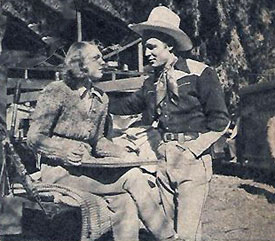 Roy Rogers and Linda Hayes chat during lunch break on location for "South of
Santa Fe" ('42 Republic).
Roy Rogers waves from the front porch of his San Fernando Valley home circa 1942. Property had a swimming pool, tennis court, guest house, citrus orchard and huge corral.
Brothers Jack and Al Hoxie prepare for a family outing in the late '20s or early '30s. Jack and his wife Marin Sais are in the front while Al's wife and daughter are in the back. Al sits on the running board.
Western star Hoot Gibson prepares to sail to Hawaii with wife Sally Eilers for her role in the Charlie Chan mystery "The Black Camel" ('31). Also in the cast are Bela Lugosi (left) and 'Chan' Warner Oland (waving his hat). Director Hamilton MacFadden leans on the railing beside Oland.
Hopalong Cassidy and singer Eddie Fisher swapped hats while riding in Macy's annual Christmas parade in 1953.
Gale Storm looks over the script for "The Kid From Texas' ('50) with producer Paul Short and star Audie Murphy.
Gail ("Annie Oakley") Davis visited the London Zoo in 1953 and enjoyed playing
with a baby seal.
"Gunsmoke" star James Arness at home with his young sons Rolf and Craig. Circa Summer '57.
Fast draw expert Arvo Ojala gives a few lessons to Mari Blanchard for her role in
"Destry" ('54 U-I).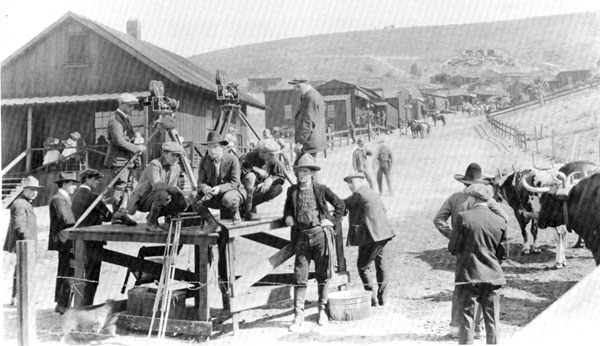 William S. Hart (standing center) and crew get ready to shoot another scene for
"Selfish Yates" (1918).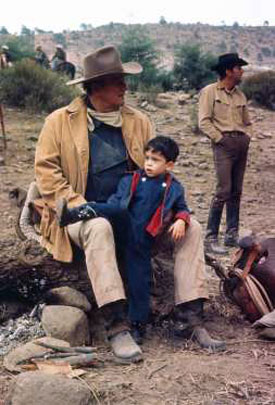 John Wayne with three-year old son Ethan on location for "The Sons of Katie Elder" ('65). Costar Dean Martin looks off in the distance.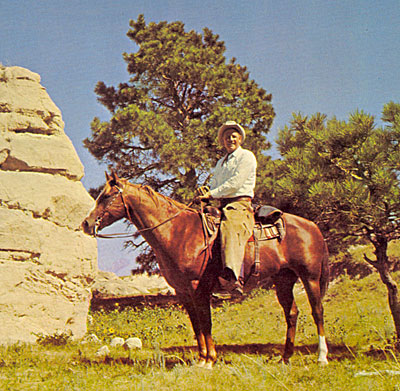 Joel McCrea says..."See ya next month!"