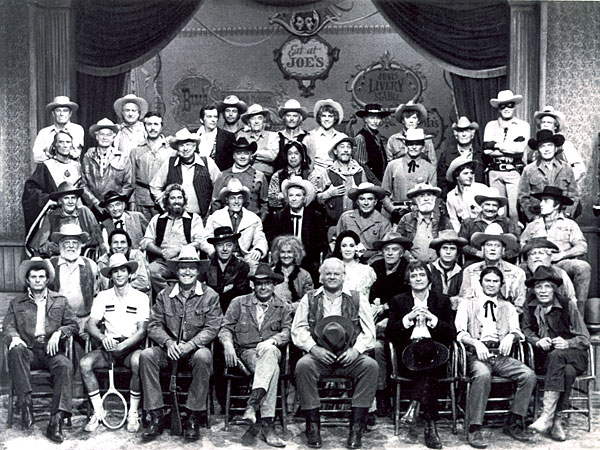 Group photo taken for the 1978 TV special "When the West Was Fun". (L-R front row): Dewey Martin, Johnny Crawford, Chuck Connors, host Glenn Ford, Alan Hale Jr., Henry Darrow, Larry Storch, Neville Brand. (L-R second row): Denver Plye, Iron Eyes Cody, Harry Lauter, Jeanette Nolan, Linda Cristal, John Ireland, Darby Hinton, Joe Bowman, Fred Putnam. (L-R third row): Pat Buttram, Milburn Stone, Dan Haggerty, Guy Madison, Rex Allen, John Bromfield, Keenan Wynn, Jackie Coogan, George Montgomery. (L-R fourth row): X Brands, Bill Williams, Michael Ansara, Slim Pickens, Dick Jones, Don Diamond, Ken Curtis, John Russell, Peter Brown, James Drury. (L-R fifth row): Rod Cameron, Jock Mahoney, Jack Kelly, Tony Young, John McIntire, Ty Hardin, Mark Slade, Lee Van Cleef, Will Hutchins, Terry Wilson, Clayton Moore, Doug McClure.
(8x10 glossy copies of this photo available for $7. plus $3 postage.)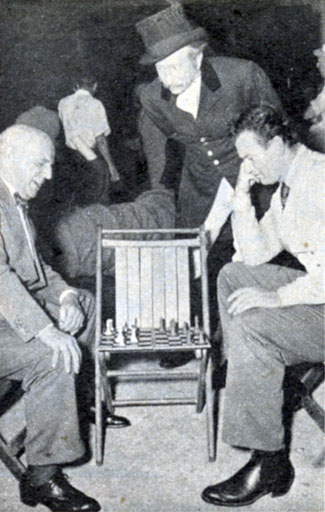 During a break from the making of "Dakota" ('45), John Wayne (right) matches wits in a game of chess with Republic studio head Herbert J. Yates as character player Olin Howland looks on.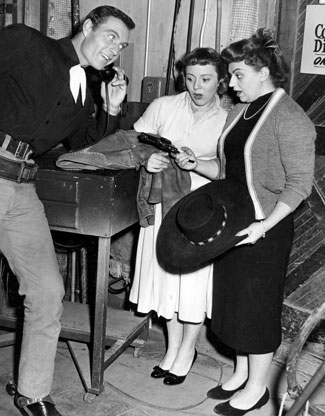 George Montgomery, star of TV's "Cimarron City" ('58), talks on the phone while Pat Hitchcock (Alfred's daughter) and Lorraine Bendix (daughter of William Bendix) look over George's six-shooter and hat.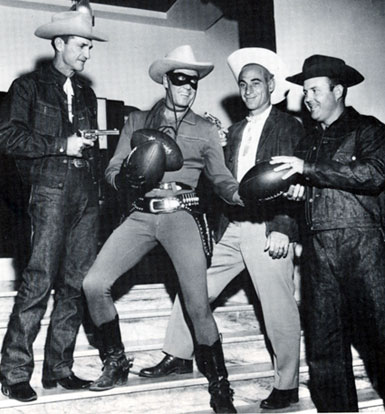 Sammy Baugh ("King of the Texas Rangers"), coach of the Hardin-Simmons University football team in November 1957, holds a gun on Clayton Moore as the Lone Ranger in the Santa Rita, Tucson, AZ, hotel lobby. Assistant coaches Wayne Millner and John Steber are on the right. Baugh and his team were in Tucson to play the University of Arizona and Moore was filming "Lone Ranger and the Lost City of Gold".
Gene Autry astride the 5th Champion. (Thanx to Bobby Copeland.)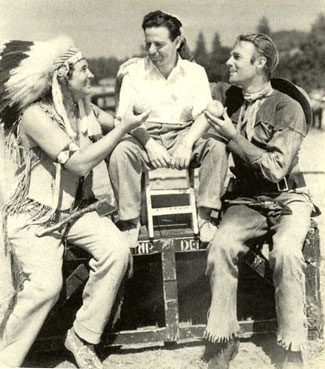 Monte Blue, director Charles Barton and Randolph Scott on location for "Wagon Wheels" ('34).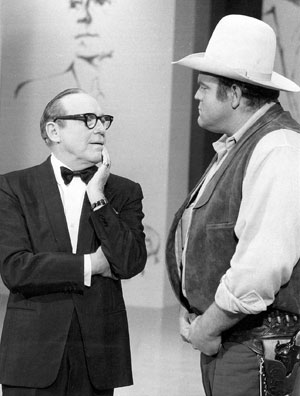 Dan "Hoss" Blocker guests on "Jack Benny's Birthday Special" (5/21/69).
(Thanx to Terry Cutts.)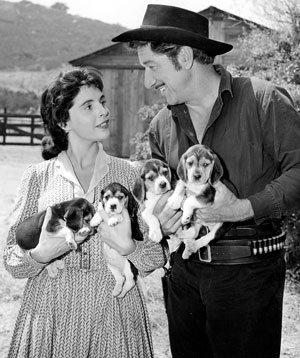 Richard Boone ("Have Gun Will Travel") shows actress Madlyn Rhue a quartet of
Beagle pups (1/59).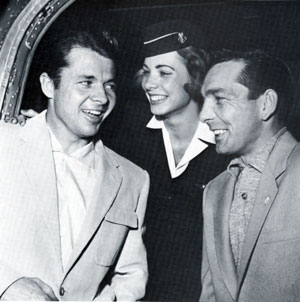 December 1956 photo of Audie Murphy who then owned the TM Ranch southeast of Tucson, AZ. Shown here with Dallas Clark, a former jockey at Rillito Park who trained Audie's quarter horses. The stewartess is Susan Scherrer.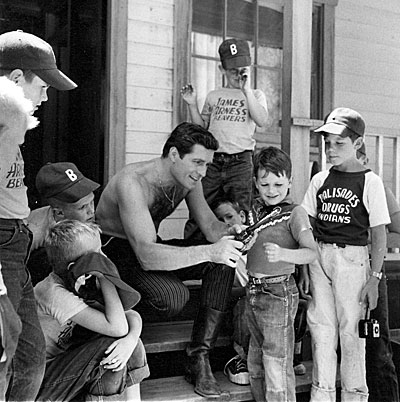 Using his Buntline Special, Hugh ("Wyatt Earp") O'Brian talks gun safety to a group
of youngsters. Note two boys are wearing "James Arness Beavers" tee-shirts.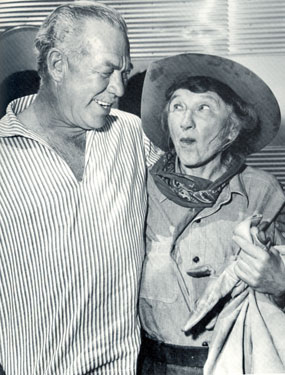 Ward Bond and Marjorie Main while filming a "Wagon Train" episode in Tucson in April 1958.
Hopalong Cassidy (William Boyd) visits a children's hospital in the summer of 1950.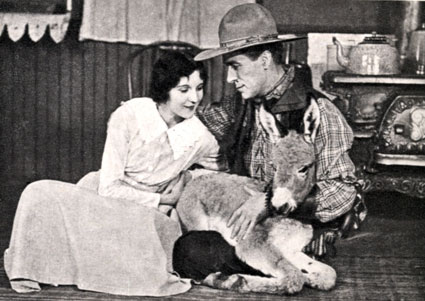 William S. Hart, Ann Little and a donkey make three. Taken during a break while filming either "Square Deal Sanderson" ('19) or "Cradle of Courage" ('20).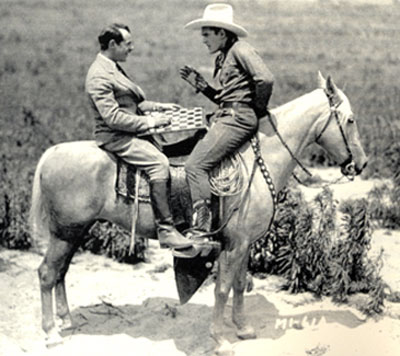 Tarzan remains still while director Al Rogell and Ken Maynard play a horseback game of checkers during a break from filming "Senor Daredevil" in 1926.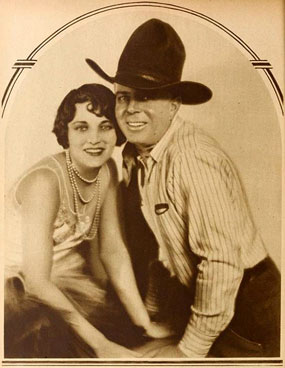 Ruth Elder (1902-1977) and Hoot Gibson in a candid pose promoting "Winged Horseman" (1929). (Thanx to Bobby Copeland.)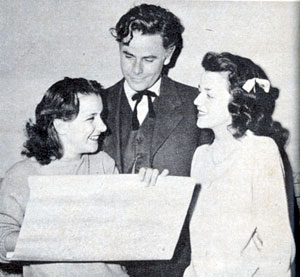 While making "Man from Colorado" ('48) Glenn Ford was named Man of the Year by the Bobby Soxers of America. Agnes Palangi and Mary Chase present Ford the award.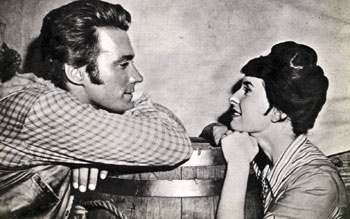 Clint Eastwood and Margaret O'Brien during a break from filming "Rawhide: Incident of the Town in Terror".
For the gals...Robert Horton of "Wagon Train" warms up with his barbells.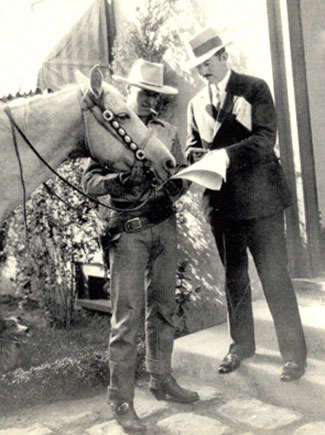 Jack Holt and director John Waters. Possibly taken during the filming of "Man of the Forest" in 1926.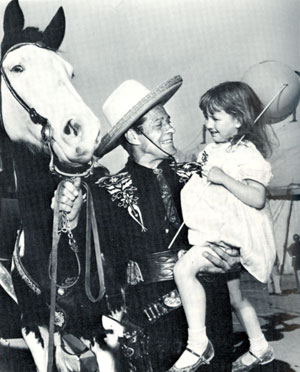 Duncan Renaldo, the Cisco Kid with his horse Diablo, greet five year old Natalie Fiske in Tucson, AZ, in March 1956 while Renaldo was appearing with the Clyde Beatty Circus.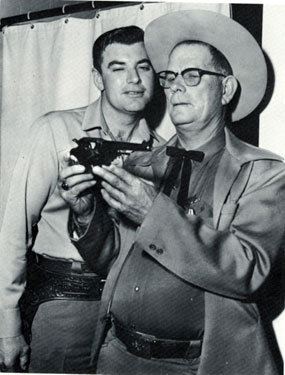 John Bromfield, TV's "Sheriff of Cochise", shows his pistol to Jack Howard, the real Sheriff of Cochise County, while they were waiting for the 1957 Tucson Rodeo Parade
to begin.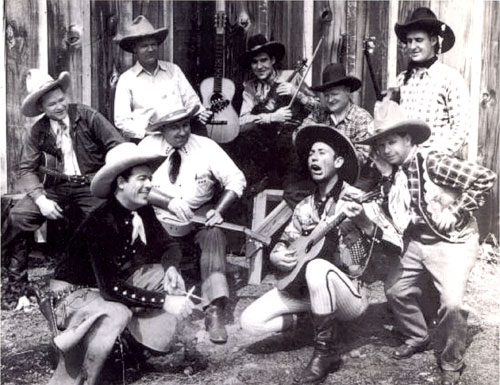 Range Riders singing group circa 1934-'35. (L-R back row) Jack Kirk, unknown standing, possibly Ace Spriggins, Hilo Pete McKinney (white shirt with guitar sitting, Oscar Gahan, unknown, Jack Jones. (L-R front row) Glenn Strange, Cactus Mack McPeters, Loyal Underwood.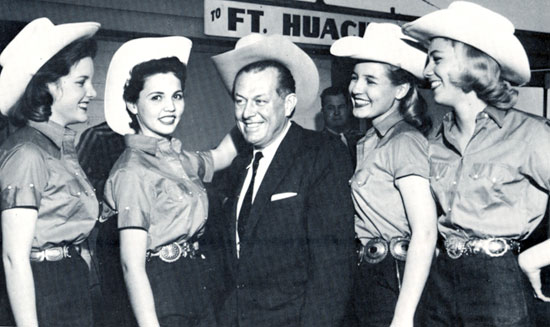 Vaughn Monroe, who made a couple of good Westerns for Republic, is greeted in February 1958 by the Tucson, AZ, Sunshine Climate Club. (L-R) Pat Coleman, Cecilia Quiroz, Sue Rowton and Sandy Gustafson.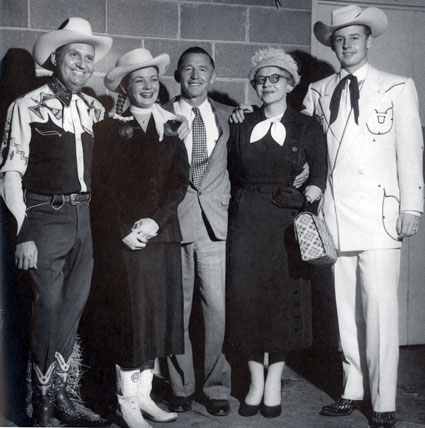 Backstage for "The Gene Autry Show" in Chicago in 1956 are Gene Autry, Gail Davis, John and Dolly Western (Johnny's parents) and Johnny Western.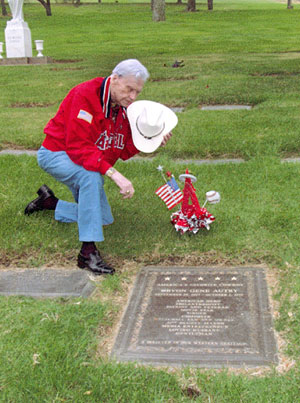 Monte Hale pays tribute to his friend Gene Autry.