The late Gina Lollobrigida beside Iron Eyes Cody and his girlfriend, Sandy Red Hawk.
Italian star meets Western star. Gary Cooper and Gina Lollobrigida at a publicity
photo in Paris in 1956.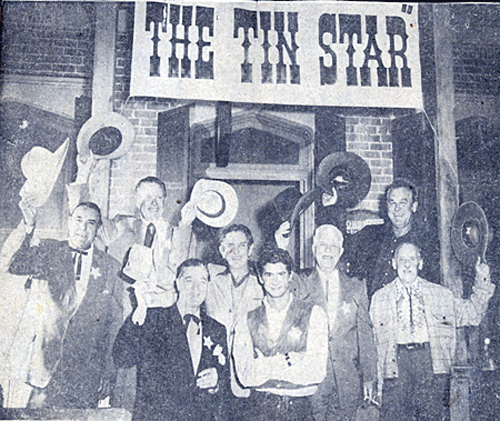 Anthony Perkins (front and center) got together a host of oldtime cowboy stars to publicize his new Western (with Henry Fonda), "The Tin Star" ('57). (L-R) Ken Maynard, Tom Keene, Rex Lease (beside Perkins), Bob Steele, Hoot Gibson (?), Big Boy Williams and Raymond Hatton.
Buck Jones was a bulldogging champion before he became a Western star.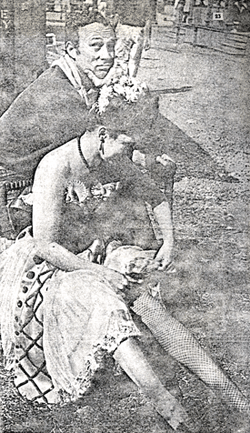 During a lull in filming "Badman's Territory" ('45 RKO), James Warren watches the activity of the cameraman, unmindful of curvacious Bonnie Blair adjusting her dancing finery.
Gene Autry meets Jack Randall. Note the cigarette in Jack's hand.
Preparing for another Republic Western, Rex Allen polishes up his six-gun.
Looks like Gail Davis ("Annie Oakley") is having a little trouble getting on her boots!
Jim Davis and his wife Blanche, while Davis was filming the "Dallas" TV series.
At dinner, Roy Rogers and Ray Whitley flank an unidentified friend circa 1940.
Johnny Carpenter at his Heaven on Earth haven for handicapped children.
Raquel Welch seems a mite gunshy alongside John Wayne.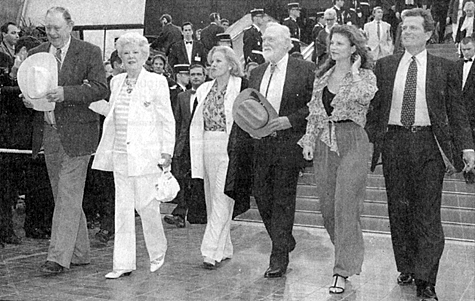 (L-R) Ben Johnson, Claire Trevor, Carroll Baker, Harry Carey Jr., Melissa and Patrick Wayne leave the Festival Palace in Cannes, France after a screening of an omage to director John Ford during the 1995 48th International Film Festival.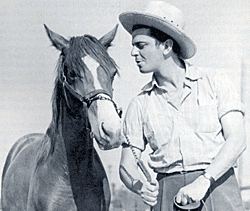 John Carroll, star of Republic serial "Zorro Rides Again" and other Westerns, on his 800 acre Granada Hills, CA, horse ranch beside his favorite mount, Pal.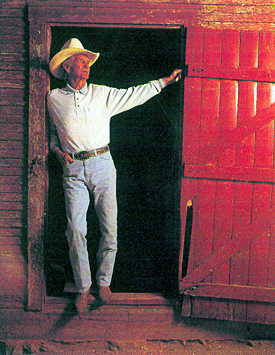 "King of the Texas Rangers" Sammy Baugh on his ranch in Texas in 1991.
Tex Ritter relaxes at home.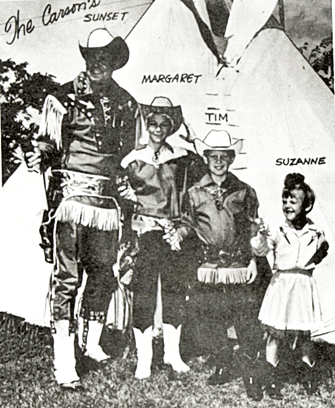 Sunset Carson with his wife Margaret and children Tim and Suzanne.
Clint Walker on an unknown game show with Louella Parsons (bottom left), unknown beside Clint, and Sir Alex Guiness and actors Jack Cassidy and Shirley Jones on the right.
(Thanx to Joel Hurtig.)
Gene Autry, Gail Davis and Dick Jones on KTBS-TV in Shreveport, LA.
Getting ready to film the PRC Texas Rangers series in 1944...James Newill, producer/writer/director Oliver Drake, Dave O'Brien and Guy Wilkerson. Note the cigarette in O'Brien's hand.
Robert Horton watches as Nan Leslie tries out a tie for Jack Kelly. This photo was just before Kelly became Bart Maverick and Robert Horton starred on "Wagon Train".
Kirby Grant gets a big hug from one of the nine girls who live in the first Sky King Youth Ranch. Grant was then negotiating for a new TV series in which The Flying Crown Ranch would be a home for "throw-away" children. Needless to say, that series never came to pass.
Tim McCoy poses in 1924 with Wovoka, the Nevada Paiute Shaman whose Ghost-Dance religion burned itself out at the Battle of Wounded Knee in 1890.
Johnny Mack Brown was a car salesman in Los Angeles in 1973.
Tom Mix with two Tonys.