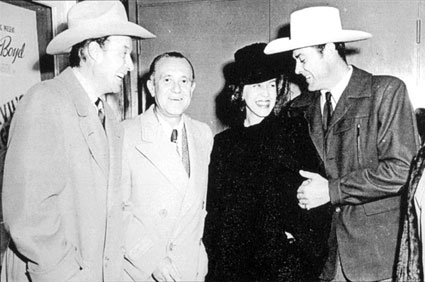 William Elliott, Republic producer Edward J. White, Mrs. Elliott and Allan Lane at a Hitching Post Theater screening. Note the William Boyd "Hoppy" poster on the left.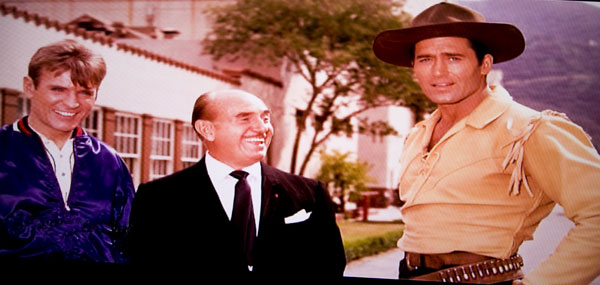 Will "Sugarfoot" Hutchins, Jack Warner and Clint "Cheyenne" Walker on the Warner Bros. backlot. (Thanx to Steve St. John.)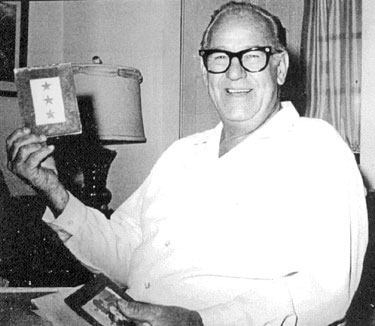 Roy Barcroft proudly displays a symbol of his wartime service.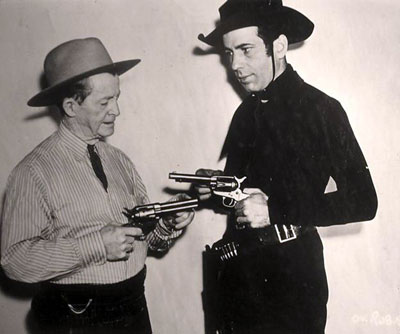 Is that Lash LaRue? No, it's Humphrey Bogart getting a few pointers on how to handle a six-gun from real life badman Al Jennings in preparation for Bogie's role in
"Oklahoma Kid" ('39 WB). (Thanx to Bobby Copeland.)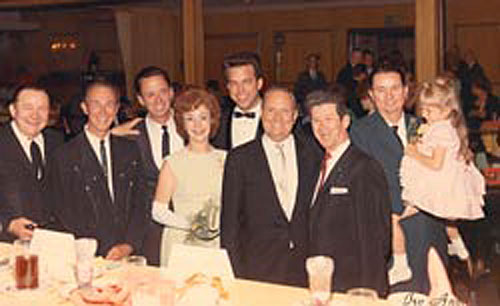 A nice gathering for Tex Ritter and Dorothy Fay's 25th wedding anniversary celebration in 1966. (L-R) Tex Ritter, Eddie Dean, Joe and Rose Lee Maphis, unknown, Gene Autry, Roy Acuff, Johnny Bond and Heather Moore.
A date with Guy Madison was Erlene Slater's 'consequence' on "Truth or
Consequences" emceed by Ralph Edwards in 1947.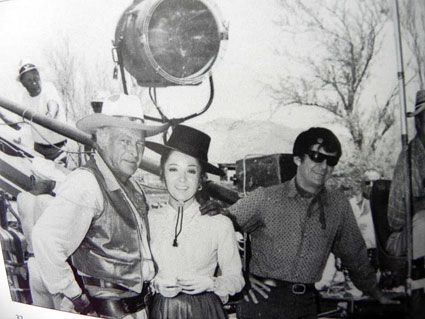 Leif Erickson, Linda Cristol and Henry Darrow on the set of "High Chaparral".
(Courtesy the High Chaparral website.)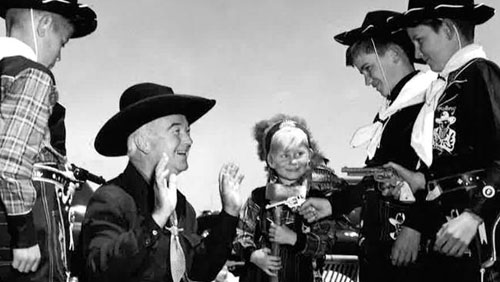 Hopalong Cassidy ambushed by Aussies! Hoppy was appearing at the Estcourt House, Grange, a coastal suburb of Adelaide, Australia. Estcourt House was a convalescent
home for children.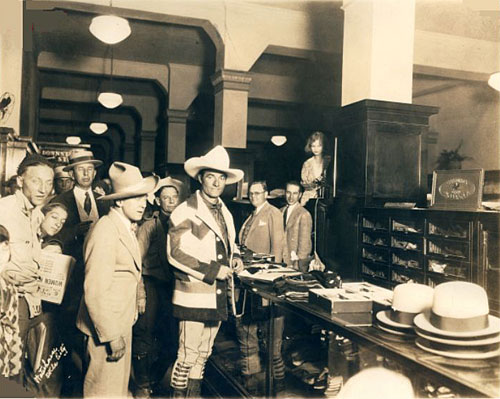 Art Acord and Tom Mix do a little shopping at an Oklahoma City
men's store in the '20s. (Thanx to Jerry Whittington.)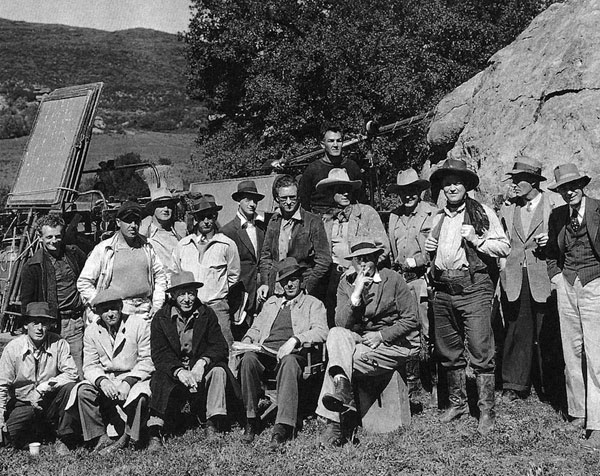 Bob Livingston, Bob Steele and Rufe Davis (The Three Mesquiteers) pose with the crew of "Saddlemates" ('41 Republic). Director Les Orlebeck is seated in the front row with the script in his lap. (Thanx to Bobby Copeland.)
Here's one for the girls. Robert Horton ("Wagon Train") takes a little snooze.
Roy Rogers in a training session with his dog Bullet in 1951. I just can't figure out why the balloons are tied around Bullet's neck.
Sunset Carson, Allan Lane, Roy Rogers, Don Barry, Bob Livingston while making
"Bells of Rosarita" ('45 Republic). (Thanx to Jerry Whittington.)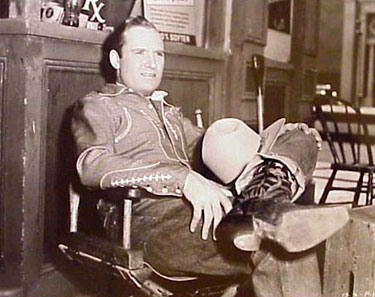 Gene Autry takes a break on a drugstore set. (Thanx to Jerry Whittington.)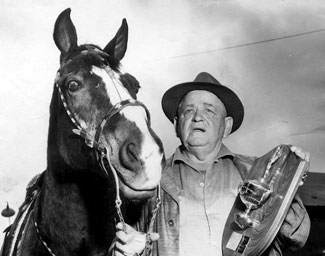 Fat Jones Stables was one of the major suppliers of horses to movies. This is Fat with a horse named Baldy. (Thanx to Kenneth Kitchen.)
Producer Harry "Pop" Sherman watches star Don DeFore use a spray hose to
set fire to a wooden building for the burning sequence in "Ramrod" ('47 U.A.).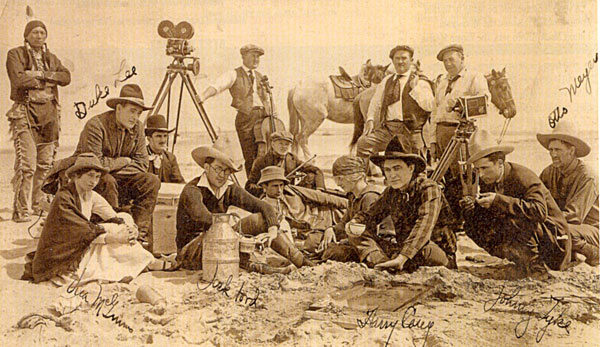 Relaxing between scenes, director John Ford (with glasses), star Harry Carey and players Johnny Tyke, Otto Meyer, Duke Lee and rodeo cowgirl Vera McGinnis. Circa 1917.
At his Heaven on Earth ranch in the San Fernando Valley, Johnny Carpenter used to help the blind to ride horses. Here Johnny makes reservations at his stable for Dale Reed, Russell Kennedy and Jimmy Pruett.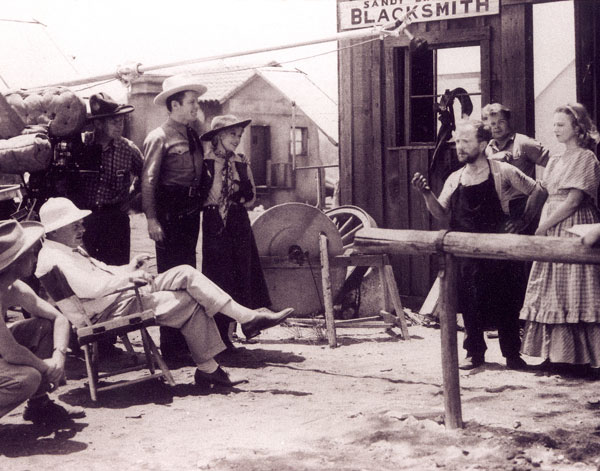 Robert North Bradbury directs Tom Keene and Betty Compson is a scene for "God's Country and the Man" ('37 Monogram). To the right are Billy Bletcher and Charlotte Henry.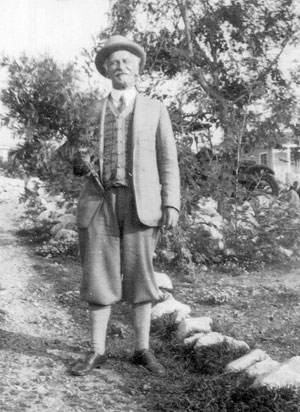 A very erudite looking Lafe McKee, one of B-westerns' most noted and
profilic character players. (Thanx to Nikki Ellerbee.)
Famous Indian sports figure and actor Jim Thorpe with his wife Patricia practicing with bow and arrow in Miami, Florida, in January 1946.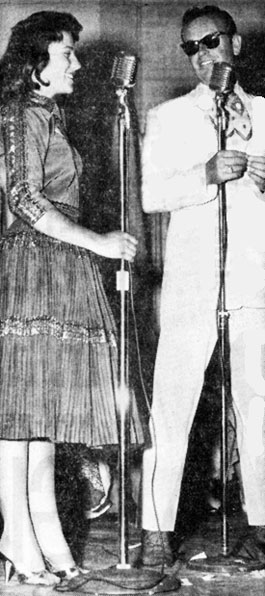 1960 New Mexico State Fair guest star Rex Allen interviews Sharon Shroyer,
a candidate for State Fair Queen.
Hugh ("Wyatt Earp") O'Brian helps to serve Viet Nam vets at a
hospital in Japan in '67.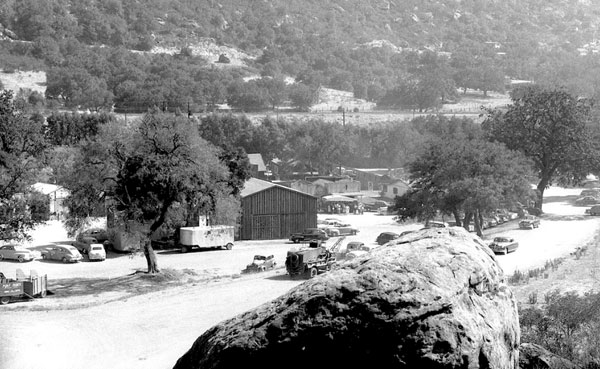 Great shot of the Corriganville backlot where so many westerns were filmed.
(Thanx to Jerry Whittington and Tinsley Yarbrough.)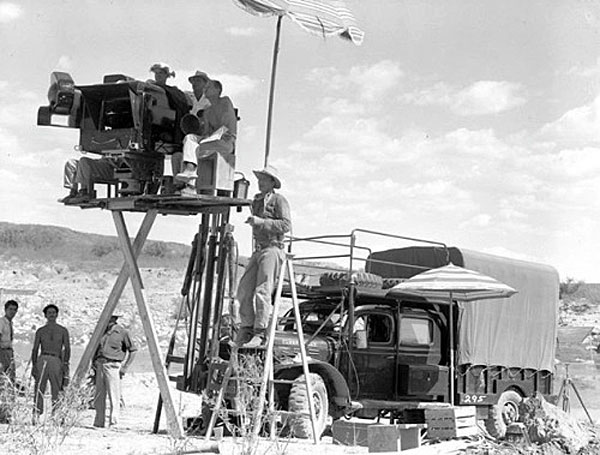 John Wayne setting up a camera shot for "Hondo" ('53 WB).