Wouldn't you have loved to have been at this '50s western luncheon held at Nudie's Western Wear, 11000 Victory Blvd. in North Hollywood? Starting at the left table, unknown man and woman, Nudie, three unknown women, Sheb Wooley across from Nudie, two unknown women. Table on the right: Rex Allen, Roy Rogers, Gene Autry, Eddie Dean, Max Terhune, unknown woman, Bill Williams, Jock Mahoney, Doye O'Dell across the table, unknown man, Don Diamond, unknown man, Tim Spencer, Tex Williams, Pat Buttram, Tex Ritter, Joe Maphis. (Thanx to Jerry Whittington and a sharp-eyed Eileen Cordova.)
Bob Steele rides steerage. (Thanx to Jerry Whittington.)
John Wayne and Grant Withers share a laugh while making "In Old Oklahoma"
('43 Republic). (Thanx to Bobby Copeland.)
Andy Clyde and Russell Hayden—or their doubles—follow a Harry Sherman Productions camera truck in 1940. (Thanx to Jerry Whittington.)
Director Harry Keller, seated in the white shirt, and Rex Allen on location for one of Rex's Republic Pictures. (Thanx to Jerry Whittington.)
Lash LaRue poses with a fan at the High Point, NC, fair in 1958. (Thanx to Jerry Whittington.)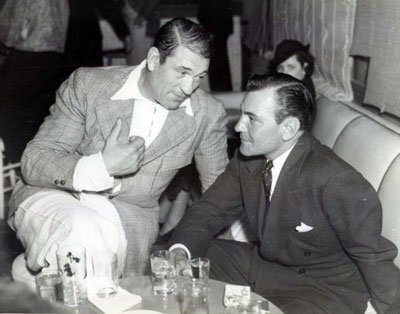 Discussing the business over a couple of drinks in 1936 are Victor McLaglen and Buck Jones. (Thanx to Bobby Copeland.)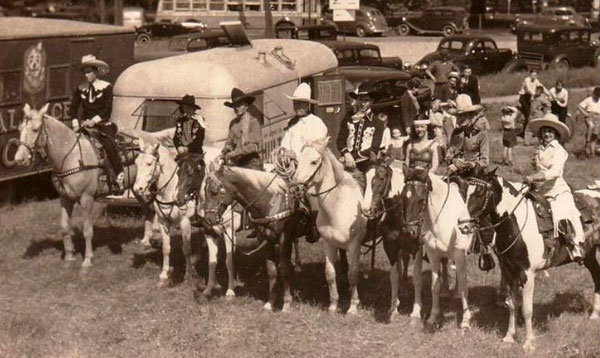 Hoot Gibson (center, white hat) on the Wallace Brothers Circus in 1938.
(Thanx to Jerry Whittington.)
Celebrating Universal honcho Carl Laemmle's 67th birthday in January 1934 are (l-r) James Scott, Boris Karloff, Hugh Enfield, Ken Maynard, Laemmle, Vince Barnett, Margaret Sullivan, Andy Devine and Carl Laemmle Jr.
Hopalong Cassidy rides in a Boston, MA, parade in 1952. (Thanx to Joel O'Brien.)
Isn't that Steve Clark standing before the Ken Maynard Diamond K Ranch Wild West poster in 1936? (Thanx to Jerry Whittington.)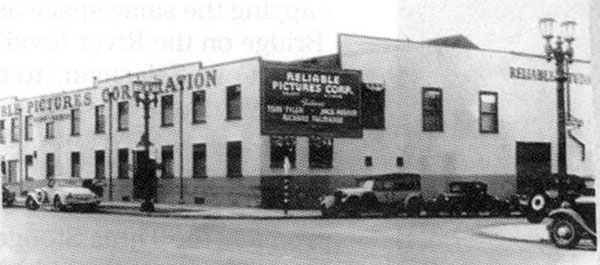 A rare photo of Reliable Pictures owned by Harry S. Webb and Bernard B. Ray from '33 to '37. The studio was at the corner of Sunset Blvd. and Beachwood Dr. where the new Technicolor post-production facility is now located. Webb and Ray produced some 45 pictures in those four years. Westerns with Jack Perrin, Bud 'n' Ben, Tom Tyler, Rin Tin Tin Jr., and Bob Custer. Note Tyler's, Perrin's and Richard Talmadge's names
on the sign.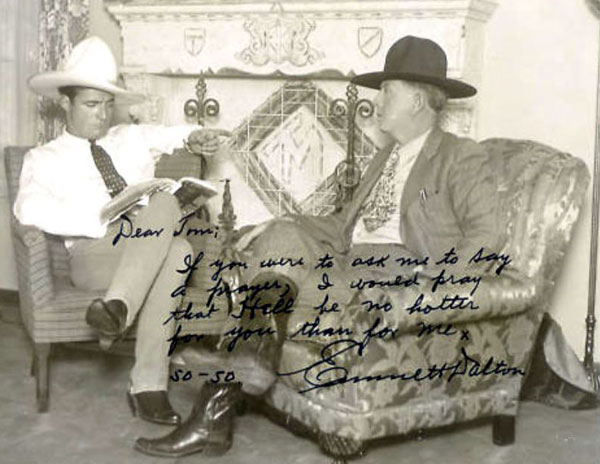 Tom Mix and Emmett Dalton of the Dalton Brothers gang. Inscription says, "Dear Tom; If you were to ask me to say a prayer, I would pray that Hell be no hotter for you than
for me. Emmett Dalton 50-50." (Thanx to Jerry Whittington.)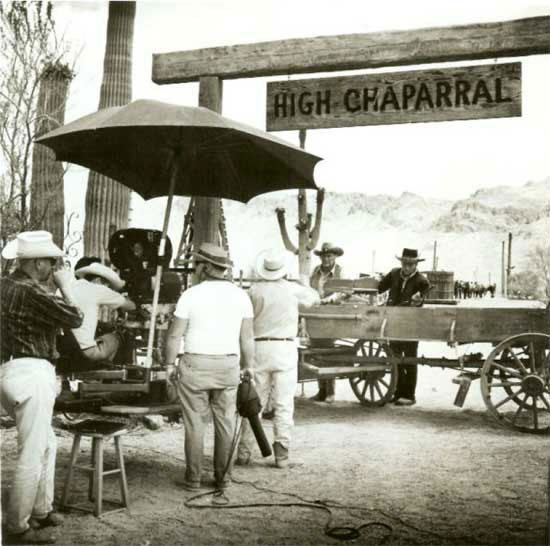 Leif Erickson and Cameron Mitchell filming an episode of "High Chaparral" in
Old Tucson. (Thanx to the "High Chaparral" website).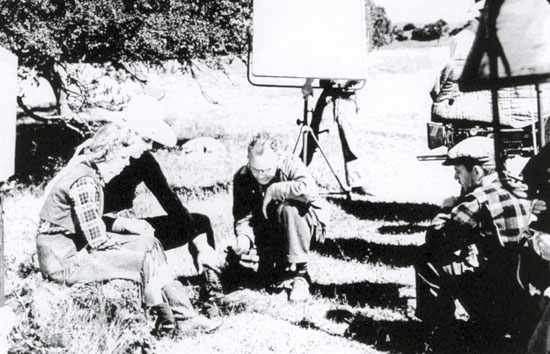 Director Sam Nelson (center) goes over a scene for Columbia's "South of Arizona" ('38) with Iris Meredith and Charles Starrett.
Sharing a cup of coffee at RKO are father and son Tim and Jack Holt. Circa early '40s.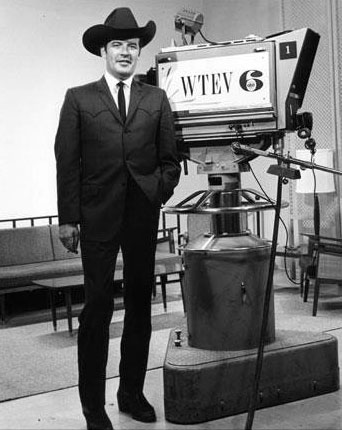 Peter Breck of "The Big Valley" at WTEV-TV in Jacksonville, FL, in 1965.
(Thanx to Joel O'Brien.)
Taking a break from making "Law of .45s" ('35 First Division) are (l-r) Molly O'Day, Big Boy Williams, Lafe McKee, Glenn Strange, Jack Evans, Jack Kirk, Sherry Tansey, unknown behind Tansey, Al St. John seated, unknown.
Howard Keel and Jane Russell were filming "Waco" in '66 for A. C. Lyles on the backlot of Paramount when Gabby Hayes stopped by for a kiss from Jane. (Thanx to Bobby Copeland.)
Jane Russell poses for an artist's rendering to promote "The Outlaw".
(Thanx to Jerry Whittington.)
Gene Waters, Don Barry, Barbara Patin, Sunset Carson at the National Film Society convention in 1979. (Thanx to Jerry Whittington.)
Bob Baker and his dog Tip at their home in Camp Verde, AZ, in 1972.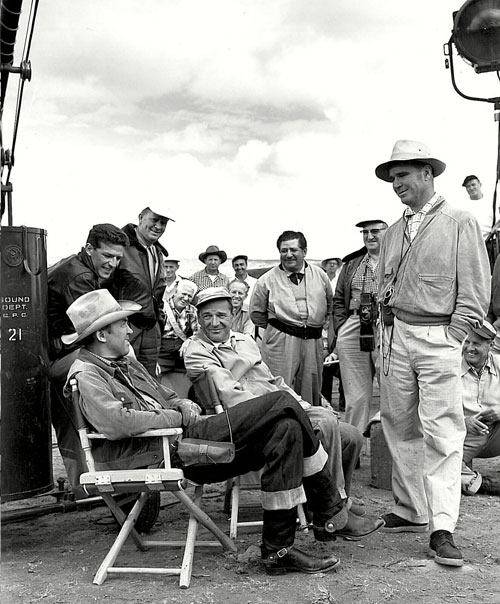 James Stewart and the crew take a break from filming Columbia's "Man From Laramie" ('55). (Thanx to Bobby Copeland.)
Jack and Harry Warner flank George O'Brien and Dolores Costello during the filming of Warner's "Noah's Ark" in 1928. (Thanx to Bobby Copeland.)