A Tribute to Gene Autry for his 111th birthday, September 29...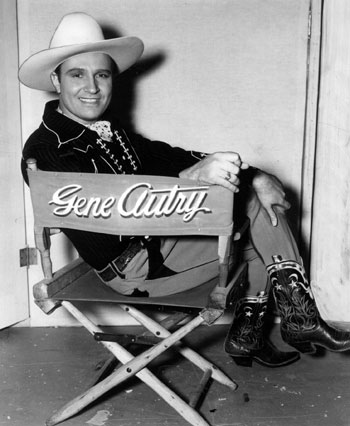 Early 9/18/37 publicity shot.
Gene filming ??? possibly with Jane Withers for "Shooting High". (Photo courtesy Billy Holcomb.)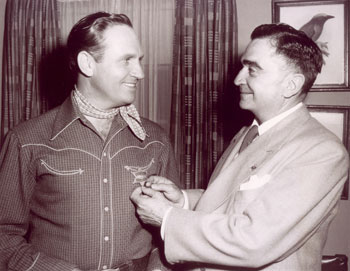 Sheriff Eugene Biscailuz makes Gene honorary Sheriff for the 10th Annual Sheriff's Championship Rodeo in Los Angeles.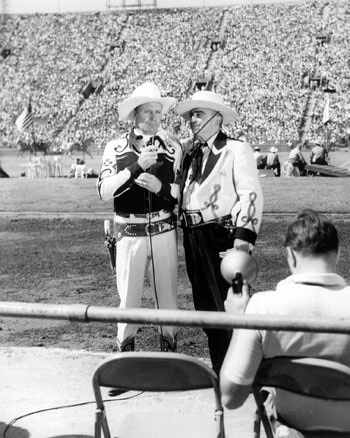 Gene with Sheriff Eugene Biscailuz at the L.A. Coliseum for the annual Sheriff's Championship Rodeo in 1954.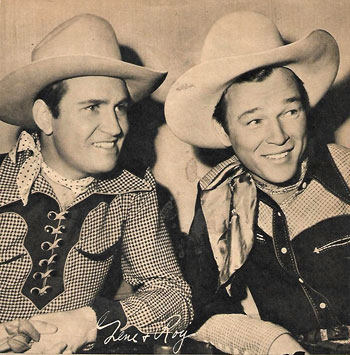 Republic's two top cowboy stars, Gene Autry and Roy Rogers, in March 1942.
Gene poses with band leader Duke Ellington. (Thanx to John Bickler.)
Gene memorialized in food! (Thanx to Billy Holcomb.)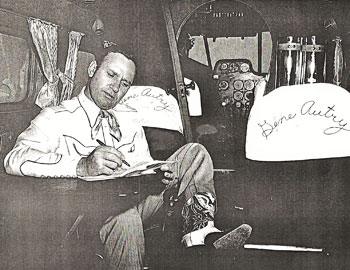 With his pilot at the controls, Gene catches up on a little work aboard his
private plane.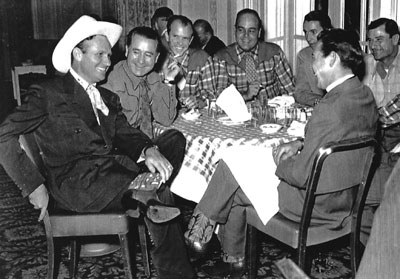 A great gathering of musical talent...Gene with (L-R) Frankie Marvin, Fred Martin and Bert Dotson of the Cass County Boys, Johnny Bond, Ray Whitley and
Carl Cotner.
Gene graced the cover of the rare TV Jr. on June 29, 1956. TV GUIDE-like publication came from Schenectady, NY. (Thanx to Billy Holcomb.)
Gene and his wife Ina in their garden in 1942.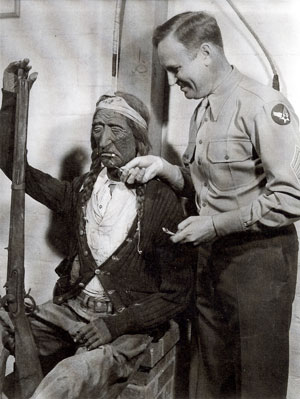 Tech Sgt. Gene Autry on leave at his weekend Melody Ranch in 1945. Gene's wooden Indian Joe sat on his front porch.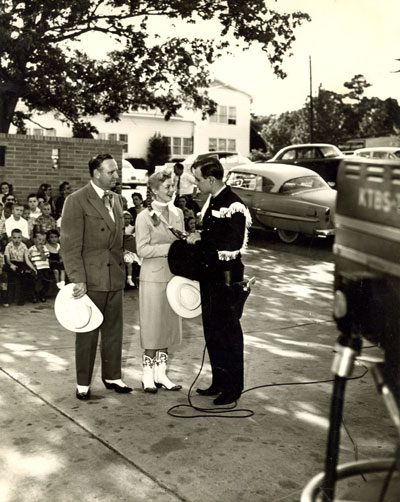 Gene, Gail Davis and Dick Jones before KTBS-TV cameras in Shreveport, Louisiana.
Republic head Herbert J. Yates with his three biggest cowboy stars, Gene, Roy Rogers
and Bill Elliott.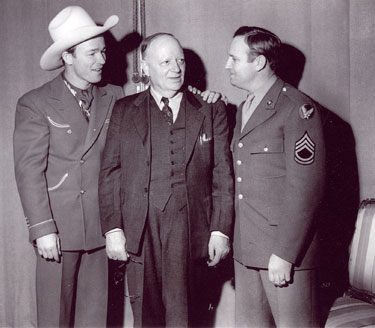 Roy Rogers and Tech Sgt. Autry with ??? Circa 1945.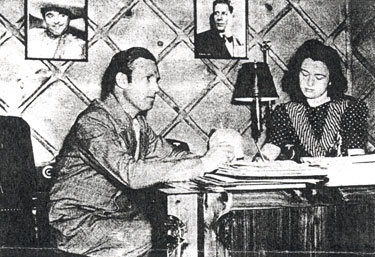 Gene dictates a letter to his secretary, Dorothy Phillips.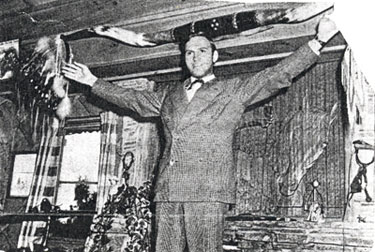 Gene seems to be saying, "That was a mighty big Texas long horn steer."
Denise Dennem, 6, (left) of Chicago tells Gene all about her dog Patches while Elizabeth Langdon, 8, waits to present her doll to Gene. Photo taken during a Name Champion's Colt contest sponsored by the CHICAGO SUN-TIMES in 1948.
Gene with a group of blooded stock at his Melody Ranch.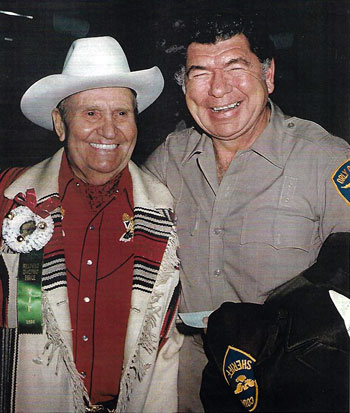 Gene with TV's Sheriff Lobo, Claude Akins.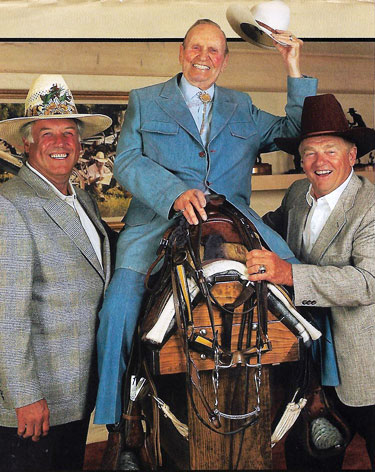 Gene's back in the saddle again in 1995 alongside former California Angels manager Buck Rodgers and former St. Louis Cardinals manager Whitey Herzog.
(Photo courtesy Billy Holcomb.)
Gene talks with Bob Steele as Steele is honored by the Masquers Club on
November 20, 1982.
Vera Hruba Ralston talks with Gene and Pat Buttram as a Hollywood Western
tribute party in L.A. on July 20, 1981.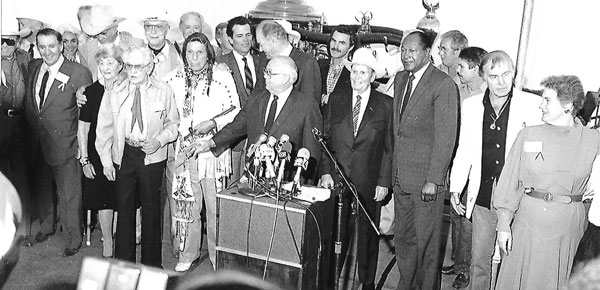 Ground-breaking ceremony (11/12/86) for the Gene Autry Museum, now known as the Autry Museum of the American West. (L-R) Clayton Moore, Pat Buttram, Mrs. Beverly Rogers, Sunset Carson, Mr. and Mrs. Bob Steele, Monte Hale, Buddy Rogers, Iron Eyes Cody, Patrick Wayne, L.A. City Councilman John Ferraro, emcee Johnny Grant, Burt Reynolds, Gene Autry, Mayor Tom Bradley, unknown, unknown, George Montgomery, Mrs. Gene (Jackie) Autry.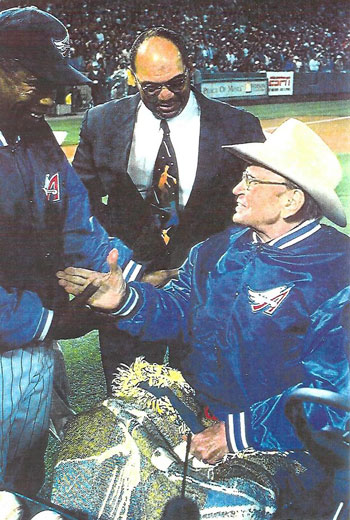 Former Angels players Rod Carew ('79-'85) and Reggie Jackson ('82-'86) offer congratulations to Angels owner Gene Autry on opening day April 8, 1998. (Photo courtesy Billy Holcomb.)