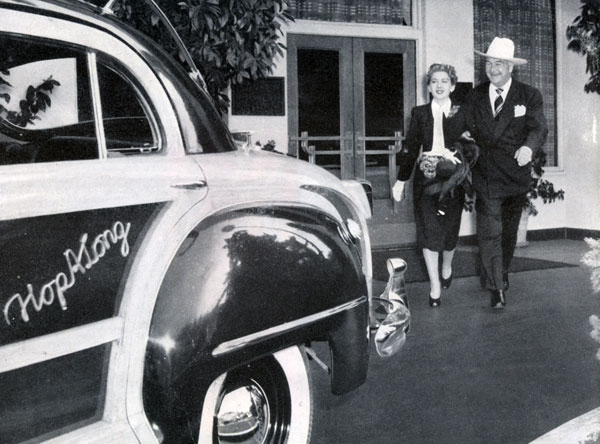 Grace Bradley and Bill Boyd head for the Hopalong station wagon in 1947.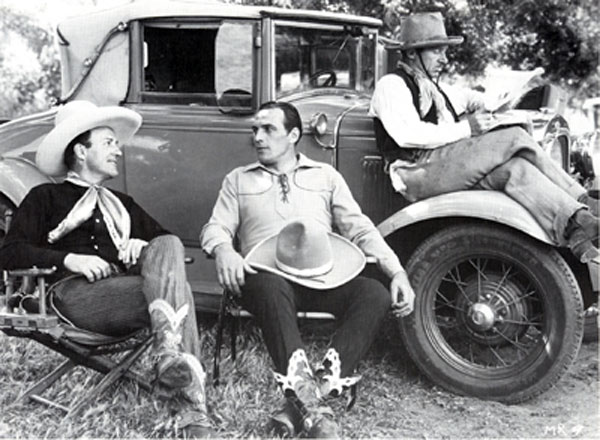 Jack Perrin and Tom Tyler chat during a break from filming "Mystery Ranch" ('34 Reliable) while character player Jimmy Aubrey catches up on the news. For whatever reason Perrin was billed Jack Gable in this film.
Tex Ritter, Ruth Mix, Ken Maynard and Tarzan at Grand National in October 1937.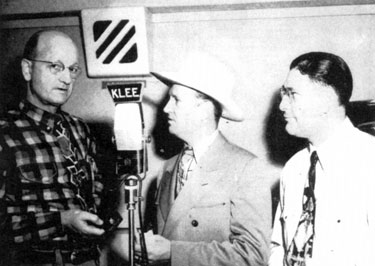 In April 1948, Gene Autry received his official receipt as a Houston Aerie member in the Fraternal Order of Eagles. With Gene are Eagle W. Albert Lee, KLEE radio station owner, and Jake Colca, Eagle Grand Outside Guard.
Roy Rogers poses with the Hillsboro, OH, High School majorettes during a visit on
July 11, 1947.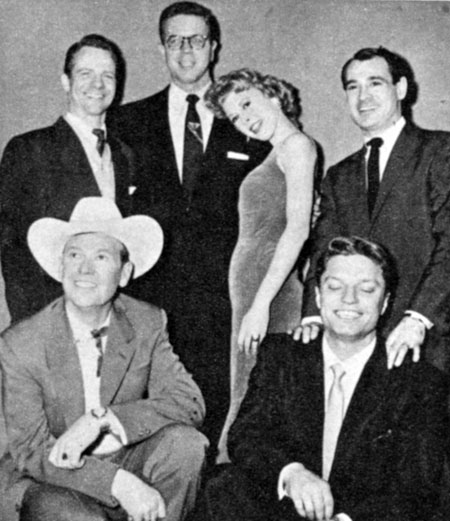 Bill Randle (in glasses) plays host to musical conductor Richard Hayman, actress Barbara Ruick, bandleader Ray Anthony, Rex Allen and Guy Mitchell on Randle's Sunday night WEWS Cleveland TV talkfest in 1956.
Ray "Crash" Corrigan demonstrates his strength with the Meglin Kiddies while filming The Three Mesquiteers "Roarin' Lead" ('36 Republic).
Over a drink, sometime in the late '40s, Johnny Mack Brown and Charles Starrett
discuss western weaponry.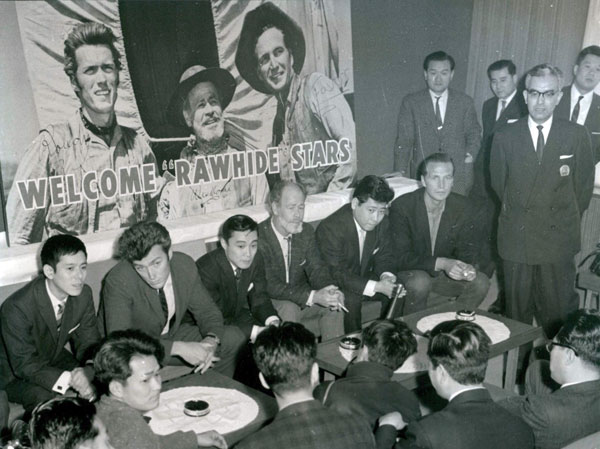 "Rawhide" stars Clint Eastwood, Paul Brinegar and Eric Fleming are welcomed at the Tokyo Palace Hotel in 1962. (Thanx to Terry Cutts.)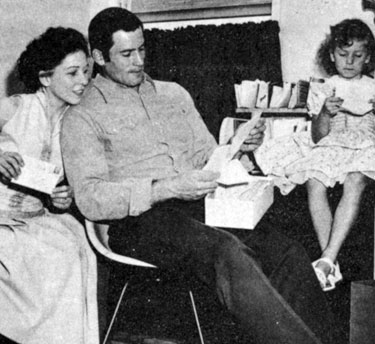 Clint Walker and his wife at the time, Verna Lucille, and daughter Valerie Jean, glance through fan mail in 1958.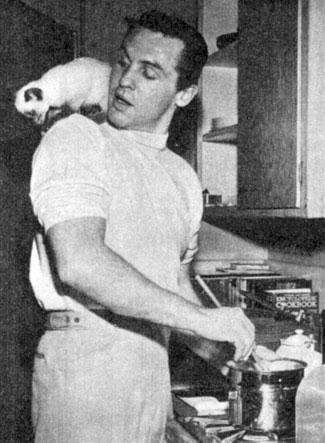 Pat Conway, grandson of actor Francis X. Bushman and star of "Tombstone Territory" as Sheriff Clay Hollister, was also a gourmet cook. Here, lured by the aroma of food, Phaugg, Conway's kitten, perches atop Pat's shoulder in 1959.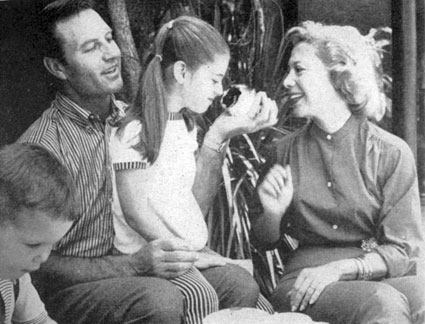 Animal lovers all, George Montgomery, Missy (10), Dinah Shore and Jody (4) in 1959.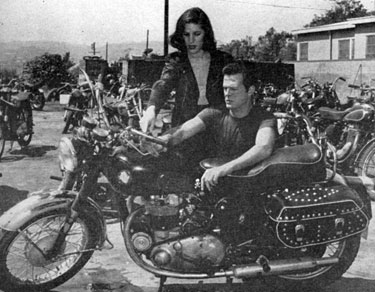 Robert Culp, star of TV's "Trackdown", and wife Nancy, whom Bob courted on this motorcycle.
Richard Boone of "Have Cigarette, Will Smoke".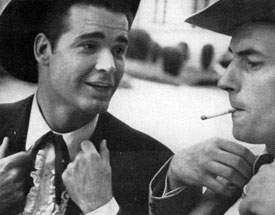 "Those things will kill ya, Brother Bart," says James Garner to Jack Kelly.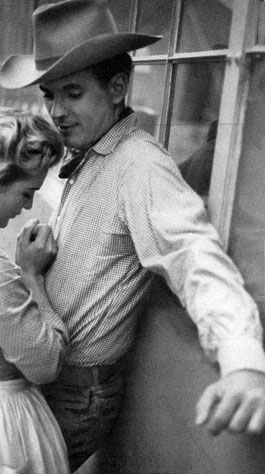 Will "Sugarfoot" Hutchins and unknown admirer in late 1958.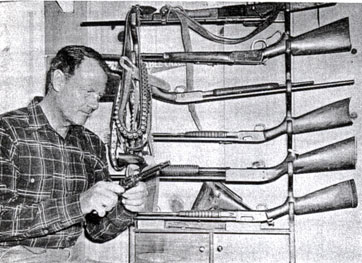 Joel McCrea looks over his ranchhouse gun rack.
Buck and Dell Jones with "friend" in 1926. (Thanx to Jerry Whittington.)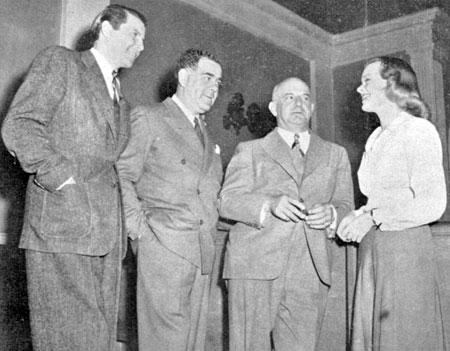 James Ellison, Republic President Moe Siegel, Herbert J. Yates, Republic
Chairman of the Board and Virginia Gilmore on the set of "Mr. District Attorney
in the Carter Case" ('41).
Both Jimmy Hawkins, who became Tagg on "Annie Oakley", and James Griffith worked extensively for Gene Autry and became close friends over the years. On the left they're seen in "Death Valley Days: Solomon and All His Glory" ('53). Ten years later in '63 Jimmy and Jim are seen attending a baseball game at Dodger Stadium. (Thanx to Jimmy Hawkins.)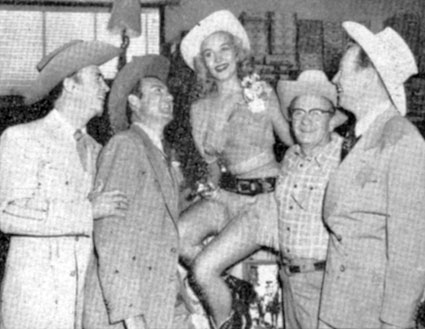 Eddie Dean, Tex Williams, Nudie and Rex Allen look up to the charms of starlet Kathy Marlowe ("The Big Trees", "Bounty Hunter", "Sudden Danger", "Burns and Allen Show", "Five Bold Women"). Circa 1959.
Tris Coffin and Kelo Henderson chat with John Redmond between scenes of "26 Men". Redmond was one of the original members of the Arizona Rangers on which the TV series was based.
Rock Hudson, director Andrew McLaglen and Ed Faulkner on location for "The Undefeated" ('69).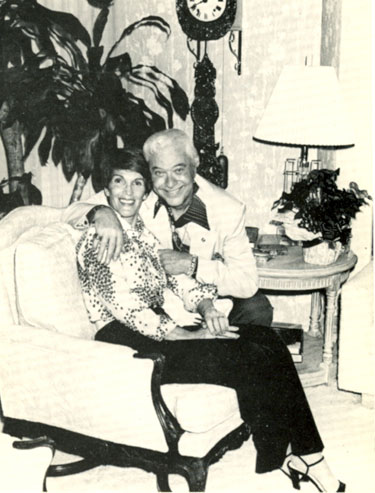 Joanne and Monte Hale in the '80s.