GOD! Am I glad 2020 is over!!!!!
Charlton Heston (right) talks with director Sam Peckinpah while filming
"Major Dundee" ('65) on location.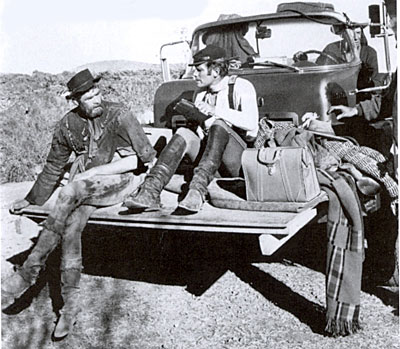 James Coburn chats with Charlton Heston while taking a break from filming
"Major Dundee".
Gary Cooper visits those "Maverick" brothers, Jack Kelly and James Garner,
on the Warner Bros. lot. (Thanx to Terry Cutts.)
A shower of rice greets Phyllis and James Drury as they emerge from the Westwood Hills Christian Church on their wedding day April 27, 1968.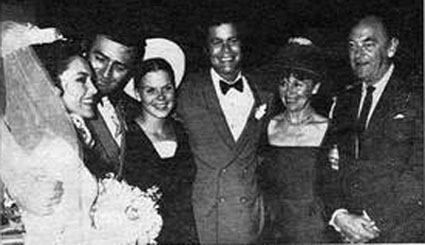 Phyllis and James Drury's wedding reception...(L-R) Phyllis and Jim Drury, Sara Lane, Doug McClure, Jeanette Nolan and John McIntire.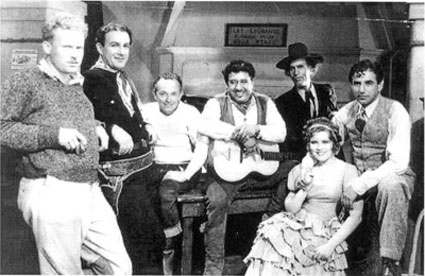 Cast and crew of "Rawhide Mail" ('34 Reliable). (L-R) Unknown, Jack Perrin, Associate Producer Harry S. Webb, Chris-Pin Martin, Nelson McDowell, leading lady Lillian Gilmore, director/producer Bernard B. Ray. (Courtesy Bob Webb family.)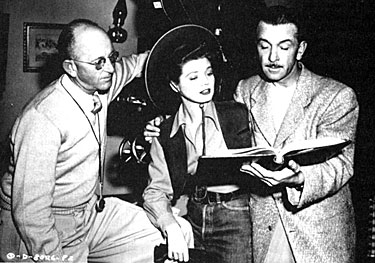 Director John English discusses a scene with Gail Davis while cameraman
Bill Bradford looks on.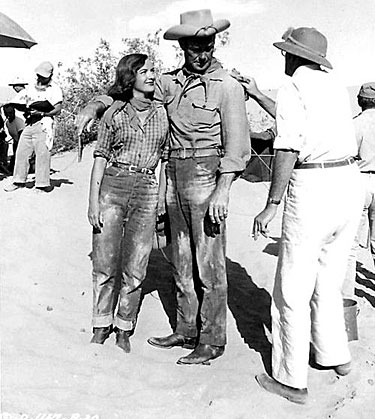 Director John Sturges applies just a bit more dirt to Randolph Scott and Ella Raines before the next scene of "The Walking Hills" ('49).
Director Sergio Leone shows Lee Van Cleef exactly how he wants Van Cleef's shooting stance to be for a scene in "For a Few Dollars More". (Courtesy RetroFan magazine.)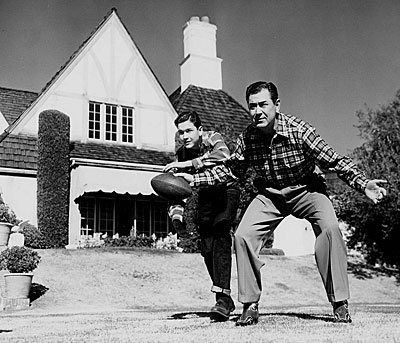 Johnny Mack Brown passes the ball to son John Lachlan as they play backyard football.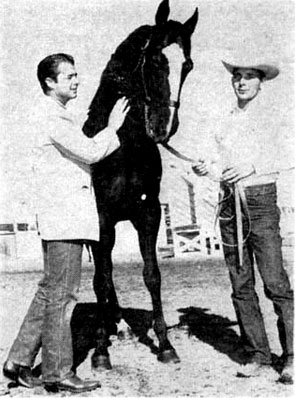 Audie Murphy looks over Mackay Boy, a recent edition to his Quarter racing stable. Trainer Dallas Clark holds the halter.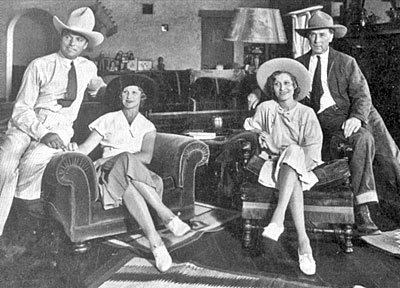 William S. Hart (right) and friends in Hart's home in Santa Clarita, CA.
Roy Rogers and the Sons of the Pioneers during a 1943 Army camp tour through Texas, under the sponsorship of the 8th Service Command of the Southwest, the State of Texas, Interstate Theater Circuit, Theater Owners of Texas and Republic Pictures. Roy and the Pioneers gave 136 performances gratis in 20 days for thousands of troops in Houston, San Antonio, Austin, Temple, Waco, Dallas, Fort Worth, Wichita Falls and Amarillo. An exhausted Rogers developed strep throat that put him in the hospital in Amarillo and left him forever susceptible to colds. (L-R) Bob Nolan, Karl Farr, Pat Brady, Roy Rogers, Hugh Farr, Lloyd Perryman, Tim Spencer with two soldiers.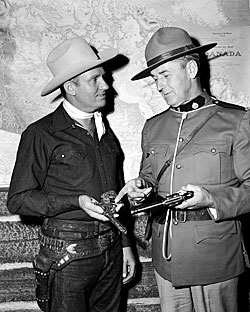 "Sorry Gene, I'm afraid your pistol isn't RCMP regulation."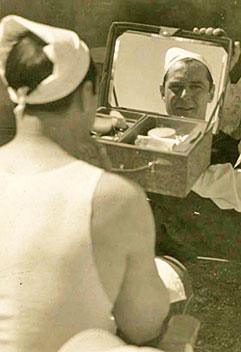 Ken Maynard applies his own make-up on location for another of his great Westerns.
(We are currently the proud owners of that exact make-up kit.)
Peggy Moran dines with Hopalong Cassidy co-star Rand Brooks at the popular
Florentine Gardens in Hollywood. (Thanx to John Bickler.)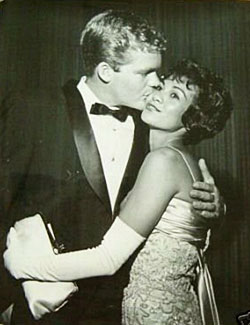 Doug McClure in a warm embrace with wife Barbara Luna.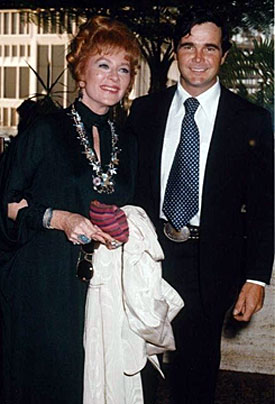 Amanda Blake with "Gunsmoke" co-star Buck Taylor.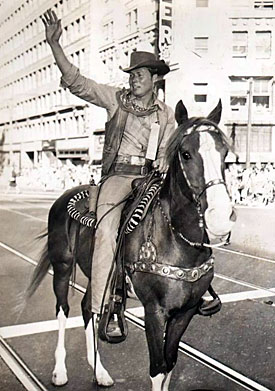 "Laramie" star John Smith waves to a parade crowd.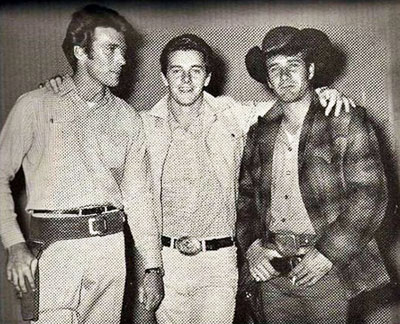 Three of TV's Top Guns: Clint Eastwood, Peter Brown, Robert Fuller.
Director John Ford (center) poses with Marines and members of his crew while carefully cradling one of his arms. While Ford was filming the Japanese attack on Midway on June 4, 1942 a bomb blast riddled his shoulder with shrapnel and knocked him unconscious. He later noted, "I did manage to get the picture."
Buck Jones (far left) and crew on location in Lone Pine, CA, filming Buck's serial "The Roaring West" ('35 Universal).
A meeting of two TV Western icons...The Lone Ranger (Clayton Moore) and The Rifleman (Chuck Connors).