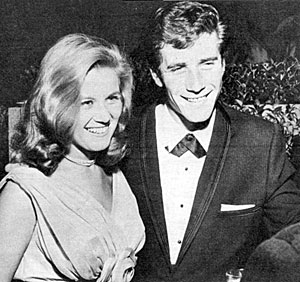 Robert Fuller on a date with Kathy Nolan of "The Real McCoys" in 1962.
Clint Walker with wife Verna and...you tell me!!!!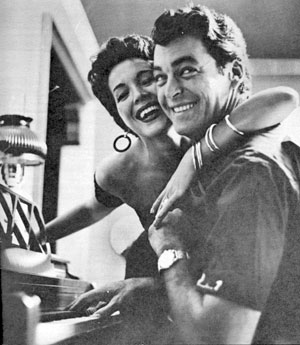 Rory Calhoun with actress/wife Lita Baron in 1958.
Guy Williams practices his swordsmanship for his role as "Zorro".
Jeffrey, age 3, gets some expert instruction in the gentle art of croquet from his Dad, Robert Rockwell aka "The Man From Blackhawk".
Taking a break from shooting TV's "Temple Houston" are Jeffrey Hunter
and Jack Elam.
Rod Cameron out on the town with wife Angela in 1954.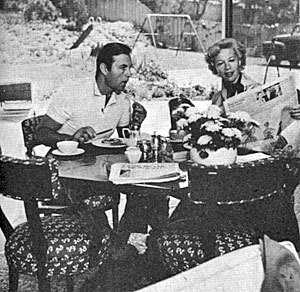 Breakfast with the Montgomerys, George and Dinah, in 1957.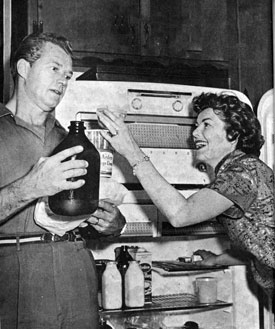 Not sure what husband and wife Bill Williams ("Kit Carson") and Barbara Hale ("Perry Mason") are preparing, but it looks like fun.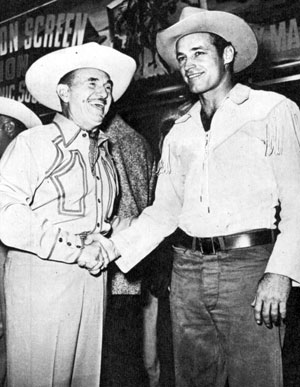 Warner Bros. honcho Jack Warner congratulates Guy Madison on the success of "Charge at Feather River" and now the release of "The Command".
"The Range Rider" aka Jock Mahoney and wife Margaret Field decorate their new San Fernando Valley home in 1953.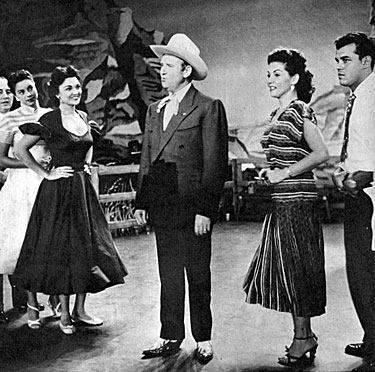 Rehearsing for Gene Autry's appearance on a "Godfrey and Friends" telecast in 1953 are (L-R) Frank Parker, one of the McGuire sisters, Marion Marlowe, Gene Autry, Janette Davis and Julius LaRosa.
Robert Horton and new wife Barbara Ruick in early 1954.
Informal discussion on the set of "South of St. Louis" with Joel McCrea, Alexis Smith and Smith's actor/husband Craig Stevens. ('49)
Lisa Gaye dries Audie Murphy's hair following a scene in Universal's
"Drums Across the River" ('54).
Clint Eastwood and director Don Siegel visit with John Wayne on the
set of "The Shootist".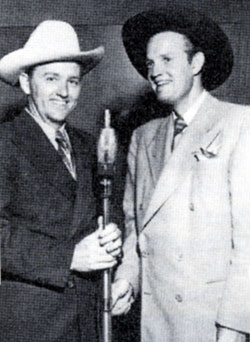 Foy Willing (of The Riders of the Purple Sage) shares a microphone with
Monogram star Jimmy Wakely.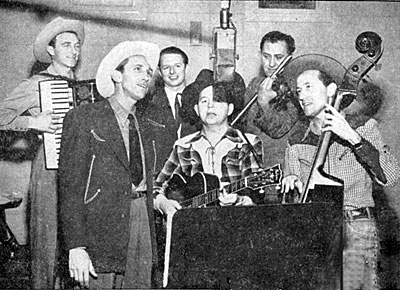 Andy Parker and the Plainsmen. (L-R) George Bamby, Andy Parker, Freddy Haynes, Charley Morgan, Harry Sims and Clem Smith at a Capitol recording session in 1950. Andy and the Plainsmen co-starred in several Jimmy Wakely Monogram Bs.
Eleven year old Jean McKelvy of Bowling Green, OH gets an autograph from Randolph Scott at the Washington D.C. airport on October 1, 1937.
Ten year old Republic child star Sammy McKim in 1937.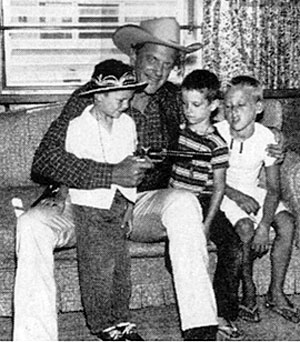 James Arness plays Marshal Dillon with three young boys.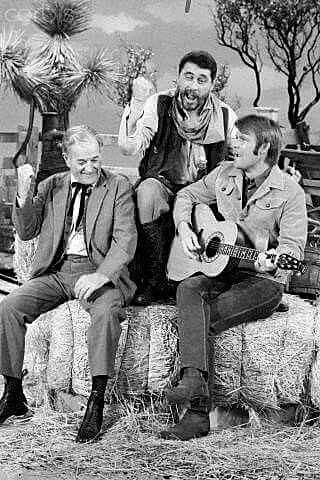 Doc (Milburn Stone) and Festus (Ken Curtis) join in the fun on
"The Glen Campbell Show".
Once Upon a Time in Hollywood...Steve McQueen looks askance at Oliver Reed.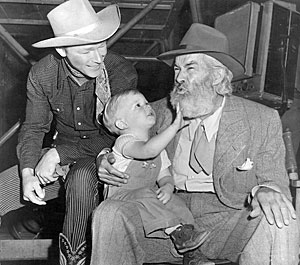 Roy Rogers smiles as his young son Dusty takes a tug at Gabby Hayes' beard.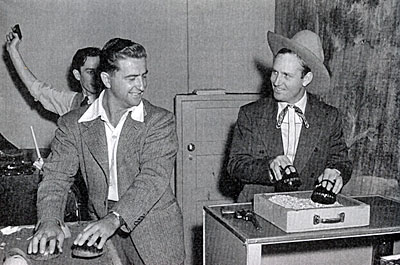 Creating Gene Autry's radio show. Sound effects man Cliff Thorsness uses the old reliable coconut shells to keep up with the hooves of Champion achieved by Gene himself. The box of dirt contains soft dirt and another filled with peddles for a different sound. Note the door behind Gene which is used for everything from entering and exiting the front door of a cabin to entering and exiting Gene's office. Also note the turntable at the left for "needle-drop" sound effects and the other sound effects man, Jimmy Murphy, holding a gun in the air.