Terrific color photo of Gene Autry!
Gene Autry is congratulated by Sid Grauman as Gene is about to be inducted into the Walk of Fame in front of Grauman's Chinese Theatre on Dec. 23, 1949. Gene's were the 89th set of hand prints left in the Forecourt of the Stars. (Thanx to Bobby Copeland.)
The late Peter Breck and his stuntman/double Chuck Bail take a break while filming "Big Valley". (Thanx to Chuck Bail.)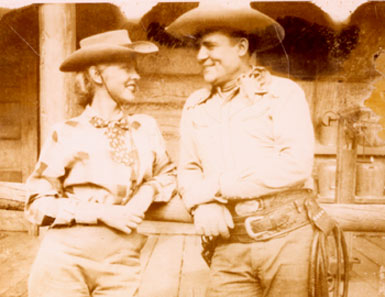 Whip Wilson and Lois Hall chat between takes of "Night Raiders" ('52 Monogram).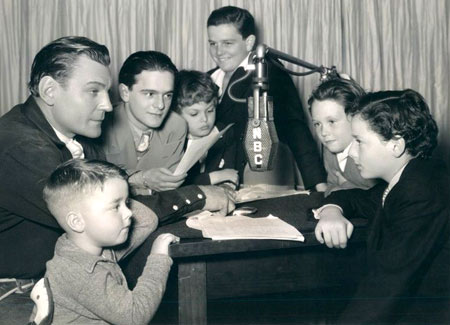 Obviously Buck Jones and group of young actors ready for an NBC radio show, just unsure of this photo's origin. (L-R) Spanky McFarland, Buck Jones, Frankie Darro, Dickie Moore, unknown, unknown, Freddie Bartholomew. (Thanx to Bobby Copeland.)
Cars of the Stars: Buck Jones with his 1933 Packard Special. (Thanx to Jerry Baumann.)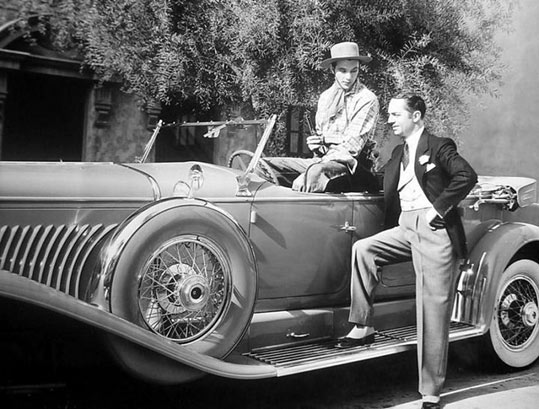 Cars of the Stars: William Powell admires Gary Cooper's Duesenberg. (Thanx to Jerry Baumann.)
Cars of the Stars: A crowd gathers as Tom Mix is stopped for speeding in 1925. (Thanx to Bobby Copeland.)

Cars of the Stars: Tom Mix's restored Super-charged 1937 Cord 812 Roadster built by the Auburn Automobile Company. This is the car in which Mix was killed on October 12, 1940 while traveling about 80mph on Arizona 79 when he crashed in a construction zone. Now owned and restored by Bob White of Scottsdale, AZ.
Cars of the Stars: John Wayne takes Maureen O'Hara for a spin in a 1914 Stutz Bearcat. (Thanx to Jerry Baumann.)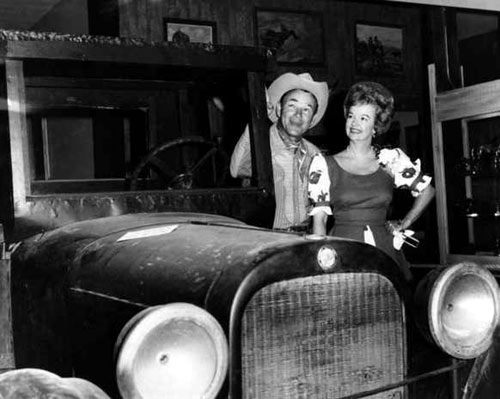 Cars of the Stars: Roy and Dale beside the 1923 Dodge truck that took Roy and his family to California in 1930. Photo taken November 18, 1967, in the RR museum.
Cars of the Stars: Johnny Mack Brown in front of his 16 room English Colonial house in Beverly Hills in early 1946.
Cars of the Stars: Doesn't compare with some of the above, but Rory Calhoun likes it for getting around his ranch.
Cars of the Stars: Roy Rogers rides tall at Indianapolis Motor Speedway in an 1954 Dodge. (Thanx to Frank Story.)
Cars of the Stars: TV Tommy Ivo, a member of the Drag Racing Hall of Fame, poses beside some of the dragsters he built in his garage at the NHRA Motorsports Museum in Florida. Ivo's incredible T-Bucket hot rod is on the left.
Cars of the Stars: Hmmm... Seems Ken Maynard prefers a motorcycle to either a car or his horse Tarzan. (Thanx to Bobby Copeland.)
A later in life photo of Ken and Bertha Maynard. (Thanx to Jerry Whittington.)
Hollywood's "IT" girl, Clara Bow, and husband-to-be, B-Western star Rex Bell, listen intently to court proceedings in January 1931. Bow was being accused by her former secretary, Daisy De Voe, of "large capacities both as to histrionic and alcoholic abilities." De Voe demanded $125,000 from Bow's attorney for "Things I know" according to an asserted confession of De Voe. Bow charged De Voe with theft and misconstruing her life-style. On January 23, 1931 the jury convicted De Voe of grand theft on one of 35 counts Clara had filed against her. Bow and Bell were later married in December '31.
In November 1960 John Wayne slices the first piece of a 30 ft. "The Alamo" premiere cake which recreated the attack of the Alamo.
Terrific shot of Tom Tyler in his prime in the late '20s. (Thanx to Bobby Copeland.)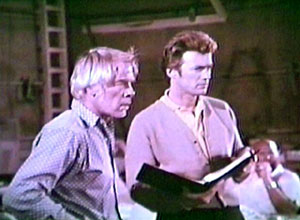 Lee Marvin and Clint Eastwood look over the script for "Paint Your Wagon" while filming in Baker City, OR. (Thanx to Jerry Whittington.)
Nurse Maxine Schulze administers first aid to Ward Bond for a cut he received while on location for "Wagon Train" in 1960.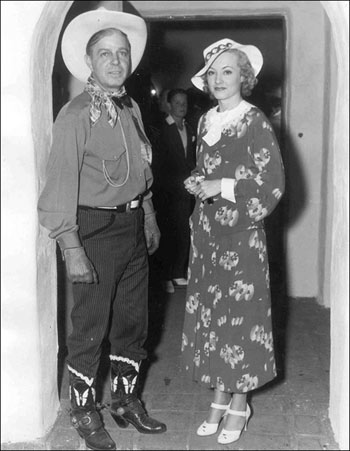 Hoot Gibson and leading lady June Gale in 1935. The pair filmed "Rainbow's End" for Fist Division together and were romantically linked for a spell. June was one of four Gale sisters—June, Jane, Joan, Jean—who appeared in vaudeville, George White's Scandals and at the Palladium in London.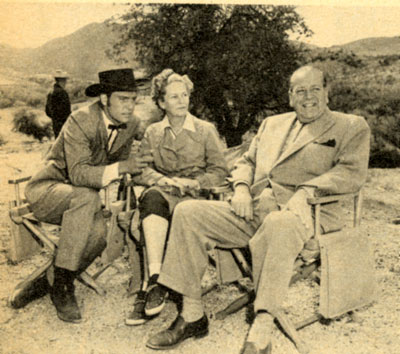 Robert Wagner relaxes with his parents between scenes of "Broken Lance" ('64 20th Century Fox).
Hopalong Cassidy signs an autograph for Georgia, a young patient at the Shriner's Hospital for Crippled Children in Chicago in 1950.