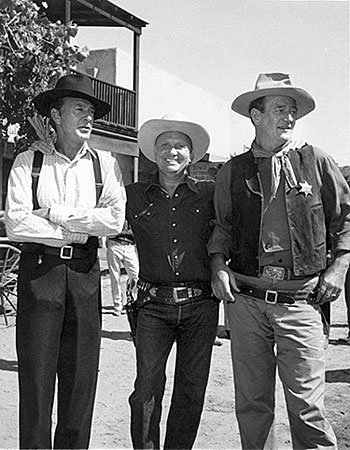 Gene Autry hosted Gary Cooper, John Wayne and many others on "Wide Wide World: Westerns" on June 8, 1958. (Thanx to Bobby Copeland.)
A combination of TV cowboys, singers, sports stars and actors at the 1962 Hollywood Stars baseball game at L.A. Dodger stadium. Top Row (L-R): Dean Martin, Chuck Connors, Joe Louis, Phil Silvers, Nat King Cole, Archie Moore, Pat Boone, Rafer Johnson. Bottom Row (L-R): Johnny Mathis, Peter Brown, Michael Dante, John Beradino, Jay North, Jack Warden, Max Baer Jr. (Thanx to John Bickler.)
TV's younger set in 1956. (L-R seated): Ronald Keith, 12 (Leroy on "Great Gildersleeve"), Jeri Lou James, 10 (Josie on "It's Always Jan"). (L-R standing): Barry Curtis, 12 (Ricky North on "Champion"), Bobby Diamond, 11 (Joey on "Fury"), Ricky Vera, 10 (Benny Romero on "Our Miss Brooks"), Donald Keeler, 11 (Porky Brockway on "Lassie"), Keena Nom Keena, 13 (Keena on "Brave Eagle"), Martin Huston, 12 (Skipper on
"Jungle Jim").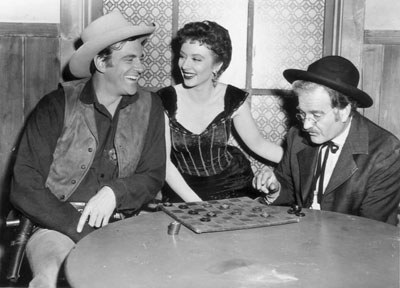 Matt (James Arness) and Doc (Milburn Stone) engage in a friendly game of checkers between "Gunsmoke" scenes as Miss Kitty (Amanda Blake) looks on.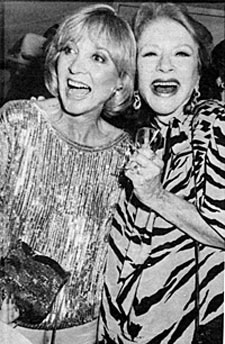 Beverly Garland and Amanda Blake enjoy a good laugh at the Golden Boot Awards reunion in 1966.
"Lawman" John Russell, a member of the NRA, was a gun collector for about 25 years as of 1959 when this photo was taken. His wife, Renata collected butterflies.
She had about 200.
Clint ("Cheyenne") Walker returns to the Warner Bros. backlot in April '59 after his prolonged walkout.
"Maverick" brothers Jack Kelly and James Garner with producer/writer Roy Huggins.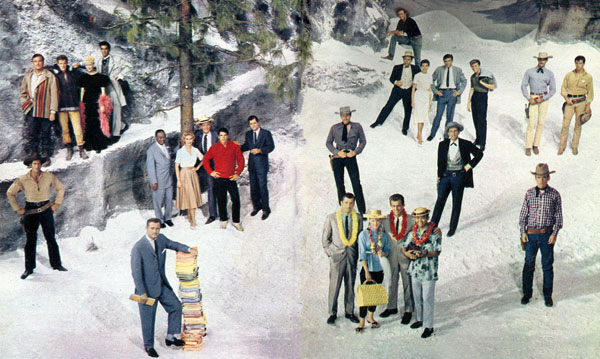 Producer Bill Orr (foreground beside stack of scripts) with the stars of 10 Warner Bros. TV series in 1960. (L-R) Clint Walker ("Cheyenne"), Jeff York, Dorothy Provine, Ray Danton ("The Alaskans"), Eddie Cole, Arlene Howell, Andrew Duggan, Van Williams, Richard Long ("Bourbon Street Beat"), Wayde Preston ("Colt .45"), Anthony Eisley, Connie Stevens, Robert Conrad, Poncie Ponce ("Hawaiian Eye"), Ty Hardin ("Bronco"), Louis Quin, Jacqueline Beer, Efrem Zimbalist Jr., Edd Byrnes ("77 Sunset Strip"), Jack Kelly ("Maverick"), John Russell, Peter Brown ("Lawman") and Will Hutchins ("Sugarfoot").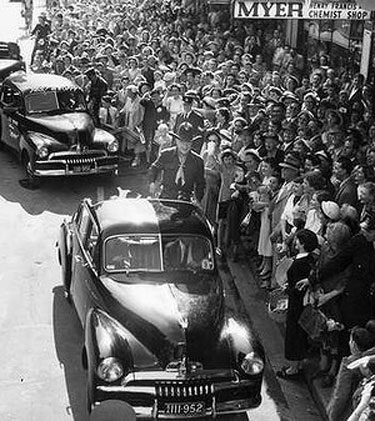 William Boyd—Hopalong Cassidy—is surrounded by fans while visiting Melbourne, Australia in 1954.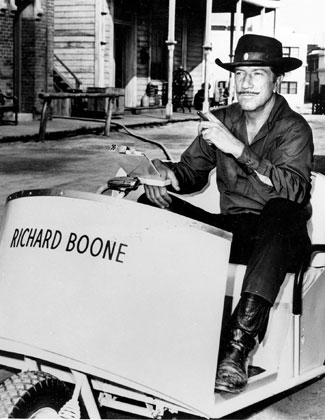 No horsin' around for Paladin! Richard Boone gets around the "Have Gun Will Travel" backlot in a golf cart.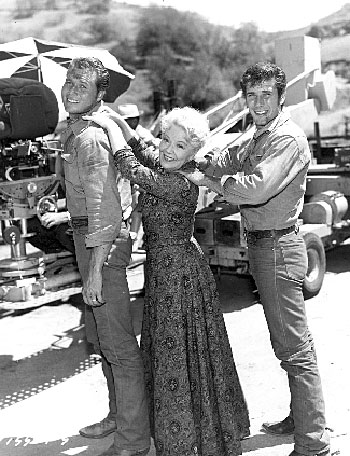 John Smith, Spring Byington and Robert Fuller having fun inbetween scenes
of "Laramie".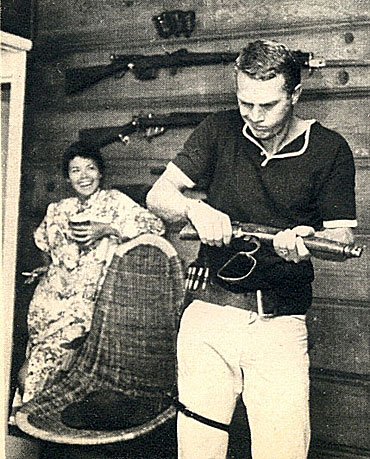 Steve McQueen learns how to handle his Mare's Laig for his new "Wanted Dead or Alive" series as wife Neile Adams laughs in the background.
Ward Bond conducts a little "Wagon Train" business from his home office in '59.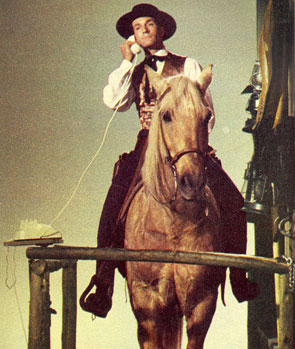 Is Hugh O'Brian "phoning-in" his performance for this week's episode of "Wyatt Earp"? March, 1959.
"The Texan" Rory Calhoun and wife Lita Baron visit Spring Byington. Rory guested on Spring's "December Bride".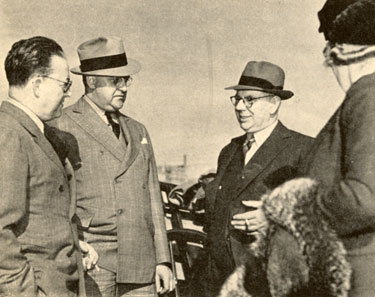 Scott R. Dunlap, Monogram Vice President in charge of production, and W. Ray Johnston, President of Monogram, listen attentively to Stuart Doyle, well known Australia exhibitor who gives them information about the theater situation in Australia.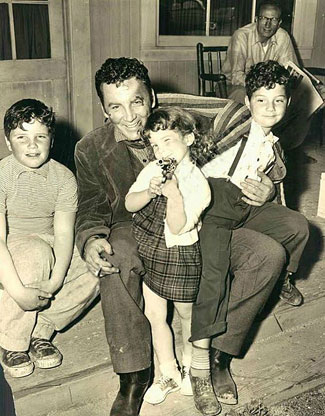 Cameron Mitchell of "The High Chaparral" with three of his children, Freddy, Camille and Charles (Chip). Taken while Mitchell was filming "Tension at Table Rock" in '56. (Thanx to Marianne Rittner-Holmes.)
Filming a scene for "The Searchers" with John Wayne in front of the Three Sisters rock formation in Monument Valley. (Thanx to Jerry Whittington.)
Stuntman/actor Neil Summers (kneeling) gets ready to film a scene at Old Tucson for "Gunsmoke: Matt's Love Story".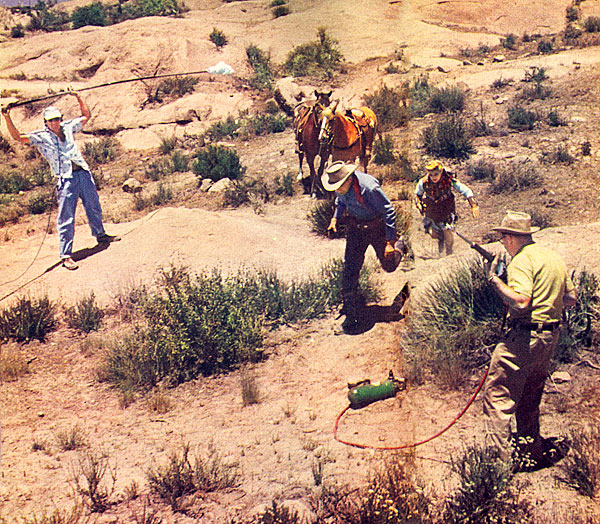 Filming an "Annie Oakley" action scene. Brad Johnson and Gail Davis run up a hill. The sound man in on the left, the prop man on the right will fire earth pellets to simulate dust kicked up by bullet shots.
Filming "Merinda", an episode of "Death Valley Days" (February '56) with Ann McCrea.
Tyrone Power and Randolph Scott relaxing on the set of "Jesse James" ('39).
(Thanx to Bobby Copeland.)