Buck Jones, 50, was among the over 480 victims of the tragic Cocoanut Grove nightclub fire in Boston, MA, on November 28, 1942. Buck died November 30th of second and third degree burns. Below are three photos taken after the fire. (Thanx to Jerry Whittington.)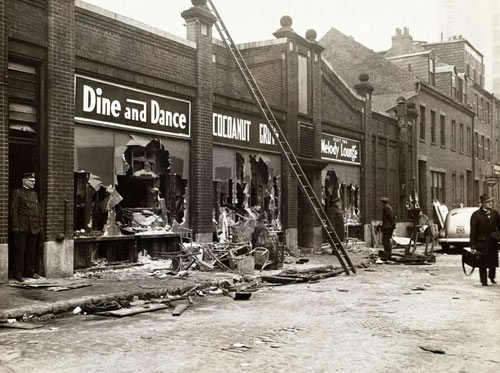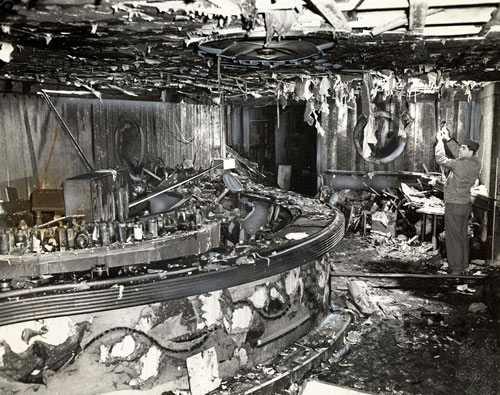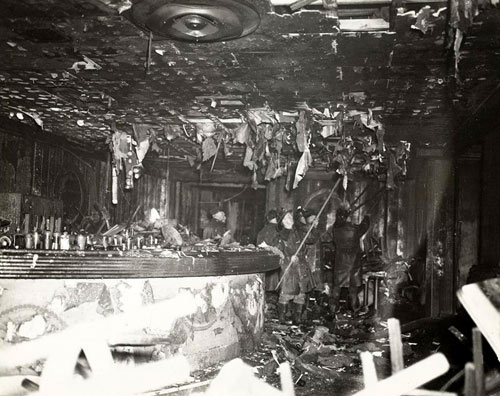 For the full details of the fire, Jones' death, and the aftermath click here.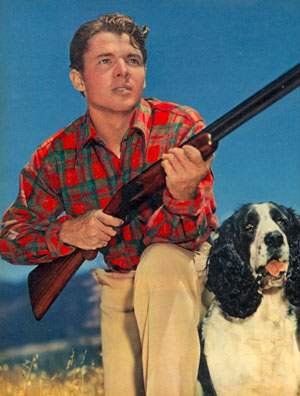 Skeet shooting with his dog was one of Audie Murphy's favorite pastimes.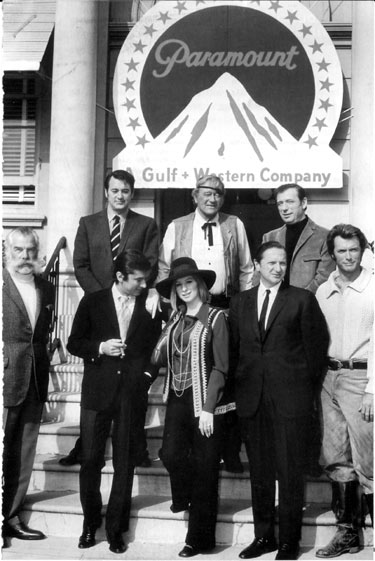 Paramount executives pose with stars that were making productions on the studio lot in 1969. (Front row, l-r) Lee Marvin ("Paint Your Wagon"), Paramount VP Robert Evans, Barbra Streisand ("On a Clear Day You Can See Forever"), Paramount VP Bernard Donnenfeld, Clint Eastwood ("Paint Your Wagon"). (Top row, l-r) Rock Hudson ("Darling Lili"), John Wayne ("True Grit"), Yves Montand ("On a Clear Day You Can See Forever"). (Thanx to Frank Story.)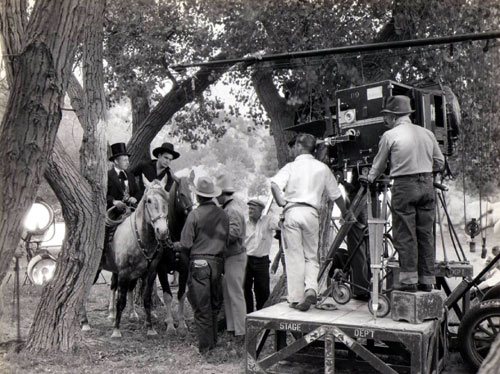 Buster Crabbe and Raymond Hatton filming "Arizona Raiders" ('36 Paramount). (Thanx to Bobby Copeland.)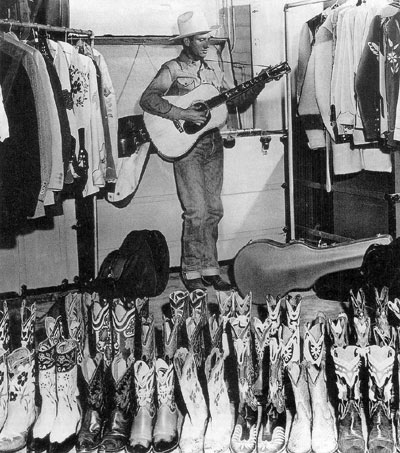 Gene Autry in his clothes closet. (Thanx to Jerry Whittington.)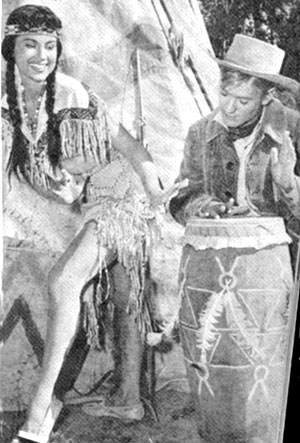 Will "Sugarfoot" Hutchins beats a few hot licks on a war drum while Lisa Montell chants from "The Indian Love Song".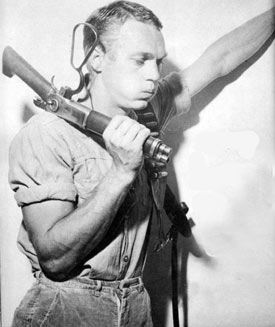 Steve McQueen relaxes with his Mare's Laig in between scenes of "Wanted Dead or Alive".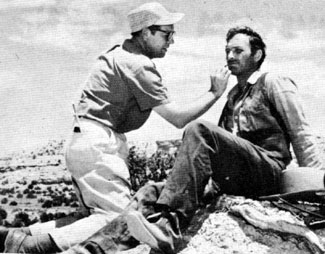 The makeup man touches up Robert Loggia for a scene in Disney's "Nine Lives of Elfego Baca".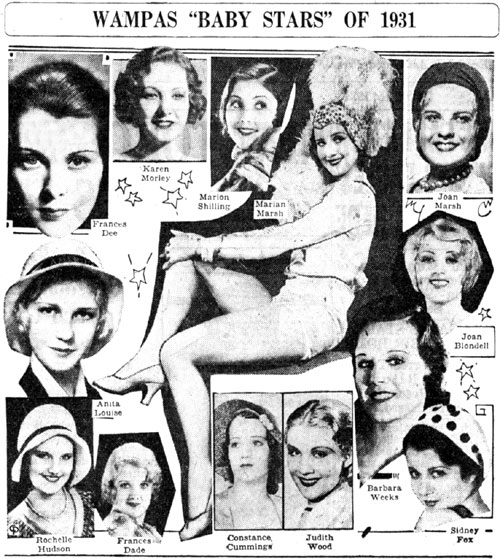 The Wampas Baby Stars of 1931. Most of these ladies later co-starred in westerns. Can you name all the westerns they were in?
Fuzzy St. John seems to be saying, "How come you get to ride on the motorcycle?" Unsure of the city in which this law enforcement group photo was taken. Possibly Thomasville, NC. (Thanx to Jerry Whittington.)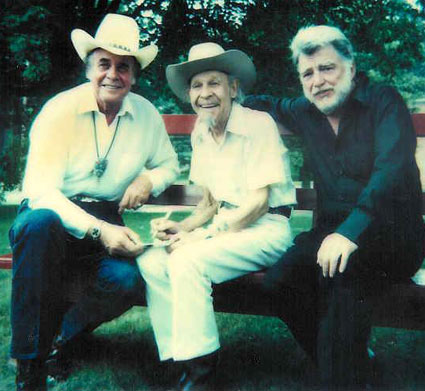 Sunset Carson, minor player Bill Cody and Lash LaRue which making "Alien Outlaw" (1985). (Thanx to Jerry Whittington.)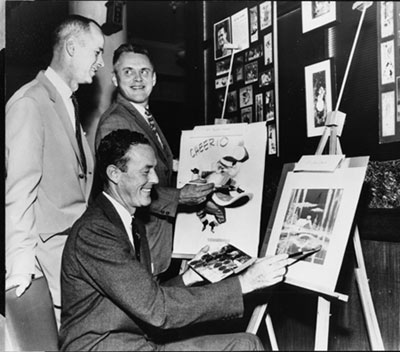 James Warren made several Zane Grey westerns at RKO. Before, during and after his film work he worked as a commercial illustrator. This photo is from 1963. For the complete James Warren story click here.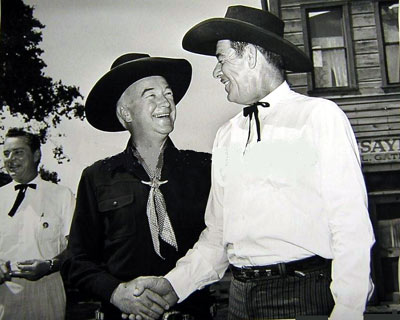 William Boyd as Hopalong Cassidy shakes hands with screen badman Glenn Strange. Russell Hayden in the background. (Thanx to Bobby Copeland.)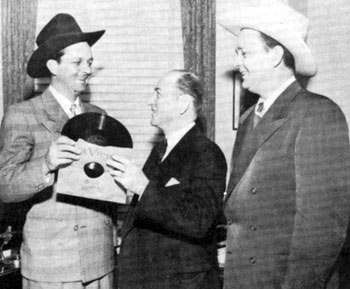 Bill (Cowboy Rambler) Boyd watches as his brother Jim presents an official recording of "Palace in Dallas" to Mayor Rogers of Dallas, TX, sometime in the late '40s.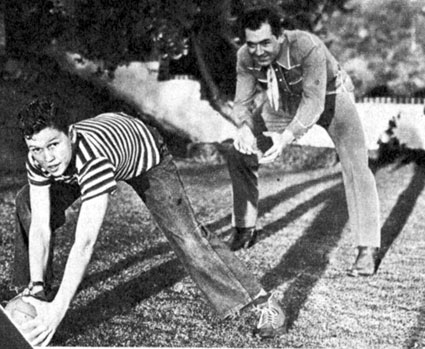 In March 1946, Johnny Mack Brown shows his 12 year old son Lachlan some of the moves that made Johnny famous in the Rose Bowl game of 1925.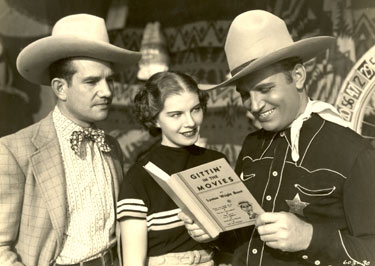 Already a star by 1936 when Gene Autry was making "The Old Corral", he gets a chuckle out of the book GITTIN' IN THE MOVIES while his leading lady Hope Manning and Cornelius Keefe look on.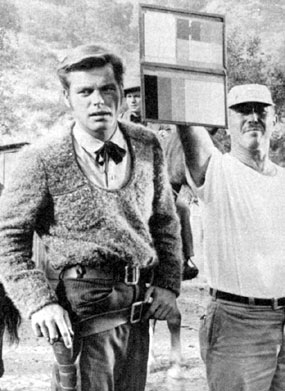 Robert Wagner prepares for a scene in "The True Story of Jesse James" ('57).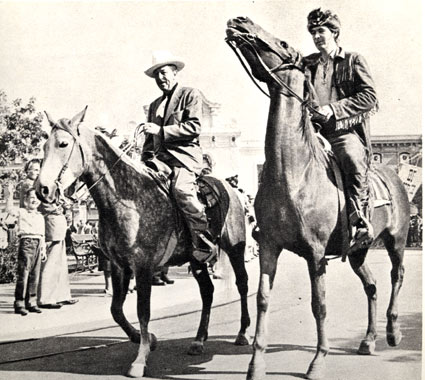 Fess Parker, in his Davy Crockett garb, takes a ride around Disneyland with Uncle Walt Disney.
Clint "Cheyenne" Walker easily lifts a skating starlet at a late '50s Icecapade show. (Thanx to Terry Cutts.)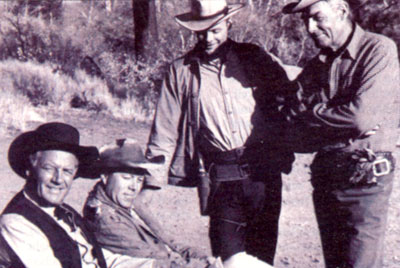 "Ride the High Country" stars Joel McCrea, producer Richard E. Lyons, Ron Starr and Randolph Scott on location for the '62 classic western.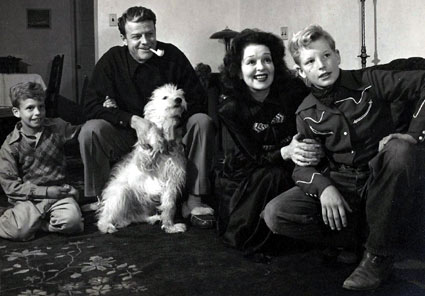 Rex Bell, Clara Bow and family in the '40s. (Thanx to Bobby Copeland.)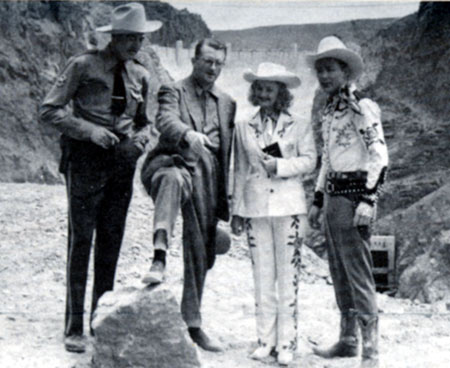 At Boulder Dam, director Frank McDonald (second from left) explains the next scene in Republic's "Heldorado" ('46) to LeRoy Mason, Dale Evans and Roy Rogers.