One of the most stunning publicity pics ever taken of Clayton Moore as The Lone Ranger. Taken at Corriganville. (Thanx to Neil Summers.)
Jay Silverheels as Tonto rides into Corriganville, stops at the hitch rail and is ready for action in these gorgeous early publicity shots for "The Lone Ranger". (Thanx to Neil Summers.)
Plaque erected June 24, 1968, on the "Bonanza" sound stage thanking NBC and Paramount Pictures for making possible "The World's most successful television show" on its 10th anniversary. Dedicated to producer David Dortort and (left to right) Dan Blocker, Michael Landon, Lorne Greene and David Canary.
Eleanor Roosevelt and Gene Autry in a photo taken January 30, 1940, during a week in Washington, D.C., celebrating President Roosevelt's 58th birthday. (Is that Edward G. Robinson on the left?) Other celebrities invited to Washington for the ten day celebration included Olivia de Havilland, Mickey Rooney and Tyrone Power. Gene's January 28 "Melody Ranch" broadcast originated from the Press Club auditorium where he was joined by Eleanor in a patriotic tribute. (Thanx to Neil Summers.)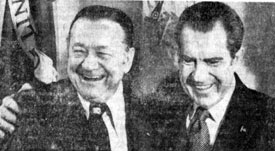 Tex Ritter, and wife Dorothy Fay, were guests of President Richard Nixon in April 1970 when a country music show was staged for President and Mrs. Richard Nixon.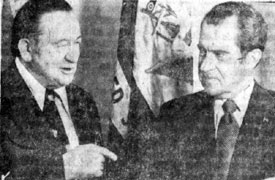 On December 14, 1973, Tex Ritter and others were at the White House to present President Richard Nixon with a copy of the album "Thank You, Mr. President". Produced by the Country Music Association, the album featured many big county hits interspersed with excerpts from President Nixon's speeches and narrated by Tex. Only two albums were made...one was given to the President, the other went to the CMA Hall of Fame.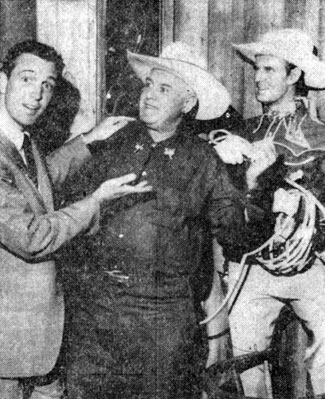 Jack Linkletter interviews Ken Maynard in front of a wax figure of Ken for Linkletter's "Here's Hollywood" Philadelphia, PA, TV show on July 26, 1962.
Wild Bill Elliott loads bottles onto the Republic water wagon in this publicity shot taken for "The Fabulous Texan" in 1947.
A conversation between John Wayne and director John Ford. (Thanx to Bobby Copeland.)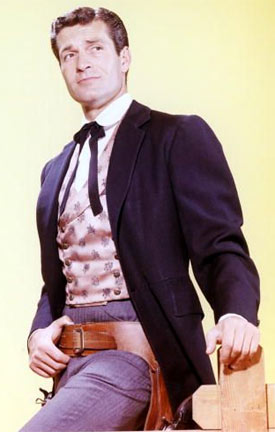 Terrific pose of Hugh O'Brian as Wyatt Earp.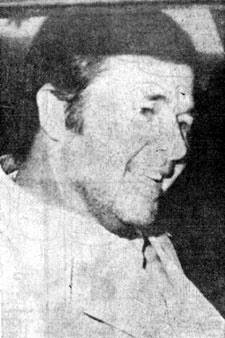 46 year old Audie Murphy manages a smile on May 29, 1970, after his courtroom arraignment on assault charges stemming from a squabble with a dog trainer.
Taken on the set of TV's "Brave Eagle", Visiallia Bahnimtewa, the cousin of Tony Numkena who played Keena on the series, poses with noted extra Herman Hack.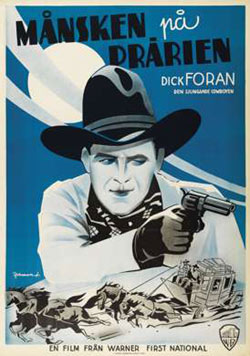 Swedish poster of Dick Foran in "Moonlight on the Prairie".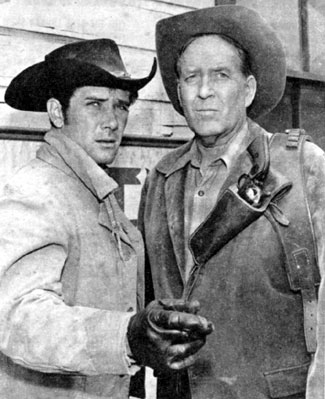 Dick Foran (right) co-starred with Robert Fuller on the "Laramie" episode "Double Eagles" in 1962.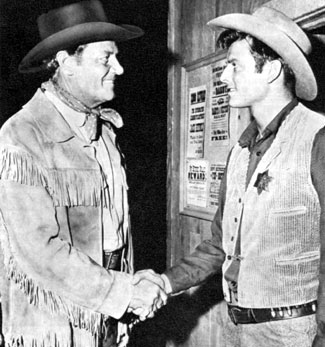 Joel McCrea and his son Jody appeared together on NBC's 30 minute "Wichita Town" from September 30, 1959 to April 6, 1960.
Hopalong Cassidy and a youngster fan poses with famous striptease artist Sally Rand at the Cotton Bowl in Dallas, TX, on 10/10/52. (Thanx to Bobby Copeland and Billy Holcomb.)
Chuck Connors and Kamala Devi take a break from filming "Geronimo" ('62 U.A.) to read a bit of James A. Michner's HAWAII. Connors and Devi fell in love while making the movie and were married from April 10, 1963 to 1972. (Thanx to Neil Summers.)
Clu Gulager as Deputy Ryker and Diane Roter as Jennifer take a break from filming "The Virginian" during the '65-'66 season.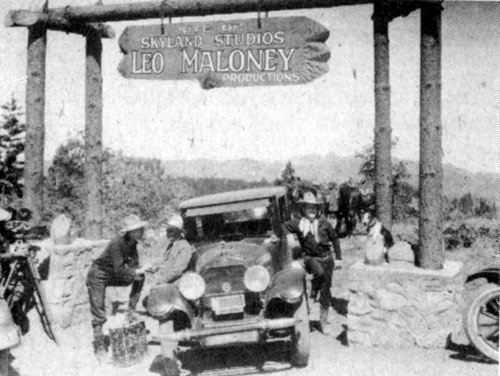 After leaving Pathe in early 1928, silent star Leo Maloney formed his own production company, Skyland Studios, and produced five silents starring Don Colman for Pathe release in 1928. Maloney in on the right with his dog Bullet.
Filming a "Wagon Train" episode in the Conejo Valley west of Los Angeles. Robert Horton and Ward Bond can be seen left of the rock formation. Frank McGrath leans against the wagon. (Thanx to Terry Cutts.)
Diane Baker and Robert Horton take a break from filming "The Dangerous Days of Kiowa Jones", an MGM 1966 TV movie.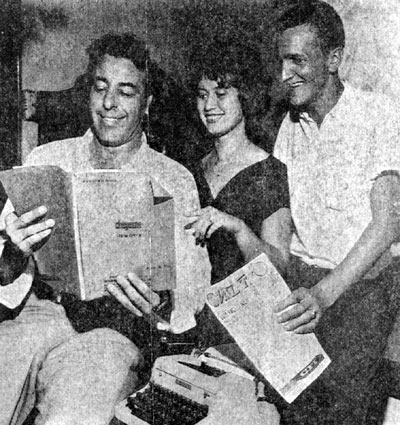 Noted stuntman Fred Carson (left) visits with his brother-in-law, Glen Null, and Carolyn Outland in Bristol, TN, on September 6, 1961.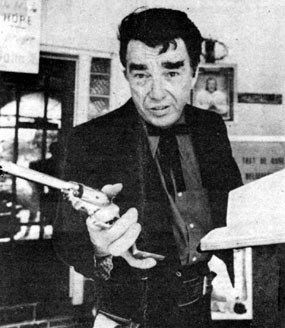 By November 1973 Lash LaRue, 54, was rounding up maverick souls and whipping drunks into line for the Lord at Mission Power Headquarters and Home of the Apostles in St. Petersburg, FL.