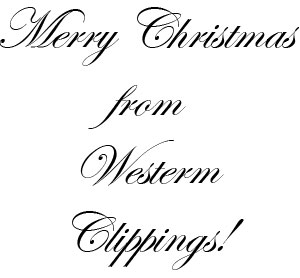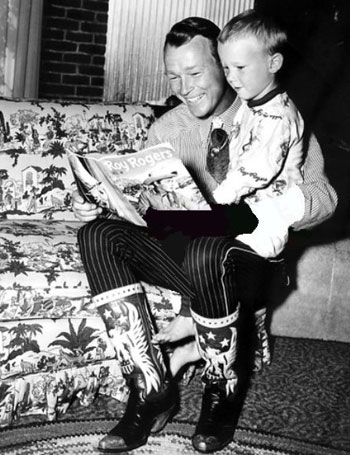 Christmastime as Roy reads one of his comic book adventures to son Dusty.
(Thanx to Jerry Whittington.)
Hopalong Cassidy (Bill Boyd) pays a Christmastime visit to a children's hospital.
(Thanx to Jerry Whittington.)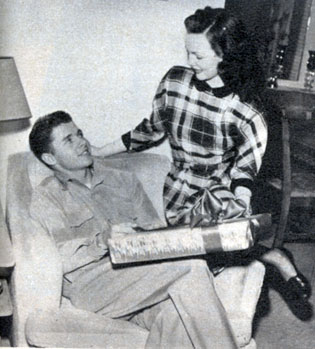 Christmas, 1948. Wanda Hendrix presents Audie Murphy's Christmas gift. The couple were
married on February 8, 1949.
Gene Autry rides a 1949 Christmas trail with Santa Claus. (Thanx to Autry Entertainment.)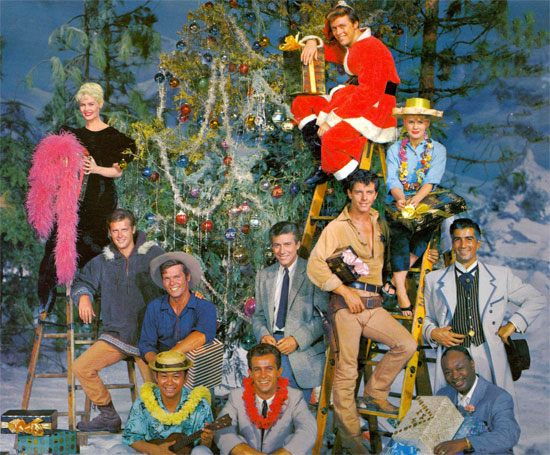 The photo cover to the 1959 Warner Bros.' "We Wish You a Merry Christmas" LP. (L-R: bottom row) Poncie Ponce and Robert Conrad of "Hawaiian Eye", Eddie Cole of "Bourbon Street Beat", (middle row) Roger Moore of "The Alaskans", Ty Hardin of "Bronco", Efrem Zimbalist Jr. of "77 Sunset Strip", Peter Brown of "Lawman", Ray Danton of "The Alaskans", (top row) Dorothy Provine of "The Alaskans", Edward Byrnes of "77 Sunset Strip", Connie Stevens of "Hawaiian Eye". Each star sang one of the 14 songs on the LP and all joined in for "We Wish You a Merry Christmas".
(Thanx to Neil Summers.)
The camera crew sets up a shot with Cochise (Michael Ansara) for "Broken Arrow: The
Sisters" (1958). (Thanx to Neil Summers.)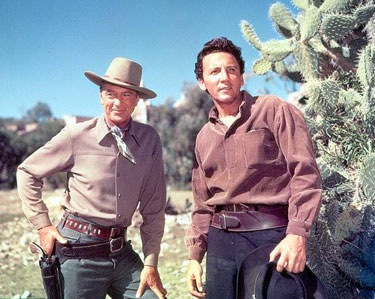 Gary Cooper and Cameron Mitchell take a break from filming "Garden of Evil" ('54). (Thanx
to "High Chaparral"'s Marianne Rittner-Holmes.)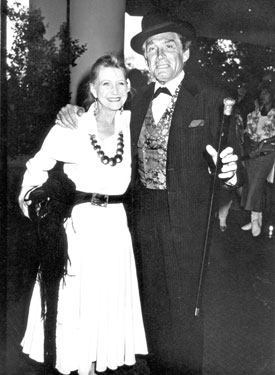 Gene Barry ("Bat Masterson") and wife Betty arrive at the August 1986 Golden Boot Awards
at the Westwood Marquis Hotel in L.A. (Thanx to Neil Summers.)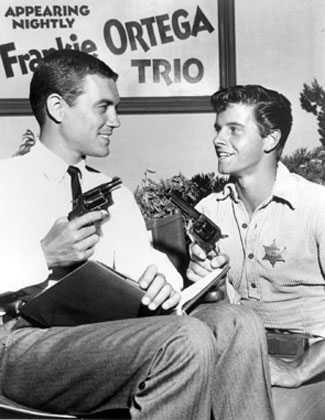 Peter Brown, Johnny McKay on "Lawman", visits the Warner Bros. "77 Sunset Strip" set to compare firearms with Roger Smith, Jeff Spencer on that series. (10/30/59) (Thanx to Neil Summers.)
Johnny Crawford demonstrates the art of rope twirling to Dick Clark on "American Bandstand".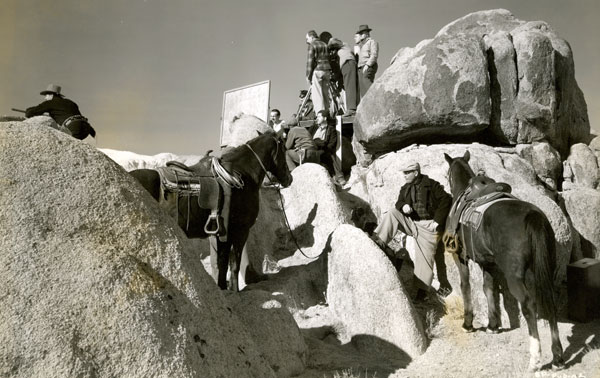 The RKO camera crew sets up a shot with badman Harry Woods (left) in the Alabama Hills of
Lone Pine, CA, for "Sunset Pass" ('46) starring James Warren.
Hugh ("Wyatt Earp") O'Brian talks with John Mountjoy, special representative of the British publication WESTERN FILM AND TV ANNUAL. (Thanx to Terry Cutts.)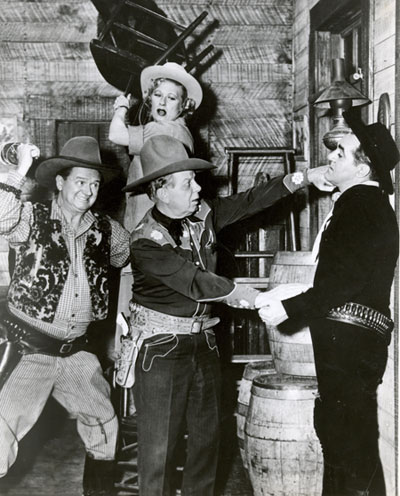 Hoot Gibson delivers a punch to Jim Backus as Joan Davis and Wally Brown come at Hoot
from behind on Joan's popular "I Married Joan" sitcom ('52-'55).
Comedians Hugh Herbert (left) and Billy Gilbert (right) join hands with Glenda Farrell and her son Tommy Farrell while Tommy was performing in "Winged Victory" ('44) on Broadway. Tommy later co-starred in Westerns with Don Barry, Whip Wilson and others.
Publicity shot of Kirby Grant who was starring in Universal Westerns in 1946.
In 1949 Buster Crabbe went to work as pool spokesman and salesman for then Edison, NJ, based pool and spa company Cascade Pools. He continued to promote the company until his death in 1983.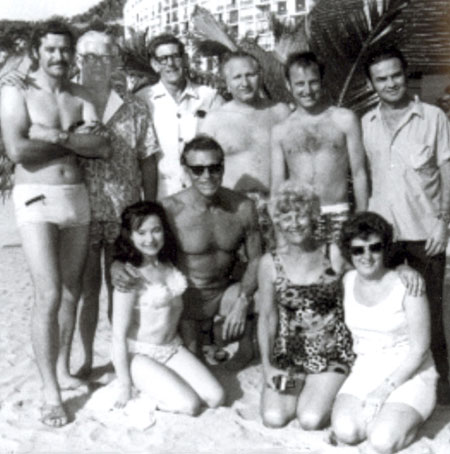 Cascade Industries Inc. dealer convention group photo in Puerto Vallarta, Mexico, in November 1969. Buster Crabbe was listed as V.P. Sales, U.S.A.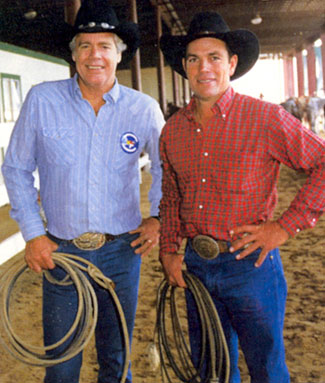 Rodeo rider Phil Lyne (right) with team roping partner Doug McClure ("The Virginian", "Overland Trail", "Barbary Coast") at the 1986 Bum Phillips Invitational Celebrity Roping in Houston, Texas.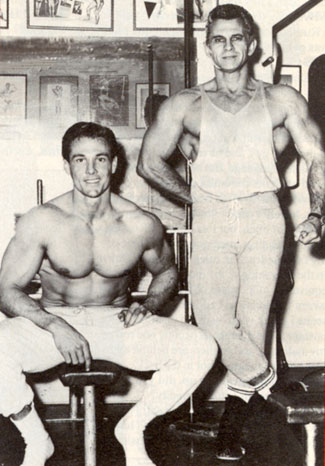 6 ft. 2 in., 218 lb. William Smith ("Laredo") at Vince's Gym with the Iron Guru Vince Gironda.
A true gentleman, Robert Wolders (Ranger Erik Hunter on "Laredo"), the longtime companion of Audrey Hepburn, seen here escorting the actress turned UNICEF Goodwill Ambassador to a ceremony in her honor hosted by the Film Society of Lincoln Center.
Robert and sisters Sherron and Beverly Moser with "Brave Eagle" Keith Larsen.
Brothers...Kermit and Ken Maynard.
Kelo Henderson's inscription describes the picture. Kelo was Ranger Clint Travis on
"26 Men" '57-'59.
A compliment of Indian actors with Nick Adams ("The Rebel"). (L-R) Iron Eyes Cody, Chief Yowlachie, Connie Buck, Rodd Redwing, Adams, John War Eagle, Shooting Star, Dawn and Eddie Little Sky, Foster Hood.