Clint Walker and Angie Dickinson pose for the cameras while filming "Cheyenne: War Party" in '57.
Look! James "Maverick" Garner takes to the dance floor. In the last photo he seems to be saying, "Okay, so I got a little carried away. Who cares. It was fun being Fred Astaire for a while." (Thanx to Terry Cutts.)

All these photos are from PARADE, the Sunday newspaper supplement, from March 22, 1953. The color photo was on the cover showing Jock Mahoney bulldogging Dick Jones from his horse. The first strip of photos shows Dickie doing a croupier mount and Jocko doing a fork jump over the horse's neck into the saddle. The second group of photos shows Jocko coming at Dickie from his left side and bulldogging him off the horse.
Setting up a scene for "The Rounders" ('65 MGM) in Sedona, AZ, with Glenn Ford, Henry Fonda and Chill Wills.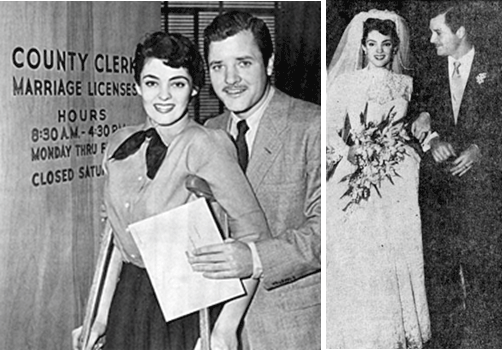 Suzan Ball, the 21 year old actress whose career was interrupted by the amputation of her right leg, is shown on March 31, 1954, at Santa Monica, CA, obtaining a wedding license with Richard Long ("Big Valley"). The second photo was taken immediately after their wedding on April 11, 1954. Suzan managed to walk down the aisle without the aid of crutches having spent several days before the marriage practicing with her new artificial plastic leg. Among the 200 wedding guests were Jeff Chandler, Julie Adams and Mala Powers.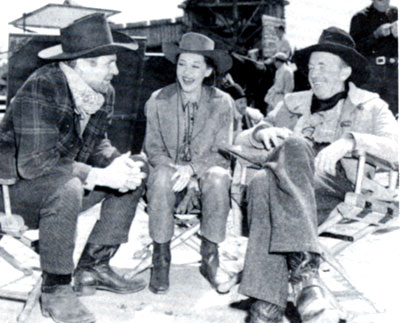 Jim Davis, Adrian Booth and Walter Brennan on the set of Republic's "Brimstone" ('49).
Robert Horton (Flint McCullough of "Wagon Train") with his pet poodle Jamie. Circa 1959. (Thanx to Terry Cutts.)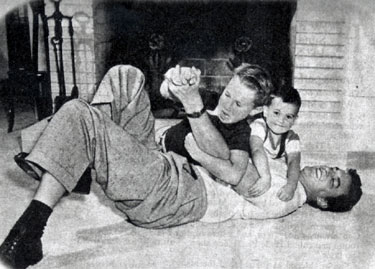 James Arness ambushed at home by sons Craig and Rolfe. (Thanx to Terry Cutts.)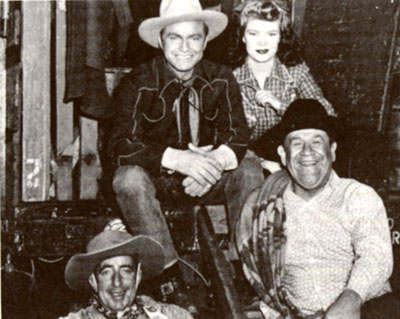 Taking a break from filming Republic's "Outlaws of Santa Fe" ('44) are Don Barry, Helen Talbot, Wally Vernon and noted Indian athlete Jim Thorpe.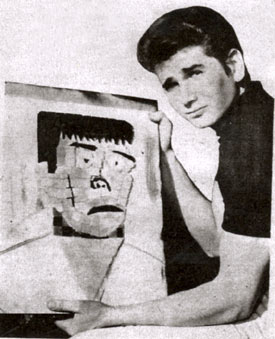 Michael Landon of "Bonanza" is very proud of his "Crying Frankenstein" mosaic. (Thanx to Terry Cutts.)
Red Ryder creator Fred Harman and his model for Little Beaver, 13 year old Samuel Trujillo of Pagosa Springs, CO, in March '53. Harmon was readying to leave his home in Albuquerque, NM, for a six week USO tour of camps in England, France, Germany, Italy, Turkey and Africa. He was to give a series of chalktalks on the USO show.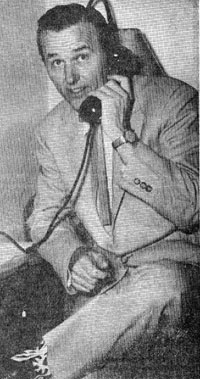 Jimmy Wakely in Albuquerque for the New Mexico State Fair in October '59.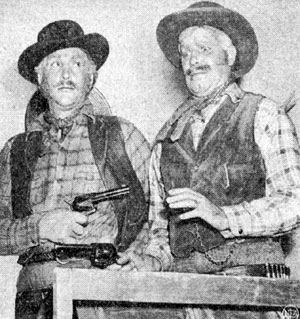 Behind the mustaches and sideburns are Dean Martin and Jerry Lewis promoting their western comedy "Pardners" ('56 Paramount).
TV's Kit Carson, Bill Williams, and wife Barbara Hale with their new daughter Laura Lee in April, 1954.
Bob Fuller of "Laramie" in his North Hollywood apartment picking out a few records to listen to. (Thanx to Terry Cutts.)
Gary Cooper and Anthony Quinn congratulate one another after winning Oscars at the 25th annual Academy Awards in Hollywood in 1953. Cooper won Best Actor for "High Noon" and Quinn won Supporting Actor for his work in "Viva Zapata!"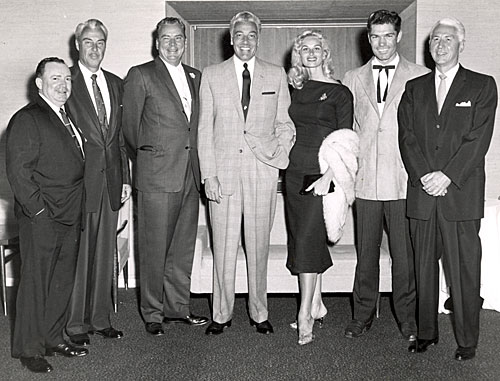 1958 photo taken during the filming of the TV series "26 Men". (L-R) Irish McCalla's agent Shorty, Tris Coffin, series producer Russell Hayden, Cesar Romero, Irish ("Sheena") McCalla, Kelo Henderson and ABC president George Shubert.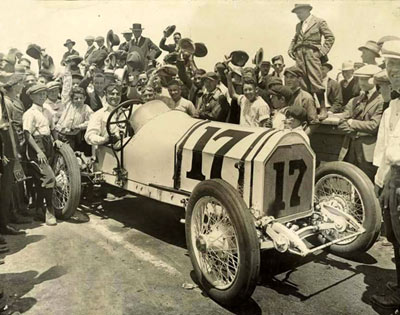 Tom Mix at Legion Ascot Speedway which opened in 1924. Following several deadly crashes, the Speedway's glory years ended in 1936 when two drivers were killed in a crash. (Photo courtesy Bobby Copeland.)
Johnny Mack and Connie Brown hold 3-week old daughter Sally who seems to be trying on one of her Daddy's cowboy hats. Sally was born September 14, 1946.
Gene and Jackie Autry with "Have Gun Will Travel" themesong composer Johnny Western.
NEA syndicated feature "Closeup and Comedy" from August 7, 1936.