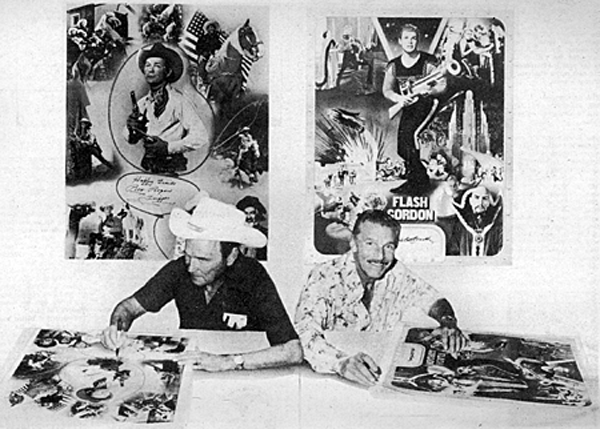 Roy Rogers and Buster Crabbe sign their Nostalgia Merchant limited-edition color prints in 1977. There were 1,600 signed by Roy and 1,500 signed by Buster Crabbe. Both are now highly collectible items.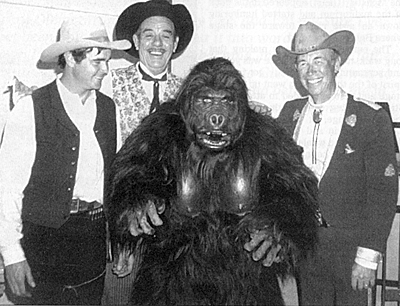 Buck Taylor, Glenn Strange, Bob Burns as Kogar the Gorilla and Eddie Dean at the Burbank on Parade event in 1968.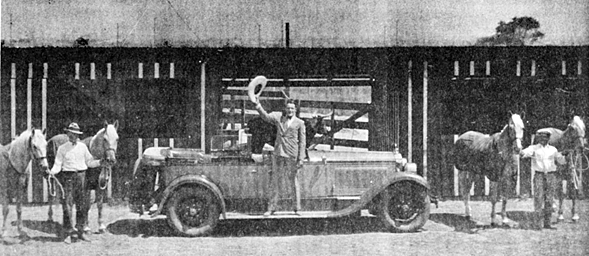 Ken Maynard stands on the running board of his Packard at Tiffany's Calfornia Studios in 1931 during production of "Branded Men" ('31). Trazan being held at the right.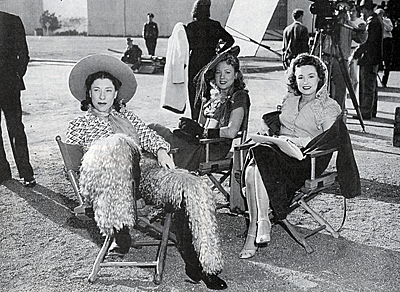 Judy Canova relaxes on the set of "Chatterbox" in March 1943
along with Anne Jeffreys and Rosemary Lane.
Tim McCoy and Tommy Scott marking Tim's 80th birthday on January 29, 1971 while Tim was traveling with Scott's Country Caravan which traveled for more than 20 years. Scott booked ahead for at least 280 playdates a year covering 40 states and 5 provinces of Canada. All were one-night stands consisting of country music, circus acts and Tim's whip and marksmanship performances. I had the pleasure of interviewing Tim while I was in radio in Columbus, GA in 1975. As Tim traveled from one playdate to another he would visit Civil War battle sites as he was a Civil War authority.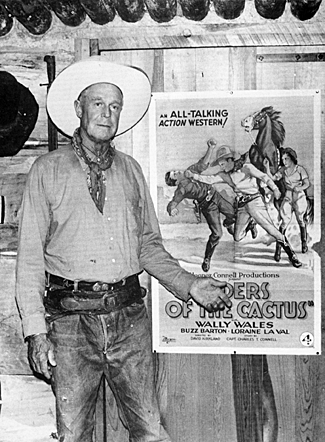 Wally Wales stands beside a poster of his 1931 Big 4 B-Western, "Riders of the Cactus".
Director Wild Bill Wellman demonstrates how to throw a movie punch during the filming of "Yellow Sky" in 1947.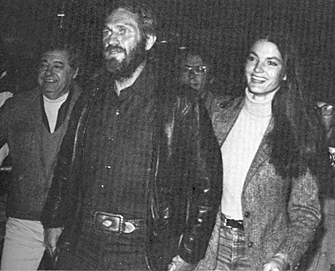 Steve McQueen and his third wife, Barbara Monty McQueen, at a preview of his
"Tom Horn" Western in March 1980.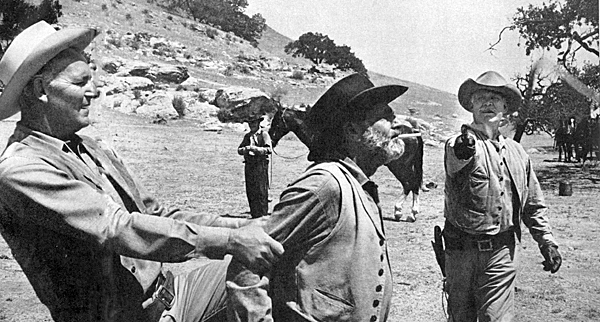 "Wagon Train"'s Ward Bond whips a cigarette from friend Frank McGrath's mouth while Terry Wilson holds McGrath steady. Circa 1959.
Four former All-American gridiron stars worked together on Warner Bros.' "Captain Blood" ('35). (L-R) Dale Van Sickel (later a renown stuntman), Jess Hibbs (later a director), Paul Schwegler (briefly an actor in '34-'35) and Jim Thorpe behind Hibbs.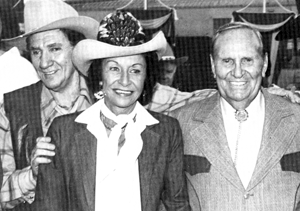 Pat Buttram, Vera Hruba Ralston and Gene Autry at the Diamond Circle for the City of Hope's "Last Great Hollywood Party-VI" in 1981. Monte Hale was honorary marshal
that year.
Columnist Lee Graham with Virginia Mayo and Guy Madison at the 1981 "Last Great Hollywood Party" held at the old Republic Studio.
Dan ("Grizzly Adams") Haggerty and wife Samantha at home with their three kids (L-R) Cody, Dylan and Megan.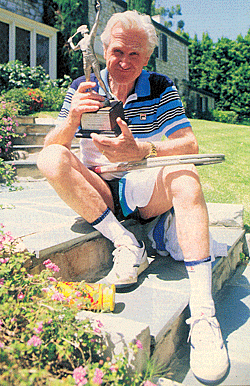 Lloyd ("High Noon", TV's "The Loner") Bridges home at 80 with one of his tennis trophies in 1993.
WC columnist Will ("Sugarfoot") Hutchins mugs for the camera with wife Barbara at a mid-summer 1997 Tom Mix Rangers gathering in New Canton, VA.
Phil Harris and wife Alice Faye with Roy Rogers and wife Dale Evans on the
"Kraft Music Hall" on February 14, 1968.
Monte Hale receives the 1982 Buffalo Bill Cody award from Nebraska Governor Charles Thorne. Previous awardees include Henry Fonda, Charlton Heston, Tim McCoy, Andy Devine, Chuck Connors and Slim Pickens.
Hugh O'Brian cookin' in his kitchen.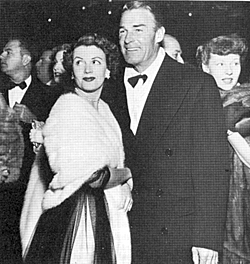 Mr. and Mrs. Randolph Scott attend the premiere of Ronald Reagan's
"The Hasty Heart" ('49)
Mr. and Mrs. Robert Culp at the Thalians 29th annual Gala.
Culp was the star of TV's "Trackdown".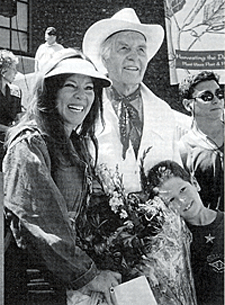 George Montgomery received the Palm Springs Golden Palm Star in the sidewalk in front of the Palm Springs Desert Museum in April of 1995. With him are his daughter Missy and grandson Alex.
Frances Dee and Joel McCrea at a luncheon in 1983 on the UCLA campus for the donation of RKO Radio Pictures $5,000,000 archive to UCLA.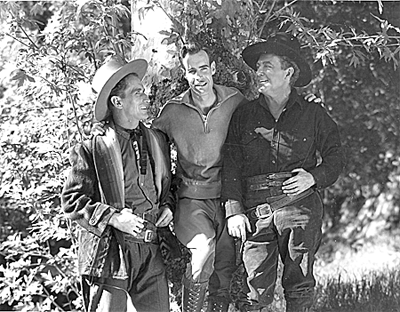 Candid pose while making "The Drifter" ('32) produced by Willis Kent.
(L-R) Charles Sellon (?), screenwriter Oliver Drake and star William Farnum.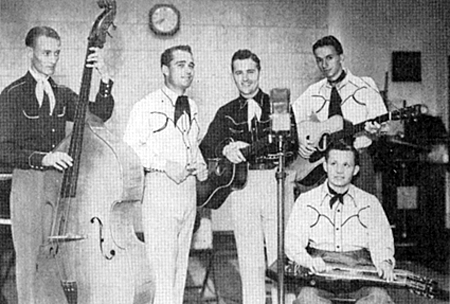 Jimmy Wakely and His Rough Riders in 1939 at WKY, Oklahoma City.
(L-R) Wayne Benson, Scotty Harrel, Wakely, Johnny Bond and Noel Boggs.