Johnny Mack Brown, Reno Browne and Whip Wilson stand with Rae Lynn as they judge the winners of the MOVIE THRILLS magazine Whip Wilson "Name the Horse" contest in November 1950. The name Rocket was the winner.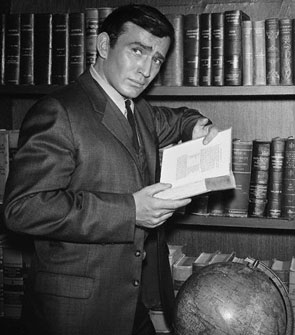 James Drury with a copy of the book that made he and his TV series famous, THE VIRGINIAN by Owen Wister.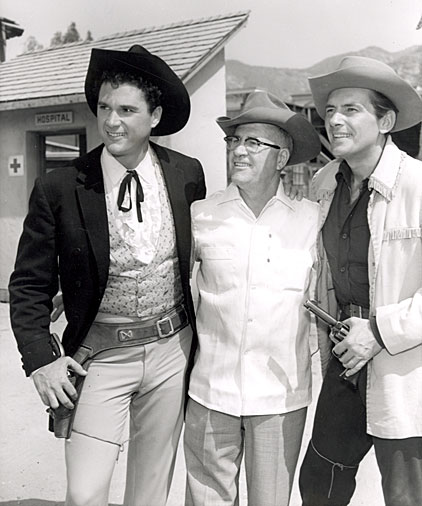 Robert Colbert and Jack Kelly who starred on Warner Bros.' "Maverick" pose with Colbert's father when he visited the Warner Bros. backlot.
Tom Tyler always kept in shape. In 1928 he won the Amateur Athletic Union (AAU) Heavyweight Weight Lifting Championship by lifting 760 pounds, a record that
stood for 14 years.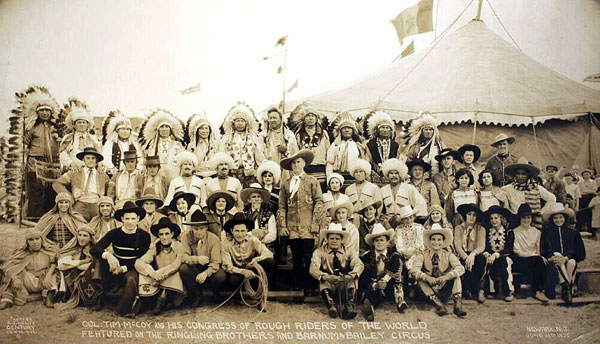 Tim McCoy with his Congress of Rough Riders of the World featured with Ringling Brothers and Barnum and Bailey Circus.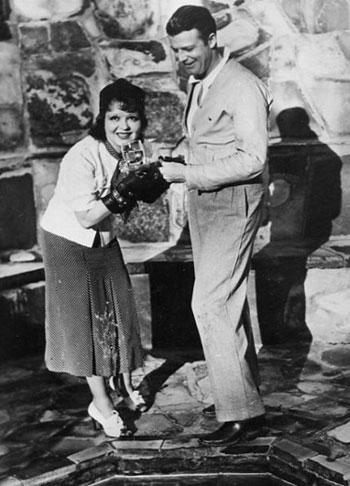 Rex Bell and wife Clara Bow.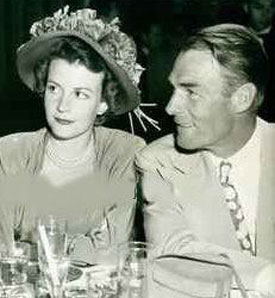 Randolph Scott with his wife Patricia Stillman. They were married March 3, 1944.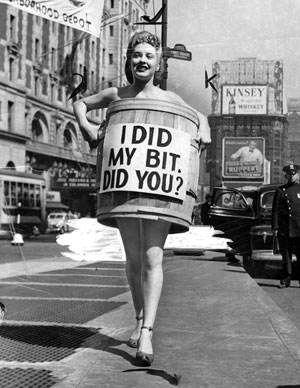 Pretty Penny Edwards dons a barrel to help encourage clothing donations for the National Clothing Collection, a relief effort to aid the destitute in war-torn
Europe in 1949.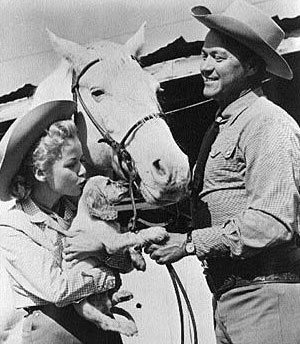 Gloria (Penny) Winters introduces her puppy to Kirby (Sky King) Grant and his horse.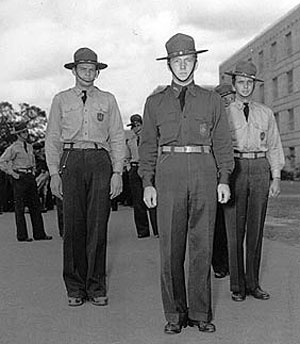 Football star and 20th Century Fox Western star of "Sundown Jim" and "Lone Star Ranger" John Kimbrough (left) was a member of the Texas Aggies.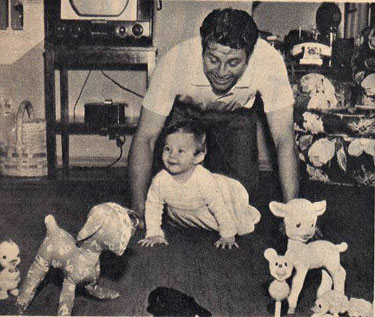 Jim Davis in 1953 plays with his daughter Tara Diane. His daughter died tragically in a car crash at 17 in 1970.
Good friends...director John Ford and actor George O'Brien.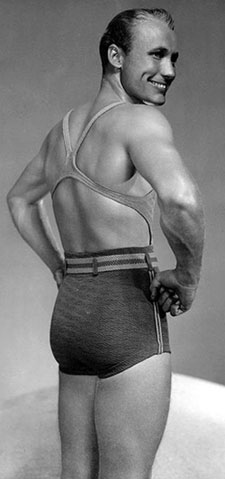 "How do you like this physique?" Dave O'Brien seems to be asking.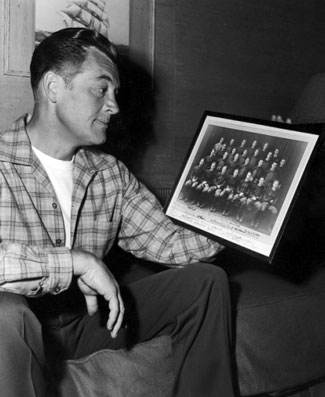 Charles Starrett reminisces about his college days at Dartmouth.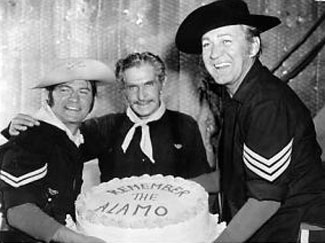 Larry Storch and Forrest Tucker present Bob Steele (Trooper Duffy on "F-Troop") a cake saying "Remember the Alamo"? A reader tells us "The reason for this is that in the TV show 'F-Troop' there is a running gag regarding the Alamo and Bob Steele's character. Steele is supposed to be an old-timer who's been in all sorts of Western historical events. He's always breaking into conversations with 'I remember when I was at the Alamo. Me and Davy Crockett was....' Then he's either interrupted or his audience rolls their eyes and walks away."
Ty ("Bronco") Hardin relaxes between scenes on the Warner Bros. lot.
(Thanx to Neil Summers.)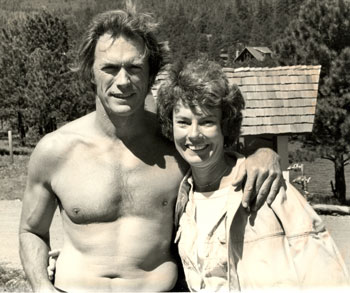 Clint Eastwood with location casting director Helen Conklin for
"Any Which Way You Can".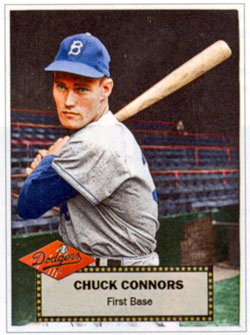 Baseball trading card for Chuck Connors when he was with the Brooklyn Dodgers.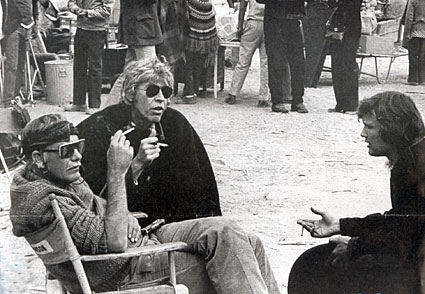 Director Sam Peckinpah with James Coburn and Kris Kristofferson on the set of "Pat Garrett and Billy the Kid" ('73). (Thanx to Pat Shields.)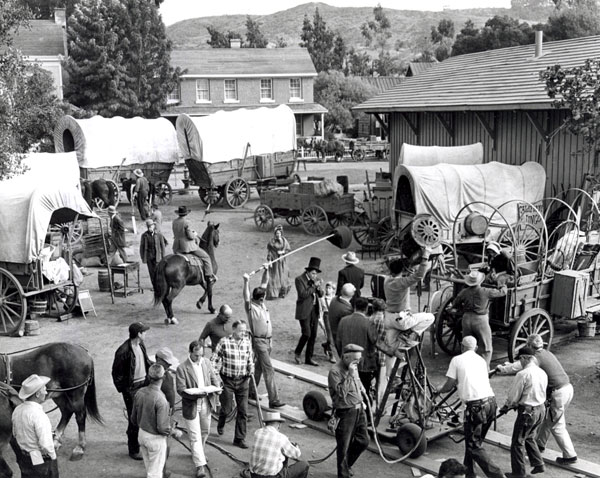 Filming a scene for "The Travels of Jaimie McPheeters" with Dan O'Herlihy and
Kurt Russell (center). (Thanx to Neil Summers.)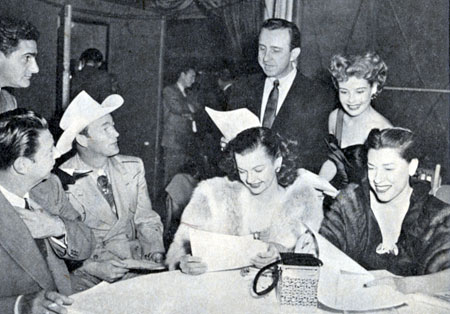 Donating their time to the National Safety Council at L.A.'s Ambassador Hotel in early 1951 are (L-R) NBC's Warren Lewis (standing), Harry Von Zell, Roy Rogers, Dale Evans, Frank De Vol, Gloria De Haven and Judy Canova.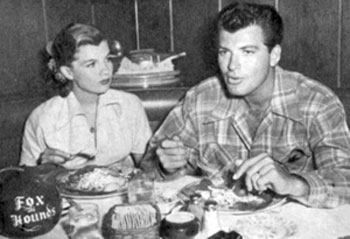 Before heading for some target practice fun at Ocean Park Pier (below) in early 1951,
"U. S. Marshal" John Bromfield and his wife at the time Corinne Calvet stop for lunch at the popular Fox and Hounds restaurant.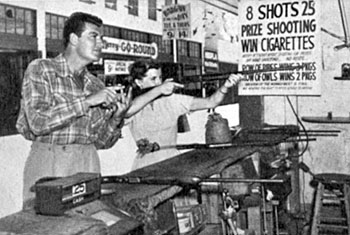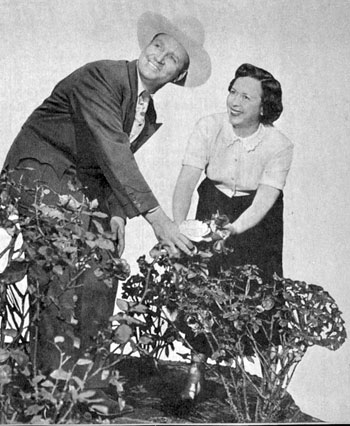 Gene Autry and his wife Ina examine a rose in the garden of their North Hollywood
home in May, 1951.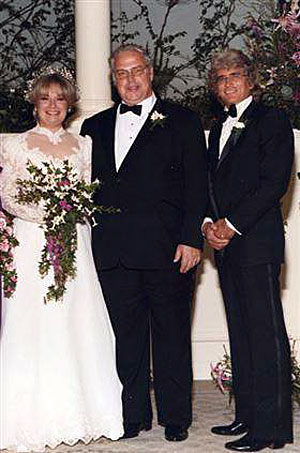 Michael Landon was Best Man at Kent and Susan McCray's wedding on January 28, 1984. McCray was production manager on "Bonanza" and "High Chaparral". Susan was casting director on many Landon productions. (Thanx to Marianne Ritner-Holmes.)