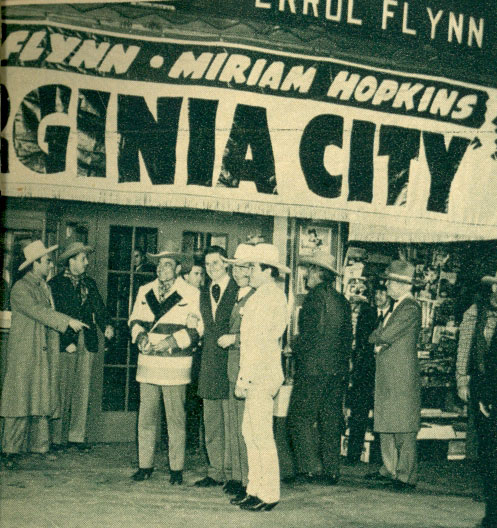 Revelry in Reno! For the premiere of Warner Bros.' "Virginia City" ('40), Warners sent a host of stars to Reno, NV, including (Center L-R) Buck Jones in his Hudson Bay coat, Errol Flynn, William Boyd and Tom Mix.
Buck Jones escorts ?? into the Warner Bros. premiere of "Virginia City"
in Reno, NV, in 1940.
Buck Jones and ?? at the Reno, NV, premiere of "Virginia City".
There's snacks all around for Rosemary Lane (?), Wayne Morris and William Boyd as Hopalong Cassidy at the premiere of Warner Bros. "Virginia City"
in early 1940 in Reno, NV.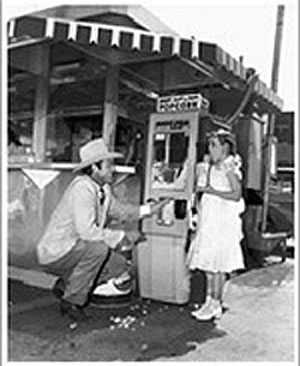 Roy's daughter, Cheryl Rogers, used to visit Allan "Rocky" Lane on the set. In 1949 she had a "date" with Rocky. Rocky brought her flowers and took her to the circus, seen here buying her popcorn. (Thanx to Carmen Sacchetti.)
Johnny Mack Brown and his wife, the former Cornelia Foster, in 1946 in front of their 16 room English colonial house in Beverly Hills.
Dale Robertson's daughter, Rochelle, gets a few camera pointers from "Tales of Wells Fargo" cameraman Bud Thackery and dad Dale. Taken in late 1959.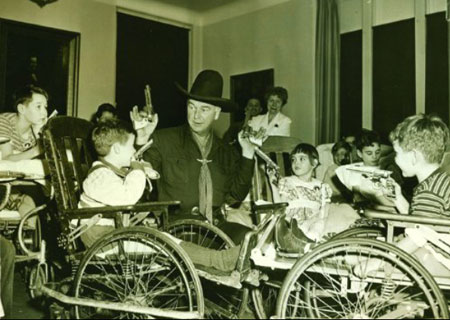 Looks like the kids have the drop on Hoppy during his visit to a children's hospital. (Thanx to Jerry Whittington.)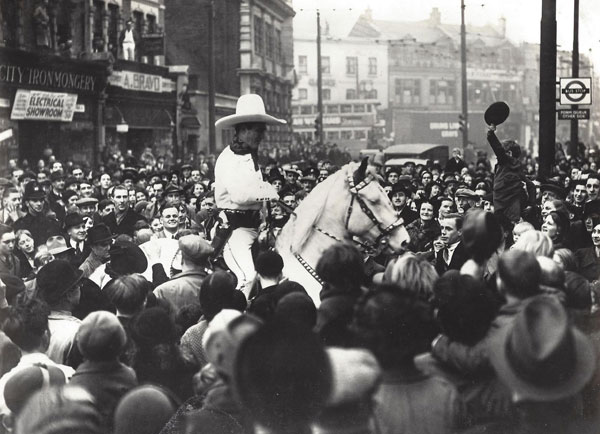 Tom Mix thronged by a crowd during his final British tour in 1938. Tom is not riding Tony, but instead his daughter Ruth's horse Warrior which she used in her circus work. Tom elected to use Warrior instead of Tony as Warrior was bigger and could be seen better. (Thanx in part to Bud Norris.)
Winchester expert John J. Crowley gives some instruction to Gail Davis
and Gene Autry in 1955.
Circa early '60, Ty ("Bronco" ) Hardin gets a kiss from his dog Bo.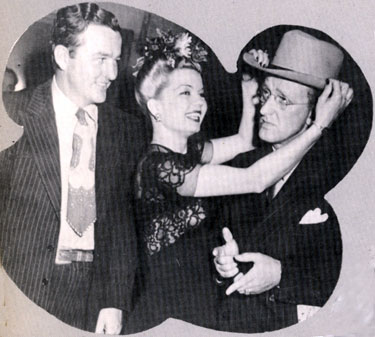 Jimmy Wakely and singer Frances Langford clown around with bandleader
Kay Kyser circa 1945.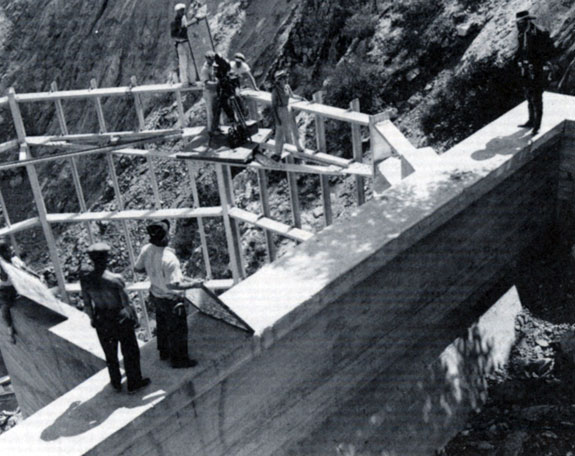 The crew sets up a shot at Pacoima Dam for the Republic serial "Zorro Rides Again" ('37). John Carroll...or probably his stuntman, stands ready for the shot to the right.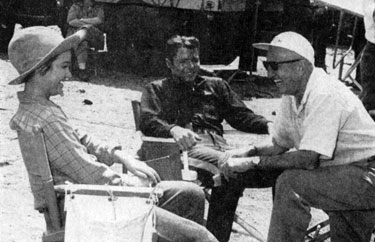 Kathy Grant, Audie Murphy and director George Marshall take a break from filming "The Guns of Fort Petticoat" ('57).
Rex Allen and Monte Hale visit with Roy Rogers on the set of Republic's
"The Golden Stallion" ('49).
The above three photos were taken during the making of Sunset Carson's Yucca Pictures in 1948. Note director Oliver Drake in the center in the top photo. (Thanx to Jerry Whittington.)
Director Howard Hawks explains a "Rio Bravo" ('59) scene to John Wayne, Dean Martin and Ricky Nelson. (Thanx to Jerry Whittington.)
Director Frank Loyd, J. Carroll Naish and Sterling Hayden during the filming of Republic's "The Last Command" ('55) in Brackettville, Texas.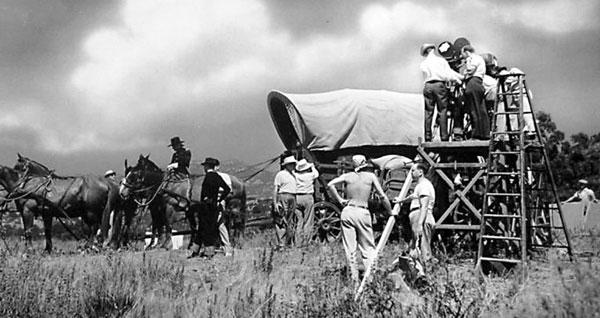 Taken during the making of "They Died with Their Boots On" ('41).
(Thanx to Jerry Whittington.)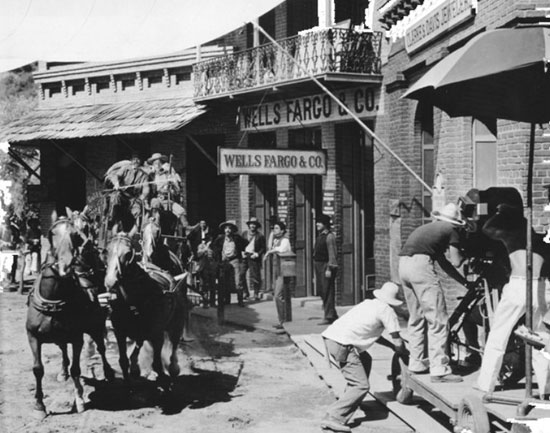 Taken during the making of "Wells Fargo" with Joel McCrea in 1936.
(Thanx to Jerry Whittington.)
Director Anthony Mann discusses the next scene for "Man of the West" ('58) with Gary Cooper. (Thanx to Jerry Whittington.)
John Wayne pauses during the making of "True Grit" ('69). (Thanx to Pat Shields.)