"Deep in the Heart of Texas" ('42 Universal). (L-R) Eddie Polo, Tex Ritter, William Farnum, director Elmer Clifton, Johnny Mack Brown, Jennifer Holt, writer/producer Oliver Drake, Pat O'Malley, Kenneth Harlan.
Not sure exactly what's going on here, but Fuzzy St. John and Lash LaRue seem to be mingling with officers of the Law.
On July 23, 1927 Joseph P. Kennedy talks over the future of his new Western star, Tom Tyler, with Tom and director Robert DeLacy.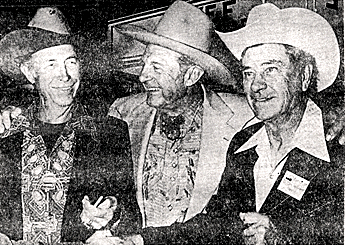 Eddie Dean, Ray "Crash" Corrigan and Ray Whitley at the Memphis Film Festival
in July 1975.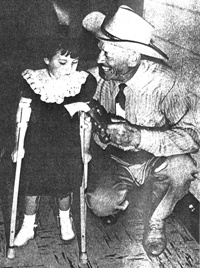 Tom London shows his six-shooter to four-year-old Shirley at a telethon for crippled children in Yuma, AZ in August 1957.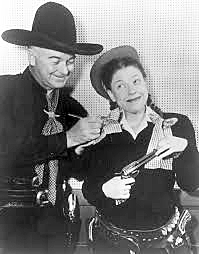 Hopalong Cassidy signs an autograph for Judy Canova.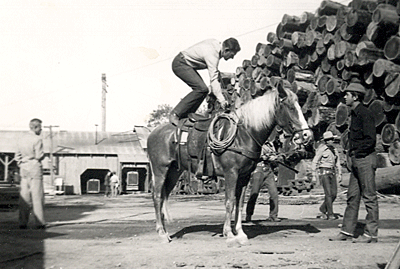 Stuntman Boyd Stockman shows how a running mount is done during the making of a Jimmy Wakely Monogram B-Western. That's Wakely in the background.
On location for a Jimmy Wakely Western. Lee Lasses White and Jimmy Wakely can be seen wearing the white hats in front of the lights and boom mike.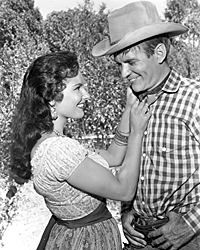 Suzanne Lloyd and Will Hutchins on the Warner Bros. backlot while making "Sugarfoot: The Gitanos".
The wedding of Noah Beery Jr. and Maxine Jones in 1940. On the left are Maxine's parents Buck and Odille Jones. On the right are Wallace Beery and Noah's parents and Marguerite and Noah Beery Sr.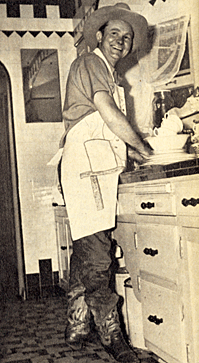 "Wal, somebody's gotta do 'em," says Tex Ritter in 1944.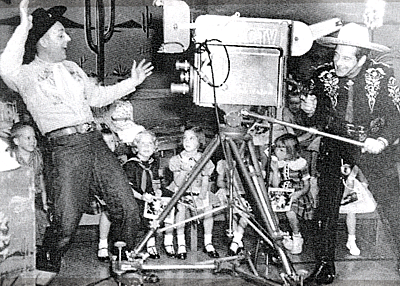 Duncan Renaldo as the Cisco Kid clowns with kid show host Benny Carle in 1963 on WBRC-TV, Birmingham, AL.
Looks like Robert Fuller's "Laramie" character, Jess Harper, is wanted in Willow, CO, for murder. Dead or Alive!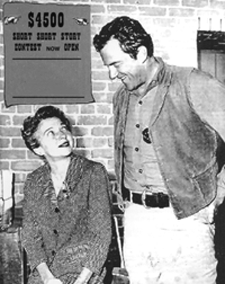 James Arness talks with "Gunsmoke" screenwriter Kathleen Hite.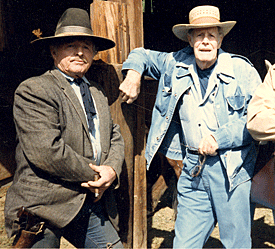 The last of the B-Western cowboys, Johnny Carpenter, on Carpenter's ranch with writer/director/producer Oliver Drake.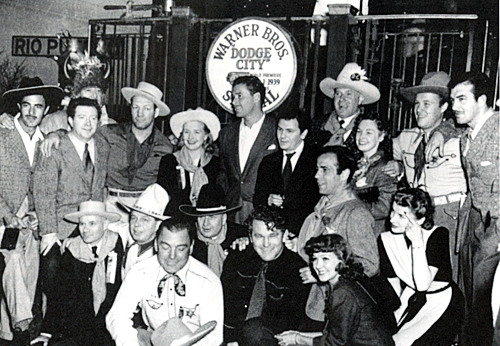 On tour in New Mexico to promote Errol Flynn's "Dodge City" are (L-R) Gilbert Roland, Frank McHugh, Chief Santa Fe (behind McHugh), Maxie Rosenbloom, Priscilla Lane, Errol Flynn, John Garfield, Jack L. Warner (with hat on), Rosemary Lane, Wayne Morris and John Payne. (Kneeling) Leon G. Turrow, Hoot Gibson, Buck Jones, Lee Lyles (assistant to the President of the Santa Fe Railroad), Guinn "Big Boy" Williams, Humphrey Bogart, Jean Parker and Frances Robinson. Ten and fifteen minute stops were arranged for San Bernardino, Barstow, Needles, Seligman, Winslow, Gallup, Albuquerque, La Junta, Syracuse, NY and Chicago. Then back to Dodge City.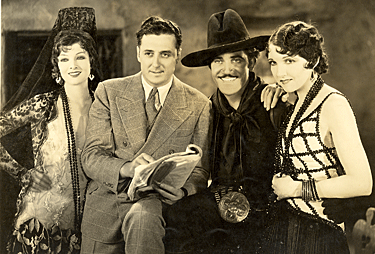 The cast of "Rogue of the Rio Grande" ('30 Sono-Art). (L-R) Myrna Loy, director Spencer Gordon Bennet, Jose Bohr, Carmelita Geraghty.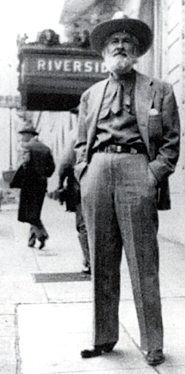 Gabby Hayes in his civvies.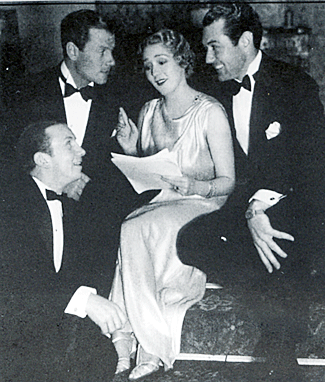 Paying great attention to Mary Pickford are Fuzzy Knight, Joel McCrea and Johnny Mack Brown.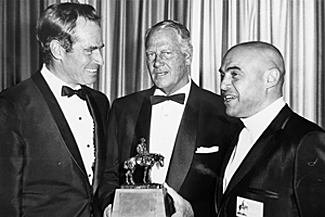 At the Cowboy Hall of Fame in Oklahoma City, Charlton Heston and Joel McCrea present an award to director Tom Gries for "Will Penny". (Thanx to Tom Weaver.)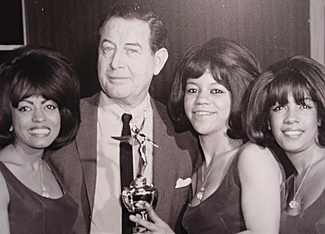 Bill Kennedy starred in "The Royal Mounted Rides Again" Universal serial and was a heavy in many Monogram B-Westerns. During his later days as a radio host in Detroit he posed with The Supremes.
Jim Thorpe and Monte Blue in costume, ready for action, in Dick Foran's "Treachery Rides the Range" ('36 Warner Bros.)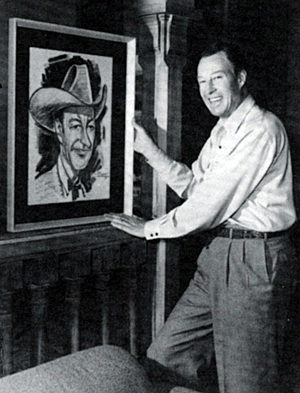 Bill Elliott with a comic book caricature of himself.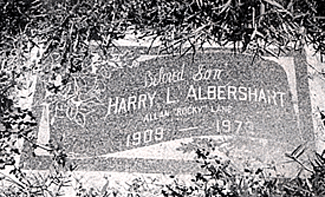 Gravesite of Allan "Rocky" Lane at Inglewood Park Cemetery, Inglewood, CA, 720 East Florence Ave. Lot 70, Grave A.
Always a good way to wrap things up. Three lovely ladies who worked in
Westerns... Ruta Lee, Mari Blanchard, Allison Hayes.