Alan Ladd and son David on the backlot. (Thanx to Bobby Copeland.)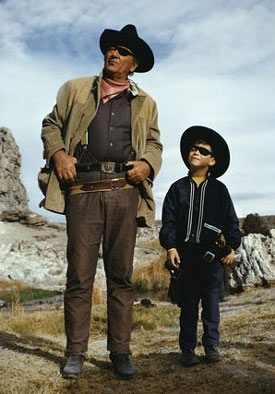 John Wayne and son Ethan on the set of "True Grit" in 1969.
Four year old Cynthia Brown says her prayers with her Dad, Johnny Mack Brown, circa April '43.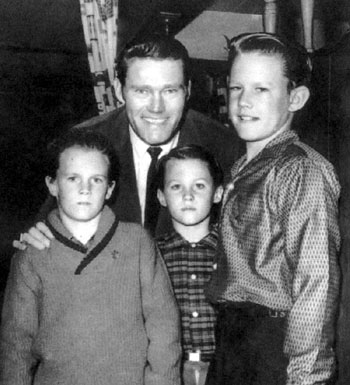 Chuck Connors, "The Rifleman", with his sons Jeff, Steve and Mike.
Hopalong Cassidy (William Boyd) stands in the doorway of the Wofford Ranch house at Kernville, CA, as the crew prepares for a shot. This may be from Hoppy's "The Showdown" as it was partially filmed on the Wofford Ranch. (Thanx to Bobby Copeland for the photo and Tinsley Yarbrough for the location ID.)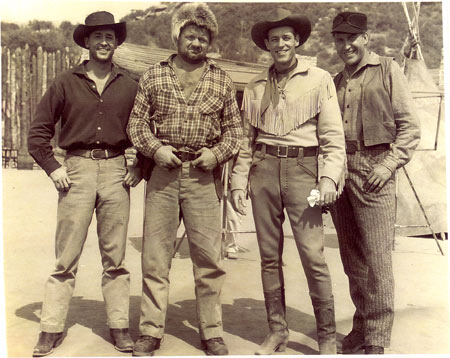 In-between scenes for "Wild Bill Hickok: Mountain Men" are (L-R) Wayne Mallory, Henry Kulky, Guy Madison, Paul Sorensen. Mallory is Madison's stuntman/actor brother.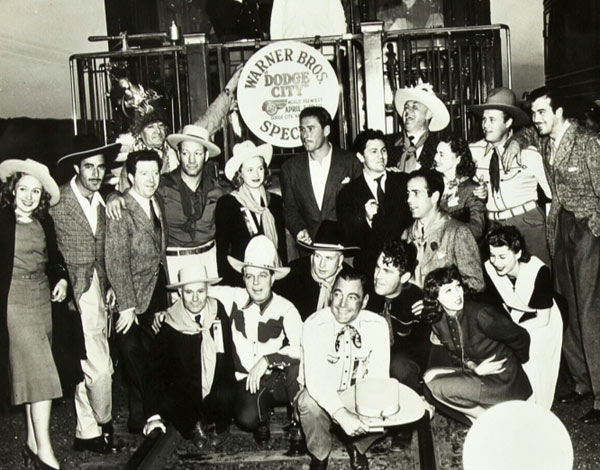 Warner Bros.' gang at the premiere of "Dodge City" in 1939. Group includes Errol Flynn in the center, Gilbert Roland, Maxie Rosenbloom, Hoot Gibson, Buck Jones, Big Boy Williams, Humphrey Bogart, Frank McHugh, Wayne Morris, Priscilla Lane, John Payne, John Garfield, Jim Thorpe, Jean Parker and others.. (Thanx to Jerry Whittington.)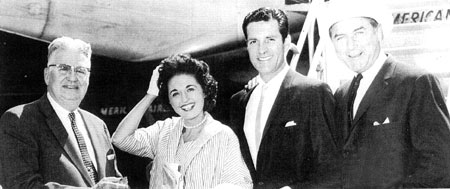 Hugh ("Wyatt Earp") O'Brian and Lawrence Welk Champagne Lady Alice Lon receive sheriff's badges from Memphis Sheriff M. A. Hinds on May 13, 1960. Commissioner Jimmy Moore is on the right. (Thanx to Jimmie Covington.)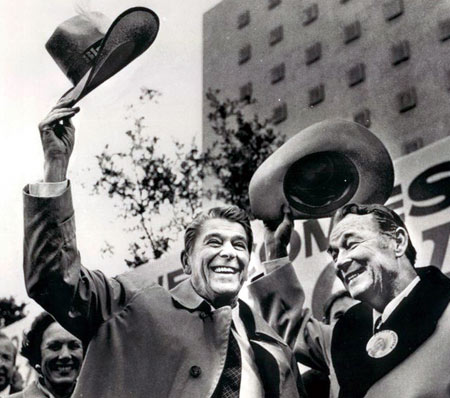 Double RR, the King of the Cowboys, Roy Rogers, stumps for Ronald Reagan in 1980.
The Sons of the Pioneers entertain at the Grayville, IL, Oil Show in 1950.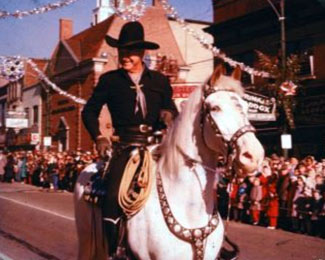 Hopalong Cassidy rides in a 1957 Christmas Parade in High Point, NC. (Thanx to Jerry Whittington.)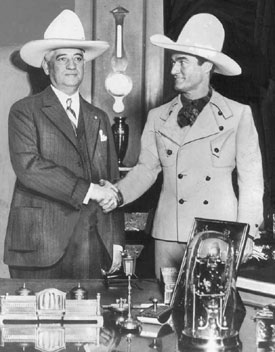 Tom Mix and Pittsburgh Mayor Charles H. Klein (1926--1933).
Two TV western giants and one small fry. James Arness of "Gunsmoke" chats with Clint Walker of "Cheyenne". (Thanx to Terry Cutts.)
Tyrone Power and Susan Hayward wait as the 20th Century Fox crew sets up another shot for "Rawhide" ('51) in the Alabama Hills of Lone Pine, CA. (Thanx to Jerry Whittington.)
Roy Rogers and Trigger make ready for another scene at Lone Pine, CA, for "Under Western Stars", Roy's first Republic western in 1938. (Thanx to Jerry Whittington.)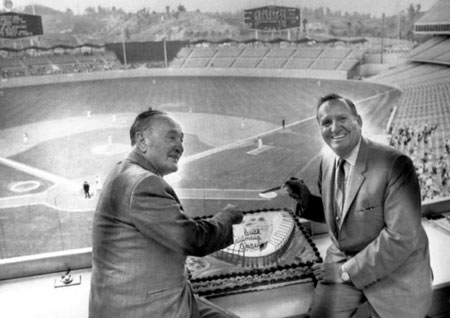 Angels General Manager Fred Haney and Chairman of the Board Gene Autry celebrate the last game the team played in Dodger Stadium as a home team by cutting a cake in the press box during a double header. The cake is decorated with a replica of the Angels' new stadium in Anaheim.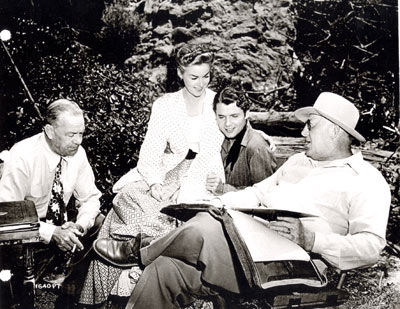 Dialogue director Gene Lewis, Marguerite Chapman, Audie Murphy and director Ray Enright discuss a scene for "Kansas Raiders" ('50 Universal-International).
Buck Jones rides Silver in a mid-'30s Kansas City parade. (Thanx to Jerry Whittington.)
After a successful run as a B-western star, Rex Bell (1903-1962) ran for the United States House of Representatives for Nevada in 1944 on the Republican ticket. He lost to Democrat Berkeley Bunker. Bell later became Lt. Governor of Nevada in 1954 and won reelection in 1958. He died in office in 1962 after making a brief cameo in "The Misfits" with Clark Gable in '61.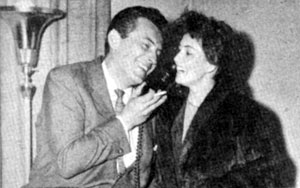 Jack Kelly, aka Bart Maverick on WB's "Maverick", and his actress/wife May Wynn talk on the phone with James Garner who was in New York making personal appearances on behalf of Cerebral Palsey in 1958.
Robert Horton, aka Flint McCullough on "Wagon Train", relaxes at home. (Thanx to Terry Cutts.)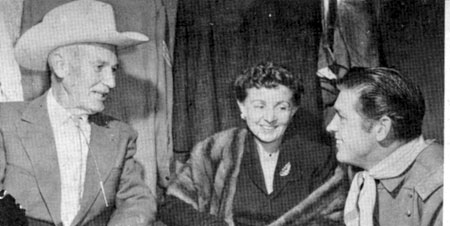 Rin Tin Tin owner Lee Duncan, Lee Aaker's mother and James Brown (Lt. Rip Masters) of TV's "Rin Tin Tin".
Examining a pistol in-between scenes of TV's "Tales of the Texas Rangers" are stars Willard Parker (Jace Pearson) and Harry Lauter (Clay Morgan). Circa 1959.
Wild Bill Elliott with western swing band Lucky Wray and the Lazy Pine Wranglers aka the Palomino Ranch Hands. (L-R) Link Wray, Doug Wray and Vernon "Lucky" Wray sometime in the early '50s. After Vernon left the group, Link Wray went on to have a major career as a rock 'n' roll guitarist beginning with "Rumble" in '58. (Photo courtesy Bobby Copeland.)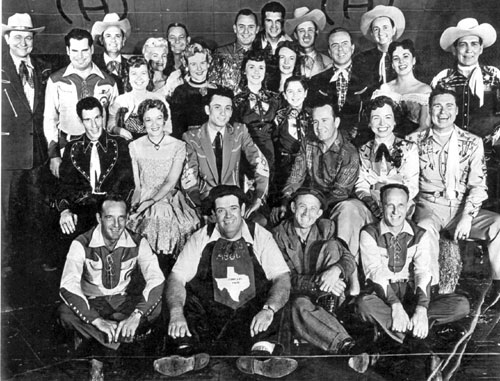 The cast of TV's "Town Hall Party" aka "Ranch Party". (Top row L-R): Tex Ritter, Jim Pruitt, Merle Travis, Fiddlin' Kate, Buddy Dooly, Wesley Tuttle, Roy Klein, Joe Maphis, Johnny Bond. (Second row L-R): Shirley Adams, Marilyn Tuttle, Laurie Collins, Rose Lee Maphis, Larry Collins, Jay Steward, Mary Jane Johnson, Jinks "Tex" Carmon. (Third row L-R): Freddie Hart, Mary Lou Brunell, Bobby Charles, Skeets McDonald, Marion Hall, Les "Carrot Top" Anderson. (Fourth row L-R): Billy Hill, Texas Tiny, Quincy Snodgrass, Pee Wee Adams. (Thanx to Dave Owens and Glenn Mueller.)