James Drury, aka "The Virginian", was commissioned Lt. Commander in the Naval Reserve circa 1970. Designated as a Public Affairs Officer, Drury was to help the Navy with it's information program.
Clint Walker as he appeared on an episode of "77 Sunset Strip" with
Effrem Zimbalist Jr.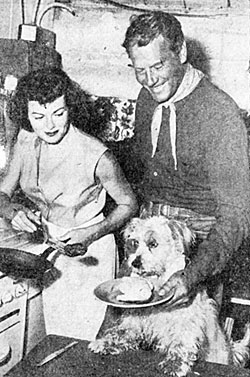 In between scenes for Universal's "Lone Hand" ('52) co-stars Barbara Hale and Joel McCrea cater to the hunger of dog actor Butch.
Steve McQueen relaxes in between shots of "Wanted Dead or Alive".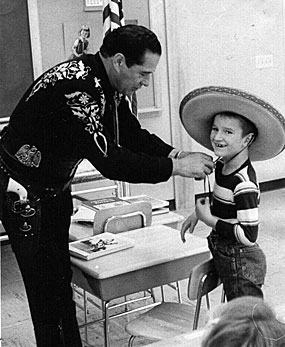 During the 12th annual Shrine Showdeo at the Minnesota State Fair, Duncan Renaldo, the Cisco Kid, makes a young fan very happy by letting him try on his sombrero. (Thanx to Terry Cutts.)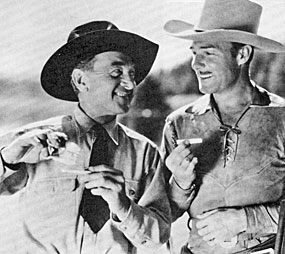 Harry Carey and Randolph Scott roll their own in between scenes of Paramount's "Man of the Forest" ('33).
Buck Jones visited children's hospitals whenever and wherever he could.
Slim Pickens hands an award to Will Rogers Jr. making him an honorary member of the Rodeo Cowboys Association in 1952.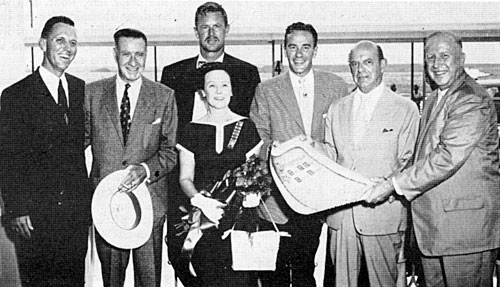 At the premiere of Republic's "The Last Command" ('55) in San Antonio, TX, associate producer Frank Lloyd (second from left), stars Sterling Hayden, Richard Carlson and Republic president Herbert J. Yates were presented with an official "Heritage of Freedom Day" proclamation and other gifts by Mayor Kuykendall (right) and Mrs. Megarity, acting for Texas Citizens and Pioneer Patriots.
(Man on the left is unidentified.)
Celebrating the premiere of "The Last Command" ('55 Republic), in Uvalde, TX, Ben Cooper, one of the stars of the film, stopped to call on John Nance Garner, former Vice President of the United States, where some young direct descendents of the heroes of the Alamo were introduced to Nance and Cooper.
Mike Stokey, host of "Pantomime Quiz" (renamed "Stump the Stars" in the '60s) tweaks the whiskers of "Rawhide"'s Paul Brinegar and actor Sebastion Cabot.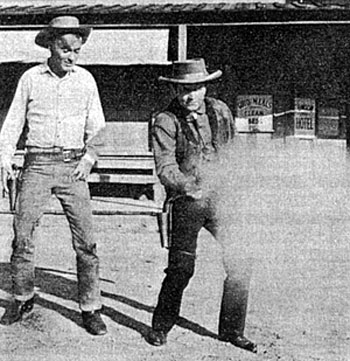 The fastest gun in Hollywood, Arvo Ojala, shows Will "Sugarfoot" Hutchins
how it's done.
Producer Sam Sherman (left) chats with stars of the "Naughty Stewardesses" ('74 Independent International) Connie Hoffman and Robert Livingston.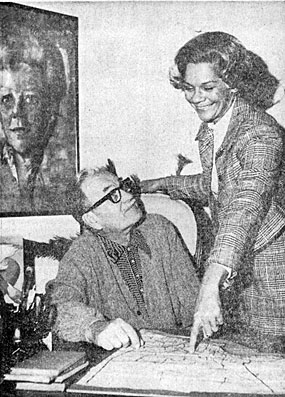 Milburn Stone, "Gunsmoke"'s Doc Adams, honorary Heart Sunday campaign chairman, and Mrs. Herbert E. Philbrook Jr., county chairwoman for the L.A. County Heart Association's annual February fundraising drive, review plans for the upcoming 1973 campaign.
Audie Murphy holds high not quite 2 year old son, James "Skipper" Shannon, in 1956.
Gene "Bat Masterson" Barry signs autographs at an L.A. collector's show in 2007.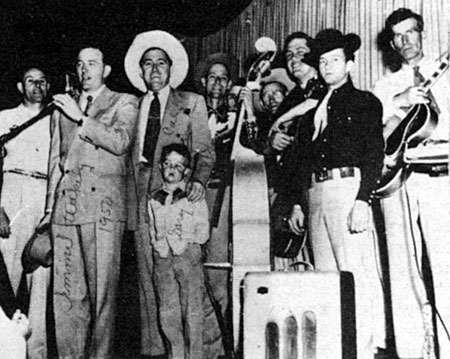 Cal Shrum (white hat, center) and son Gary welcome guest star Jimmy Wakely to Shrum's Saturday night show which in the '50s originated in Albuquerque, New Mexico.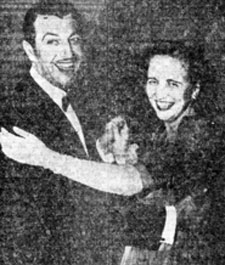 Robert Taylor dances with the President's daughter, Miss Margaret Truman, during the Navy Relief Society Ball in Washington. Taylor was a Naval Reserve Officer.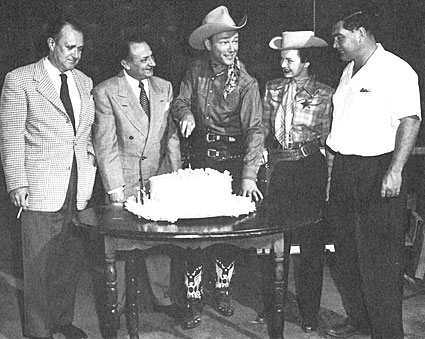 Roy Rogers celebrates 12 years at Republic. Dale Evans and director Bill Witney
are on the right.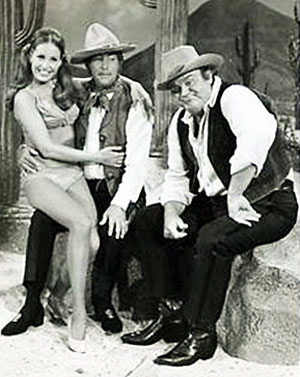 "Bonanza"'s Dan Blocker guest-starred twice on "The Dean Martin Show"
in the '70s.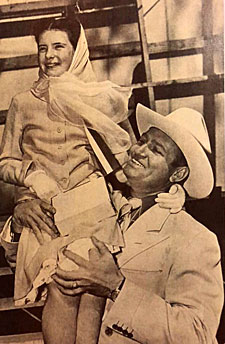 Gene Autry with young "rising star" Margaret O'Brien.
James Arness on location for an episode of "Gunsmoke".
A young fan brings Hopalong's Topper a carrot cake birthday cake.
Some young fans join The Lone Ranger and Tonto at one of Sheriff Gene Biscaluz' annual rodeoes.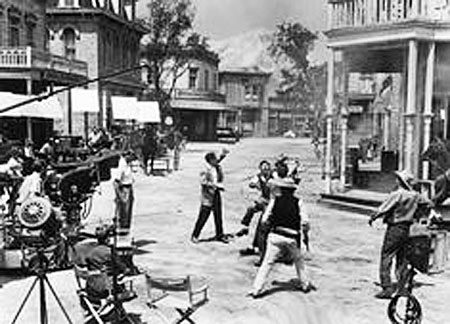 Great shot of filming on the Paramount Western street.