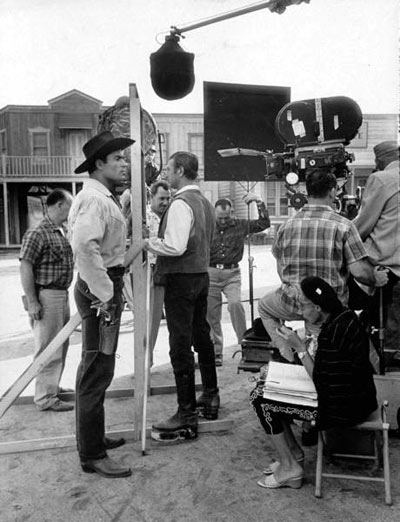 Clint "Cheyenne" Walker on the Warner Bros. back lot. That's Clyde Howdy, Clint's stand-in and a sometime actor, looking the other way. Note the little old lady script supervisor seated in front of Clint.
Audie Murphy (second from left) clowns around with some crew members between scenes of "Showdown" ('63 Universal). The badman of the script, Harold J. Stone, watches in the background.
Rory Calhoun (left) and Jeff Chandler (right) attend the opening for Ray Anthony and his Orchestra at Ciro's nightclub at 8433 Sunset Blvd. in West Hollywood in the mid '50s. That's bandleader Ray Anthony beside, we believe, Anthony's band singer April Ames.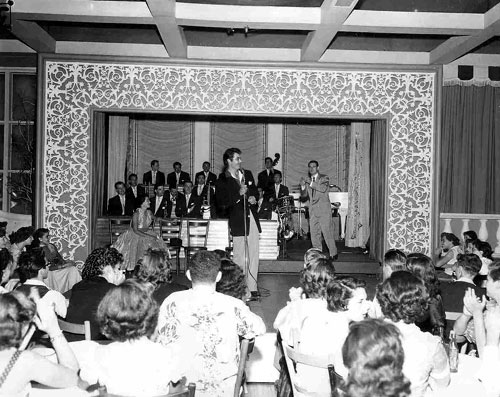 Rory Calhoun emcees for Ray Anthony and his Orchestra at the opening of Anthony's gig at Ciro's in the mid '50s.
Ray Anthony leads a group as they dance to his big hit of "The Bunny Hop" at Ciro's. Behind Anthony is actress Mitzi Gaynor and Hugh O'Brian. Man with the mustache is comedian Jerry Colonna. Marie Windsor watches on the left.
Universal Pictures publicity photo of contract player Al LaRue in 1944, years before he became Lash LaRue at PRC. Al co-starred in "The Master Key" serial at Universal in 1945. (Photo courtesy Bobby Copeland.)
How it's done. Mark Goddard, Culley on "Johnny Ringo", blazes away while the cameraman, the director and a sound effects man cower behind sand bags and bullet proof glass. Extra bullet holes are provided by crack shot Jim Rug.
Buck Jones breaks ground for a garden at his San Fernando Valley estate some time in the '30s.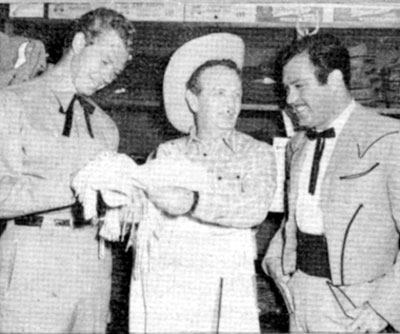 Bill Williams ("The Adventures of Kit Carson") and his sidekick El Toro (Don Diamond) do a little shopping with Nudie the Tailor.
Eddie Dean and his horse study the script for "In Old Wyoming" which became "Song of Old Wyoming" ('45).
Eric Fleming (trail boss Gil Favor on "Rawhide") sketches in his studio with a female model. On the right are some of his sculptures. Fleming use to spend hours painting and sculpting in his off time. Coming to scupture in an odd way, he had his nose reshaped by a plastic surgeon before starring on "Rawhide". "My nose, as nature made it, was too big. I was fascinated by the way the plastic surgeon worked. I wanted to mould things, too. So I took to sculpture." (Thanx to Terry Cutts.)
Kelo Henderson of "26 Men" with four of the five original Arizona Rangers who were alive when the series was filmed. (L-R) John Redmond, William O. Parmer, Clarence Beaty, Joe Pearce.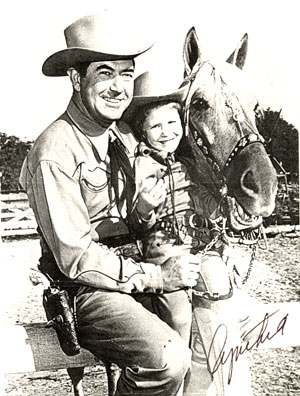 A young Cynthia Hale with her dad, Johnny Mack Brown, and his horse Rebel.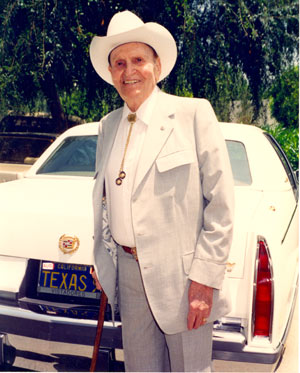 One of the last photos taken of Gene Autry before his death at 91 on October 2, 1998. Gene is standing in front of Monte Hale's Cadillac. (Photo courtesy Neil Summers.)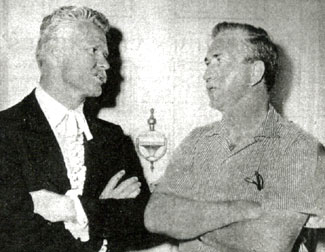 James Garner in his guise as "Pappy" Maverick with his real father Weldon Bumgarner. (Photo courtesy Terry Cutts.)
Klinton Spilsbury as The Lone Ranger and Michael Horse as Tonto head up a parade during the time of "The Legend of the Lone Ranger" release in '81.
William Boyd (Hopalong Cassidy) and his double on the left Forest Lee (Frosty) Royse. (Photo courtesy HOPPY TALK and Gary Groyse, Frosty's son.)
"Gunsmoke"'s Amanda Blake with her two boxers, one thoroughbred, the other half Cocker Spaniel, Toulouse and Berdina. (Photo courtesy Terry Cutts.)
Peggie Castle and Peter Brown of "Lawman" were New Mexico State Fair guest stars September 17-18, 1960.
Tim McCoy and another actor take a break from filming "Fighting Shadows" ('35 Columbia) to glance at the February '35 copy of FORTUNE magazine.
Ken Maynard beside Tarzan's horse trailer. (Photo courtesy Bobby Copeland.)