A terrific roundup of TV Western heroes...but for what event? Anyone have any idea?
Top Row (L-R) Clu Gulager ("Tall Man"), Bruce Yarnell ("Outlaws"), Robert Fuller ("Laramie"), frequent TV Western guest star Suzanne Lloyd, Richard Eastham ("Tombstone Territory"), Jack Ging ("Tales of Wells Fargo").
Middle Row (L-R) Iron Eyes Cody, Ann Doran ("Legend of Jesse James"), Sheb Wooley ("Rawhide"), Spring Byington ("Laramie"), Dennis Weaver ("Gunsmoke"), Clint Eastwood ("Rawhide"), frequent guest star Joanna Moore, Frank McGrath ("Wagon Train"), James Murdock ("Rawhide").
Front Row (Kneeling L-R) Robert Cabal ("Rawhide"), John Smith ("Laramie"), Terry Wilson ("Wagon Train"), William Demarest ("Tales of Wells Fargo"). Photo looks to have been taken at a 1962 event.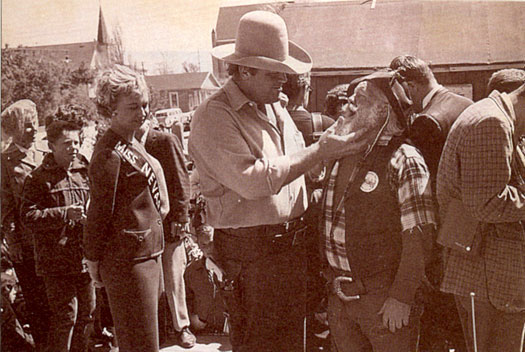 Dan Blocker, Hoss on "Bonanza", beholds Badwater Bill's beard during a "Bonanza Days" celebration in Virginia City in 1962.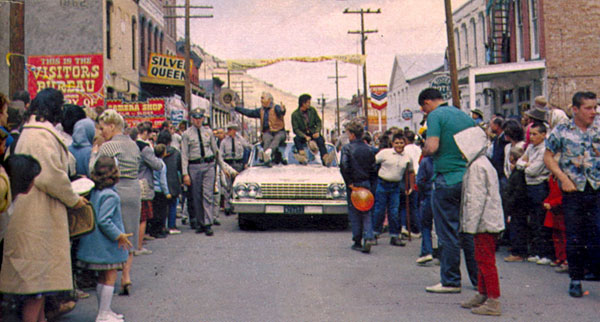 Lorne Greene and Michael Landon wave to fans at the 1962 "Bonanza Days" celebration in Virginia City.
Dale Robertson with Old Tucson founder Bob Shelton making ready to film an
episode of "Death Valley Days".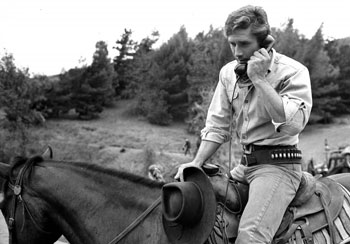 Yikes! Is Bob Fuller "phoning in" an episode of "Laramie"?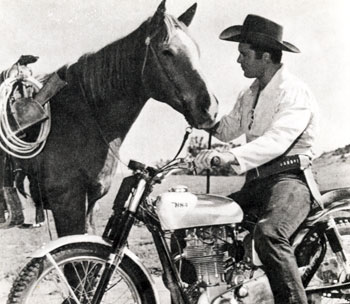 "Why, you traitor!" seems to be what Clint Walker's horse is thinking as Cheyenne uses another form of transport.
Hoppy entertains the kids at a Macy's Thanksgiving Day parade. (Thanx to Roy Bonario.)
Duncan Renaldo as the Cisco Kid at a parade in the '50s in Cisco, TX which is on I-20 between Abilene and Fort Worth. The Texas Rangers accompanying Renaldo were out of Eastland County, TX. (Thanx to Billy Holcomb.)
Roy Rogers' early years at home with baby Cheryl and second wife Arline.
(Thanx to Billy Holcomb.)
Gene Autry and Champion await their entrance cue at Madison Square Garden on August 27, 1949. (Thanx to Billy Holcomb.)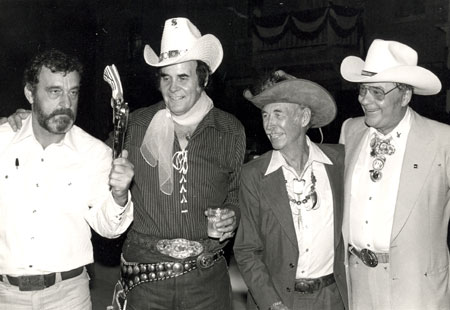 Victor French tries his luck gun handling with Sunset Carson's .45 as Eddie Dean and Monte Hale look on during a tribute to Vera Ralston at CBS studios in Studio City, CA. (Thanx to Neil Summers.)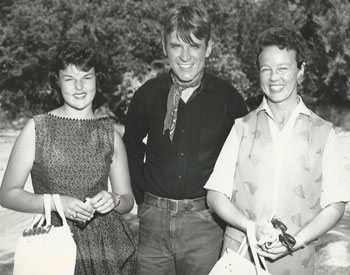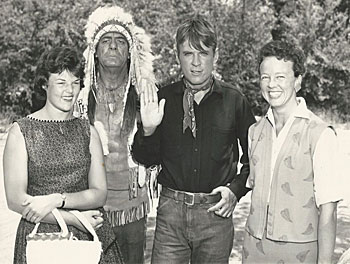 Two photos of Will Hutchins at a fund raiser to create a bronze statue of Frankie Laine with the help of the Little Italy Association in San Diego. Lady to the right in both photos is Mary-Jo ? Glenn Strange as an Indian is in the bottom photo. The other lady is unknown. (Thanx to Peter Williams.)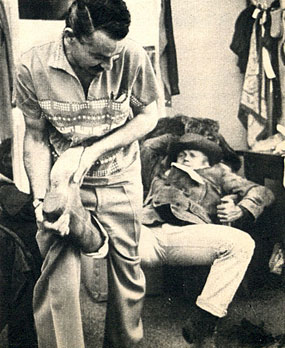 Seems Steve McQueen needs a little help gettin' off them "Wanted Dead or Alive" boots.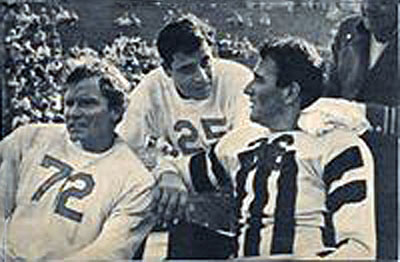 Don Barry, Jack LaRue and John Wayne ready for action in a charity football game in the early '40s. (Thanx to Billy Holcomb.)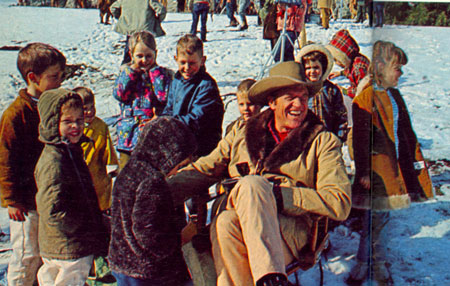 James Arness surrounded by a group of young admirers in Custer, SD for the filming of "Gunsmoke: Snow Train" in 1970. Executive producer John Mantley got lucky when a freak blizzard blanketed the area and permitted him to use a script he'd been ready to discard. Mantley immediately rushed his crew to the Black Hills.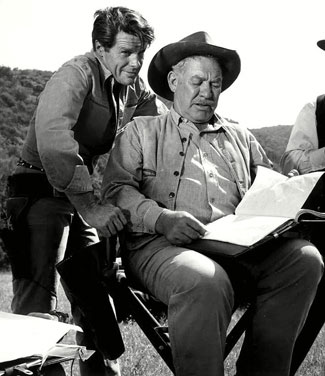 Robert Horton and Ward Bond look over their next "Wagon Train" script.
(Thanx to Terry Cutts.)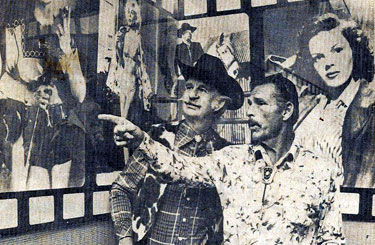 Buster Crabbe guides Slim Andrews to a photo of Buster as Flash Gordon during a visit to Harlow's Restaurant in Memphis, TN. The two cowboys were in Memphis for an early film festival. (Thanx to Billy Holcomb.)
Before "High Chaparral" Linda Cristal co-starred with Hugh O'Brian in 1958's
"The Fiend Who Walked the West".
The crew makes ready to film a "High Chaparral" scene in 1968 on the White Stallion Ranch near Tucson, AZ. Photo below shows the vastness of where they were filming.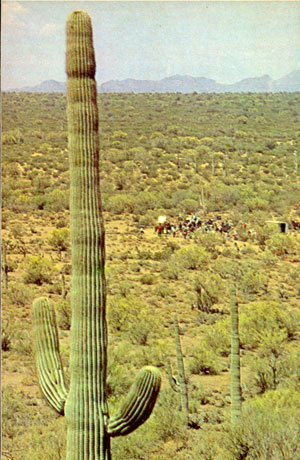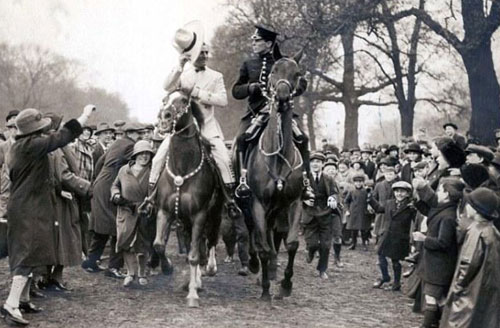 Tom Mix in London Park, England in 1925.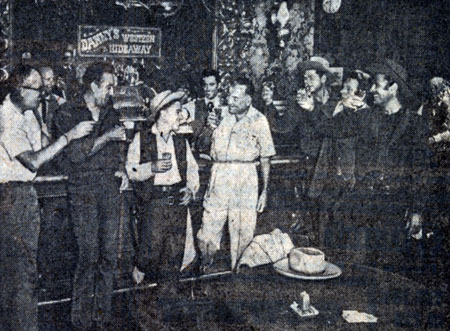 Anthony Quinn, second from left, and producer Hal Wallis (center), raise their glasses to New York restaurateur Danny Stradella who is playing a small part in "Last Train from Gun Hill" ('58).
Husband and wife Julia Adams and Ray Danton in May 1958. Both were frequent TV Western guest stars.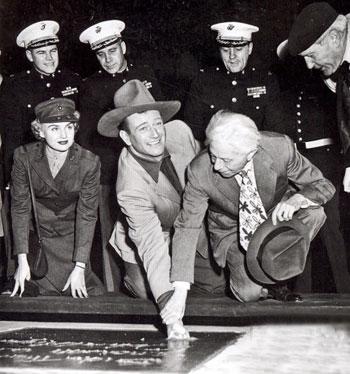 Sid Grauman helps John Wayne put his fist and boot prints into the cement outside Grauman's Chinese Theater on January 25, 1950. Wayne's concrete block is made from black cement from the black sands of Iwo Jima.